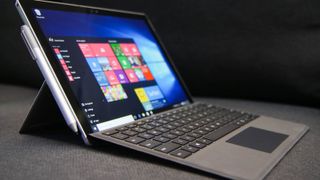 A lot can happen in a week. Seven days might not seem like much, but it can be an eternity in the tech news cycle.
Between Windows news, hardware and software developments and Microsoft's fast-paced movements throughout the technology landscape, it's never easy to keep your hand on the pulse of technology. Not to mention everything that's going on right here at Windows Central!
Every week we're going to compile the biggest stories into one post, so you never fall behind – In Case You Missed It (ICYMI).
Windows
After a couple of busy weeks, Microsoft took it easy on the Windows front. They talked about the latest update to Microsoft Edge on Windows 10. The gist is that Edge, which is now the same version on Windows 10 for PC, Mobile, and Xbox One, got some under-the-hood improvements. While the particulars are more for stat geeks, the average user may notice it just "seems faster."
A week after its consumer release, Windows 10 build 1511 is now available for Enterprise .
Microsoft continues to work on closing the so-called "app gap" between Windows and other operating systems. They announced that they will be adding new tools to "Project Islandwood," the development platform that helps app makers bring their iOS apps to Windows and release new tools soon to make porting iOS apps to Windows easier:
And we say Happy Birthday! to Windows 1.0. The OS that started it all officially turned 30 years old yesterday.
Other notable items:
Microsoft pushes new cumulative update for Windows 10
[Windows Server 2016 Technical Preview 4 released with Hyper-V container support(http://www.windowscentral.com/windows-server-2016-technical-preview-4-released-hyper-v-container-support)
Microsoft
Surface Pro 4 and Surface Book users received a firmware update for their devices. Along with the standard performance and stability improvements, the patch includes touch optimizations and battery drivers.
With reliable internet access increasingly become more of a necessity than a luxury, Microsoft has created a new fund to help subsidize the efforts of companies bringing low-cost internet in communities in need. The fund is part of Microsoft's Affordable Access Initiative, which brings cloud services to underserved markets around the world.
Peggy Johnson, Executive Vice President of Business Development at Microsoft said:
And casual gamers who don't want to splurge on the Xbox One Elite Controller nice little present in the form of button customizations of their own. Standard Xbox One controllers can now be partly remapped as part of the New Xbox One Experience (NXBE).
The update allows users to swap button mappings with each other using the Xbox Accessories app. While it isn't the hardcore versatility of the Elite controller, it offers some flexibility to the casual gamer.
Other notable items:
Microsoft amps up the Internet of Things hype in new video
Microsoft's Cyber Defense Operations Center will fight online security threats
Visual Studio 2015's first big update will be released on Nov. 30
Microsoft to end its Windows 10 IoT Core support for Intel's Galileo boards on Nov. 30
Miscellaneous
In the wake of the recent announcement that music streaming service Rdio will be filing for bankruptcy, their rival, Pandora, said it will be buying 'key assets' from them. In addition to the $75 million for Rdio's intellectual property, "many members of Rdio's team will be offered roles with Pandora," according to the presser.
Pandora also said that it "expects to offer an expanded Pandora listening experience by late 2016, pending its ability to obtain proper licenses."
Auto-maker Volvo has been showing some love for Microsoft recently. The two companies teamed up on a project that uses HoloLens to fundamentally change the car-buying process by letting potential buyers configure and explore their ideal car in 3D.
Volvo also updated its official On Call app as a universal app for Windows PCs and smartphones. On Call allows you to connect remotely to your Volvo to view vehicle information and perform tasks, like remotely starting it.
HP unveiled their new Elite X2, a 2-in-1 tablet specifically designed for business. The Elite X2 is very similar to HP's consumer-level Spectre X2; however, "the Elite x2 comes with a host of built-in, not bolted on, security capabilities, including HP Sure Start with Dynamic Protection, HP Client Security, TPM, and an optional fingerprint reader or smart card reader."
Other notable items:
Share your thoughts on this past week of news! And we'll be back again next week to do it all over again.
Get the Windows Central Newsletter
All the latest news, reviews, and guides for Windows and Xbox diehards.