New Xbox One update delivers Home improvements, new languages, 1080p Mixer streaming and more
Xbox Insiders in the Alpha Preview ring are getting a new Xbox One update packed with various features to explore.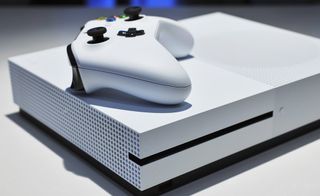 (Image credit: Daniel Rubino | Windows Central)
Last month, Microsoft unveiled an in-progress version of the next Xbox One update, delivering a sneak peek at changes coming to the operating system this fall. While a key focus of the update was the early stages of a user interface overhaul based on the Fluent Design System, some significant tweaks to the Home screen, Xbox guide, and Community tab were also debuted.
After receiving feedback from Xbox Insiders, the second major build is now on its way to those in the Alpha Preview ring. Although new functionality is being introduced with this update, alterations are also being made to existing features across the Xbox operating system (OS).
As previously announced earlier this week, both Arabic and Hebrew language support are being added to the OS, ahead of a public rollout later this year. As languages both widely spoken across the world, their inclusion builds on Microsoft's drive for inclusivity outside of its core markets. The addition of these is especially notable, as the first displayed right-to-left on the console.
Changes are being made to the Home menu, in response to the somewhat mixed reception of the current revision. The "Pins" block on the Home menu can now display up to 40 pinned items – over double the number allowed prior to the update. Some welcome tweaks are also being made to content displayed via the two "discovery tiles," seen horizontally through the middle of the Home menu.
Furthermore, avid live streamers are in for a treat with the new update, with support for 1080p uploads via Mixer. With its addition, live streaming quality will be automatically determined by bandwidth, without any surplus settings to configure to stream at full HD. Modifications have also been made to the Broadcast tab, with more information tailored to your Mixer account.
New functionality is also rolling out across the Guide menu, in an attempt to streamline both Party chat and broadcasting. When either of these tasks is taking place, the Guide menu will automatically serve up small widgets, for quick access to basic options.
Alongside the new features, the full changelog (opens in new tab) also details some minor bug fixes and known issues across the board. Although there appear to be no major issues detrimental to the console, some bugs may affect app usage and video playback. For full details on the update, read on below.
DETAILS
OS version released: rs3_release_xbox_dev_1710.170828-1900
Available: 6:00PM PDT 8/30 (1:00AM GMT 31/8)
NEW FEATURES:
Languages
Right-to-left language support for Arabic and Hebrew, which means you can now change your console language to select right-to-left languages in the Xbox settings menu. Arabic and Hebrew language support will be enabled for Preview Alpha 8/31 @ 1:00 AM PDT. Note there is a known issue which affects the sign-in screen when signing in with a Microsoft account e-mail address (see KNOWN ISSUES below for details).
Pins
The Pin block on Home, as well as the pins flyout in the new Guide now support 40 pins.
Home
The two discovery slots next to the resume tile show more relevant content, have clearer descriptions, visual improvements and we've given you the ability to influence what is being presented via the upvote/downvote in the context menu.
It's easier to see your custom background images on Home.
Mixer
The Broadcast tab in the guide is redesigned and includes more info about your Mixer account including Level, Sparks, Total Views, Mixer channel pic, and more. Mixer broadcasters can now broadcast at up to 1080p. No need to change anything in settings, when you start the broadcast we automatically check your bandwidth to optimize quality.
Guide
Active parties and broadcasting sessions are now easier to manage than ever. Similar to background audio, active party and broadcast management now show up on the Guide landing page for quicker and easier access.
Tournaments are now easier to find via Guide under the Multiplayer tab.
Game Hub
Going to the Game Hub for your favorite games now takes you to the new Game Hub Welcome tab. The Welcome tab features a summary of all the great content around the game in one page. See what achievements you're closest to, which friends are playing, popular community content and more.
General
Navigation is clearer with new visual updates that include showing you a peek at what's below Home, making the focus rectangle more visible in the Guide, and more.
FIXES:
Home
Fixed an issue which caused Home customizations to disappear after a console reboot.
Fixed an issue which sometimes caused a console crash when adding or removing content blocks.
Numerous small fixes and performance improvements for Home and the dashboard.
Games & Apps
Fixed issues which sometimes prevented games and apps from launching.
Fixed an issue which sometimes prevented games and apps from transferring between hard drives.
KNOWN ISSUES:
Sign-in
When using Arabic or Hebrew language and signing in with a profile using the "Lock it down" security preference, the sign-in screen which requests Microsoft account e-mail address and password is distorted. This does not affect the profile if it is set to use the "Ask for my passkey" or "No barriers" security preferences. Workaround: Set the console to use another language, sign-in, and set the profile's security preference to "Ask for my passkey" or "No barriers". Alternatively, you can still type in your password as normal using the virtual keyboard though the screen is distorted.
Netflix
When using Hebrew language, Netflix fails to launch.
Movies & TV
Fast forward, rewind, and other media controls may not function.
4K UHD Playback
When playing 4K or UHD content, you may encounter periodic crashes or black screens. This occurs with multiple apps which support 4K and UHD content including Movies & TV and VUDU.
Minecraft Better Together Beta
Other games fail to launch after launching the Minecraft Beta. Workaround: This occurs if the Minecraft Beta is the first game launched after powering on the console; launch another game before Minecraft to avoid this issue. If you are stuck in this state, hard reset your console.
Blu-Ray Player
3D Blu-Ray content plays in 2D.
Game Hub
Game Hub isn't accurately tracking Gamerscore and achievement unlocks for certain games.
Pins
Users in Xbox Insider Alpha group that do not already have the Pins block added to Home, will need to add via the bottom of the Pins flyout in the Guide.
Windows Central Newsletter
Get the best of Windows Central in your inbox, every day!
Matt Brown was formerly a Windows Central's Senior Editor, Xbox & PC, at Future. Following over seven years of professional consumer technology and gaming coverage, he's focused on the world of Microsoft's gaming efforts. You can follow him on Twitter @mattjbrown.
And still plagued with ads everywhere. How nice...

As long as they're exclusively related to games, I don't see the problem. If there's a deal to get gold cheaper, I wanna know about it. Same with discounts to games or game releases. I don't see any actual ads here.

Well I do. I paid for the console. I pay for a Gold membership. I should NOT be forced to see ads. You might be fine with seeing them. I'm not. I don't care to see "new games with gold" or offers or any propaganda about the store. So I should be free to get rid of those ads. If I want to see what's new or get recommendations, I'd go to the Store. That's the place for ads. NOT the Home UI. It's that simple. Oh and I most definitely don't want to see "tips" or "suggested clubs" or any of that social crap they keep filling the console with. So I should have the flexibility of getting rid of those things.

Yes. Propaganda. Ads promoting things like that ridiculous "this week on Xbox" for example fits perfectly into the realm of propaganda. So does ads about Xbox Gold. Because their purpose is to further Microsoft's business agenda. Sorry if you're too limited to understand propaganda doesn't begin and end in politics ;)

Youre an idiot. That is all.

@DJCBS It's always strange when fellow consumer attacks you and defend a certain company. They defend the idea of consumers getting harrased by ads even after paying full price for a product. Crazy...

You could always purge your home of this device and never have to complain about those ads again. They are not going away, so if they elicit that much emotion from you, it might be time to move on from XB One.

Man, you've been reading my mail. My sentiments precisely.

Don't know what you are comparing with... either ps4 or steam I assumed. On the home tab of xbox dashboard.
There's roughly 4 little square on your right, 1 is newest games, 1 is Gold Deal, 1 is random stuff (movie, gamepad, new game, etc), 1 is What's On Xbox.
You see nothing if you don't click it. It's just 4 small still images shows you what's new / acting as shortcut to store. On the ps4.
After login, your first stop is the "What's New" tab and the ads starts loading on its own.
If you stayed till the loading ends, there goes ads for you.
(Even if you move away instantly, bandwidth is spent)
Not just that, on the main dashboard, sometimes games-you-don't-own hidden in with your recent activity. On the Steam launcher.
When you launch Steam, there's ads popup. On the Store tab, there's big banner ads right in the middle, and then there's Featured & Recommended (with scrolling tabs) → Special Offers (with scrolling tabs) → Your Discovery.
Lotta more imo. Maybe gaming isn't for you. I've paid ISP, why should I pay for anything else? Everything internet related should be free, no?

The update is not yet finished. There is still room to make further changes. A lot of this update came directly from the alpha testers. One of the new functions is the ads and other additions have an option to show more or less. It's not complete removal but there is some wiggle room there to minimize it. Beta hasn't even seen a build yet so there is still plenty of time to tweak.

What about more European languages? Cestina, Hungarian, Greek, that's what Sony added.

I've been part of the preview program for years... Yet my Xbox refuses to grab any of these updates. Still on the old interface

Which Preview ring are you on? 🤔

I'm on delta. Only gives me two options. Omega and delta

Im actually enjoying this new build. Minus the bugs that always come with them. App freezes and crashes etc, which has been pretty limited for me, but other then that its design is refreshing and smoother imo. Downloads seem to be somewhat faster too. Still needs a few tweeks, but theyre on the right path. The one thing I keep requesting is the option to enable Live tiles. I dont have data caps so Id like to have such a feature. Hopefully my constant bugging will get conversation going. 👍🏾

Yes, this update provide higher capacity for tiles on the Home screen, which is great, but at the expense of (again) readability. Everything is SMALLER. I don't want things HARDER to see. And, of course, since it really ISN'T Windows 10, you can't resize the tiles at all. So, fail.

I happen to like the changes a lot... I especially like that the "current" app or game you're using is now much larger. I actually didn't mind the way the bottom of the background was blurred before. Now it looks worse for me. But it's no biggie. I also like the change made to how your selection glows. It looks sleeker. I understand some people's stance on the ads...but these are more like suggestions to me although sometimes I DO get an add for Temptations cat treats. I have 3 cats & watching the video did give me an avatar cat prop. So I'm not mad, lol. Sometimes, that space is handy like someone else mentioned, notifying you of sales & even when your Gold Subscription expires... Also, why does this article have photos from the last update? It's not really showcasing any of the changes it's listing. There's plenty of cosmetic changes that they could've shown off...

Hopefully we will get a build soon (beta) check out that good sauce.