Lenovo's folding Yoga Book C930 features the first E Ink keyboard
The Yoga Book is back, and it is now more powerful than ever. But it comes at a cost.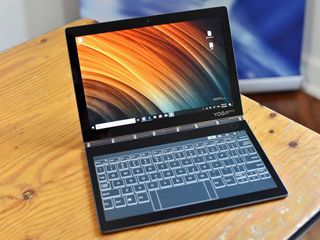 (Image credit: Windows Central)
Lenovo's Yoga Book from 2016 was a jaw-dropping look into the future of mobile computing. But where it excelled in designed, it lagged in performance.
For 2018, Lenovo is redoing the Yoga Book, making the insides match the outside. While it comes at a higher starting price, it finally appears to deliver in performance. It should be released later this fall with a starting price of around $1,000.
A real Intel processor ... but no Qualcomm
The biggest complaint Lenovo heard about the original Yoga Book was performance. Those complaints were due to the lackluster Intel Atom x5-Z8550 processor, which is just underwhelming.
To address that problem, the Yoga Book C930 has up to a full Intel Core i5 processor. Granted, these are Y-series chips with only 4.5W TDP versus the standard 15W power found in a standard laptop. But the jump in performance is substantial.
Likewise, the internal storage is now a full PCIe solid-state drive (SSD), which when combined with 4GB of RAM and Intel HD 615 onboard graphics makes the Yoga Book C930 feel every bit like a real Windows 10 PC.
Interestingly, Lenovo opted not to use the Qualcomm Snapdragon 850, even though it plans to launch the Yoga C630 just a month later in November. Lenovo's hesitation comes from performance concerns, but it still seems an odd fit for such a small PC. The choice is also reflected in the just 8.6 hours of estimated battery life for the new Yoga Book – using ARM would undoubtedly have doubled those estimates. On the flip side, going with Intel means no fuss and excellent all-around performance.
Lenovo Yoga Book C930 tech specs
Image 1 of 2
Swipe to scroll horizontally
Category
Lenovo Yoga Book C930
Processor
7th Gen Intel Core i5-7Y54
7th Gen Intel Core m3-7Y30
RAM
4GB LPDDR3
Storage
Up to 256GB PCIe SSD
Display
LCD: 10.8" QHD (2560x1600) IPS touchscreen
E Ink: 10.8" FHD (1920x1080) touchscreen
Graphics
Intel HD 615
Ports
2 x USB Type-C 3.1
Audio Jack
SIM card holder
LTE
Optional (Europe)
Biometrics
Fingerprint reader
Audio
Dual speakers with Dolby ATMOS
Pen
Yes
4,096 pressure level
Wacom
Bluetooth
Supports dual display
Battery
Up to 8.6 hours
35.8WHr
Dimensions
10.25 in x 7.06 in x 0.38 in
260.4 mm x 179.44 mm x 9.9 mm
Weight
1.71 lbs (775 g)
Price and availability
$999.99, October
Lenovo Yoga Book C930 display, virtual keyboards, and more
Lenovo is boosting the display in the Yoga Book from the original 10-inch 1920 x 1200 to a larger 10.8-inch screen with 2560 x 1600 resolution. That screen also now supports Lenovo's active Wacom pen for inking, which was missing on the original. With support for 4,096 pressure levels, it should be an excellent inking experience. It also sticks to the back of the display, which is fun.
The real magic, though, is the lower 10.8-inch full HD E Ink display that also doubles as a keyboard or notepad. That keyboard can change between keyboard layouts on the fly to accommodate different regions and languages.
Image 1 of 2
To address the virtual-ness, Lenovo has the buttons slightly shift when typing to simulate movement. When combined with haptic feedback (vibration) and audio cues (both of which are configurable), typing on the Yoga Book is much better than the previous Halo Keyboard. While it is not nearly as good as a "real" typing experience, it is getting closer.
Another neat feature is the trackpad. The virtual one appears when you tap the dot below the spacebar, giving you a decently large target for moving the cursor. To save space, however, that trackpad goes away when you start to type and turns back into a spacebar.
Besides inking on the primary display, users can also use the E Ink side as a notepad or to read PDFs. Inking on E Ink is not as fluid as the IPS color display, but it saves tremendously on battery life. Because the Yoga Book flips around either display can be turned off to save on battery.
Currently, the E Ink side does not support books from the Microsoft Store, but that could change later.
When closed, a user can double tap on the Yoga Book's lid, causing the device to open automatically. The feature uses a combination of gyroscopes and magnets so that it only works when laying flat on a table versus being carried in a bag.
Lenovo also now hides a fingerprint reader in the power button giving users access to Windows Hello. And dual-firing speakers with Dolby Atmos deliver decent quality audio from a device thinner than many smartphones.
Lenovo is offering an option for LTE on the Yoga Book, but during our briefing, the company told us it's not going to be available in the U.S. due to low market demand. The choice for no LTE seems like a tremendous missed opportunity
Yoga Book C930 folds into the future (again)
It is ironic that the original Yoga Book was an Android-only project that at the last minute picked up support for Windows 10. For its return in 2018, there is no version for Android, because the Android version did not sell while the Windows 10 ones did.
Image 1 of 2
This time around, Lenovo decided to make the Yoga Book a real PC. Not only does it look like something from the future, it doesn't perform like something from the past. All of that comes at the price of seemingly mediocre battery life, selective availability of 4G LTE, and a higher starting price of $999 – but it is at least now a true aspirational device.
How that E Ink keyboard and inking holds up remains to be seen, but the Yoga Book C930 is easily the most exciting PC we have seen this year. Expect it to hit markets later in October.
Related reading
Windows Central Newsletter
Get the best of Windows Central in your inbox, every day!
Daniel Rubino is the Editor-in-chief of Windows Central, head reviewer, podcast co-host, and analyst. He has been covering Microsoft since 2007 when this site was called WMExperts (and later Windows Phone Central). His interests include Windows, laptops, next-gen computing, and for some reason, watches. Before all this tech stuff, he worked on a Ph.D. in linguistics, watched people sleep (for medical purposes!), and ran the projectors at movie theaters because it was fun.
This is the most exciting laptop in years. Can't wait to buy one, a suitable replacement to my original Lenovo Yoga Book!

I can't imagine actually wanting this for any reason, but it *is* nice to see something new in Windows land.

Watched the video twice. Oh god. Kaboom.

Can the E-Ink screen act as a generic display, or it stuck with the special software? I would love to use this as an e-reader, but that means I'd like to have a choice on the software.

I agree. I'm tied to the Amazon ecosystem so if it doesn't display Kindle books this device isn't the holy grail I've been looking for. That said, I don't know if that decision is necessarily only Lenovo's to make. It seems to me like Amazon would have to update their app to display on the e-ink screen of this laptop.

For Amazon specifically, you may be able to get rid of the DRM. But I'm with you that if the E-Ink cannot be a generic screen, it will kill the deal for me. There are bookstores out there that there is no known method to remove DRM, including those that use the newest version of Adobe Digital Edition Amazon (or any app) does not need to update to be compatible with E-Ink. It may not be the best experience, but it will work. The proof is, right now anyone can buy Onyx Boox Max 2 and use it as a generic screen.

Wow, they really improved in so many areas!!!

My Miix 630 gets 22 hours + Plus 1 Gh LTE..... That Yoga smells more like Sweat/Hot/nastily Yoga with a CPU from a company that still can't patch Spectre. NEXT !!!!

If you only have a small win32 app here and there to run then ARM is fine but at this point in time I would take a Intel i5 over ARM. ARM might be the future but the future is not today.

Love that Lenovo is experimenting with E-ink and this is a beautifully engineered device, but no full Windows 10 mode on E-ink option, no sale. Seriously, how hard is it to do extended desktop, or only use the E-ink screen for full Windows 10?

E-ink does not refresh like traditional screen. Lately some small changes have come with partial refresh which is still around 300ms per refresh... So only usable for slow animation in small areas.

Not sure what you are expecting to do over on that eInk side with Windows. I guess use it as a second screen and run a eBook or PDF app on it?

I got 999 problems but a Book ain't one... That price is crazy, and that's coming from someone with a Yoga Book right next to him.

This one has better specs (proc etc), hence the price bump.

Hey Daniel, how is the "simulated" keyboard, is it better than a macbook keyboard or even as effective as the surface go one? (I find the go one pretty small and am much more comfortable with the surface 3 one...)

10.8 inches So it should be pretty similar to the surface 3 in spacing

Yeah that's a pretty machine. I want this.

Take my money! Now to get said money.

This is basically what everybody wanted back when those videos of the Courier "leaked" on YouTube. I hope this sells well so other companies get into the act. If this sells well, hopefully Microsoft might even reconsider using an e-ink screen as one of the two screens in the alleged Andromeda device. Right now this is a "maybe" for me because there's no guarantee it'll be able to support all the Kindle books I've purchased but haven't read yet. Hopefully Lenovo will be able to work something out with Amazon before release.

Very disappointed. This could have been great, but 4GB RAM only option and a tiny battery in a QHD+ screen (+second screen) will kill this in no time...

The price is ouch! But I don't know how many 10.8 fHD E ink displays with pen support are available on the market, so unfortunately makes sense...also 8 gb ram would have been nicer, but it looks amazing! "For its return in 2018, there is no version for Android, because the Android version did not sell while the Windows 10 ones did." *Nicolas Cage long hair meme*

"Nicolas Cage long hair meme" lol

e-Ink display is what I want on the outside of the Andromeda device.

C930 target the same unique use cases as Andromeda except it is not pocketable. In the case of Andromeda, u get ebook reader on both screens in color.

That thing is almost as light as my Surface Pro... without the keyboard! It's so thin, I'm afraid I'm going to lose it in the gap in an elevator door. That E-ink keyboard with custom software? No thanks. If I were that much of a poseur I'd get a MacBook with a touch bar.

You are not the target group obviously. They even show it in the image that it is more meant for drawing/writing, not if you type a lot. A Macbook cannot do that so comparing them makes no sense.

Looks cool, a little gimmicky. If they can get .Epub file support, or partner with Amazon for the e-ink display, then we are talking........ Until then, just another gimmick.

Make a hands on comparison of this and the Surface Go! They very much targets the same crowd. I myself is very tempted to buy one or the other.

The Surface Go is for a different target consumer audience than this device which is more like a Surface Pro competitor, the starter CPU from Yoga Book 2 is much more faster (about 2x times the performance) than Surface Go's Pentium Gold, also the price is about the double.

This looks great, they replaced the halo keyboard and toy Atom CPU with Pro CPU like Intel Core M CPU and E-Ink revolutionary keyboard.
If I was Apple, I would be worried by Lenovo, they're really doing very nice innovation in desktop PC industry

I'm afraid I don't see how this configuration offers competitive advantages in markets comprising users of traditional notebooks, 2-in-1 notebooks, or (my fav) Surface Pro style notebook/tablets. Its biggest PRO seems to be the low power e-reader mode. But in return it gets its worst CON, in my view, a virtual/flat keyboard. I don't see how the ergonomics of a virtual/flat keyboard will ever come close to those of even the Surface Pro keyboard let alone a good Lenovo laptop keyboard.

You don't buy this if you type a lot, you would buy this for it's drawing, sketching, writing and reading (can probably replace an e-reader) features. If you want a good keyboard, buy a thinkpad laptop/2-1.

Looks and functions like the enlarged version of Surface Andromeda... Would this encourage MS to at least announce it or is it completely dead?!

It needs to be bezelless and dual screen with two screens that are exactly the same. Nothing wrong with 1920x1440 on 2x 10" screens. Wink even traditionally costs more in that size. So... no bezels and 2 color screens and then it would be perfect.

I use the Yoga Book 90 in Android. Power is not an issue there. The keyboard is fine for many purposes but a $20 Anker Bluetooth keyboard goes in my bag for 'big writing' work. The flat keyboard shaves a bit off my normal typing speed but it is not a huge issue if I have my Anker keyboard with me. I'd expect the same to apply on the 930.