LG gram 14 2-in-1 review: Uncommonly light convertible computing
LG's new convertible 14-inch gram gets a lot right, but some things leave me scratching my head.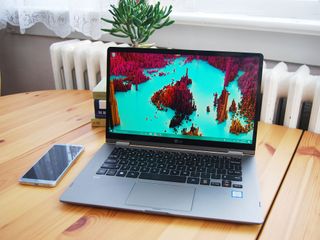 I'm a big fan of LG's 2018 15Z980 and still use it frequently today, so when I heard that LG planned a 14-inch convertible (called a 2-in-1 here), I was understandably excited. Convertibles have come a long way, and this year's Lenovo Yoga C930 was probably the best I've yet to test and review. I had high hopes for LG's gram and expected it to blow away the competition, and after using it for a couple of weeks, I can say that it's certainly a fine choice, though some flaws keep it from achieving greatness.
LG provided Windows Central with a gram 14 2-in-1 that has inside an 8th Gen Intel Core i7-8565U Whiskey Lake processor (CPU), 16 GB of DDR4-2400MHz RAM, and a 512 GB SATA M.2 solid-state drive (SSD). This is the only configuration LG offers, and it can be had for about $1,500 (opens in new tab).
$1,500 (opens in new tab)Bottom line: It's one of the lightest 2-in-1 laptops out there, and though it has its flaws, there are enough premium perks to make it worth the price.
For
Light, premium build
Superb keyboard
All-day battery life
Excellent display color reproduction
Mostly solid performance
Against
Slow SATA3 SSD
No Thunderbolt 3
Display could be brighter
LG gram 14 2-in-1 technical specifications
Swipe to scroll horizontally
Category
Spec
OS
Windows 10 Home
Processor
8th Gen quad-core
Intel Core i7-8565U
Up to 4.60 GHz
RAM
16 GB DDR4-2400MHz
Dual-channel
Storage
512 GB SATA3 SSD
Display
14 inches
1,920 x 1,080 (FHD)
Touch, IPS, glossy
Graphics
Integrated
Intel UHD Graphics 620
Ports
HDMI
USB-C 3.1
Two USB-A 3.1
microSD card reader
3.5 mm audio
Audio
Dual Stereo 1.5 W
Wireless
Intel Wireless-AC 9560
802.11ac (2 x 2)
Bluetooth 5
Camera
Front-facing 720p
Keyboard
Backlit
Touchpad
Precision
Biometrics
Fingerprint reader
Battery
72 Wh
Dimensions
12.8 inches x 8.3 inches x 0.7 inches
(325.12 mm x 210.82 mm x 17.78 mm)
Weight
2.53 pounds
(1.15 kg)
LG gram 14 2-in-1 design
The 14-inch gram 2-in-1 (which uses product number 14T990) has a chassis built from a magnesium alloy that allows for it to stay light. It might seem kind of plastic-y, but it's in reality quite durable, having gone through MIL-STD 810G testing. I was sort of concerned with how well last year's 15Z980 would hold up, having been made from the same material, but I can safely say that it's taken its fair share of abuse and shows nothing more than a couple of shallow scratches.
There's only one silver color available to match the rest of the gram lineup, and it's not bad when it comes to picking up fingerprints and smudges. A wipedown every few days should be more than enough. The gram logo is emblazoned in the middle of the lid, there's a smaller gram logo below and to the left of the keyboard, and LG's logo has a spot below the display in the relatively narrow chin. It's overall a slick looking laptop that flows well from lid to base, and it weighs about a half-pound less than a lot of the 14-inch competition, including Lenovo's Yoga C930.
While it is lighter, the gram 14 2-in-1 is also slightly thicker than a lot of similar laptops, coming in at about 0.7 inches. That makes the lower weight a bit more impressive, but if you need the slimmest possible laptop, this one isn't it. As a tradeoff, the body has essentially no bend to it at all, and the lid isn't too far behind. The hinges are also perfectly stiff, allowing you to open it with one hand while also preventing unwanted movement in its different converted modes.
There's no IR camera for facial recognition, but a fingerprint reader is set into the power button that lives in the top-right corner of the keyboard. With Windows Hello enabled, it allows you to log in almost instantaneously without having to type a password. On the right side of the laptop, mixed in with some of the ports, there's also a Wake and Sleep button that can be used when the laptop is in a converted mode, and you don't want to flip it around to use the keyboard power button. If you have Windows Hello enabled, you will have to nevertheless get your finger over the reader, which kind of defeats the purpose.
Overall I do like the design of the gram 14 2-in-1. It's a bit thicker than the competition, but the weight more than makes up for it when it comes to portability. I hardly noticed I had a 14-inch laptop on my back when heading out the door, and I didn't really have to worry about it getting scratched or otherwise damaged thanks to the resilient chassis.
LG gram 14 2-in-1 display and inking
A 14-inch display is an ideal size for a lot of people, as oftentimes 13 inches seems just a bit too small for productivity and 15 inches seems a bit too big to carry with you everywhere. It has a 16:9 aspect ratio and 1,920 x 1,080 (FHD) resolution for a pretty standard look, but LG nailed it again with superb contrast and near-perfect sRGB color reproduction. In testing, I got back 99 percent sRGB and 77 percent AdobeRGB, which makes this a suitable laptop for some photo and editing work. I'd love for it to get brighter, though, as the glossy finish makes it very hard to use when there's any direct light involved. It's supposed to cap out at about 300 nits brightness, but it's likely closer to about 260 nits.
Image 1 of 3
The bezel on either side of the display is uniform and relatively thin, and the upper bezel is a bit thicker, with a 720p camera (with a picture that's nothing but average) and dual microphones built in. The chin along the bottom of the display is thinner than a lot of other laptops, for an overall modern look. It's enough to have something to hold onto when you're using the laptop in tablet mode, but it's not too much that it looks like an aging device when used as a notebook.
The touch function is responsive, and I had no issues ignoring the keyboard and touchpad for long periods, and LG includes an active pen based on Wacom AES 2.0 tech with every gram 14 2-in-1. Comparing it physically to the Surface Pen, it's about the same diameter and weight, though it's longer and balanced a bit differently. It feels a lot more top heavy and takes some getting used to, but it ultimately delivers a satisfying inking experience. You get 4,096 levels of pressure sensitivity and tilt support for artistic ambitions, but it also delivers a smooth line when you need to jot down some notes. It has two programmable buttons on the side, and it comes with a couple of replacement nibs.
LG gram 14 2-in-1 ports, battery, and charging
Image 1 of 2
A lot of premium modern Ultrabooks include at least one Thunderbolt 3 port these days, but for some reason, LG decided to stick with plain USB-C 3.1. It's on the left side of the laptop, joined by HDMI, USB-A 3.1, and a barrel charging port. You can use the existing USB-C port to charge if you have the correct power adapter, but it would have been nice to see a second USB-C port rather than the barrel charger. On the right side, there's a Kensington lock slot, a second USB-A 3.1, a 3.5 mm audio jack, and a microSD card reader.
Other than the lack of Thunderbolt 3, I like the mix of ports here. Convertibles seem to be linked with media, so the HDMI out is ideal if you don't have a USB-C display, and the dual USB-A ports let you easily connect legacy accessories. The microSD card reader makes it easy to transfer and store media, and the USB-C port gives you a lot of flexibility.
The compact charger can deliver in an hour about 50 percent battery life from dead, and with a full battery, I got about nine hours of real-world life before needing a recharge. With a beefy 72 Wh battery, I feel like that number should be a lot higher, but it still gets through a day.
LG gram 14 2-in-1 keyboard and touchpad