LG's stunning lightweight ultrabooks are launching in the US from $899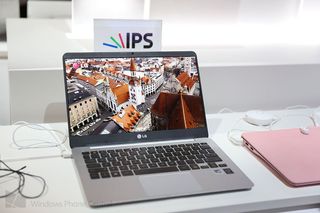 The LG Gram will shortly be available for purchase from the Microsoft Store in the US. This range of Windows 10 lightweight ultrabooks from LG will be marketed as Microsoft Signature Edition to those who are seeking a portable, yet capable PC with a stunning display.
LG is positioning the Gram family of laptops against the 13-inch MacBook Air, though the company is pinning hopes on its superb 1080p IPS display. An added bonus (and what gives the laptop its name) is the weight, which measures in at just under a kilogram (980 grams), making the LG Gram lighter than Apple's entry-level laptop at 1.08kg. But there's no keyboard backlight however, which is unfortunate.
Then there's the price. From $899, you'll be able to pick up the 13-inch Gram, powered by an Intel Core i5 processor, sporting 128GB of internal storage and 8GB of RAM. The laptops from LG will be available both online and in-store at Microsoft outlets, as well as Amazon, which will also stock the LG Gram at competitive price points.
Source: The Verge
Windows Central Newsletter
Get the best of Windows Central in in your inbox, every day!
Rich Edmonds was formerly a Senior Editor of PC hardware at Windows Central, covering everything related to PC components and NAS. He's been involved in technology for more than a decade and knows a thing or two about the magic inside a PC chassis. You can follow him on Twitter at @RichEdmonds.
Off topic, noob question: Is it possible to have a small capacity ssd AND a large capacity hdd in a laptop..?? Are there any laptops with this config..??

If the laptop has two ssd slots.

As ttsoldier said, it's up to the manufacturer. Some clevo's will support 3 drives and even an m.2 slot.

I think what your after is a hybrid drive

Yes, some larger laptops have dual storage drives.

Of course its possible.. Someone has to make it tho.

a friend has a 19-inch laptop with 2 hdd spaces

Or you can remove you optic drive and replace it with a ssd or hdd.

i did it as devin19 said on lenovo z580. 128 ssd and 1tb hdd

Yes you can, some laptops even support two sata 3 connections, or more, and an m2, or more. Generally the larger chassis devices support this. Of course, there's a cost.

I have seen laptops like this, they seem to be on the more premium side as far as models go. Even though it's a pain, you can always get a USB HDD.

Yes. My toshiba satelite seems to have this. AFAIR

Lots of laptops have this set up, even if they don't talk about it - many are raided. I've got a gt80 and 72 msi, an older xps17, two alienwares - to be honest there are many machines that allow for more than one drive device; yup some are on the pricier side. There is plenty of choice though.

try gigabyte px35 v3, you will be amazed how many stuffs can be squeezed into that chassis.

you could have a hybrid drive

My Asus RoG laptop (GL551JW) has a 128GB SSD as a boot drive and a 1TB storage drive, so yes. Hybrid drives (like others have mentioned) combine both in a single drive and can be installed in most laptops.

My ThinkPad yoga has a free mSata slot and a 2.5" drive slot (7mm). It came with a 2.5" ssd.

When SSD was still relatively new a whole bunch of laptops and PC's came with a dual setup because plan SSD was too expensive. Hybrid drives. Nowadays HDD tends to stick with low to mid-range while SSD is in high mid-range to high-range.

It's possible with most laptops that have a optical drive (DVD). You can buy caddy's that replace this drive, thereby giving you the option to mount a HDD. You should not mount a SSD in the caddy because the connection used for the OD will most likely be slower than of the main HDD that is already in your laptop. Most smaller form factor laptops will not support this option.

I love when all these oem copy each others designs. Might as well import them from Dell and tape LG logo on it and call it a day.

So you think just because it has no bezels on the side, they are copying dell? Thats like saying all ultrabooks copy macbook air because they are thin..

Dell does not have copyright over slim bezels, infact the so called infinity display itself is sourced from Sharp, such displays and ultraslim bezels will become much more common with next 2 years.

Keyboard backlight is really nice to have. Now that I have it on my xps 13 I would not want to go without it.

No touch screen either. Makes a perfect W10 laptop then..

Interesting offering, though cheaper than the xps13; but I think it might be worth spending the extra for the extra features etc.

"Imitation is the sincerest form of flattery."
-Vizio, 2012

Looks exactly like a MacBook...

It the new LG Macbook... Everyone is trying to get in on Apples so called beautiful design. Which sucks for people like me (and the two others in the world) who hate it. Wanna see a beautiful laptop? Then Bing pre-Lenovo ThinkPad. The early Lenovos were beautiful as well.

Hating it might be a bit strong but I certainly dislike the MacBook keyboard

Here I am, l m one of the other two.

Lol, you advertise the storage as being "internal" storage... This is a computer. Of course the memory is internal.:S

If I'm not mistaken this device already out around 2013 but they not yet released it to market. Finally.... Edit : January 2014 at CES

Tha display seems pretty "infinity", that's good.

I wish thy would make a 17 inch laptop I don't need anything smaller.

Any word on UK release or pricing

Yes, try to get a lenovo yoga 1 pro, had one it has two ssd slots, one is empty. I had the i7, but found the fan too noisy. A good friend still uses it as main system, is no problem for him
Windows Central Newsletter
Thank you for signing up to Windows Central. You will receive a verification email shortly.
There was a problem. Please refresh the page and try again.