Microsoft offering £50 coupon code due to Surface delivery confusion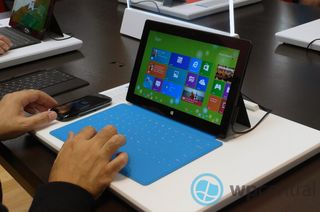 Microsoft has issued an apologetic statement in an email sent out to those who have pre-orders standing for a brand new Surface RT, which is coupled with a £50 coupon code. The company admits to problems that confused consumers with misleading emails being dished out with bad news surrounding the delivery of Surface RT units. Originally it was expected the company would be able to hold deliveries between October 26-30.
As a token of appreciation for the understanding and patience displayed by consumers, Microsoft is offering a £50 redemption token to those who are waiting for their new Windows 8 tablet, and reiterate they expect to deliver tablets by October 30th. While not cash compensation, it's good to see the company taking care of those who have been there at Surface's birth.
Those of us in the UK have been through the mills with emails stating deliveries will be early, then deliveries will be late, but if Microsoft can't complete the order to the time frame they specified when pre-ordering, it's only right a goodwill gesture is offered by the company as a small apology.
BP in SouthPark isn't the only company who's sorry...
The code is eligible on purchases from the Microsoft Store (www.microsoftstore.com/uk (opens in new tab)), where consumers who own such a code can shop for items they wish to purchase, check out and type in the promo code sent in the email. This will take £50 off the total cost - a nice gesture, especially if you're after a second cover.
Do let us know in the comments if you've received such email from Microsoft. Is this enough to remove the bad taste left in mouths of customers who are still waiting for their order? We'll let you decide. While you continue to wait (which we're certain will be more than worth the duration), be sure to check out our round-up of the must-have apps for Windows 8.
Thanks to everyone who tipped us on this!
Windows Central Newsletter
Get the best of Windows Central in in your inbox, every day!
Rich Edmonds was formerly a Senior Editor of PC hardware at Windows Central, covering everything related to PC components and NAS. He's been involved in technology for more than a decade and knows a thing or two about the magic inside a PC chassis. You can follow him on Twitter at @RichEdmonds.
I think you have the wrong end of the stick. My email reads that the coupon is to apologies for yhe confusion around the delay email being sent by mistake and that I'll still get it with the original delivery window.

Which is exactly what I covered in the above article? They state they expect to still see the deliveries through between the 26-30, but we'll have to see if they pull through on that. Until then it's good to see Microsoft taking action to make up for previous mistakes / errors that have occurred.

Any word if this will be sent to US customers as well in the form of $50 credit?

What about Germany? I didn't recieve my Surface yet, while my e-mail confirmations say: delivery on the 26th.

Check your junk mail :P don't know why all my MS emails end up in there :$

No mails from MS, even in spam folder.

Got my coupon. Was very annoyed with MS over my surface's no show and the random information their call centre has been giving out. Happier now, it's a decent gesture.

Excellent customer service - before I could get mad about this I was getting an order confirmation for my free copy of Windows 8 courtesy of a £50 coupon! Yesterday I got my xBox Music free 1000MSP for nothing, today a retail boxed copy of Windows 8. And all I have to do is be okay about my Surface being delayed slightly.

I can live with that. More companies could be so forthright and proactive when dealing with an obvious problem AHEM...apple maps...COUGH

I thought they were being shipped in advance to be delivered on 26 Oct? Anyway, I called them today as I hadn't received any shipping notice yet and they said all pre-orders have now been shipped by UPS and should be delivered in 1-4 days? I'm hacked off, cause I thought they would be delivered for 26 Oct. I got the £50 voucher and it says... "As stated at the time of order, we expect customers in the U.K. to receive their Surface devices between Oct. 26 and Oct. 30." I can't remember that! But I do remember it saying they may dispatch earlier to make 26 date. Seems like a bit of back tracking to me.

I'd rather take the $80 and wait until next week. That's a $40 colored touch cover right there.

http://www.southparkstudios.com/clips/360436/were-sorry

Can I get the credit for seeing that South Park image. Unsee! Unsee! ;)

£50 makes me feel happy again, yes.
I was really hoping Microsoft saw the advantage of keeping people sweet wrt launch glitches (Lumia 900)

It's a nice gesture and I'd have been surprised if they didn't do something like this; they really need to sort the Microsoft Store out though and make sure the staff are better trained, speak English fluently and are aware of any issues and what that means for the customers.

Yep i have the £50 coupon, that will go towards my keyboard. Thanks Microsoft i have not time to be playing with a surface as i am too busy with Windows 8 on my pc.

I've received the email from Microsoft. I'm glad they've given us a year to spend it because I don't know what I want to use it for yet.
Personally, I always thought that the web site had said that UK pre-orders would be shipped on 26th for delivery by 30th October, so I'm not that upset. I was really only upset when I got the email saying it wouldn't be delivered until 2nd November. So long as I do get mine by 30th, I'll be a happy customer.
Kudos to MS for giving us some compensation for the emotional aggravation.
I would, however, like to know if they are giving any consideration to offering a 12-month Xbox Music Pass to pre-order customers as they have done for the first 100 people who queued to buy the Surface RT (http://www.wpcentral.com/microsoft-surface-rt-launch-day-giveaway-win-xbox-music-pass). I suppose one could argue that we didn't have to queue at midnight and that was their reward ... it would be a nice little sweetener, though ;-).
Philip


I received the email with the code. Very happy with that. If they keep to what they originally said: 26-30th then it will be fine by me

Well was only hoping it would turn up today, wasn't really expecting it with the lack of info and the ZDNet article and all. Was nice to get £50 though as I was trying to decide on the HDMI or VGA connector but at £35 wasn't sure what I wanted so I got both for £20. :) The choice was a pain as there is next to nothing on the store for £50 and I didn't want to loose the difference. Right now I'm a happy chappy cus I got 2 adapters for less than the price of one. Hopefully will get it by tuesday so I can play before I go back to work.

Usually UPS delivers electronics very late in the evening.

Are the delays just in the UK? All of Europe? Any delays in the US? Mine showed up right on time this morning (North Carolina, US).

And guys, chill. Its like yall have never received any package by mail. You'll get the package. Just chill.

I was out all day anyway and was expecting to have the delivery retried later so this is perfect :)

You know you have that breaddd when you give out money for 'confusion' lol

Wonder how much MS will charge the logistics company for each undelivered shipment per day... A lot more than 50 bucks a unit is my guess... ;)

that's pretty nice, free windows 8 upgrade or half off a touch cover, I'd wait the coupld days for that. Nice to see microsoft stepping up.

Well I never saw a delivery window, as I ordered the Surface it said delivery by 26/10 and here is what it said in my confirmation email
Product Name: Surface with Windows RT (Pre-Ordered)
Anticipated Released Date: Pre-order now for delivery by 26/10
Unit Price: £479.00
Qty Ordered: 1
Amount: £479.00
Microsoft fucked up, is trying to blame confusion on its customers when the confusion isn't confusion they done gone goofed lol



Yeah, here's your 50.00 coupon - sorry 'bout that. But we haven't fixed anything.
Oh, and by the way, your delivery is slated for December 12 now. This time we mean it.
Have a t shirt.

Deliveries in Europe won't take place before November 2nd as the devices haven't even reached Eindhoven yet due to logistics problems. MS knew about that for about a week but decided to stay quiet.

delayed here in hk until early November. and no coupon or anything from Microsoft.

Called MS Store customer service to inquire when my CAD order would be shipped, was to hold for a few minutes. Came back and she said, multiples times in bad engrish, that MSFT was sorry for the delay and I would be getting an email for $50 CAD GC at the MSFT Store. Didn't tell me until after all that I would have to wait 1-2 weeks for delivery. I'm fine with the delay but the GC was a nice gesture for all the listening I had to do. Waiting for an email confirmation.

TBH initially I was impressed by the offer of £50 but on reflection there is not a great deal of items you can purchase with th code in the MS Store. I'd much rather have £50 off the Surface order itself than have to buy something for the sake oof it. With regards to the international delivery debacle I ordered in UK at about 19.00 on 16/10 and was quoted delivery FOR the 26/10, we then all got the email stating 02/11 delay. Then same night another email saying ignore that and refer back to the oringal date quoted on the first email. My order status in the store still is showing 02/11?? I called MS store x2. Think our guys are based in Italy, anyway first time said ignore the 02/11 I should get it 26/10. Still no shipping email so called 26/10 and was then told due to large unsuspected demand MS had been overwhelmed - Great!! But they were leaving the depot on 26/10. I have still had no confirmation of shipping so when I get it will be anyyones guess and now have surface envy of all the people in the US who are now ust able to walk into a shop and take one home now - Why did I bother preordering???
Windows Central Newsletter
Thank you for signing up to Windows Central. You will receive a verification email shortly.
There was a problem. Please refresh the page and try again.