Path, Barclays, RoboForm and more are your app highlights for the week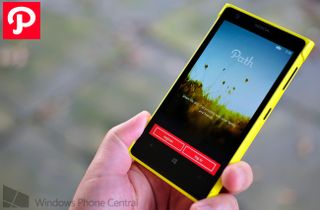 It's Saturday, which means it is time to look back and all that happened in the Windows Phone Store this past week. We'll reflect on all the new apps that came, all the cool updates, and any betas worth mentioning. Let's get to this week's app highlights.
New
Path –This app was announced way back in July during the unveiling of the Nokia Lumia 1020. And it's finally here. That's right, you can now join the intimate social network called Path. The app is in "beta" form, yes even after all those months, and so is presumably still not ready for primetime. Want to try it out? Head to the Windows Phone Store. (Free)
Quiet Hours – Have you ever wanted your phone to be absolutely quiet for a period of time? Maybe you're sleeping or in a meeting? If so, Quiet Hours is for you. The app allows you to set up "do not disturb" periods on your phone. Give it a spin from the Windows Phone Store. (Free/In-app purchase)
SpeedChecker –We've already got some solid apps on Windows Phone if you want to check the speed of your network, but one more won't here. Introducing SpeedChecker for Windows Phone. The app features a beautiful UI for checking out how fast your ping time, download speed and upload speed happen to be. Grab it in the Windows Phone Store. (Free/In-app purchase)
Barclays – Bring on the banking applications! Barclays has finally released an app for Windows Phone. The app is for both personal and business account holders and will allow them to check their account, recent transactions, and make payments. It's a killer app. Grab it in the Windows Phone Store. (Free)
RoboForm –Managing passwords can be tricky, especially when you have different ones for all the different sites out there. RoboForm is a popular password management service that finally has an app available for Windows Phone users. You can grab it from the Windows Phone Store. (Free)
GetOutCast – Around here we're big photography fans. We also like the weather. Combine those two interests and you get an app called GetOutCast. It's a weather app tailored for photographers. It will help you determine whether or not it's worth going outside to shoot. The first version focuses on sunrise and sunset predictions, but a future update will bring landscape, astrological, lunar and other photographic subjects. The app is available in the Windows Phone Store. (Free for a limited time)
Zoho Books – Zoho is company that produces a variety of business, productivity and collaboration applications in their online suite. The first to make it to Windows Phone is Zoho Books. This app will help you record, monitor, and manage your expenses. Give it a spin from the Windows Phone Store. (Free)
Weather+ –Need another weather app? Then you might want to check out Weather+ for Windows Phone. What makes this app unique to the dozens of apps already out there? Beautiful design meets gestures for navigation. It's really clever. Try it out in the Windows Phone Store. (Free/In-app purchases)
Updated
Foundbite – This week Foundbite picked up a pretty stellar update. Push notifications, commenting, Facebook login, a notification hub, and much more is all new in this update. Grab it from the Windows Phone Store. (Free)
Adidas miCoach – Not a lot of apps take advantage of Bluetooth 4.0 on Windows Phone. Adidas miCoach is one that does and it just received a new update this week. The biggest change is the addition to support their Stride Sensors. Pretty nifty. Grab it in the Windows Phone Store. (Free)
Bing Translator – Here's a fun update for Bing Translator. It isn't necessarily notable for any new features that you'll notice up front, but what's happening behind. This update brings new improvements to the speech functionality for better quality and responsiveness. Check it out yourself in the Windows Phone Store. (Free)
R.I.P.
6tindr – It was over before the party really got started. Rudy Huyn's Tinder client for Windows Phone, 6tindr, was pulled from the Windows Phone Store. The app was pulled after a complaint from Tinder was filed with Microsoft. The app had just picked up an update that brought some pretty stellar feaetures to the mix. You'll be missed 6tindr.
Games
QuizBlaster –Into trivia games? Then you should give QuizBlaster a spin. It features short gameplay with addictive quiz questions. Check it out in the Windows Phone Store. (Free)
FIFA 13 –No, FIFA 13 isn't new to Windows Phone, but it was a Nokia Lumia exclusive at launch. Not anymore. This past week the game lost its exclusivity and is now available for all Windows Phone devices. Of course you'll need at least 1GB of RAM to take advantage of the fun game. Grab it in the Windows Phone Store. (Trial/$4.99)
Average week overall. Have any fun new apps or games you really liked from the past week? List them below!
Windows Central Newsletter
Get the best of Windows Central in your inbox, every day!
I wonder when I'll see Soundcloud and Madden on this list.

+1 for soundcloud, I love audio cloud but I hate the design

There's a few others like Nebula, Vapor, Soundrivin. But yeah, an official one would be nice

try cloudoh, it's awesome

There are actually more than four Soundcloud apps...

Who said there was only 4?

Lol "average week over all" that would've been crazy to say a year and a half ago

I agree raul... WPcentral is pretty busy the past few weeks :-)

Thnx for the update WPC and Sam.

As much as I enjoy social media I have enough to keep up with now so I will not be going down that path.

windows phone 8.1 should be my next windows phone device.

We need something like Tracker in the google play store.

No voice command service apps like cortana,google now, siri will be usable to a great extent in India unless we get 4g

Agreed :D
hope we too get it soon

Yeah we will get it soon 2014 end reliance,Vodafone and idea will be starting with 4g services and in 2015 when they release cortana it will be a perfect start for us.(India)

TellMe currently works fine on 3G

Still we need 4g connection. Not possible in other cities of India except the 4 metro cities

23 app updates this morning from the WP app store. No Lumia black for the 928 yet sigh....

I haven't got amber WTF ?

maybe your phone got problem ?
because amber is out for all countries

I know I'm sick of this so I'm going to Nokia care and let them update it to black and cut it short

Path must be the shittest WP8 app ever. so buggy it's unreal. what are they playing at?

Yep, I understand its still Beta but I agree. What gets me is you cant uploaded photos from albums other than the camera roll... I mean seriously Path?

Instagram Beta is also hobbled in that way. It can't see all my picture folders. Which is just one of many reasons I prefer 6Tag.

I'd love to see flipboard now .. All the apps featured by Nokia are here except for this one.

Looks like you miss Sochi 2014 Results http://www.windowsphone.com/en-us/store/app/sochi-2014-results/76936b6d-... its nice app.

Great to finally see Roboform on WP. I've used their service for years. Everything came over great & seems to be working great. Wonderful to be able to logon to my accounts with it. Thank you WP. Central for all the great work keeping us informed. Love reading your site. Now if only Microsoft would add Bluetooth keyboard capability to my phone. It would be the perfect platform for me.