The problem for a consumer HoloLens was always the lack of Windows Phone
Without its own mobile OS, Microsoft will be forced to use Android for mixed reality to have a stake in the next generation of computing.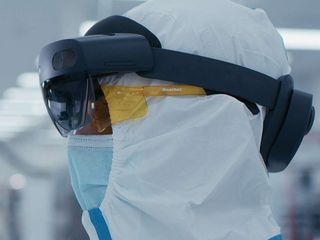 (Image credit: Microsoft)
Over the last few days, a lot of info about Microsoft's plans around mixed reality and, specifically, HoloLens has come out due to reporting of Business Insider. The biggest news is that HoloLens 3 is reportedly canceled, and Microsoft is teaming up with Samsung for a consumer push into mixed reality.
Microsoft spokesperson Frank Shaw told BI, "Microsoft HoloLens remains a critical part of our plans for emerging categories like mixed reality and the metaverse," and that Microsoft remains "committed to HoloLens and future HoloLens development." Doubts remain.
But the issue around Microsoft's plans for a consumer-based mixed reality device always falls back to one thing: The failure of Windows Phone. Let's talk about why HoloLens would never make sense for consumers and how Android, sadly, could be Microsoft's best bet. And what are the chances of a cloud-based Windows wearable PC?
HoloLens is too much for consumers (in all the wrong ways)
HoloLens 1 and 2, priced over $3,000, has always been cost-prohibitive for consumers. There was always hope that the cost would come down as the tech improved, and that hasn't happened.
But it's more than just the dollar amount that matters. HoloLens is remarkable because it's a fully functional, self-contained Windows PC. Indeed, you can connect Bluetooth peripherals like a mouse and keyboard up to it because it is just a Windows PC that you wear on your head. Apple's rumored $2,000 MR/VR headset, which may debut later this year, reportedly has a similar architecture but runs "rOS" (reality OS), so the idea had merit.
But both devices aren't proper augmented-reality (AR) glasses that people would wear all day in the same way Google envisioned Google Glass all those years ago. They're both big, too bulky, and too expensive.
However, everyone already carries around a pocketable computer: The smartphone. It makes little sense to have two computers (one on your head, one in your pocket), as it drives up costs and the headset's size.
Microsoft is aware of this challenge. Back in 2013, we reported on "Project Fortaleza," which were described as "augmented gaming glasses" that relied on a semi-transparent OLED display. According to BI, it even had a "puck you wear on your belt," which would have powered it. Fortaleza was indefinitely put on hold sometime in the next year, reportedly due to patent restrictions.
Apple's long-rumored AR Glasses (not to be confused with its rumored MR/VR headset) also reportedly work similarly, but with an iPhone instead. The iPhone is where Apple's investment into its own silicon makes sense, as the M1 series of chips are powerful enough to handle all the processing. It's also easy to imagine Apple would leverage its wrist-born computer, the Apple Watch, as an in-between device for your phone and glasses, perhaps even as an input device. But Apple Glasses are not expected to launch until 2024 or even 2025, according to Apple analyst Ming-Chi Kuo.
Of course, this leads us to Microsoft's core problem: It has no phone OS. Once the company put the ax into Windows 10 Mobile, it lost total control of any future "Microsoft Glasses" where the phone acts as its brains. It could try to shrink HoloLens down until they are just regular-looking glasses, but that seems implausible for the next decade, at least.
Enter Android and Samsung ...
Samsung needs a win against Apple
One of the more interesting bits to come out of BI's most recent report was more details about the Microsoft-Samsung partnership. Referencing the canceled HoloLens 3 (Project Calypso):
This new headset "would likely use Android," and that "canceling of Calypso moves Microsoft away from Windows as the core of what could be its next big push into augmented reality."
This collaboration is a big deal and likely a more significant win for Samsung than Microsoft. While many of the particulars around the headset are still unknown, this partnership should result in Samsung having a viable competitor against Apple Glasses, perhaps even launching earlier. Previous reporting noted that the Samsung partnership is set to wrap in 2023 with an unveiling in 2024.
What's unclear is what Microsoft gets out of this venture. While Samsung is undoubtedly leveraging Microsoft's AR experience from HoloLens, sensors, and more, it doesn't seem this would be some future Microsoft "AR OS" platform that other OEMs could adopt. It now appears that much of the Windows software built around Microsoft mixed reality over the previous seven years is for nothing. It's not even evident if Microsoft's own Surface Duo line of phones would be a part of this AR effort.
Once this is all understood, it's a bit clearer why there is alleged dissent amongst the ranks of Microsoft employees. According to BI, all the people working on HoloLens 3 (Calypso) have been reassigned to other work within Microsoft or left the company. But besides the experience and knowledge gained, Microsoft, in the end, evidently does not have a viable consumer or even enterprise-level solution for the market.
That's devastating, and signifies a meandering strategy.
While the move to Android for Microsoft mixed reality may be the best long-term bet, Redmond went from having HoloLens where it controlled the hardware and software to whatever it is doing with Samsung, where it may not control either.
Microsoft's future "edge" cloud-based AR headset?
If there is one thing Microsoft loves these days, it's the cloud, so it makes sense the company would consider a wearable edge device where all the computing is handled offsite. Streaming Windows already happened in 2021, and game streaming is already live for consumers, so why not adopt the same model for mixed reality?
While there is nothing concrete yet in development, Microsoft is purportedly considering such a device, according to a source at Business Insider. The source, however, acknowledges that the "device is in early planning and may still change significantly."
It's unclear whether such a headset would be enterprise-only or if Microsoft would consider it for the consumer market. But going on what's past is prologue, an edge-based wearable seems unquestionably enterprise-first. After all, while intriguing and efficient, such a setup would have little to no relation to one's smartphone, including apps, making it an entirely different experience. Sure, it could likely handle some intense processing and maybe be positioned towards gaming, but it appears unlikely as a consumer-focused competitor to Apple or, ironically, Samsung.
But one intriguing use-case is if these headsets could be your future PC.
Lenovo's ThinkReality A3 glasses (opens in new tab) already go down this route by creating holographic virtual Windows displays, but it relies on a powerful laptop to power it all (including a beefy GPU). What if you substitute the PC hardware for the cloud, and you could use the glasses for your screen? Toss in a Bluetooth mouse and keyboard, and you could have yourself a very mobile Windows computer with all the power of a cloud-based server.
There's no reason Microsoft couldn't adopt this strategy to bring Windows OS into the future, but this assumes the project ever gets beyond the planning stages.
Microsoft mixed reality: So many questions
There is one takeaway from all this reporting from Business Insider: Microsoft's roadmap for mixed reality is very unclear now, with many questions being raised, such as:
If there is no HoloLens 3, what happens to current devices, customers, software, support, and sales? Does Microsoft leave them in the lurch?
What happens to Windows Mixed Reality built into Windows 10 and 11? / Are there no plans for bringing the OS into the future?
What does Microsoft get out of the Samsung deal? Can Microsoft use the device with its Surface phones?
Is Microsoft handling the Android software AR for Samsung? If so, who owns that: Samsung or Microsoft?
How does this all affect Microsoft's vision for the metaverse, including Mesh for Teams, gaming, and more?
Does Microsoft plan to let Xbox, Surface, and mixed reality teams collaborate on a product? If not, why?
For all these reasons, Microsoft should consider defining what is happening behind the scenes for its mixed reality plans in the coming year. Existing HoloLens customers will want to know if the product is a dead end, and investors will want to know how Microsoft intends to address this forthcoming generational shift in computing.
As of now, Microsoft's push into mixed reality appears chaotic and disordered. That may not be the case, and maybe BI has the wrong information. If that is accurate, Microsoft needs to correct the record and hint at what it sees as the future of Windows and mixed reality.
Windows Central Newsletter
Get the best of Windows Central in in your inbox, every day!
Daniel Rubino is the Editor-in-chief of Windows Central, head reviewer, podcast co-host, and analyst. He has been covering Microsoft since 2007 when this site was called WMExperts (and later Windows Phone Central). His interests include Windows, laptops, next-gen computing, and for some reason, watches. Before all this tech stuff, he worked on a Ph.D. in linguistics, watched people sleep (for medical purposes!), and ran the projectors at movie theaters because it was fun.
Many of us have been saying axing the mobile division literally axed future prospects of growth. In regards to the current landscape, Microsoft can leverage WoA... sure it won't be pretty right now but it's a damn side better than handing everything on a platter to the competition. With WoA Microsoft can still leverage WMR, Cshell, Continuum and put WoA on mobile devices. In regards to connectivity, WoA also allows for wearables without reliance on Android Wear or whatever derivative that follows. Furthermore, Microsoft can leverage continuum for screen mirroring or projection via Miracast onto Hololens as your primary screen. Additionally, Microsoft can have their cake and eat it too with ARM64EC as they can have continuum run Win32 apps in emulation when docked. The UWA-esque aspects would run natively on the ARM SoC. Lastly, with WoA all that time wouldn't have been lost otherwise the other route? Well... let's just say Microsoft will not get a free pass even with a reasonable explanation at the shareholder's docket. They may be given the benefit of the doubt given past shareprice priee performance but when share prices start crumbling, the wolves will be at the door. As there is nothing left for the bean counters to squeeze for a short reprieve (in terms of share price boosting).

Yes, I concur. WoA must be successful before Ms can do the next steps on consumer space

Microsoft needs to more than "hint at what it sees as the future of Windows and mixed reality." It's hard to trust Microsoft to be honest about anything.

Apple Glasses will NOT require iPhone according to the recent report from Kuo. And if that's true, the lack of Windows Phone is not an excuse for Microsoft.

Incorrect. Apple MR/VR headset won't, which is standalone with its own CPU/GPU, but not Glasses (AR) which are expected to be around $499 and an accessory for your iPhone. The former could ship, limited quantities to developers, as early as late 2022 (and could cost ~$2,000), whereas Apple Glasses may not ship until 2024 or even 2025. They are two very different products. The MR/VR headset is for home/living room/gaming (basically, Oculus Quest 2, but with MR, more advanced), whereas Glasses are an everyday accessory that overlay information from your phone onto the real world similar to what North was doing before Google acquired them. It makes zero sense to have an AR, standalone headset that you can wear all day with its own CPU/GPU, OS, etc. that has no relation to your phone. It'll be unnecessarily big, heavy, and substantially more expensive.

This article mentions AR multiple times with a possible VR support. I'm not sure if this is the "AR Glasses" but it's obvious (in case the report is true) that it's AR headset first that doesn't require iPhone. Also, the report from The Information (the one that came with information iPhone being tethered) mentions AR/VR headset, not AR only. https://9to5mac.com/2021/11/25/kuo-apples-ar-headset-to-launch-in-2022-w...

Again, you're conflating two different rumored products: Apple VR and mixed reality headset vs. Apple Glasses. Apple standalone headset. Expected late 2022, focused on devs, living room. Cost: $~2,000 Apple iPhone Glasses: Expected 2024, 2025, focused on consumers/all-day wear. Cost: $~499 There's even technically a third stage to Apple's AR goals, with AR-enabled contact lenses. But we're talking many years out. And, again, you can't make something that's like Google Glass or Focals by North that you wear all day that has its own OS, CPU, GPU without making it larger, heavy, and driving up cost. Offloading that to a phone (or even the cloud) is the longer-term goal here. That is why Apple is pursuing it as well as Samsung (and definitely Google).

Problem is not Windows Phone or Windows X. Problem is Nadella and his Cloud-SaaS madness. Yuck!

This doesn't account for the apparent 7 years of software work by the mixed reality team, including Windows Mixed Reality itself, which evidently has no future. While he cut the check to the mixed reality division, he wasn't the one leading the strategy, managing it, and developing its products.

Google had Android and Glass still failed. They had Android powering the VR experience, when they released Google Cardboard... it still failed. They tried to revive it with Daydream, came out with a first party head set... it failed. It even powered Oculus Go, which is now a discontinued and unsupported device. As far as apps are concerned, We have PWAs, Microsoft has essentially given dev free reign to publish apps however they want, they just Visual Studio, they have Dev Ops, they have git hub and can publish FOR FREE. Then there's the app integration with Android apps on windows. The thing is... What are consumers going to use a consumer Hololens for? That's the question. What is the compelling story here that hasn't been painted? Businesses and Enterprise have tons of compelling stories right now which is why it's succeeding there. Id Rather MS improved the WMR experience and then figure out a way to switch between the VR experience to the AR one.

"The thing is... What are consumers going to use a consumer Hololens for?"

The simplest answer is the one that Apple is reportedly pursuing: It's an extension of your phone's display that can also act on the real world e.g. present mapping, location info, notifications, recording, etc. like a heads-up display. This is what North was doing with Focals before Google acquired them. If you want to get creepy cool, you link Microsoft's LinkedIn to face ID so that when you're at a conference and talking to someone, you can pull up their bio in your reticle. Mixed reality could be used by Apple by overlaying data once a QR code is recognized bringing displays and things "to life." Apple devs are already doing this since you can develop AR on iOS right now. There is also the ability to 3D scan objects that can be imported to your phone to later be acted on or integrated into work. While I get there is a bit of "but what do we do with this?" with regards to AR, honestly, a lot of it is just due to lack of imagination. People also told me back in 2006 they didn't get why anyone would want a smartphone when you can just email someone when you get home. Local mapping was barely existent too. Things change.

Here's the problem with the smartphone comparison, and I say this as a early smartphone adopter (I owned an HTC Tilt 2 running windows Mobile 6). Phones like the sidekick, and later the blackberry, then palm phones, then pocket PC phones like I had, had already demonstrated the interest and viability of smart phones. Every single AR attempt thus far as fallen flat, because they haven't told a compelling story. Maybe they will eventually, but this is nothing LIKE smartphones. Once data plans got cheaper, people started switching because email, web browsing, chat, and mobile games were already things people wanted to do on the go. As far as the apple comparison, Google Glass was almost doing that already. Are we really suggesting that people want to buy ANOTHER device to view the screen of their phone...on their face?. Maybe on a car in a heads up display that would be cool, but something to wear on my face? Not seeing it, and I say this as someone who sells Hololens, and owns a Reverb G2, both of which are viable products to me. The linked in thing is...Ok, but unnecessary, and you can do similar thing with Hololens right now or use Alt space with WMR.

" Every single AR attempt thus far as fallen flat, because they haven't told a compelling story. "

I'd argue we've never seen actual consumer AR deployed commercially for consumers. VR? Sure, but not AR. Can you name me a commercial product besides Focals by North? Even that's not AR, more like a HUD for your phone. HoloLens is mixed reality, but too costly for consumers with no justification (too big, too heavy, too pricey).

"Maybe they will eventually, but this is nothing LIKE smartphones."

I disagree 100%. I, and others believe AR wearable devices will supplant smartphones as we know them in 10+ years. Microsoft belives this. Apple believes this. Facebook believes this. Global Data believes this. From Global Data:

"Imagine wearing a pair of glasses with the computing power of a smartphone. It is activated by your voice and recognizes what you see, where you are, and the context in which you are operating. Such a device can replace the smartphone as the primary connected device users carry around, but that is some years away from reality. Clearly, the threat to the smartphone market is not imminent. Indeed, smartphones are currently used to support AR applications in both the consumer and enterprise markets. However, first-mover advantage in AR is such a valuable prize that every large technology company is investing significantly in this theme."

There's a reason why the entire tech industry is pivoting towards this technology. While I think it's a long way off (even 2030 is too aggressive, IMO), this is where the market is headed with billions of investment to boot.

Is Apple going to "me-too" some half baked product out there like everyone else, or are they going to have something revolutionary? There is tons of room to revolutionize the input method and hardware. Has Apple figured out what everyone else has been struggling with?

"There is tons of room to revolutionize the input method and hardware."

The rumor the headset is it does hand/voice recognition and there is a ring/joystick you can use for menu navigation (like how Focals by North worked). The headset is more akin to Oculus Quest 2, but with MR sensors, and more ideal for gaming and "cool" stuff in your living room. Think media consumption, VR social experiences with your Apple Memoji (VR FaceTIme), etc. For Glasses, it would seem obvious (to me) that you make the Apple Watch an input screen and possible nav tool to control the glasses, so the phone can stay in your pocket. The Watch could even be a mouse pad if they wanted.

"Has Apple figured out what everyone else has been struggling with?" My money's on not. We're pushing the envelope in UI usability, and for what? The value looks limited even if we didn't have deep UI issues to sort out. It's different for enterprise/military/research/medical, where there's at least high value applications today (so I gather). And (on a related topic) a workable productivity 2-in-1 UI I think is also a valuable thing to invest in for a company like Apple or MS. Glasses that let me pull up others' LinkedIn profile? Meh.

This AR/VR platform is new and in very early. So I think Microsoft can start from scratch.A cloud based operating system makes more sense to me than using windows on AR device. If Microsoft can make the operating system more user-friendly, fluent and most importantly easy for developers to write apps, they will be able to win the consumer market. If successful, then future surface duo can be powered by the cloud operating system. Who knows!!!

Since MS first announced the Hololens I was excited and wanted one. I wanted the ability to have a virtual office. A huge "monitor" if I looked straight ahead. Other apps setup if I looked left or right such as Outlook or Word. Turn completely around and watch Netflix or play XBOX. It would have been glorious. Then years into it I saw the slow movement. The lack of even trying to get something out to consumers and the writing slowly started forming on the wall this was another area MS would squander a fantastic lead in the industry because of their lack of leadership on multiple levels, not just at the top. Face it, we long time followers did not have to be told there is some "**** Sh*w" going on deep in the, pardon the term "bowels" of MS. Most of us here have lived it through products that are now collecting dust in our failed dreams MS tech drawers. "If there is no HoloLens 3, what happens to current devices, customers, software, support, and sales? Does Microsoft leave them in the lurch?" - Umm yea. And it certainly would not be the first time would it Mr. Rubino. I want to love MS, but they have made it really difficult for the past 12-15 years. I say all this as a small investor.
Do I like the stock where it is today? Yes.
Do I worry about it's future and sustainability as a one (maybe 2) trick pony? Assuredly I do.

Azure, Office, Windows, LinkedIn, gaming, hardware. That's a six-trick pony worth two trillion dollars.

"I want to love MS, but they have made it really difficult for the past 12-15 years." That's like saying "I want to love my wife/girlfriend, but she is always lying to me, cheating on me and disappointing me over the last 15 years". Time to move on. So why do you "want to love MS"? It's just a company. Love their stock, as long as it is growing. Which it has been doing since MS got out of the consumer market. MS has plenty of products (more than 2) that are doing really well. If it starts falling, then sell it and move on. It really is that simple.

Nadella's short-sightedness has much worse influence than many thought. What a surprise...

Microsoft are crying on their trillions of dollars.

Tactical advantages not necessarily become strategic ones. The lack of an ecosystem is worrying; Office has become what it is because of the OS: under Windows it worked better than the competition.
MS abandonment of the Band, at the time very advanced both as hardware and software capability, affected the chances of Windows phone; the end of Windows phone is affecting the VR/AR projects and future.
Rely on an alternate, developed by a competitor, OS is a very dangerous proposition.

Exactly. Crying all the way to the bank.

Virtual trillions, maybe...

Short sightedness? MS has done nothing but grow since he took over.

I believe at this point in time you're probably right, although something like a Rasberry Pi size device, while it would bulk up a glasses display a bit, isn't huge and could certainly be packed into a side segment, ala "it's over 9000". A phone connection would be significantly more convenient and comfortable though.

So. Once again. How many MS consumer products/projects need to be dropped/abandoned/cancelled before you begin to see reality? Why does any of this surprise you? MS is not a consumer company. They don't need to be. They don't want to be. No one is demanding consumer products from them. Well, no one but misguided MS fans. When MS did try the consumer market, every single product failed AND lost billions of dollars. There is nothing wrong with any of the so-called "Hololens S show". Projects get cancelled all the time. I have worked on products that were cancelled. You know what happened? I had immediate offers from other product managers in the company. So I moved on to greener pastures. That is very much a part of software development. That MS reassigned/let go all of the hololens people tells you all you need to know. MS is not interested in this market, assuming there IS a market to be interested in. The real folly was in thinking Windows could/would have any part of it. MS knows where it's future lies, and it is doing the right thing by dropping these distracting, long term research projects. 7 years of losing money with no end in sight is long enough. Enterprise, cloud, apps and services. All of which ARE growing. The future of MS will be fine. It may not include Windows. It certainly won't include consumer products. That it also may not include a shiny gizmo with a shiny MS logo on it will matter to no one. Well, no one but misguided MS fans.

"How many MS consumer products/projects need to be dropped/abandoned/cancelled before you begin to see reality? "

This article isn't about me; it's about what Microsoft is doing and attempting to do.

"Why does any of this surprise you?"

Who says I am surprised? What makes you think I am? This article is simply a deeper analysis of what BI reported and why some of it makes sense. I expressed no emotion or even personal opinions., but instead raised questions that anyone who is an investor in Microsoft, currently is invested in HoloLens, or who is following AR would want to know the answers to. The fact you keep ignoring all that says more about you than me.

"When MS did try the consumer market, every single product failed AND lost billions of dollars."

Xbox, Surface, and Windows strongly suggest otherwise. Microsoft is dropping $69 billion on the consumer market for gaming. Your statement seems hyperbolic.

"There is nothing wrong with any of the so-called "Hololens S show."

It strongly suggests poor management and strategy for what many consider the next era of computing, which is supposed to be Microsoft's forte. Investors and people betting on Microsoft to lead in AR will want to know how it plans to meet the market demands of the "metaverse," should they arise. Apple, Google, and Facebook are positioned for this future, so what is Microsoft's plan? You don't find that interesting, but fans are? That's quite vapid.

"The future of MS will be fine."

Strawman. No one here, including myself, has suggested otherwise. But companies like Microsoft should be aggressive about potential new growth markets, even if the rest of the company is still doing well. Investors care about that, especially with all the buzz around the "metaverse" (even if some of it is currently overhyped and too bullish). Your analysis is relatively poor and unimaginative, IMO. Instead, you would address "fans" as if that's even worth anyone's time for a proper analysis or investor advice than criticize Microsoft. You keep going on about how Microsoft doesn't do consumer devices, yet that's precisely what they

are

doing with Samsung (apparently at the expense of a HoloLens 3 for enterprise). It's also what the head of Microsoft Mixed Reality (Kipman), Nadella (CEO), and that VP for Apple who was hired wanted to do. Yet, you say nothing and blame the fans? How bizarre and trite.

Killing Windows Phone/Mobile is just killing the UWP and killing all other future MS consumer product.
They don't need to push hard on WP, but they need to keep it alive to have a weapon.

The last two paragraphs, that Microsoft should correct any inaccurate reporting, and generally communicate what's going on, is an entirely acceptable request. Microsoft never do this. Inside of two years, we went from Nadella saying that if no one else makes windows phone, then Microsoft will, to W10M and Lumia being cancelled. The arrogance is appalling. They work on the principle that they do not owe their customers any product or service clarity, even if we spend ££thousands trying to stay in thier hardware/software ecosystem and they decide to pull the plug with zero warning. Two names regularly show up when it comes to marketing and communication: Frank Shaw and Chris Capposella. I legitimately have no idea what those two do. I imagine they're busy fools, running around telling people they have soooooo much going on. I'm seeing the two of them, speed walking down hallways, saying things like "can't talk, have a huge project deadline, God this place would fall apart if I wasn't here!" then spending 6 hours of the day hiding in the bathroom. Whatever they get up to, certainly has nothing to do with marketing or communications.

Well I geuss windows is dead. I geuss I should move to apple then 😭😭😭😭

It's sad to see Microsoft give up on the operating system they have but apparently that's what they're doing .
And what little will remain of windows will Just be a Enterprise capitalist thing.
And if they do come out with the edge browser Windows 365 Cloud thingy it'll be too late because no one will be developing apps for it
They will be making things for augmented reality Apple iOS in Android .
Satya Nadella is a complete dumbass
The only thing we'll have left is Xbox being a very good cloud-powered powerful gaming center for augmented reality and VR games area for apps and games.
And that's it.
So yeah I guess I will be moving to Apple might as well anyway

So if Xbox allows a device to power AR, why not allow you to do the same via 5G?

? What do you mean
I'm not sure the kids have figured out how to work out 5G it's no good if a tree blocks and it goes out.
But also we have no idea when or if they will make that edge browser cloud-based AR headset or or if they will even sell to Consumers
Let alone there won't be a lot of apps for it cuz ppl won't be making any apps for ar windows 365. Instead they Wil be making them for Android iOS instead in the meantime.
So windows phone 2.0
Honestly I think the only reason they're helping Samsung is they want to make sure they can compete with apple because Microsoft doesn't like the Wall off Garden philosophy of Apple.
So I do think windows days are numbered now. 😭😭😭😭

"And what little will remain of windows will Just be a Enterprise capitalist thing." That's all Windows is now. Enterprise front end stuff. The real work on the back end is done with Oracle on Linux.

Well reasoned. In real estate, you start a project, spend years spending money and you wake up one day and realize the market just does not want what you built. We have seen this in many places in the world as we moved from the industrial age to the information age. There is a Rust Belt. These are former industrial towns that lost out to competition to China and other lower cost global industrial cities. So, what do you do with all these empty buildings? For cities like Detroit, there is not much since your population has moved far away. But for those cities whose population remains or can attract new residents, these factories can be repurposed. The factory may no longer make stuff but it sure can house people. MSFT is dealing with the strategic failure of Ballmer. Had he recognized the importance of iTunes and the iPad and focused on Windows store and Windows Phone, it would be iOS and Windows instead of iOS and Android. Gates should have told himself, "I remember when we could not convince IBM to buy DOS. So, I should buy Android." But Windows is still a factory building and you can repurpose it to house many things. If you can deliver HoloLens through 5G and the cloud, so be it. You ask good questions. I just don't know if you need an android smartphone to serve as the go between the cloud and the headset.

This is not a strategic failure of Ballmer but rather arrogance that is deeply rooted in the Microsoft culture and it isn't any better at Nadella's time. Like that he expected that OEMs will catch up if they pull away. It would be something that first year business students could conclude to be wrong, actually they would fail on the exam saying that. The difference is that Ballmer was at least ready to pour the money in that arrogant approach and try to fix it that way and didn't retreat. It frequently worked.

The last update to a windows phone was released in January 2020. The first phones powered by windows software was released around 2000. Ballmer was the CEO of MSFT for most of that time. The first cell phone was released in the 1980s by Motorola (I believe). There are many companies that have tried and failed in the mobile phone marketplace. The iPhone was the first mobile phone ecosystem. But Android followed the Windows PC model and is the dominant smartphone ecosystem. Microsoft was just one of the most prominent. And Balmer is the primary one responsible for the failure. MSFT is the second most valuable nonstate publicly traded company in the world. There is a reaosn for this. Good long-term strategic choices.

Andall of these strategic choices were generated under Ballmer, Nadella is just an administrator, not a visionary.

"This is not a strategic failure of Ballmer ..."

Steve Ballmer, from 2013:

"If there's one thing I guess you would say I regret, I regret that there was a period in the early 2000s when we were so focused on what we had to do around Windows that we weren't able to redeploy talent to the new device called the phone. That is the thing I regret the most. The time we missed is the time we were working on what became Vista and I wish we had resources slightly differently deployed. It would have been better for Windows and our success in other form factors."

While I also agree there is a cultural aspect/management issue here as well, Ballmer himself takes responsibility for the failure of Windows Phone. They were playing catch-up since 2007 when they were in the lead and let Google do what they should have been doing. Even Bill Gates regrets not doing more for phones/mobile. From 2019:

"In the software world, particularly for platforms, these are winner-take-all markets. So the greatest mistake ever is whatever mismanagement I engaged in that caused Microsoft not to be what Android is ... "

Had Microsoft doubled down on its earlier work in mobile, it wouldn't have been playing catch up the entire time the actual phone revolution occurred. By the time Nadella took over in 2015, WP market share was on a very steep decline that never recovered (and saw no hope of recovering). Tossing more money at it wasn't going to fix it. Also, let's admit that Windows 10 Mobile was no Windows Phone 8.1, the pinnacle of MS's mobile experience. This is why I'm so hard on Microsoft right now. This is the time to double down on MR/AR, to not only take but keep the lead. If they fall behind, they're toast.

The impression I'm getting regarding "Mixed Reality" is that they are depending heavily on Steam to boost the available software for it. However, they seem to be maintaining it though. There were some minor graphical changes in some of the last few updates. (The start menu, the cliff house, etc.... there just seem to be minor tweaks here and there.) Steam is so heavily integrated that you can place a 3D "sign" for any steam software in your "cliff house", even if the title doesn't have a 3D icon of its own. I do wish more manufacturers would make headsets for it, however, at the same time, if I'm honest with myself, there's very few VR headset makers in the first place that aren't just making boxes to stuff a phone into. I'm a little miffed that I'll never see a hololens at a store. When I first heard about it, I had grand ideas of being able to wear the thing on my head and being able to check forums, chat with friends, and watch movies while doing dishes or whatnot. But it seemed as time went on, businesses only ever wanted the darn thing for their own proprietary use, and I doubt businesses trying to use them for kitchen remodeling layouts care whether or not the graphics can handle raytracing or whatnot. I might try to scrape one from eBay one of these days.

The problem with Hololens and alike is more fundamental: Focusing on 3D while 99% of content is 2D (documents, photos, web, excel, games, etc). We simply do not need so much 3D in our lives. If only Hololens would focus on 2D: imagine having a normal Windows PC with Hololens virtually removing boundaries of your physical screen by adding a virtual plane around it to place more content - as much as your distance to walls and ceiling allows. And you operate it with a normal mouse and keyboard which you can see and feel normally. That would be my dream home office/entertainment system. And it would be so much more convenient, because:
1. It works with content people actually want to consume and create: flat one; and in the way people do it: by sitting in front of screens.
2. Use existing perfect input methods: mouse & keyboard.
3. Use existing hardware: PC or gaming laptop.
4. Use existing operation system: Windows; by doing computation on PC instead of the headset = cheaper.
5. No need for walking and handwaving, which no one has space to do anyway. Hence moving from 3D to 2D content makes it so much more feasible and actually customer oriented. No clue, why only Lenovo ThinkReality A3 team get's it.

"If only Hololens would focus on 2D: imagine having a normal Windows PC with Hololens virtually removing boundaries of your physical screen by adding a virtual plane around it to place more content - as much as your distance to walls and ceiling allows. And you operate it with a normal mouse and keyboard which you can see and feel normally. That would be my dream home office/entertainment system."

That is pretty much what Lenovo did with the ThinkReality A3 glasses I mention in the article. I actually have them and will look to see if I can do a more in-depth guide.

Looking forward to A3 in-depth review. These glasses looks like actually useful ones and not just a fancy toy. If hardware is as good as in Hololens then the main factor is ergonomics of software.

What ms should do right now is to focus on making WoA run properly on all devices first and make their apps ready to metaverse and compatible to Apple and Samsung products. Then later, I believe they will have enough time and tech ready to start mass production of hololens family products.. This will reduce risks and not to fall into the same wrong path that they've learned so many lessons in the past.

How about making a contest among WindowsCentral community for proposing ideas on how Hololens should target the consumers (since they themselves have no idea apparently)? With the main prize to be an article about winner's idea (or top 3). We can be Voice of the Customer for MS.
Windows Central Newsletter
Thank you for signing up to Windows Central. You will receive a verification email shortly.
There was a problem. Please refresh the page and try again.