Resident Evil Village: How to get every upgrade from everything in the Duke's Kitchen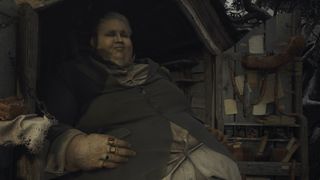 (Image credit: Capcom (screenshot))
The Resident Evil series has always been more than just taking down monsters and getting scared, and Resident Evil Village is no different. As you explore the village and its surrounding areas, you'll be able to find and hunt down various animals, including fish, chickens, pigs, and more. With their meat, you can craft some major and permanent upgrades at Duke's Kitchen, located at the same cart that Duke is at in any given area.
Finding the animals is easy enough, but figuring out which upgrade you want to go for might be tougher. If you're looking at what exactly you'll need for them, then look no further. Here is everything you can make in Duke's Kitchen in Resident Evil Village.
Everything available at Duke's Kitchen
Herbed Fish
Reward: Health slightly increased permanently
Requirements:
Bird and Beast Pilaf
Reward: Damage taken when guarding decreases permanently
Requirements:
Three-Flavored Mititei
Reward: Health increases permanently
Requirements:
Fish (4)
Poultry (2)
Meat (3)
Tochitura de Pui
Reward: Health greatly increases permanently
Requirements:
Poultry (4)
Meat (3)
Juicy Game (1)
Ciorba de Porc
Reward: Movement speed increases permanently
Requirements:
Fish (1)
Meat (5)
Quality Meat (1)
Sarmale de Peste
Reward: Health slightly increased permanently
Requirements:
Where to find Fish, Poultry, and Meat in Resident Evil Village
In order to craft anything in Duke's Kitchen, you'll need the proper amount of ingredients. While some recipes just require a handful of fish or poultry, some of the later ingredients need more complex items, and higher amounts of normal ingredients. Here's where you can look to find every type of ingredient available in Resident Evil Village:
Fish: Finding fish and chicken is easy enough in Resident Evil Village, as the map points out where they can be found. Checking your in-game map, you'll notice various pictures of chickens or fish located at certain areas. Exploring those areas will often result in you finding some animals to hunt down. It's currently unknown if there is a finite amount of animals in the game, though, so make sure that as you collect them, you aren't accidentally selling them to Duke.
Poultry: Chickens are one of the most common animals to be found in Resident Evil Village, and you'll often see them roaming around small plots of land in housing sections of the main Village area.
Meat: Much like poultry and fish, meat is pretty easy to find in Resident Evil Village. It won't pop up on the map, but you can find a couple of small, black pigs roaming about the "West Old Town" area of the map. There are also bigger pigs and goats roaming around certain sections of the map, so make sure to keep an eye out while you're exploring. Finally, if you go to the section of the map titled "Otto's Mill," you'll encounter a mini boss fight and be able to steal his huge collection of meat.
Juicy Game: As you get deeper into the Duke's Kitchen upgrades, you'll eventually need more exotic animals and meat to trade in. The first is termed "Juicy Game," and can be found from a special blue bird that's found perched on a tree in the Graveyard section of the village.
Quality Meat: Head to Luiza's House and hop out of the back window where you initially meet her and her father. You'll spot a well, and a white pig that you can take down for its prize.
Finest Fish: The Finest Fish is a special golden fish that can be found right after defeating Moreau, one of the four mini-bosses in the game. Use the crank to lower the bridge near the Altar and take the boat heading South. You'll eventually get to a small pond that has a handful of fish in it, as well as one particular golden fish. Killing the fish is as simple as shooting it with a pistol or striking it a couple of times with a knife.
Your thoughts
Have you managed to fully purchase every upgrade in Duke's Kitchen? Are you struggling to find any specific animals? Let us know in the comments below. If you're looking for other Resident Evil Village beginners tips and tricks, we have those as well.
Resident Evil Village is set to release on May 7 for Xbox One, Xbox Series X|S, PS4, PS5, PC, and Stadia. If you want to really experience horror, you'll want a good pair of headphones or a headset, so check out the best Xbox Series X, Series S headsets.
A new take on a classic
Save your daughter at all costs.

In Resident Evil Village, you once again take on the role of Ethan Winters. This time, your daughter has been kidnapped and taken to a mysterious village in Eastern Europe. Battle it out against lycans, monsters, and more in order to save her.
Slay Resident Evil Village will these top tips and guides.
Resident Evil Village guides
Get the Windows Central Newsletter
All the latest news, reviews, and guides for Windows and Xbox diehards.
Anthony Nash has been writing about games and the gaming industry for nearly a decade. When he's not writing about games, he's usually playing them. You can find him on Twitter talking about games or sports at @_anthonynash.