Snag an HP Elite x3 with desk dock bundle for $299
If you're willing to drive to a nearby Microsoft Store, you can snag the HP Elite x3 at a $500 discount.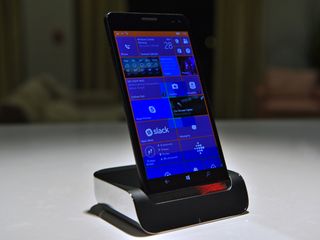 Though Windows 10 Mobile is essentially a dead platform at this point, there are still those who either aren't quite ready to jump ship to Android or iOS, or who like to keep a Windows phone around as a backup. If you count yourself among that group, Microsoft is currently running a sizable deal on the HP Elite x3 bundled with a desk dock, cutting its price down to $299. (opens in new tab) The only catch? You'll have to pick it up at a nearby Microsoft retail store.
There's no getting around the fact that the Elite x3 is a pretty old piece of hardware at this point. It's powered by a Snapdragon 820, 4GB of RAM, and 64GB of storage. However, it's one of the last pieces of Windows phones to be released, and it features some of the beefiest specs you'll be able to find on one. With the included desk dock, you'll also be able to hook it up to a monitor and take advantage of Continuum.
Considering the bundle used to go for $799, this is a pretty steep price cut. But you'll have to be near, or willing to drive to, a Microsoft Store to get one. The bundle is listed as out of stock online, but you can order it for in-store pickup (opens in new tab). And if you're looking to add to your setup, Microsoft also has the Elite x3 Lap Dock (opens in new tab) on sale for $199, which is down from its previous $599 price point.
See at Microsoft Store (opens in new tab)
Thanks, Tim, for the tip!
Windows Central Newsletter
Get the best of Windows Central in your inbox, every day!
Dan Thorp-Lancaster is the former Editor-in-Chief of Windows Central. He began working with Windows Central, Android Central, and iMore as a news writer in 2014 and is obsessed with tech of all sorts. You can follow Dan on Twitter @DthorpL and Instagram @heyitsdtl.
Lol I thought the same thing.

I actually bought it. It's a beauty. My L950's screen is cracked, $150 to get it fixed. So i just got this HP instead. Geez, u get everything for $300. Computer dock, connectors, etc. I almost feel bad, it's such a giveaway

Good choice. I took it back because the unlocked version did not have anything more than a 5 minute screen timeout setting, at the most. That and the double tab did not work that well. I have a Idol 4s so there is that. The Verizon version has a never timeout setting.

I missed it. I would have bought it in a heartbeat.

The temptation is strong, I've not been impressed at all with my Android adventure so far, I'm actually back to my 950XL as daily driver with my LG v30 on hand for the occasional Uber and Google maps..

Me too. Back on 950XL. I'll use it till it breaks, dies or becomes unusable.

I thought I heard something about an Android version of this coming out.

That would be gross. Android is TERRIBLE.

Guess you haven't used android since 4.0 then. It's great now. And actually has support. Unlike windohs mobile.

Nah, I've been on Android for over a year now. It sucks. Lol

I have to agree......... Only thing good about Android is that it has apps...... The UI is better than IOS, but still not as good or smooth as W10M....... Hopefully, Microsoft can get their $hit together, and release a W10 tablet/phone with ARM processor, and native support for .apk files. The W10 versions of MS apps are far better than their Android counterparts. Maybe that Amazon partnership will bring Amazon App store to W10 ARM devices.........where there is a means, there is a way, somebody will hack Google Play Store onto the thing, it's only a matter of time.

What are you people talking about. I jumped ship to the oneplus 5 and i am loving it! Not coming back anytime soon.

Ttsoldier, fanboys are rampant here. So close minded

Agree, on Android 2 years and love it. No way I would try W10M again or some fold-able mini tablet

And that is the point, some will love it and some will hate it. Most just tolerate it though since it is either that or iOS.

You do not have to be a fanboy in order to see the differences and preferences. Android is haphazard and all over the place, which essentially forces you to customize it to a usable state. I thought having multiple launcher options would be cool but, none of them were really all that good compared to the default one.

I'd argue the same about people that use android. I just sold my pixel 2 after some months. Came from 950xl after many windows phones before that. Just picked up an iphone 8 and my thoughts are these: both UI's are significant steps in the wrong direction compared to windows mobile/phone, both are lacking insanely intuitive features (searching settings on iphone, grouping notifications on iphone, and don't get my started about android). Most importantly, after coming from windows where apps have been neglected from day one, there is a very, very clear difference in app quality between android and iphone. and i loathed every second of me being in the apple store with the herd buying one of their products. Need some examples? any US airline app, instagram, etc. anyway, to each his/her own. i just really hope we have a third option again some time soon because android and ios are not it for me

I went from 950XL to Huawei. Nobody in our household liked them. Inconsistencies in UI, lack of updates and so on. Tried a second hand iPhone 6S plus and 6S and both of us are happy with this. They are going for really good prices on ebay so sticking with this for now.

I enjoy our 6s'es too. That being said, if you installed the MS launcher on your Huawei you probably would have enjoyed them more. More MS connectivity the better. I have my iphone MS'ed as much as possible.

Guess you haven't used windows mobile, which can handle plenty of apps and run longer without turning into a lagfest, unlike lagdroid :) and it's still bad even in it's latest versions; i use the stock android version's mostly cause it's somewhat decent but still ends up in bad performance modes and sucks up the ram even though having plenty (stock android 7.1 with support to 8/8.1 ;oreo, 3gb ram, octa core 1.4ghz cpu, internal memory 32gb) <-- in case you wanna question my spec's; sadly my windows phone could run circles around this with less specs and the only thing that makes this android phone of mine convenient for me is it's fingerprint sensor cause my WM10 device is a L640.. That's right, lower specs yet it works smoothly than android.. you can talk nonsense about rampant fans and whatever and i don't really give a **** about that; cause optimization is everything to me and android just doesn't have it; I've yet to get Oreo on my android device, which has been mentioned to receive the official update in the coming "month/s" while i hope least it's a bit better than android 7.1 is, yet i do know it's not amazing either cause I've already seen some of the gains on other devices, included that google system updates that take half an year while Windows Mobile updates takes 2-3 days at max, yet another reason why WM10 is better(recently i got a patch fix update right after a day of its release announcement on WC/here, so yeah not dead or unsupported either) anyways we have WOA now; so I'll be going back to what works with me; and i don't really have an issue with android/users either. except the people who wanna deny the truth and believe that android is actually optimized ..which is the real joke.. :) makes me smile every time some sales guy/random dweeb tries to promote android over windows talking about how good it is, a platform full of security holes and bad optimization only having apps as its sole validity? ignorance is bliss..

I am actually really enjoying my V30, but still miss my Windows Phone.

For anyone coming from WP/WM, Android must feel chaotic, it's not even funny. It's all the little details that add up. I practically had to run back to my 950XL after 2 weeks on the LG V30. The android notification center drove me nuts, the 'multilple' home screens, static icons, unduly complicated keyboards (damn, WM keyboard is a work of art!), and just overall crowded feeling of the OS, it's hard to explain. Maybe it's the LG skin, but I've not really been enjoying the experience as much as I anticipated. Spent far too long on WM to adapt to Android. I'm back.

I mean... the tiles don't spin around... other than that... I don't understand what people mean about the notification center being better/worse, seems basically the same to me. Guess I customized my phone to where I like it, maybe others don't? Got the Essential phone on a deal, other than the lack of heasphone jack, can't really complain about anything (I used Windows phone for about 4 years)

It'll always be worse for those unwilling to adjust or change. And yeah, I agree its different but at the end of the day the same, at least that's how I look at it.

I know this is an old thread but I just wanted to say, Android is worse and it has nothing to do with a willingness to change. Always wishing I could go back to Windows Mobile but, that is just not going to be. (Sorry about reporting your post, did not mean to do that but I could not undo it once it was done.)

Uber and Google Maps PWAs are working quite fine on my 950XL. You should give them a try directly on Edge or using PAWA app for a more immersive experience.

How did you do that? Just go to the mobile websites?

Hey cool, i didn't know uber updated their site... But you can't seem to book anything?

Android us such rubbish compared to the Bugatti that WM is.

I think you guys prove that Microsoft has the most diehard fans of any platform. What has Microsoft really done for you and what makes the Android experience so bad? It can be almost anything you want it to be. It's the most customizable OS. They have launchers to mimic the live tile experience and a very excellent Microsoft launcher which I'm using now.

Agreed. When I dropped my Lumia 950 XL and cracked the screen I ended up getting the Note 8 as a replacement. Currently running the launcher 10 theme which does a decent job emulating Windows 10 Mobile. I even laid out the home screen as identical as I could to my Windows Phone.

I'm in the same boat. When I moved to the Note 8, I couldn't imagine how I would adapt to Android. Like you, I have windows 10 Launcher and it does a great job at emulation. But, then there are times that I realize that it isn't. I'm currently using MS Launcher and enjoy it for the most part.

It is nice to have a bunch of stuff to play around with. That said, I have yet to replace the default launcher that comes with the phones I have had. (A Honor 6x and now a Sony Xperia XA1.)

you can emulate the UI but deep inside you know you just cant replace that feeling of it; the live tiles and the way WM10 provides information through the lock screen and other forms; the fluid interface; the features; the battery life , in and out it made you the guy who doesn't go with the crowd, what about now ? i know WM10 isn't perfect but it would rarely lag or slow down on it's users; it was made to last as a system...that's what everyone would miss and that's why most hold on to it..

Really, it cannot be almost anything you want, at least from my experience. Having a bunch of launchers does not make it a good thing, at least in my view. I went through a ton of them, literally and always ended up back at the default Sony launcher. It took me forever to get it at a point where I can actually make it useful. It ended up with a single screen of icons, that is all.

Mimicking something is not the same as actually having something. Just not the same and never will be. I simply leave my Essential phone with the default launcher and a single page, works but is not something I "love" to use.

I've been on the Pixel and am enjoying it but def miss windows mobile

100% agreed, Android is bad, like really bad, tempted but intimately no use going back.

I had to give in... I loved Windows Phone but, kind of feel screwed by Microsoft on the whole deal. No matter how upset I am at Microsoft of the screw up, I do like the OS a lot, and far better than iOS or Android. I moved to a Note 8. I put on Launcher 10, side by side with my 929, it looks almost the same thing, and for a fee ($7), you can enable live tiles (only works with apps that give notifications ) but it works. I was a LG fan so I was really looking at the V30 but, only went with the Note 8 because of the $350 off during Xmas time... and it's got some of the best that Android offers for at least now...

Ever since I've been using the Alcatel IDOL 4S, Uber has worked without any issues.

You don't need Android for Uber - just pin the PWA to your start screen. I have been using it with my HP Elite X3 flawlessly.

Nopers. Already got one highly irrelevant Windows Phone at the time, and one is enough. Lol

I've got three... Nice to fire one up every once in a while yet it doesn't take long before "behind the times" becomes real evident.

Wow. Even the great fanboy Rodney turning his back on this. The end is nigh

Tempting to just replace the Lumia 650 but waiting for it to go lower

I bet you'll be able to grab one of these for ~$100 in the not too distant future. Can't believe I almost spent $800on this thing at one point, thanks to all the reviewers that said the camera was trash, it kept me from purchasing.

FANTASTIC phone. Camera isn't trash. Actually quite good, and has been for 7 months...only not so in low light. Love this phone and super glad I paid 1200 A$ with the dock. Best purchase I ever made, even though my 950's are awesome as well!!

I have a dual Sim Lumia 950 I will happily sell to the highest bidder. It's in brand new condition, got it as a warranty replacement, used it for like 3 months, and got a Galaxy S8. Also a Verizon Lumia Icon, in black....... Pm me if anyone wants.

This isn't even a smart phone anymore, technically. So, unless you want or need only a "Dumb Phone"... what's the point?

And what do you do with your "smart" phone? Solve Astro physics problems?

It has Edge, Office and Outlook (and SMS of course). That is about 98% of my 'smartphone' use. WhatsApp, myTube and Reddplanet comprise the remaining 2%. I just love the big screen and WM start/home screen. And the action/notification center. Android has really stressed me out over the notifications in particular. Damn, WM10 action center is sheer genius, simplicity and elegance. I'm going back to WM until it doesn't make calls or send SMS anymore.

If the HP Elite x3 can up the game on the web browsing experience it might be a viable, but temporary, alternative. Highly doubting it though cuz haven't personally experienced a phone running W10M that can provide such as they all felt like a blast from the past when that aspect was so great.

Up the game? In what way? It's perfect.

Yep, my X3 does everything my wife's iPoo X does, and sometimes better!

Unless I am missing something the x3 is limited too as all W10M phone's are due to the app-gap so I say your claim is a little off base.

App Gap such as? Oh, you mean where the Android and iOS developers randomly decide they no longer why to provide and app so, sorry, bye. I have yet to use my phone in a way that requires specific apps but hey, that is me.

The WP app-gap is definitely real and so is denial but hey, each to their own.

Yep!!! NEVER any problem with doing everything I need. I run three business' and this thing smokes all. No bank app, big deal, just pin the website to start. Have over 100 apps. Android and Apple apps are mostly a waste of space and time, the app gap is a joke.

Time to get out the shovel, no, scoop LOL.

Agree Aden. But your wife's iPhone X. Does more things better than the x3 as well.

Just depends on the use case. Everyone uses their devices differently. I'm a power user and W10M worked just fine for me. I have so many apps on my Note 8 that gets used every blue moon. Of course it's nice to be able to play PUBG Mobile but I don't need to. Not too many people use all the features available on these new phones such as the iPhone X.

Can you explain "power user".

Using Lumia 950 as my primary and only smartphone, and the funny thing is I never regret my decision even for a moment. Yes, limitations are growing every other day, but the OS and UI feels way better than Android.

It's indeed a real struggle moving to Android from WP/WM, especially if you're not a heavy app user. The overall experience is just way more 'alive', fluid and cohesive on WM (never thought I would ever feel so much appreciation for WM!), while Android feels like a mishmash of everyone doing his/her own thing. It works and there are all the apps, but I'm certainly not getting any delight from using it. Maybe I'll try iOS next..

Still about $251 too expensive.

My 950 is doing just fine, have a cheap Samsung prepaid I put sim card in for any local coupon apps I need otherwise it's W10M till the wheels fall off

buyer beware I went through 3 of these phones they all failed within 3 months.

10 months and counting and no problem here....love it.

Proud owner of L930...till the end :D

This could be an antique selling for 50 grand 50 years from now!

The Canadian store is OOS too with the price still being listed as $999.00!!!! Nopers not going to ever happen. IMO Microsoft is off their rocker on so many levels and needs a sever head shaking.

ah man, the lap dock is tempting. if I traveled more. 😫

I love typing on it, it just feels great and it's the perfect touch on the typing feedback. The touch-pad however is a polar opposite.
I never really actually use it though, so I'm thinking I'm going to eBay it soon as it's only going to keep depreciating in value faster than ever with the state of W10M now.

Great deal!!!!!! If I didn't already have one....still a fantastic phone. My banking app is disabled end of April but it doesn't matter because it's W10M and I have already pinned the website to the start screen. No problem at all with usability with heaps of great apps and good battery life, brilliant screen, fast, perfect size for me, good front facing speakers etc. And I always have my 950, 950xl and 640xl totally up to date and in perfect condition.

Time to bring in the 980E-4 for this one cuz it's gonna be a BIIIIIG load.

I bought 2 for Verizon. If you get them for Verizon it will ship you don't have to go to the store and it is unlocked wit all the same radios as the GSM.

Was there something missing with this phone-was it the glance screen?

Yep. Also missing from my Alcatel Idol 4S. No idea why that is so hard to emulate but that's how it is.

I have one sitting around collecting dust. Anyone looking to buy? Lol

Yeah, I'm actually interested.. What's the condition??

Well, I placed one on order, just in case. Also, I have found that those who make claims to the hardware being old or insufficient, I would hazard to say that they believe anything older than the Galaxy S8 is garbage then. There is little real world difference between something from about 1.5 years ago and something that is out today.

Lap Dock is tempting but I'm guessing it still can only update the firmware with the X3, so going to pass. Likely can get a cheap laptop to do the same thing anyway if I really want to gag that capability.

my god who would use a windowphone as a backup lol

I KNOW, RIGHT! I use an Android for my back up if my x3, 950xl, 950 or 640xl fail (not f**king likely though). So, never use my Android.

I don't need four Android's to keep me going as ONE does the job tickety-boo. Looks like you need all those WP's just to ensure there's little to no downtime ;)

Nope, he just likes them.

Bingo. I have my Xperia XA1 as my backup.

Is this price loss, cost or profit for HP?

It's already a profit to HP since it is in the hands of Microsoft. All Microsoft is doing is get rid of their inventory (probably at no profit).

It came down to either driving 600+ miles round-trip to Seattle for this deal or sharpening bamboo sticks to shove in my eyeballs for the weekend. I decided to save gas.

Sarcasm but Whoa no Microsoft Store in your area
600 miles is crazy
If it had a better camera, I might have hop on it the deal.

Call the store and ask them to ship it to you when they get it. Pay a guy when U receive it

If a deal like this was around 2-3 years ago maybe...just maybe...W10M would have gained some traction.

MSFT still asking the equivalent of $970 in the UK!

Oh ho I hate hate this ugly android phones. So many ads, static icons, ugly colors and overall boring experience. I want to go back to my 950xl but only for these three apps such as Careem, Aliexpress and local OLX I have to tolerate this tension aka Samsung J7 thoooooo....

I have AliExpress and OLX on my 950XL as well. I just wish I didn't hurry and bought a phone where double tap to wake almost never works and around 50-65% battery it just shuts down and doesn't even reboot without taking out the battery, heating up like crazy if you let it be

It doesn't have a stylus, does it?

Love my X3 for the past year! PWA with Edge is giving new life closing the app gap.

My 950 XL died so went to the LG V20 and my first thought was not bad, but not close. As time went on I realized it was crap. As soon as the X3 came out I got one. The app gap is crap, jus BS, I have every thing I need. I have No problem with Edge. I use Office quite a bit, love opening my laptop and all the changes are there. Camera is not the 950XL but much better than the LG. The mic transcription is way better, the Keyboard is a 1000 times better, the typing word correction and choices are hands down the best. It's faster than the V20, the screen is better. I'm a soccer trainer, I record players a lot. The video is better than my V20 and my 1080p Sony Action so I now use my phone to record. I thought my 950XL was the best, but I now believe the X3 is the best. When I have to fumble on my wife's Icrap, I realize the the WM experience is the best. I play a couple of dumb games once in a real long time and even they are , faster, overall, jus better. I The live tiles are the best and being able to chose from 3 different sizes is the best. With the big screen, everything I need, I use is on my home screen. The UI is great. The battery life beats every phone I ever had. I leave it on all day at work, use wifi, and still walk out with more than 50%. Every other phone would be dying or dead.

Sorry but the app-gap may be crap or BS for your use but it is definitely REAL for many, and in lots of instances Edge or any other browser on WM WILL NOT be able to take up the slack, not ever. Facts proven time and time again. But enjoy your x3, while it lasts. FYI... My Droid is on day-3 after 37+ hours of use and still sits a 50%, think we're on a roll for a four day sweep. Try that with your x3 and let me know how you make out. ;)

Does your X3 allow you to set your screen time out to never?

Why would anyone buy this? The only thing would be to look back down the road at 2030 and reminisce

The HP Elite x3 is a great phone. My entire family and I upgraded last November when the Verizon version finally launched.

Really? How do you figure that? Thankfully, I base my purchasing choices on what I want. This is aimed at Wilson.

Just bought one yesterday. Thanks to windowscentral for the heads up. Got the phone only but the store also has the lapdock at the price quoted by WC. I'm replacing my Lumia 920.

Well if you love Nutella who killed WM and want to support him then buy this outdated dead OS phone for ridiculous $299 (worth max $29) from the same company which killed it.

Agreed... Only reason some are jumping on this is that they refuse to admit their beloved platform actually hit bottom. Sooner or later they'll see the light of the reality, just takes some longer than others.

So basically, you feel the need to justify your Android or iOS purchase on the backs of others, good for you.

Not at all... I own 3 Windows Phones w/W10M at present but also tried and use(d) the others without bias and its pretty obvious where WP stands. It's those who label the competition as "Crapple" or "ADroid" that seem to need to justify their use of WP. So no need for ME to justify because the proof is in the pudding.

The problem I have is your take on this the only reason someone would buy this, yada, yada type of comments. One thing I have found over the years is that if I buy what I enjoy, I am happy but, if I buy what others think I should, I always end up regretting it. I am grateful that I am old enough to be able to buy something like this and afford to do so without worry. One thing I did make sure of before I left the store is that it had to fit in my pocket. :)

My problem is as soon as someone brings up the other two platforms the WP diehards need to rake them (Android/iOS) over the coals w/derogatory comments. Having been involved with them ALL for a considerable amount of time (started in 2005 w/Windows Mobile 5.0) I've seen each one's transformation from essentially the beginning to what they are today, and although not perfect Android/iOS are nowhere near as bad as some make them out to be. Basically, these comments just solidify my thoughts that those using Windows Phone refuse to accept its fate so need to flame the other platforms in justifying them sticking with their preferred platform where the light will soon fade. So they don't experience an app-gap or don't need all the bells-n-whistles the other two platforms may offer, good on them - but there's millions of people that do and that's the differentiator. If I compare WP to say, Android, I'll tell it as I see it from my personal experiences. If we find it sluggish, inconsistent or whatever we'll say so. But we will not conjure up a name in reference too just for the sake of mocking it. And nobody is saying "buy what we think is best" either as the choice is yours to make.

I'm waiting for Nutella to take the money and run. Maybe the next guy will see the light.

I would not disagree that the new CEO did kill Windows Mobile, long term. However, this phone is definitely worth it, at this price. However, I also have ditched using all the Social Media stuff on my phone, so there is that. I shut my Android phone off about 8 days ago, been using my Idol 4s though the speaker is blown and will not use this Elite X3. (Have to send out my Idol 4s for repair with an RMA.)

Pretty tempting for me, but I'll have to pass. I was hoping to purchase a 950XL, but, Microsoft decided to go 100% GSM with the final group of Lumia phones, thus, as a Verizon Wireless customer, the 550, 650, 950 & 950XL became non-issues. Had HP released the Verizon Wireless version along side the GSM version, I would have sprung for one. Ended up replacing my old Samsung Galaxy S4 with my current Samsung Galaxy S7 Edge. Now I'm saving up for a Surface Book 2 15" with 512 storage.

Well, I could be right or I could be wrong but it no longer matters, they are no longer selling the phone, at all. (At least at the stores.) They pulled them all and to be bluntly honest, although I liked the phone, it was not really worth it. I had the unlocked version which, believe it or not, only allowed 5 minutes before the screen would turn off. However, the Verizon version allowed it to be set to never and although I would have liked to have that version, if it worked with GSM networks, they would not sell it to me anyways. Also, I was not going to use the dock, regardless.

just called in the Las Vegas store to enquire. They told me all stock sent back. I asked if I ordered it online now , how long it would take to arrive. The chap said ' good question, this is a new thing, I don't know' ! So, there you have it, even in it's last dying breath, MS can't organise a p++s up in a brewery.

Now that they decided it was not worth selling them anymore, I would not give them more than $99 for one now. (Screen timeout of only 5 minutes? WTH?)

Does this work on Verizon now ? Or is/was a model different ?

No, thank you. One phone with a dead OS is enough.

In related news, Windows Vista install DVDs are very cheap now too.

I picked up a lapdock from the MS store and have been playing with for the last 24hrs. It's rather cool but also feels disappointing knowing what Window 10m could have been. The keyboard and and screen are top quality. Even the speakers sound great (with Groove, no Spotify support). Battery holds up well. If you have an HP Elite x3 grab one while you can. Hard to beat the price. Thanks WC for the heads up.

I still look a my beautiful Lumia 950 XL lying on my desk in front of me, while I am using my newly acquired Samsung Galaxy S8. As I saw one app after another that I really needed to use being discontinued this year I was left with no choice. Beside that since the last update a few months ago I would sometimes not receive any sms or phone calls for whole day and then when my wife or daughter came home complaining about me not responding I did a restart and what do you know I received all the many sms, mms and phone calls on my answering machine on the phone. I had to let it go as it started to not being a phone anymore. Apps are one thing but I need a working phone. I am all Android now. I like 8.0 Oreo a lot :)

I hear you; my 950XL is sitting at the end of the shelf; so sad; i too ended up being 'forced' to Android. Too many disappearing apps. I've got a Galaxy S8+; i like Samsung stuff. My first and second Windows phones were the Samsung ATIV S and ATIV SE; the SE was SO awesome; way ahead of its time. So underrated and underappreciated. So, i'm ok with Samsung.

I actually manage to fix it! Now the Android phone is just a mini tablet.

If I didn't have an Alcatel IDOL 4S or 950XL I'd jump all over this. Honestly like many have stated it's really not worth the investment unless you can't find another WM10 device for cheaper. I keep my 950XL because the camera is still one of the best of any phone. The IDOL 4S does pretty much everything else and with 64G of internal storage and removable memory for almost $200 less.

Great deal, at least grab the Lapdock if you can, it will work with almost any device that can cast/ mirrorcast or plug directly to it . The X3 hardware is still pretty good, plenty of ram and storage great size and screen, fingerprint reader and iris scanner.....and the phone has its own Glance like screen called HP Display tools, it shows the time and battery you can tap it to wake and can be set to never time out.

Great price, but I wouldn't even feel good gifting one of these... I certainly couldn't use it myself. Dead End Operating System on it. Is there a way to Flash Android on it, at least?