Update, December 2020: Surface Duo, 3 months later
To suggest Microsoft's Surface Duo is audacious would be an understatement. The costly $1,400 device delivers a new vision in mobile computing, now six years in the making. It is as much scientific experiment as science fiction — a radical rethinking of what phones could be in a technophilic world focused on data instead of voice calls.
This first-gen release is an important milestone for Microsoft, and the theory behind Surface Duo is mostly solid; that's the good news. But most people should also hold off on getting one until its software can mature.
What is Surface Duo good for, and why should anyone consider this form factor? There are some answers here that become clearer after spending a few weeks unfolding the future. Our Surface Duo review has all the details.
(opens in new tab)
Bottom line: Microsoft's Surface Duo delivers a unique dual-screen experience with Android that holds up (at least conceptually). With ground-breaking hardware design and the right apps, it's game-changing. But some early jankiness with the OS, performance issues, and the lack of modern hardware holds it back.
For
Hardware design is fantastic
Hinge is flawless
Better than expected battery
Dual screens increase productivity (and fun)
Against
OS is buggy
RAM and CPU may be slowing down the experience
Expensive
Lacks Qi, NFC, more cameras, water resistance
Years of engineering (and it shows)
Surface Duo review: Hardware is nearly everything
In this Surface Duo review, evaluating the hardware was the easy part. Surface Duo is a screen and hinges that also happen to be a handheld computer.
Putting aside the notable hardware omissions (more on that below), Surface Duo is a technological marvel. The outrageously thin 4.8mm chassis (unfolded), Gorilla Glass 5 internal and external panels, and the dual hinges fine-tuned with NASA-level precision impart awe.
Each 5.6-inch AMOLED display has an 1800 x 1350 resolution giving a pleasing 401 pixel-per-inch (PPI) density. Each display's aspect is 4:3, but that changes when you combine the two screens, resulting in a 3:2 aspect found on all Microsoft Surface devices. The screens support wide-color gamut (WCG) with 100 percent sRGB and 100 percent DCI-P3, making them highly accurate for editing and viewing content.
Surface Duo FAQ: Everything you need to know about Microsoft's first dual-screen Surface
Display brightness is below that of Samsung's flagship Galaxy phones, but good enough to be used outdoors, even in the sun. The text is sharp, clear, and overall pleasing. On occasion, Surface Duo's display ramps to extreme brightness when powered on, only to slowly adjust down. It is one of the many bugs that are part of Duo's early days.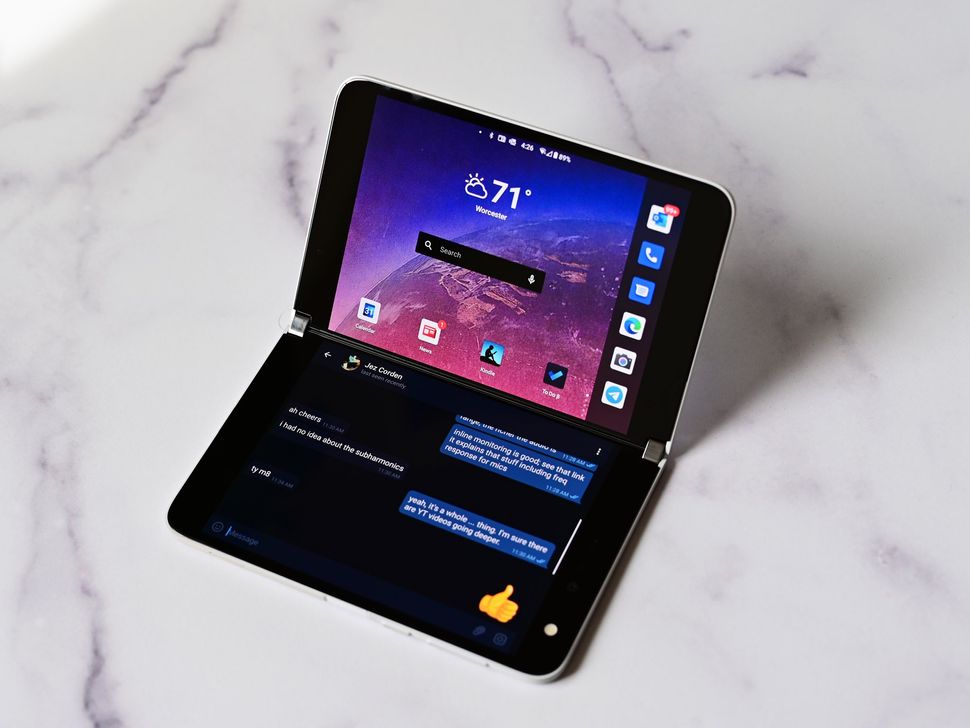 Swipe to scroll horizontally
Category
Specification
OS
Android 10
Display
Single: 5.6 inch (1800x1350), 401 PPI, 4:3 aspect ratio
Opened: 8.1 inch (2700x1800), 401 ppi, 3:2 aspect ratio
Type: AMOLED
Processor
Qualcomm Snapdragon 855
Network
WiFi-5 802.11ac (2.4/5GHz)
Bluetooth 5.0
LTE: 4x4 MIMO, Cat.18 DL / Cat 5 UL
SIM
Nano SIM + eSIM (no eSIM on AT&T model)
Network bands
FDD-LTE: 1,2,3,4,5,7,8,12,13,14,19 20,25,26,28,29,30,66
TD-LTE: 38,39,40,41,46
WCDMA: 1,2,5,8
GSM/GPRS: GSM-850, E-GSM-900, DCS-1800, PCS-1900
Memory
6GB RAM
Storage
128GB or 256GB UFS 3.0
Expandable storage
None
Camera
11MP, ƒ/2.0 1.0um, PDAF, 84.0° diagonal FOV
Audio
Mono speaker
Security
Fingerprint
Ports
1x USB-C 3.1
Battery
3,577mAh
Fast Charging using 18W in-box power supply
Pen
Surface Pen (not included)
Dimensions
Open: 145.2mm (H) x 186.9mm (W) x 4.8mm (T)
Closed: 145.2mm (H) x 93.3mm (W) x 9.9mm (T at hinge)
Weight
250 grams
Touch sensitivity is on the low-end, with some reports from other reviewers of typing errors and general inaccuracies. Some of this may tie into software, but it could also be a tradeoff with the digitizer and Microsoft's insistence on being thin. I had no issues typing, however.
There is a lot of angst regarding the bezels of Surface Duo. Behind them is where all the antennas and sensor logic lay, so it is not squandered space. Such bezels are necessary for rotating Surface Duo between its many positions without touching the display itself. While Microsoft could make these bezels a hair thinner, their functionality is apparent after spending a few minutes with the device.
Image 1 of 2
Between using Gorilla Glass 5 on the outside and going with a white chassis, Surface Duo is good at hiding any scratches or marring. For those worried about breaking the glass in a drop, Microsoft reportedly will have a program for fixing a cracked Surface Duo, though at the user's expense. You could, of course, purchase one of our picks for the best Surface Duo cases, as well.
To help avoid such damage, Microsoft includes a bumper case in the box. It attaches via tape due to the device's unique folding design and is not meant to be removed and reused. The bumper is excellent, not interfering with folding, and it adds some security and grip. However, for most of this review, I did not bother with the bumper because I found Surface Duo pocketable and easy to handle without it. The bumper rubber is a bit tacky, making it harder to pull out of your pocket while also picking up dust and lint.
While the displays and chassis are covered in glass, the hinge is polished metal. It seems resilient, although it could pick up minor scuffs. The hinge is terrific for opening and closing with consistency at every degree. It is essentially perfect, letting you open the displays with ease, but it also holds its place wherever you stop. There is no wobble, and because Surface Duo is so well balanced, it feels great to hold, especially in book mode.
Surface Duo's edges are a composite material meant to allow the cellular and Wi-Fi reception to pass through. That design also means there are no visible antenna lines. The composite is off-white and precisely cut for each Surface Duo, but it can also acquire unsightly discoloration, especially near the power and volume buttons. Using the bumper will prevent this, but this is one area where Microsoft can improve.
The power button and volume rockers are placed on the right side of the display and have an enjoyable click. Below them is the fingerprint reader, which is superb. I had no misreads during my usage, and it blows away the one Samsung uses in the similarly priced Galaxy Z Flip. The fingerprint reader is inactive when both displays are closed, but when left in "phone mode" or with the screens exposed, users can touch the reader to wake the device up and log in with ease.
On the bottom is a Type-C connector for charging. Here is where you can appreciate how thin Surface Duo is; if it were any skinnier, Microsoft could not even use a Type-C port. Included is an 18-watt fast charger with folding prongs. Of course, any Type-C charger, including higher wattage ones, can be used.
Surface Duo weighs 250 grams, nearly 25 grams heavier than an iPhone 11 Pro Max (226 grams). But because of Duo's design, most people think it is lighter. It's a subtle illusion created by having wide but thin displays.
Regarding pocket-ability, I wrote a whole article on that question. Surface Duo is a smidge wider than a standard U.S. Passport, a bit taller and thicker. Compared to an iPhone 11, Surface Duo is wider, but also a lot shorter. Carrying Surface Duo in a front jeans pocket, rear pocket, or even inner blazer pocket is very doable. Even female fashion, which is notoriously skimpy on pocket space, is acceptable.
There are plenty of clear drawbacks to the hardware. Surface Duo lacks Qi wireless charging, NFC, IP-resistance for water, a headphone jack, and support for dual SIM (though it has eSIM and nano-SIM, just not simultaneously). It misses the 5G hype train. At least for the lack of NFC for payments, if you have a Fitbit, you're good to go, or maybe it is an excellent opportunity to pick up a Galaxy Watch, as these wearables support tap-to-pay.
Image 1 of 2
While Surface Duo is missing many of the high-end features commonly found in smartphones today, the company was laser-focused on dual-screen functionality. Even adding NFC would be tricky on this form-factor. Putting the sensor on the back of Surface Duo seems obvious, but then your displays are closed. That means you may need a sensor on the front display too to work when rotated around. These are the challenges that Microsoft needs to solve.
So-so power
Surface Duo review: Performance and battery
Microsoft uses the 2019-era Qualcomm Snapdragon 855 – a flagship CPU of its time, now usurped by the Snapdragon 865 and 865+. The Snapdragon 855, however, is comparable in many ways to the 865 minus the mandatory support for 5G. That's a good thing as 5G right now is a lot of hype, with not a clear advantage for smartphones. 5G support drives up costs of the hardware while often reducing the battery life – both of which Surface Duo can't afford.
Using Geekbench 5.0, Surface Duo hit 737 on a single-core score and 2,815 for multi-core. The single-core score is similar to other phones, such as Samsung Galaxy S10 and S10+, while the multi-core does even better, beating out the Samsung Galaxy Note 20 Ultra with Exynos 990 (2,695 on Geekbench).
Benchmarks are one thing, and real world-usage, especially when powering two displays, is another. Surface Duo is, at best, OK for performance. When combined with the so-so 6GB of RAM, no one will accuse Surface Duo of being fast. Instead, it is acceptable, and some would accuse me of being too generous there. Sometimes, Surface Duo is slow to wake up; other times, Microsoft Edge can take up to seven seconds to resume. Minimizing window animation can be janky as well.
It is not uncommon with 6GB of RAM to have just 700MB left to spare after a few hours of usage. When devices like Samsung's Note 20 Ultra are shipping with 12GB of RAM, you have to wonder if Surface Duo would have fewer performance slowdowns with a similar configuration. It is also unclear if the lack of software optimization may be a culprit or a combo of both.
In specific scenarios like heavy web browsing or video streaming, the back of Surface Duo could get noticeably warm to the touch, but never hot.
Image 1 of 2
Surface Duo battery life is an unexpected bright spot. While many have written off the comparatively small 3,577mAh battery — especially when powering dual displays — it's good enough. The lowest I ever achieved for the remaining battery life is 25 percent. Most days, I was closer to 45 percent. While you need to charge Surface Duo every night for most people, it should last the whole day with moderate usage. Screen-on time was close to five hours. Standby battery is also excellent as Surface Duo barely uses any juice when its displays are closed.
Better than expected
Surface Duo review: Camera and images
Prospects were low for Surface Duo's meager 11MP front-facing camera. Back in January, we tempered expectations, knowing that Microsoft's focus was more about productivity than pixel-peeping.
Our Surface Duo review proved us right and wrong. The f2.0 lens and Phase Detection Autofocus (PDAF) pale compared to any 2019 or 2020 flagship phone from Google, Samsung, or Apple. Considering many of those phones have multiple lenses for ultra-wide and telephoto and larger sensors and advanced software, it seemed unlikely Microsoft could compete.
But Surface Duo's camera is, dare I say, competent. In outdoor and even indoor scenes with adequate lighting, it's decent for social media. I've been quietly sharing photos on Twitter, and no one said a thing. Microsoft's color science, contrast, and overall balance are quite pleasing. While 11MP limits details, it seems doubtful you will be embarrassed sharing your weekend vistas to Instagram or Facebook. Images are a little soft and washed out, but those are easy post-fixes too. Upping saturation and adding some sharpening is easy compared to the alternative.
Image 1 of 15
Low-light shots, especially at night, are just foul. There is no "night mode" sadly, so results are muddied with lack of detail and high levels of noise. There is a flash to help, which is not awful, but flashes on phones these days are more about being a flashlight than to assist in photos.
As far as front-facing images, these too are satisfactory and even quite good. Microsoft tuned the software for either world-facing or self-facing scenarios, and it gets the job done for use with Microsoft Teams. The camera overall seems on par with Samsung's front-facing camera in the Note 20 Ultra.
The software to handle the camera is curious. When Surface Duo is opened and the camera launches, it defaults to a front-facing orientation on the right display. Going into "phone mode," with the left screen folded behind the right and rotating, it switches the camera to a rear-mode with camera controls on the left screen. It's all awkward.
I recently reviewed Samsung Galaxy Note 20 Ultra and have an iPhone 11, so I'm thoroughly familiar with the best-of-the-best, but Surface Duo has been good enough for what I need. Of course, cameras can always be better, and hopefully Microsoft can continue to refine things.
VoLTE and Wi-Fi calling
Surface Duo as a phone
Surface Duo call audio quality is fantastic. In one instance, the person I was speaking with thought I sounded like I was using Wi-Fi calling – "You sound like you're next to me," is what I was told. While Surface Duo does support Wi-Fi calling natively, I was not using it at the time. The earpiece is crisp and loud.
Answering calls is also effortless. When one comes in, you open Surface Duo to see who it is with onscreen buttons for hanging up or answering. Instead of pressing a button, however, you can just rotate the display back onto itself, a.k.a "phone mode," which automatically picks up the call. Closing Surface Duo hangs up the call.
Image 1 of 2
Voice over LTE (VoLTE) is also natively supported, as are nano and eSIM profiles (though not simultaneously, so it is not genuinely dual SIM). The unlocked model supports T-Mobile, Verizon, and AT&T, plus world bands for GSM and LTE. All those U.S. carriers were tested for this review, and all worked without a hitch. Sprint users need to pick up a T-Mobile SIM due to the merger.
For AT&T users, things get tricky. If you want VoLTE, Wi-Fi calling, and other carrier-specific functions like native visual voicemail, you need to get the AT&T model. AT&T has stricter rules about such things.
Holding Surface Duo up to your head during a call is weird, but nothing too strange if you have used a Lumia 1520 in the past. It never bothered me.
A bit green
Surface Duo review: Software experience
Microsoft is shipping Surface Duo with Android 10, and it has the September 5 Google security update as I write this review on September 6. The Note 20 Ultra is still on August's update by comparison. With three years of committed Android updates, including Android 11 as soon as it is ready, there is a lot of room for Microsoft to improve the experience. That's terrific as this device needs it.
Microsoft is working with Google on all the changes and modifications to make Duo happen. The uptick to that partnership is monthly security, and fixes should be very timely as there are extraordinarily little "forked" OS modifications here. That differs from Samsung, who notoriously bends Android to its will with customizations and overlays, often resulting in delayed updates. The downside, however, is Surface Duo is barren right now with only core functions and features.
Because this is nearly a vanilla version of Android 10, things like Android Auto work just fine. The same applies with casting and other Google features.
Image 1 of 2
Stability for Surface Duo is a moving target. More than half of this review was conducted with build 2020.723.130, but Microsoft pushed out 2020.812.86 on September 4 as a day-one update. That update improves "device stability, the stability, performance and image quality of the camera, calling features and stability, and in application gestures- especially when dismissing or moving apps to full screen."
These updates make a big difference, but there are still lingering issues. One is the delay for Edge to resume and the overall slow responsiveness of the OS. The version of SwiftKey that ships cannot move the cursor via the spacebar (the beta version has this). Peek mode (whereby you can view the time and date by cracking open the display slight) does not show notifications. There is no double-tap-to-wake or always-on-display (which would be amazing to use Surface Duo in tent mode as an alarm clock and calendar). You cannot change icons with Microsoft Launcher, and there is no Timeline support or advanced abilities like blurring the background.
To be fair, this initial release's focus is to get the core experience of dual screen functionality right. For the most part, Microsoft has succeeded. But the company seems to be aware that Surface Duo needs some time to grow and evolve. Microsoft's Chief Product Officer Panos Panay in a recent interview said the following regarding Surface Duo:
Some of the work done by Microsoft is very creative. When Surface Duo has both screens on, and an app is opened on the right side, the keyboard shifts to the right, letting you type (or swipe) with your right thumb. The same happens on the left side. Going into "compose mode," where the phone resembles a laptop, users can put SwiftKey into thumb-layout, letting you type quickly. Switching apps between screens or spanning them across both works very well.
Microsoft apps included with Surface Duo
Microsoft Office: Word, Excel, PowerPoint, Office Lens, PDF reader, and More
Microsoft Outlook
Microsoft Teams
Microsoft OneDrive
Microsoft Edge
Microsoft OneNote
Microsoft To Do
Microsoft News
Microsoft Authenticator
Microsoft Bing Search
Intune Company Portal
LinkedIn
Microsoft Solitaire Collection
Surface Audio
Microsoft SwiftKey
Google apps preinstalled on Surface Duo
Google Search
Google Assistant
Google Calendar
Google Drive
Google Duo
Google Photos
Google Play Movies & TV
Google Play Store
Google Maps
Chrome
Gmail
YouTube
YouTube Music
Contacts
Messages
Phone
Files
Clock
Calculator
Sound recorder
I think many of these initial concerns are expected with a new form factor and an early Surface Duo review — this is firmly in the early-adopter territory. Refinement is something that can take months and years. None of these bugs completely ruin the experience, there were no OS crashes or loss of data, and the 2020.812.86 update does a lot to make the ride smoother.
The good news is while Surface Duo is buggier than I would like, the solution is software tweaks and optimizations — not a fundamental issue with the device itself. That said, it may be best to let Surface Duo bake a bit before taking a bite.
Multimedia time
Surface Duo pen, gaming, and media
Microsoft did not send a Surface Pen for reviewers, although my Slim Pen with Surface Pro X worked fine and it's one of the best Surface Duo accessories available right now. Any in-market Surface Pen works, but let's just say inking support is barely here right now.
Inking and note-taking
(opens in new tab)
Microsoft Surface Slim Pen
Inking on the go

With a focus on pocketable productivity, the Surface Duo (soft of) embraces digital inking. The form factor mirrors a notepad, making it ideal for quick note-taking, annotations, and sketches. The device supports most Surface-branded pens, but the newest Surface Slim Pen fits best with an ultra-portable design.

The Microsoft Surface Slim Pen trims the fat of its alternatives, measuring 136.8mm long, and 11.3mm by 6.3mm thick. It's also the only rechargeable Surface Pen, using an included wireless cradle to top up the 15-hour battery life. When eyeing a new stylus, this is the one to buy.
Since Microsoft is working within the Android system, there are no advanced Samsung S Pen-like enhancements. The Surface Pen simply works wherever app developers have put it, like Microsoft OneNote, Sticky Notes, Office, Adobe Acrobat … and probably not much else.
Image 1 of 2
There is no need to pair Surface Pen with Surface Duo as the top button has no function, and there is no optimization or features enabled. Inking is OK, but far behind Samsung and its Note 20 series. However, Surface Duo's form factor and screen size make it more enjoyable to write with due to space considerations.
Microsoft's Your Phone is here instead of any type of Samsung DeX-like big-screen experience. Your Phone is a wireless connection that works on any Windows 10 PC, letting you receive and respond to text messages, take calls through your computer, manage phone notifications, and even mirror your Android phone's display. But Your Phone here is behind where Samsung's high-end phones are currently, with no support yet for the new "Apps" feature — instead, it is mirroring via "Phone screen."
Gaming on Surface Duo is fun. You can run games on either display or even two at a time, kind of. Cloud gaming via Microsoft's Project xCloud, or GeForce NOW, Project Stadia, all work as expected. Simply pair up an Xbox controller via Bluetooth, and you are good to go. Playing Destiny 2 as part of my Surface Duo review, via streaming over Wi-Fi, was an impressive experience. Unfortunately, Microsoft has not implemented any onscreen controller support teased in the original Surface Duo sizzler. Seeing as Duo is not being positioned as a gaming machine, that seems rational, albeit still disappointing.
Video and television, such as YouTube TV, are good too. The display aspect leads to some odd black bars, but because you can position Surface Duo in tent mode or compose mode, it makes up for that experience. While you can span a video across both displays, most will disfavor the gap.
There is no headphone jack, so make sure you have a pair of Bluetooth headphones. Surface Earbuds paired with no fuss and worked as well as you would hope.
If you want to use a speaker, there is just one on the left display near the top. Surface Duo is a far cry from the dual-speaker setups with Dolby enhancements of modern high-end phones, but the speaker and audio are better than expected. It's not great for music, but it works well for spoken words, making it best for video meetings and voice collaborations.
But how IS IT?
Surface Duo and the theory of dual displays
At the crux of Surface Duo is the question of dual displays and their efficacy. These are early days for Microsoft's vision, so many of these dual-screen experiences are limited to Microsoft's inbox apps like Outlook, To Do, Office, Microsoft News, and some third party ones like Adobe, Spotify, Amazon Kindle, and Mylio (photo editor). Of course, even without dual-screen optimization, any Android app can run on Surface Duo.
App experiences like Microsoft News, Amazon Kindle, Microsoft Teams, Adobe Acrobat, and Outlook do light up Microsoft's "spanning" vision on Surface Duo. For example, Microsoft News lets you browse articles on the left side while reading the selected story on the right. That is clever, but what is ingenious is the ability to go into "reading mode," which formats the news article to span Surface Duo like a book.
Amazon's Kindle is also stunning. It, too, lets you read a book with each page on each of Surface Duo's displays. The page-turning animation is lovely, allowing you to see the flipped page with reverse print. It's very Apple-like.
Microsoft Outlook is more familiar, browsing your email inbox on the left side, while reading specific emails on the right. It may seem obvious, but this method of triaging your inbox is game-changing for email fanatics. Photo-organizer Mylio also lets you browse photos on the left while editing a specific picture on the right. While I find Mylio's toolset a bit baffling, it shows the power of this concept. Adobe's Acrobat Reader lets you read a PDF on the left side while inking, highlighting, or signing the document on the right.
Another ingenious feature is app pairing, where you can link two apps together to launch at the same time. Pair up Microsoft Teams and Outlook to launch as your out-of-bed app experience. I use FedEx and UPS apps to track packages, or Ring and Eufy, for security. You can pair any Android app with another – Instagram + Twitter, Facebook + OneNote, New York Times + Washington Post. It takes multitasking to a new level. The same applies to "drag and drop," where you can drag a news article into OneNote, or something into To Do. It is also paradoxically like using Windows.
Image 1 of 2
And that is the sum of where Surface Duo excels: immersion. While some just want a pocket phone to check a message, view Instagram, and take a call, Surface Duo is better for sitting down and going in deep to your email, reading, taking notes, document creation, or collaboration on Microsoft Teams.
Surface Duo is a powerful concept. It's also one that many people likely do not need. Some do, however, and they will appreciate what Microsoft has enabled with Surface Duo.
What about answering calls or hearing notifications come in, and did I ever tire of opening Surface Duo for the basics? No. I love how closing Surface Duo kind of shuts that world off to let me focus on another task. While my Samsung Galaxy Active 2 watch worked great with Surface Duo, I never felt I needed to have it (I unpaired after a day to go back to a regular watch). I also never dropped Surface Duo, had problems carrying it, or using it daily. While one-handedness is non-existent, the ability to dive deep into my work is a notable tradeoff.
Only for the bold
Should you buy Surface Duo?
Who it's for
Those who want to be more productive while mobile
Fans of Microsoft 365, Surface, and Android
Early adopters
Those who aren't worried about the price or who have a modern phone to trade-in
Who it isn't for
Those on a budget
Those who prioritize familiarity and are OK with current phones
Those who want the best camera experience
The conclusions of this review are simple. Premature software, the lack of optimized dual-screen apps, missing hardware, and the high price are good reasons to stick with your current phone. This advice is also accurate for iPhone users, who will find switching to Android and a new form factor particularly unsettling.
Those who know Android, love Microsoft 365 and Office, and continuously consume information would benefit most from Surface Duo, so long as you know what you are getting into this early, you shouldn't be disappointed with it.
Pricing starts at $1,400 for the 128GB model, and for $1,500, you can knab 256GB — both with 6GB of RAM. Microsoft is making it easier on your wallet if you're upgrading from an iPhone 11 Pro or Samsung Galaxy Note 10+, as you can get up to $700 back, halving the price. The Microsoft Store also offers a generous 60-day return policy (opens in new tab), along with matching prices, should it drop in 60 days.
If you are interested in buying Surface Duo, my advice is straightforward: Maybe wait a few months to see how the software improves. Utilize Microsoft's 60-day return policy to try Surface Duo yourself. Reading a review of Surface Duo is hugely different than living with it. The same is true or trying it in a store for five minutes. Do not buy Surface Duo as a secondary gadget — you need to go all-in; otherwise, it is too bizarre. Drop-in that SIM and embrace dual screens.
I can't wait to see what Microsoft does with Surface Duo in the next year. Do software updates ameliorate early jankiness and bugs? Do apps like Twitter, Edge, websites, and media apps follow Microsoft and Google with dual-screen optimized apps, or does it stay isolated to only a few? These questions will seal the fate of Microsoft's dual-screen mobile dreams.
Microsoft gets points for a radically new mobile idea that has genuine merit. Microsoft loses points simply because the software is halfbaked, and it needs more dual-screen apps; but nothing is fundamentally wrong with the underlying concept. With a few updates, Surface Duo could absolutely be life-changing, opening new doors for working on the go or the couch. But if you're going to buy Surface Duo, but it for what it is, not what it may be.
I am going to continue using Surface Duo as my primary mobile phone. I legitimately want to. Surface Duo represents a shift in mobile technology, and I'm here for it today.
Now available (in the U.S.)
(opens in new tab)
Two screens are better than one.

Microsoft delves into the future of foldables with an ambitious dual-screen device, featuring two ultra-thin 5.6-inch AMOLED displays bound by a 360-degree hinge. This pocketable inking-enabled Android smartphone marks the latest in the Surface lineup, geared for mobile productivity.
Main
Surface Duo, 3 months later update
Since my initial review, I have been using Surface Duo as my primary phone. While I have an iPhone 12 Mini for a side review (and to follow Microsoft's iOS app ecosystem), it remains on a secondary SIM.
I live with Surface Duo more than most reviewers who have moved on to the next big thing, or whatever their personal preference may be. I could do the same and go right back to the Samsung Galaxy Note 20 Ultra, one of the best overall smartphones of 2020. It is hard to resist that 120Hz display and impressive camera array.
But there is something about Surface Duo that clicks with me. I find myself using it a lot on the couch for reading books and comics via Amazon Kindle and Google Play Books. Indeed, I am just reading a lot more now, thanks to the dual-screen book-like experience. I also triage email like a boss, read more in-depth news articles via Microsoft News, and enjoy the overall experience, including the surprisingly good battery life. I find myself reaching less for a laptop because of Surface Duo.
Why do I like it so much? It recently dawned on me: Surface Duo brings back the classic concept of the PDA (personal digital assistant). I'm old enough to have used a Dell Axim, my first real exposure to Windows Mobile and what I saw as the future of mobile computing. I've written just how transformative the PDA was for my career, and Surface Duo feels a lot like it.
The Dell Axim was far from perfect, too (as were all PDAs at the time). If the battery died, the device's memory was wiped. Wi-Fi was barely a thing in 2003, and it would be years before cellular was integrated. You also had to sync the PDA to your desktop to refresh the information on it, making everything static when in use. None of this was ideal, but it was still wild. The same can be said of Surface Duo.
My Surface Duo is now my life secretary. When I open it up, I see not just my latest notifications, but a list of all my emails and important alerts (via BlackBerry Hub and Email), my week's calendar appointments, and current info. Any Android phone can simulate that experience, but it's the dual display and design that makes it feel better. It's an excellent organizer for those who deal heavily with information, schedules, data, and management.
Speaking of the BlackBerry Hub+, Microsoft should create a unified inbox experience for all your significant apps (Teams, Skype, Slack, Telegram, SMS, etc.) like that one. BlackBerry always had a knack for mobile productivity like its privacy shade. I wrote in 2018 how BlackBerry and Microsoft should team up, and I still think that's the case. At the very least, emulate them, Microsoft.
I also enjoy the ability to close Surface Duo like a book, allowing me to focus more on my writing and work instead of always looking at my phone.
However, my review's conclusion hasn't changed in the last three months. Surface Duo is still a "dual-screen phone of tomorrow that's not quite ready today." It's just now slightly better.
But the only real thing I was concerned with was the concept of Surface Duo and if it was a breakthrough or a gimmick. I can report that it is the former. It's still not a device I would tell regular consumers to buy, but it is one to watch going forward.
What Microsoft does with Surface Duo 2, which we expect could launch in late 2021, will be fascinating. For now, I'm hooked on the idea of dual screens regardless of the (dwindling) flaws. I'll check back in on Surface Duo three months from now, and hopefully, we'll have Android 11 and some more improvements and features.
Daniel Rubino is the Editor-in-chief of Windows Central, head reviewer, podcast co-host, and analyst. He has been covering Microsoft since 2007 when this site was called WMExperts (and later Windows Phone Central). His interests include Windows, laptops, next-gen computing, and for some reason, watches. Before all this tech stuff, he worked on a Ph.D. in linguistics, watched people sleep (for medical purposes!), and ran the projectors at movie theaters because it was fun.
Honest review. Won't change my preorder, still getting it. Panos and Surface team said they are listenting and I am confident they will improve the software over time. Android 11 is just around the corner. I use a Mate 20 pro with kirin 980 and 6GB Ram with no issues on Android 9. I think it is mostly software optimization than the hardware.

Longtime Android fan here. Android never "runs faster" with updates because - as with iOS - each update comes with new features designed to make the mobile OS closer to a desktop OS in capability. So the opposite is going to be true. Maybe you are thinking that Android 11 will incorporate some of the custom features of the Duo in AOSP and improve performance that way. Doubtful. Google has been paying lip service to better support for large form factor devices like this in native Android for going on 10 years, but the truth is that they would really rather you buy a Chromebook instead of an Android tablet or dual screen device. So OEMs have to customize AOSP to put in the features they need. We have known since the early days of Samsung and TouchWiz that the only way to get good performance and avoid bugs and crashes is to throw as much memory at the device as possible when they have heavily customized AOSP. This device should have shipped with 8 GB of RAM minimum and the next one better have 12 GB.

The lags described sound app-specific or related to the MS customized parts to the UI. If so, MS isn't dependent on Google to address them.

I'm a longtime Android user as well (Motorola X Pure, Samsung Galaxy S8, S9, S10+ and S20) and you are incorrect on a number of fronts.

If they were "listening" they would of finished up Windows 10 Andromeda like they said they were to put out a new Windows mobile device. I am done with MS. I am moving over to Linux based devices now.

MS might to delay surface duo's delivery until they can fix performance issue.
It is 2020 not 2010's.

And because it is 2020 and not 2010 you must stop waiting for a regular phone.
Smartphones are so 2010.

Thank you for this most comprehensive recap and first user experience sharing. The Duo has so much potential MS for sure made the right decision on form factor, OS and useability, ergonomics and Surface "Superior quality and technology". Imagine the next step in the Surface : Surface NEO when the Courier concept finally materializes. Truly exciting times despite the current Covid-19 nightmare.

my Surface Duo is out for delivery today! can't wait. the review didn't cover some of the use cases I thought would work for me. like watching youtube on one screen and tiktok on the other. or playing a game on one screen and doing a discord or teams chat on the other screen.

I just opened it! It's so beautiful! I so want to get a case now. More than any other phone. But I don't want to use those bumpers. I hope some third party can make a better design. It fits in normal jeans front pockets fine. Same for dress slacks. If you wear skinny jeans, I wouldn't get this phone.

"You can run games on either display or even two at a time, kind of." Dan - can you elaborate on this? I play some side scrollers from time to time. When you said this it made me think that if you click on one game then the other pauses/sleeps/etc. What was your experience?

Interesting take. Besides being washed out a bit I didn't think the photo samples were bad at all. (It's simply NOT true that top phone cameras don't need flashes. All cameras need flashes ...) Slow-loading Edge and missing Launcher features are sure to be ironed out soon, but the software issues you describe are hardly "bugs". And some more about the inking experience would have been appreciated. Overall the pros seem to stand out way more than the cons: amazing build quality, decent battery life despite a larger screen and thin chassis, many useful dual-screen app implementations (though not enough), app groupings, no issues with plain old Android apps, great telephony, great media consumption, and a natural-feeling experience overall... That almost sounds like a $1400 phone experience for any power user, especially with the promise of software updates. Based on the review itself, three stars is too harsh.

OK, I've watched the video now (definitely worth your time) and now I can see the bugs and the sluggish pen performance. Still, 3 stars? One thing I'd like to see more about is the postures, their ease of use and how useful they are. This article is already long - maybe another just on that?

I thought 3 stars seemed rough too, based on the review content. But I respect that Windows Central is tough on MS. If you figure that Dan's conclusion was "good for enthusiasts, maybe not ready for others yet," then 3 starts does make sense.

"But I respect that Windows Central is tough on MS." Yeah true. But watch MrMobile/Michael Fisher's video review. It is much more thorough about those bugs - and they're terrible. Definitely justifying 3 stars!

The review is both the concept and the device. The concept has merit, the execution does not (right now). But the drawbacks are, in theory, fixable via software (we'll see). Part of it also the fact that I'm going to continue to use Surface Duo as my main phone, didn't find it so terrible I had to give it up. FWIW, Android Central also gave it 3/5, but let's be honest: the score is BS and made up. It's the content in the review that you need to read, digest, and then use to decide for yourself. A score is just a tl;dr. But you think it should be 2 or 2.5, that's fine.

Fair enough about how subjective the numbers are. I actually thought 3/5 was harsh given the content of your review (same with that Surface Earbuds review, if you recall). But seeing all those bugs in MrMobile's video (was that pre-update??) made me think 3 was just fine. All that said, it doesn't say great things that MS released a product with so many bugs.

Bugs, be they performance or product issues, are common in verson 1 products. That goes double for a product that has a major outside dependency, Android in this case, and is trying to blaze a new direction. Having been involved with a few version 1 software projects we always had a dead clear understanding of what was less than ideal on release day. We also had a plan in place what was going to be addressed and generally when. The first Surface Duo software update that just rolled out is clear evidence of this being the case. I can assure you that good product teams, and the Surface team is top shelf, pour their hearts into trying to release perfect products. It never happens. It is a rule. The fit, finish, feature, and performance issues while disappointing, that's fair, are not deal breakers for a version 1 product. That Surface Duo works as well as it does is quite remarkable. I suspect that much of the current issues are a result of the Surface Team dumping Windows for Android at the tail end of the development process. That had to scramble everything. Basically, they had a ship date and ran out of time and somehow still managed to ship a pretty great device. The pressure is now on the team to fix this stuff in a timely manner. It is going to take a few months, say six, for everything to bake properly. If things are still wonky then, well that is a different story.

MrMobile's Michael Fisher's video review gives you a lot of details about the bugs on the device, which look pretty frustrating indeed.

CNET was pretty rough too. Cringeworthy actually. Looks like the honeymoon period has officially wore off. On the day of the wedding unfortunately. Sadly, part of me is happy Microsoft fumbled the ball here, the part that's angry Duo doesn't have Windows on it. But the realistic, and nicer, part of me is sad to have to wait another 3 or 4 years for this device to be worthy of consideration. By consideration I mean not just for enthusiasts, but for its target audience, enterprise professionals. The bugs are unprofessional to say the least. And certainly counter productive. But the whole dual screen thing is really cool, even with droid on it. Hope they stay committed to it. But regardless of reason I still think this wouldn't have crashed any harder with Windows 10x on it. But hey that's why Satya gets payed millions, and guys like me get payed to try and implement or ignore what they shovel our way.

"But regardless of reason I still think this wouldn't have crashed any harder with Windows 10x on it." I very much doubt that. I really think Android was the right way to go. This way, consumers can have some confidence the basic bugs will be fixed. The platform is known and stable. W10X is unknown and new (as of now, not even released).

That's why I said "regardless of reason". ;0)

But now that that's water under the bridge I hope MS wises up and makes Neo dual screen Android too. It would make it much easier for a developer to write one app that works on both. The "universal" vision, even if realized on Android, is better than code-twice.

Dan, great review, thanks much. In conjunction with yours, i was also reading Brad Sams' review. I wonder if Duo coming out earlier than its cousin Neo may help prepare folks for the larger, Windows-based dual screen device? I feel like a lot of the nuances of this device you and Brad mentioned may help with the learning curve of what Neo may eventually be?

A fair and balanced review (no pun intended lol). I can certainly appreciate/understand the pros and cons - thank you Daniel! While I've got one on a FedEx truck heading toward my house as I type this, I very much look forward to v2 and v3.

Glad I passed on this. No reason to be pushed out the door with it not being ready for the everyday consumer -- especially at a $1500 price point.

To be fair, the original Galaxy Note, which I had back in 2012, was even more half-baked (if you know what I mean) and that went on to launch a whole line that lives today. I think the Duo has fewer issues - but at the same time, far more competition, and consumers and pro users with higher standards.

True. I suppose I meant that my days of paying a premium to be a beta tester are over. In 2020, you can get a phone with better specs for 1/3 the price.

If you want just another phone, the Surface Duo is a big error imho. For 1400, you can get other super mature and sophisticated 'regular' phones that blow the Duo out of the water in terms of camera, speakers, battery, wireless charging, connectivity, etc.
I am totally in agreement with the crowd that regards the telephony of the Duo as an add-on, not the primary function. Think of it as an attempt to miniaturize a Surface computer. The focus is more on 'productivity', and I think that's where Microsoft should place the greatest focus and effort. That's the main reason to get the Duo.

The first couple Galaxy Notes, especially the first one, were special. With that said, they changed what I expected in a smart phone. They were wicked cool at the time.

Awesome device! We will watch it get better over time. 🥳🥳🥳🥳 Can't wait to get mine in my hands. 💯💯💯 Everyone who buys Duo today should know that it is in no way perfected or perfect.. People need to understand that Duo is a work in progress for the long run. Future versions of hardware and software are exciting.. One good thing about Duo V1 is that it's software will continue to be updated. There's no crazy issues with it now, and it'll only get better. 👌🏽

Terrific review, by the way! This is exactly my take on Surface Duo, and what I have found the past two weeks.

How did you get a review unit? I've been a fan longer than you.

I don't have a review unit, and nobody has been a Microsoft /WP /SD fan longer than me.. Go to Facebook and search "Surface Duo Central" join, and I'll prove it to you.

Boo hoo, sob sob! Mommy, Mommy that man said he's the biggest Microsoft fan, but he's not is he Mommy? I am. Boo hoo, sob sob!

Daniel sums it up perfectly here! I especially love the last sentence he wrote about buying Surface Duo. "Microsoft gets points for a radically new mobile idea that has genuine merit. Microsoft loses points simply because the software is halfbaked, and it needs more dual-screen apps; but nothing is fundamentally wrong with the underlying concept. With a few updates, Surface Duo could absolutely be life-changing, opening new doors for working on the go or the couch. But if you're going to buy Surface Duo, but it for what it is, not what it may be."

My take - as an Android enthusiast/loyalist for going on 10 years - Microsoft REALLY shouldn't be in the business of making Android devices. The reason is that even if they come out with the greatest and most innovative Android device in history, Samsung and the rest will have their own versions of it on the market in 6 months (because due to Android's nature, analyzing Microsoft's code used to create the custom features is a trivial process). Also, while it is possible to modify AOSP with your own features in theory, in practice it increases your device RAM requirements from 50% to 100%. The issue is that while RAM itself is cheap, motherboards with the extra RAM sockets are decidedly not. (FORTUNATELY Samsung has a new iteration of RAM that will allow up to 12 GB in existing motherboards coming out next year.) Also, Google always does this song and dance about how they are going to put these great features to enable multitasking and large form factor devices in AOSP ... but it is never going to happen because Google would rather you buy a Chromebook than an Android tablet or a device like this. So you are going to have to put in your own UI features with custom code, which will often clash with Google's own AOSP updates and result in bugs that you will have to fix mostly yourself (with Google only providing real help with the most serious ones). I read years ago that Microsoft was working on adding a Windows subsystem for Android similar to their WSL. They dropped it, presumably because Google wouldn't license their apps (or because they didn't want Google apps in the first place but realized that the Android subsystem was commercially suspect without it). It was a bad idea ... Microsoft could have licensed the Amazon App Store instead (Amazon hates Google) and put their entire suite in the Amazon Prime store. People who still wanted the Google apps would have just sideloaded them (which is what most do with Amazon Kindle tablets anyway). If they had done so, then Microsoft could have used Windows 10/10S/10X for this device and done fine. Even better: they could have used Linux for this device and run Android in a container. (Again, either use Amazon App Store, or perhaps even get Google's blessing.)

You are probably right about Samsung copying features of the Duo, but I doubt that Microsoft is too worried about that given the close partnership between the two companies and that Samsung flagship phones are loaded with Microsoft software.

If dual screens were really compelling, Samsung would have made one years ago. There is nothing to copy here.

Have you seen the Fold 2? It attempts multi-tasking on a large foldable screen which is exactly the reason for the Duo. Microsoft worked with Samsung on that feature but the Fold presents the apps in windows that are narrow and not as appealing (at least to me) as on the Duo. I also believe it is past time for OEMs to be experimenting with new form factors for phones. They are all tall narrow slabs with ever growing camera bumps. Devices that focus on other important tasks are going to appeal to a portion of the market. The Duo, Fold, Flip, the LG and others are early iterations of new ideas. And it makes sense for Microsoft to design something with a focus on its productivity strengths whether you like it or not.

This. Not to mention Microsoft probably wants people to copy them.

Microsoft only went into this with the cooperation of Google, because they didn't want to do a forked version of Android. So everything they're doing, software-wise, will be able to be done by other companies, and they're fine with that.

They don't need to do Android. They have Windows 10 Andromeda.

I had similar thoughts about MS and going Amazon's route or even working with Amazon. I suspect that at least for this first pass, one of the goals was to avoid any sense of app limitations, because that could have echoed the chief negative with Windows Phone and really skewed market perception.

You talk and sound like a Linux lover. Good for you, but not many others and certainly NOT for a phone or tablet device. Very few if any want to sideload apps or use an OS they don't understand (Linux) with a crappy (yes Amazon's store is crappy) store. Android was the only real option to get apps on day one and Windows 10X was/is not ready. Note no one is complaining about lack of apps. The form factor and using two screens at once is new and confusing and has some issues yes, but no store complaints at all. And the container notion is an overly complex dipping device that would harm performance and add a needless layer of complexity. I will agree more RAM might be needed though certainly adding more would add to the price for various reasons, but then again we don't know if it is the RAM or just software optimization.

"The reason is that even if they come out with the greatest and most innovative Android device in history, Samsung and the rest will have their own versions of it on the market in 6 months "

Microsoft wants this literally to happen. It's why its changes to Duo are made with Google so other OEMs

will

use them, which then helps drive developers to make apps that leverage dual displays. Microsoft has been very open about this since day one.

Yep, MS's greatest hurdle is still software support. There are issues with this gen 1 product that will need to be smoothed out with future devices, but the Surface team is more than capable of competing with anyone when it comes to high quality devices, especially as the tech needed for this form factor matures. They'll never have volume, but if the industry moves in the direction they're trying to push it, they'll have a place at the top of the premium and especially enterprise ends of the market.

Developers, developers, developers! Amen.

This is what I have said 5 times today.. If only these guys would actually read the articles.

I'll wait for it when it arrives in the $299 Costco bundle pallet.

I'm always curious to know the "why" when I read reviews of a new category of product like this. The "why" as in, "why didn't they knock it out of the park?" The "why" as in "why didn't they put the latest and greatest specs and performance in this groundbreaking product?" I'd love to have been a fly on the wall in the product meetings when the decisions were made to cut corners on software, internal hardware, etc. Must have killed some of the engineers inside to know this was another half-baked release.

Those "whys" have been well-covered here on Windows Central.

That's a real solid review Daniel and very unbiased. Your review made my decision to hold off on a gen 2 hopefully and keep my Note 20.

everything else would be workable, but buggy OS. you can't have your phone freezing and crashing and flipping out

In the video, DR says the phone doesn't freeze or crash. But you can see the bugs there too - mostly the Android gestures not responding momentarily. Stuff that can and will be worked out with updates. This is Gen 1 stuff. I remember my Gen 1 Galaxy Note, and boy did that thing have issues.

"DR says the phone doesn't freeze" Then how would you categorize his saying that Edge can take up to SEVEN SECONDS to resume from suspension?

That's Edge taking up to seven seconds to resume, not the phone freezing up for seven seconds.

Have a look at the Tailosive tech review. As much as I dislike his attitude towards all things not Apple, the Duo crashed and played right into his hands for a proper Windows bashing. The software must be polished before it is released, otherwise Windows will never shake off their poor reputation, first impressions are the most important.

This is Android, not Windows. Not even remotely Windows. And Tailosive isn't anywhere near the first place I would look for a non-biased review.

Oops, I meant to say Microsoft in lieu of Windows in my original comment.
The Duo has a MS logo on it and Microsoft must get the initial software polished, they are responsible for this thing regardless of the chosen OS. When clearly crappy software is shipped on a new $1500 device, it perpetuates negativity and influences others into this negative mindset for Microsoft. I saw the same thing happen with MS mobile and that didn't recover from the bad press. I totally agree with you about Tailosive.

Daniel mentioned some delay, or speed issues, but he never said that it froze or crashed. "None of these bugs completely ruin the experience, there were no OS crashes or loss of data, and the 2020.812.86 update does a lot to make the ride smoother."

To be fair to Dush Ku, the bugs you see in MrMobile's video review look like they do go a long way to ruining the experience... Terrible job, MS.

Some of that was recorded before the update and was there to serve as a dramatic example. I stand by what I wrote.

"you can't have your phone freezing and crashing"

I literally say this never happened to me even once. I never lost any data, had a reset, or frozen phone. Gestures were wonky and janky before the update, and there are missing features, but it's not as you were stating. Surface Duo is not smooth, it is stable.

I'll add that I did have it happen at Best Buy. I went to try out their demo unit and was trying out the camera and how it swapped between displays. After swapping it twice, the thing locked up and wouldn't do anything. I had to forcibly reset the display unit to get it working again, and I'll note that it took quite a while to get up and going again after the reboot. Maybe that was just a one-off or something fixed with the launch patch. Nothing major, but it happened.

Those devices are running demo software ontop of the OS that can futz with stability; it was also unlikely to have the update that just came out today (which is what we had for the review).

I must admit, and it's awesome that you actually did it, reviews should always denote what version of software is running on the device because it often can make a huge difference. I know some reviews do include the info, but more should just in general. So kudos for doing the right thing.

Dan, thanks for another thorough review without the hyperbole (pro or con) that so many of your colleagues engage in. I've often been a first day purchaser of products and nothing you have mentioned here surprises me, or worries me about the pending arrival of my Duo. I strongly believe there is a market for devices like this because I spotted how it could change my work with a phone way back on that early reveal last October. This is not a mass market device, but it will find a large niche if MS smooths the rough edges you discuss here.

I wonder, Dan, how much do you think they can realistically improve this with software? The issue with Edge waking more responsively is probably an easy one to say can be improved, as one example. Improving the photos to the point of usability at night? Harder to imagine without OIS or a decent flash. What are the things do you think they will really improve upon? Do you think they can do enough to, say, improve your review score from a 3/5 to a 4/5, or is it just refining a device that has too many compromise to realistically move the needle on experience as its hardware (SoC, camera internals, etc.) becomes more obviously behind the competition as those refinements come in?

"I wonder, Dan, how much do you think they can realistically improve this with software? "

Seeing the before/after with the Sept 5th update? A lot. That update did a lot to smooth things over. We're talking finesse here, not fundamental stability issues.

"Improving the photos to the point of usability at night? "

I mean, the camera is what it is and not really my worry. It's fine for my weekend rides, and shots when out and about. But no one entertains the idea that software will magically fix it or make it better.

"What are the things do you think they will really improve upon? "

Double tap to wake Peek with notifications SwiftKey that spans both screens in book mode Smoother animation Tune touch sensitivity, gesture actions, memory usage

"Do you think they can do enough to, say, improve your review score from a 3/5 to a 4/5"

I mean, maybe, but tbh, scores are BS anyway. The bigger question is does the OS experience improve (especially with Android 11, which is supposed to be better for dual screens), and do we see more apps that span.

Good reply, lot of helpful info. I think what you say can come along is all stuff that makes a lot of sense, is within reason, and would add quite a lot to the user experience. The scores might be a bit BS, but you picked that number for a reason, and I wonder how much that is capable of changing for the better. The camera matter, I was specifically speaking to how you seemed hugely negative on the nighttime shots. Do you think a "Night Mode" can be developed in a way to where it isn't a problem? Are they just a noticeably worse experience, or something that's so bad it warrants a complementary device to take decent night photos?

The camera issue is an interesting point. I can't imagine the camera hardware and software not improving in subsequent versions. What I don't understand is if trying to make it rival what Apple and Samsung stuff into their machines makes sense. The physical size of the device and form factor seem to preclude that happening; a camera bump seems to be a bad idea for the Surface Duo. Still there does seem to be a path forward here, we only need look at what Google has been able to pull off with the Pixel 3a and Pixel 4a. The big unknown here is what is the feature road map for the Surface Duo and how those are prioritized. If they could pull off some magic and produce something similar to the above Pixel devices that would be a win in my world. I like the list of improvements noted by Mr. Rubino. Those are rational, doable, and would go far in baking the version 1 Surface Duo, especially the memory management and OS interaction optimizations.

Thanks for the great video review. this device is a phase 1 device & maybe too expensive for to
some People due to it's limitations compared to most Flagship smart phones that are out
there today. but WOW I like it better than a Single screen smartphone because A PERSON
CAN DO MORE WITH IT AT THE SAME TIME THAN YOU CAN DO WITH ANY SINGLE
SCREEN SMART PHONE OUT THERE TODAY. IF T MOBILE GET'S ONE i WILL TRADE
IN MY IPHONE 11 FOR A DUO FRANKLY I'LL WAIT FOR SURFACE DUO NUMBER 2 AND
BET SURFACE DUO NUMBER 3 WILL BLOW EVERYBODY'S MIND. ANDROID HAS A
LOT OF DEVELOPERS SO I EXPECT LOTS OF APPS THAT ARE SPECIFICALLY DESIGNED
FOR THIS DEVICE ALL MICROSOFT HAS TO DO IS KEEP MAKING & ADDING MORE
FEATURES TO IT. MICROSFT HAS A WINNER HERE FOR
SURE EVEN THOUGH IT'S NOT FOR EVERYBODY.

The device is going to be a winner. 💯

Have you seen The Verge's review of the Fold 2 versus the Duo? By the time Microsoft gets this right, if that is even possible, it won't be able to compete with the Fold. It already is behind and it doesn't include any ground breaking technology The Duo needs to severely undercut the Fold on price if it wants to be competitive in the future.

The base model is $600 cheaper.

Fold is a tablet that folds into a phone; Duo is a phone with dual screens. These aren't the same. Not the size, not the form factor, not the price, not the software experience. Moreover, why does there have to be a winner vs. just user preference? It's like you never watched the smartphone market. We have LG, Samsung, Motorola, OnePlus, Huawei, Xiaomi, Pixel - they're all SINGLE SCREEN SLAB PHONES that basically do the same thing.

"The Duo needs to severely undercut the Fold on price if it wants to be competitive in the future."

Fold 2 = $1,999 Duo = $1,399 🤷‍♂️

I specifically say competitive in the future. Prices of both devices will come down, Microsoft needs to make sure it's budget fold design stays budget. The Fold is already looking good, and these devices are very similar when unfolded, except the Fold doesn't have lines down the middle. It does have similar features though, like app groups that automatically create a dual screen experience. When folding screens truly mature, dual screens will not be a good look.

The Fold 1/2 is too thick and which is not easily fixed without sacrificing specs 😜, might as well go for a Note then or just buy a tablet.

Daniel.. Seriously. Just delete Bleached account.. He is obviously only here to troll, and bash anything MS does. He likes ZERO that is MS. Why don't you relieve him of his pain? His trolling has gone on way too long. Get rid of him.

I've seen a ton of reviews today, and they don't really concern me at all, and never will because I know the Duo will grow into a great device. Just like I've said for weeks now, Duo is a good device that will even get better. Deal with it. My suggestions for trolls like you is to
1. Stop all of your childish panicking
2. Buy a Fold of you prefer it over Duo
3. Finally STFU for the first time in your life because your comments never move anything, or convince anyone of anything. You're as annoying as a human can get.

This has set the stage for Neo. If anything, it will showcase the power of Windows 10X over Android when it comes to form factors like these. It seems, most of the problems have been related to Android and not the device in general.

I don't think it's Android because I don't have these problems with my Note9.. The problem is Microsoft getting its systems to work properly on Android on Duo.

One would hope a Windows device can do two screens better than Android, but we have no proof that will be the case. In fact, we have the opposite withy dual screen 10x not in the pipeline for some time. That seems to demonstrate it is not ready and cannot do what they need it to do well just yet. I tend to think the early issues with Duo are related to Android and the MS launcher needing to work better together.

You assume Microsoft is capable of building a modern operating system, let alone one with advanced functionality for dual screens. Android gives them the tools to do that, they will polish it, and there will be no reason for them to release 10X with no software and minimal features compared to Android.

I'm not so sure anymore that Neo should be running Windows 10x. It will of course. But it shouldn't. It would send Duo developers a much clearer message if they knew that they could write an app one time and have it run on both Duo and Neo. Don't take me wrong, I don't think Microsoft should abandon Win10x, but rather continue to purpose it for Chromebook-like devices, laptops basically. I'd be singing a different tune if they'd have released Duo with Win10x. But now that they're in for a penny, I think they should be in for a pound with Android.

This resolved my chief question and I'm ordering one today. Thanks! (using your link so Windows Central gets the credit)

I still feel like bringing up nfc and wireless charging is kinda useless these days. I used to harp on them or lack thereof back in the day, but now it feels kind of silly. After 10 years or so, I still rarely see customers use these features and my own wireless charger is starting to gather dust. (Mainly because I got into the bad habit of reading the phone after going to bed so I'd keep it on a wired charger... I feel this habit may get worse with the way the kindle app is set up on this thing.) Some sort of contactless pay support is easy enough to add by various means.

Mine arrives today. Hopefully, the software issues can be worked out in short order. It's interesting that the WC party line before launch was that the slightly downgraded specs (CPU/RAM) would have no effect, but the review now says they might. Hopefully, that is just a question of optimization.

I stick by the CPU being OK, or, that 865 would not radically change that conclusion. The 6GB of RAM is likely a bigger issue as is the need for OS optimization and tweaking.

I agree, the CPU is just plenty fine here. Seriously it's just a year old chip. RAM is one I think they could've have increased to 8GB at least, considering Surface Duo is a multitasking-centric device and having higher memory directly benefits that.

Performance is always going to lag at launch. They need metrics from a bigger group of people to see where optimizations needs to be done. Other than that, I have no regrets on my pre-order.

Good review but when it comes to the section "who it is for" I barely see the point. More productive maybe, if you consider the two screens and the pen, maybe not if you see the related lags and bugs.
Microsoft 365 fans? Do they even exist? I know only people accustomed to Ms Office who are ok with it and can use it on any other phone. Same thing for Android.
Most Surface fans don't give a thing about an android overpriced device that takes from Surface just the hinges and the logo.
So I'm afraid this will be only a fascinating hardware experiment which can't even play in the same league as Samsung's.

Thanks for the great review, very informative. I'll continue to follow the progress for a few months before deciding to purchase.

I've been using Sony Xperia phones for awhile now since I rested my Windows Phone, and love them. I notice the buggyness when I use Microsoft launcher that all the other reviewers show on the Duo. As soon I as turn off launcher everything is fine again. My latest Xperia has the same arm chip and ram as the Duo. I think it's the UI on the Duo that is causing these issues and can be fixed with software updates. But until then you are going to have a bad experience. My question is can you turn off Launcher on the Duo?

I've been using Microsoft Launcher for a while now and I don't notice any of the bugginess seen on the Duo. Which makes the bugs on the Duo shocking to me. How come they couldn't get it right this time?

So I just left the ATT wireless store and was playing with the Duo and I didn't see one issue with any kind of bugginess or slow reaction time. Smooth as butter. Maybe it has to do with the network your on or your coverage or... I don't know, but it was a great experience. I will wait for further reviews.

Interesting to hear. Maybe a good sign.

It's the same problem that plagued Windows Mobile. The hardware was always top notch or competitive. It's the software that was under baked and limited 3rd party support. If they had perfected W10 mobile by the launch of L950 this situation wouldn't have happened.

Yeah, but we have all the apps now at least.

After reading the comments I see a lot of people being too easy on Microsoft because it is a 1st gen product. I have higher standards for my hard earned money. If I spend $1400+ it better damn well not take 7 seconds for edge to open. A lot of you say they will fix the bugs. The question is when? Microsoft has a long track record of taking forever to fix most bugs. And these are bugs that are obvious. You don't need millions of people to test the device to find these bugs. And don't blame Android. Android runs plenty well on handsets with inferior specs than this.

You don't buy a gen 1 product if you don't want teething pains. Sounds like this isn't a product you should buy. If the concept is interesting to you, check back when Duo 2 comes out.

Upon realizing the extent of the bugs (after seeing MrMobile's review) I make no excuses for MS. The bugs are inexcusable. They also seem eminently fixable. This is Android we're talking about, not some new OS. And MS Launcher is powerful and stable. Again, no excuses for the crap launch, but also no reason to panic. Also, it matters that it's a gen 1 product. It's for early adopters.

"Radically new mobile idea"... There is nothing new or radical about this. This idea has been done before, just not quite this refined. His statement makes zero sense!

Not sure what your getting at. Let me help.
-It's still "Radical" - a change from the norm
-It's still "new" - last 10+ years of smartphones, this is still new
-It's still "mobile" - just a given I would assume
-It's still "idea" - course they chose to take
Makes sense to me.

But it isn't a change from the norm. You have been able to buy a dual screen smartphone since 2012. ZTE and most recently LG have given you the choice of a few models. Microsoft just refined the hardware. Some hardware refinement isn't what I would call radical or new.

The norm would be- "I see people using dual screens all the time, it's nothing new". That is not the case. And when you ask the 'normal' people if they knew or have seen a dual screen phone, they would be like "no, is that something new?".

"There is nothing new or radical about this. "

That's

your

opinion. This review is

my

opinion. See how that works?

Nothing new or radical about your whining either.

This is Microsoft's first purposeless device. The Duo takes the two best reasons for a dual screen device-using apps on a large screen or to have a small device that opens up to a regular sized smartphone screen-but does neither. That large hinge separating the two screens makes it unlikely to be good for content consumption, except for reading apps like Kindle. It's obviously not a small device and looks terrible to take calls on. Definitely passing on this.

It's not meant for content consumption (except maybe games, eventually, when they implement the second screen touch controls for xcloud) it's meant for productivity scenarios. It's gonna be a lot easier to write emails on, take notes with, cross reference multiple sources on, etc. If you're not a student or doing work that would benefit from a mobile device like that, yeah, don't buy it. It isn't for you.

Thank you for the honest review! I ended up cancelling my order and I am glad I did as it looks good - but hard to rationalize $1500 for a "unfinished" product. I would rather go for a NEO at this point whenever it does come out. The biggest surprise I have is that MS didn't put something in the device like samsung dex or a desktop experience. To be able to use it in that fashion and use both screens would be amazing - not sure if it could output video to all three screens without a performance hit - however it would be interesting. See what happens I guess and keep my eyes out for version 2 and/or the Neo. Thanks!

I appreciate the honest, real-world review of the phone and its issues, but you are hopeful because you look forward to what it can become. I like that about your reviews. One thing I will definitely first highlight about your comments: I also like the color science for the camera! Colors look very natural and even in all the pictures. All it needs is a superior sensor with the same color science. They needed to just bring the old Lumia camera UI over to the Surface Duo in my opinion but I guess they wanted to keep it simple. I am so glad to hear about the call quality. I hope that is highlighted by other reviewers. Not having a headphone jack means you can't use high-end headphones except you use a dongle. The thing is that Microsoft will get a lot of flak for the underwhelming specs and (sadly) still beta-looking UX as you described it. Can't wait for the LTT and The Verge comments on the experience. Sigh. I do wonder about a future version with an MS OS. They are so good in mobile and cloud that the OS is the missing factor. I could see myself using a later version of this device all-day to do work and research, not needing a separate single screen phone at all! It would have to be matte black or dark silver though. The bezels have to go in future iterations though the phone is fully usable in this iteration. It needs stereo speakers next time out. They have to find a way. The missing features of Surface Duo make this device (IMO, as it is right now) only good enough to be a companion- rather than sole-daily-driver- device. Microsoft is still struggling with how to make a dent in the mobile space while providing enterprise/work-focused solutions that don't sufficiently incorporate the requirements of the non-work aspects of life, thus losing the consumer and having the prosumer undecided. People want to use their mobile devices everywhere for everything. I hope v.2's Venn diagram can overlap much more into the full experience of the average user.

Mr. Rubino. This is one of your best reviews, maybe your best. Thank you. I am hearing two distinct stories here. Microsoft got this device nearly dead right from the macro perspective and from the micro perspective it is more of a very good Beta+ device mostly due to the software. This is not a fatal situation and from a practical point of view is about as good as one can expect. After reading a number of reviews and watching various videos this seems to be the consensus from those that have lived with the Surface Duo for a few weeks. The less than baked software is something of a disappointment. Having worked on and released a few version 1 products, despite all your efforts, you usually end up releasing something that is sort of incomplete. You go to war with the army you have so to speak. This is why God allows for version 2 products. Given Microsoft's long and storied history with version 1 products we can conclude they pay attention to scripture, at least with respect to software and hardware. Halleluiah! Amen! The really promising part is the form factor and the work flows it allows are solid. Microsoft, once again, pulled off making a radical design departure not for the sake of the design but because it allows for new ways of working. My initial reaction to this device was how mature the overall idea and implementation was. After studying the reviews, I am even more convinced of this. I will own a Surface Duo just not this one. Mr. Rubino, because this is a significant device please write regular follow ups over the coming months as new software refinements roll out. This is a work in progress and my interest in the Surface Duo is very high and will be ongoing. And lastly, a shout out to all the peeps that comment here regularly, especially over the last few weeks with respect to the Surface Duo. I enjoy reading your thoughts, they sharpen my perspective. There is a lot of passion here about computers, software, and of course, my favorite company, Microsoft.

"Mr. Rubino, because this is a significant device please write regular follow ups over the coming months as new software refinements roll out. This is a work in progress and my interest in the Surface Duo is very high and will be ongoing."

Thanks, and that's the plan - basically small re-reviews every 3 months on how it is/is not getting better.

That is so excellent. Thank you. Have three months gone by yet?

"This is why God allows for version 2 products." Lol the Lord giveth and the Lord taketh away...

I got my device today 😍😍.

Have fun with it, it does look like a cool device.

Oh man, that wallpaper on the Surface Duo looks great! Any chance we could get a link to that specific one? Setting mine up right now...I'm used to the growing pains of being an early adopter and I'm excited to see how this device fits in to mylife!

Most of my wallpapers come from uhdpaper.com

I received mine today. I'm returning it. I agree with Dan's review. Great hardware but lots of issues. I don't have it in me to wait for bug fixes to make the device usable to me. The biggest issue for me was phone calls dropping. The signal strength on the Duo was nearly zero in my house and calls dropped over and over. Oneplus 7T no issues.

I definitely stuck with ordering today from Microsoft.com. The 6GB of RAM I was never happy with (have a Note 10+5G that has literally double the memory, and double the storage for that matter), but I'm completely sold on the promise of the form factor, and honestly reading all the reviews none of the glitches after the update are unworkable and damn I am more than a little excited about the Kindle app spanned mode as a very avid reader. Heck I my just have some much fun with this device that I'd be tempted to get to playing with some dev tools again and make an app or two. I like my Samsung Note, but I have the feeling I'm going to love the Duo. Paired with my Active Watch 2 that seems to take care of notifications and tap to pay functions so I won't miss it on the Duo. Also opted for the graphite ear buds and picked up an extra Surface slim pen. I also own the delightful Surface Pro X which is now my primary computer and blows my Alienware or my MacBook Pros or iPad Pro out of the water in just the elegant design/function/form factor that I used to enjoy about Apple products until they've seemed very tired over the past few years and no longer pushing innovation or cutting edge risk taking design.

Pretty much what we all already knew. Interesting but underwhelming.

I am still excited to receive my Duo, hopefully Microsoft can fix more of the software bugs, with updates, patches etc, and for sure they will, but I think Microsoft should have waited a little bit longer in my humble opinion, and released the Duo with Android 11, for one, android 11 is out before the Duo, was publicly released, it would allow another three years of updates from Android 11, not 10, for the Duo, I am still a tad bit shocked that the software is not optimized properly, because first impressions have lasting impressions, the first few things ill be doing once the initial setup on the Duo, will be turning on developer settings, speeding up the drawing settings to .5X, installing the Google camera Apk, and a few others and then comparing it to my Galaxy Fold, and seeing what form factor I like better, thanks for your honest review Daniel.

I bet ALL apps have their notifications enabled. Every... single... one. That doesn't help performance.

Did you know that you can control this with Android 10? If you want not a single one will notify you. But that is not enough, software exists for you to control the apps allowed to sartup with the system.

It is better than expected I think considering the camera and battery life are decent. Bugs can and will be solved and is to be expected since DuoOS is new (heck even wp10 got more stable over time lol and that is saying something).
I also saw an Otterbox cover which has a slot for a surface pen (normal pen so long battery life); would definitely make this a more complete device I think.
If it were not for that price I think this is an interesting device and whatever the case seems like a better deal to me than the Fold 1/2. ps: good comprehensive review 👍

Thanks for the indepth review Daniel.
1 question, have you tried any apps like docusign on the Duo? I'm going to wait for gen 2 primarily out of necessity due to the current economic situation, as sadly like many I no longer have a job. The other reason is - it's running android. I have nothing against the android o/s itself but the reliance on Google makes me weary of purchasing the gen 1 duo. That is compounded by seemingly never ending security flaws in android. I hope we get a gen2 variant with 10X or WoA. For better hardware and software integration at the kernel level. Which would drastically improve perfomance and battery life. As well adding a new lease of life into UWP. Not to mention it would be more secure - during the hey days of Windows Phone / 10 mobile. There were hardly many articles about security flaws in that mobile o/s. Android o/s on the other hand.... After seeing how crammed the internals are in the duo. The realistic improvements for gen 2 at hardware level is nfc, wireless charging and a msd card support. Throw in 10X / WoA which would should by default include Continuum as Windows 10 has built in screen mirroring. I'll buy gen 2 in a heart beat. Not to mention with 10X / WoA, we would have better integration with wearables such as the Microsoft band running firmware or a embedded derivative of 10X. With this method they can utilise Microsoft pay (anything with Google's software will require googlepay). With the band + Microsoft pay, they give themselves flexibility if it proves difficult adding nfc into the duo. In any case Microsoft needs to remove their reliance on Google as it will only hamper Windows ecosystem growth. Fiscally, it makes zero sense expending money to optimise android apps for dual screen when UWP apps a more apt at adapting to various screen sizes. Will be watching closely how things go with gen 1.

"While one-handedness is non-existent, the ability to dive deep into my work is a notable tradeoff." That's a show stopper for me. Phones needs to be usable with one hand. There is just too many times you are holding something in the other hand and you want to use your phone. I'm skeptical about you saying you didn't tire of opening and closing it all day. Also, how does it work with GPS navigation apps when folded back? Will third party phone holders work? If a phone can't be used for navigation, that also is a show stopper. Pocketable GPS IS THE innovation that smartphones bring to the table. Daniel, when you review a phone, you need to test the GPS performance (including precision and reception). I do not use a phone to "dive deep into my work". I do think this can be important for some people that are on the go a lot; like real estate agents. I am not on the go a lot. When at home, if I want to deep dive, I want something bigger like a PC or tablet.

Many phones are already to big for comfortably using it with one hand. Duo is not that much different than for example note ultra. "I'm skeptical about you saying you didn't tire of opening and closing it all day. ", you do not need to do that, just keep it 360 degree folded most of the time. "I do not use a phone to "dive deep into my work". ", than it is not for you. Duo has been marketed as productivity phone from about day one.

"Pocketable GPS IS THE innovation that smartphones bring to the table. Daniel, when you review a phone, you need to test the GPS performance (including precision and reception)."

Disagree on that. It found my location in GMaps and was fine for navigation. Good enough for me. Besides ...

"I do not use a phone to "dive deep into my work"/"Phones needs to be usable with one hand."

Then this phone isn't for you. That's OK. I didn't buy a pickup when all I needed was a sedan. That doesn't mean pickups are bad, however.

I ended up having a reception issue with two iPhone 8s. It was really bad in one car, and intermittent in another. Please see my blog article detailing the ordeal (https://walletcard.org/2019/05/11/how-i-solved-my-iphone-gps-problems/). I ended up having to really solve the problem with a Garmin bluetooth external GPS receiver. Phones need to be tested for noise rejection for GPS reception.

So my question to you Daniel is are you deep diving with the Duo when at home? Unless you live in Africa or India, you probably have multiple devices, and a device larger than the Surface Duo at home and a device with a keyboard. Does it make sense to pay $1400 dollars to primarily use this device at home when you have duplicate functionality on other devices? But if you are on the go a lot, it probably whould be great to have the Surface Duo.

'Does it make sense to pay $1400 dollars to primarily use this device at home when you have duplicate functionality on other devices?"

Depends, really. (1) What's your budget to spend on a new phone (2) Are you going to use Surface Duo as your main smartphone? While I have iPhone 11 and Note 20 Ultra here, I only use Duo as my main phone both at home (the couch) and when I go out. Not only am I fine with this I just really like the Duo, so for me, probably worth it. Really, for anyone on the fence, I just encourage you to buy from MS and try it for 60 days. Only way you will know those answers.

For someone who wanted to use the phone one handed, could the device be kept folded open and then the screen turned off to put in the pocket? For someone who specifically wanted to use it one handed more than open (but still wanted the opportunity to utilise the two screens when needed) if it could do this then that might solve that issue.

Few things after a few days with it... I can use it one handed fine in single screen mode (I probably have average man-hands). GPS nav works as well as anything else. Opening and closing this thing is such a joy its really not tiring at all; I've actually found it refreshing to close it up when I'm done. I found a car mount on amazon that holds it both dual screen and single (it squeezes at the top and bottom), so I get nav on one side and spotify or whatever on the other. https://smile.amazon.com/gp/product/B07W3V7GKT/ref=ppx_yo_dt_b_asin_titl...

Thanks for the feedback KrayMat. I guess I should be clearer about my question. It takes two hands to unfold it. If you need to check something on the Duo and it is in your pocket closed, and you only have one hand free, isn't that a problem? So maybe I should ask, do you end up leaving the Duo folded backwards all the time when in your pocket? Or do you just close it all the time when done? And also, when folded backwards, which screen is used? Is there confusion as to which screen should be used?

Yes, for sure it is difficult to pull out of pocket and open it one-handed, but it is doable (I can catch the edge against my leg and articulate it that way). For me coming from a note10+ which the fingerprint sensor rarely worked, it was almost just as awkward to take out and get unlock with one hand. This hasn't bee much of an issue for me but I do have a galaxy watch for notifications. If knew I was going to need it, I would leave it screens out in my pocket, in that case it would be very simple. I think the screen you used last is the one that is "on" but the other screen lights up with a "double tap to switch". I'm right handed so the fingerprint reader on the right for my thumb is the way I would do it. I have not done this because I don't have screen protectors yet and haven't felt the need. One issue with single screen is that the speaker is on the left screen, I wish the earpiece (on the right screen) could be used as well, but really you just flip it and double tap to switch screens.

Sending mine back as the unlocked version purchased through Microsoft for Verizon does not have Wifi calling.

Umm...you have to download the app., there Einstein.

'OS is buggy' The OS is Android 10? It's as buggy as Android is; if you choose Android, that's life, Microsoft or not...

Duo really shines when you're watching a video or a meeting stream AND scrolling through emails or making notes. I agree that the pen stylus integration needs work. But google handwriting to text works pretty well as a main keyboard, I have been surprised that because one of Duo's screens is wider than a Note Ultra, handwriting as primary input works better on the Duo! And it should get better as it learns as I become acclimated. 36 hours on the Duo and trending up.

You (like a lot of lost people) are not ready for the Surface Duo.
Surface Duo is so ahead of the "this is a phone" past.

After going to an ATT store and playing around with it I am blown away by the feel and very different approach. I am convinced that aside from software bugs I have seen on YouTube I feel that some Youtubers are reviewing this device incorrectly. This device isn't for the consumer "multitasker" at all. This is device to get work done. When I was using it I was in no way interested is seeing what the experience would be like to span Youtube videos or videos of any kind to watch on a bigger screen. I felt as if that would defeat the purpose of this device in such a childish way. As a teacher and someone who has been on city committees this device offers the type of productivity you see people trying to accomplish in meetings and daily work flow with phone + tablet/laptop/writing pads, etc. And I don't see Youtubers approaching the device in such a manner...many are one dimensional. The only examples I keep seeing as work flow multitasking is opening dual social media apps and chat apps. Similarly the way Galaxy note devices are not well reviewed. I am excited about the future of this device.
What I also really liked was how it looked like Android but definitely felt like Windows!

Great article! I love this device. I think it's the best dual screen phone on the market. I just can't get over the Android part. Just can't. I still hope it's successful. I'm hoping the NEO will be released with a Microsoft OS. That's the device I'm focused on at the moment, unless if Microsoft decides at a later time to release a Windows OS version of the DUO. If that's a possibility then I'll certainly have my check ready.

That ship has sailed, wake up, having a phone with windows is not and will not be an option. The Neo is not a phone.

The app switching issue is in Pixel3A so... the issue could be from the master branch.

Maybe sounds like a silly question but does the MS earbuds is able to read back to you notifications/ emails etc via Cortana or 3rd party app? Could I dictate back? This would be useful with the Duo as I would not always pull it out of pocket and unfolding

i used to be Microsoft fanboy but after the death of windows phones, I am a critic now. When I first hear/read about the Duo, I started to get excited, but now it is apparent that history is repeating itself. If Panos is actually taking decisions for their phones, it is about time that he is replaced by someone who understands the 'Phone' market. You simply cannot delay a product by more than a year in the name of 'perfection' and yet come up with everything mediocre: Screen (Amoled in times of SMOLED) Battery life (at best a day of moderate use), Camera (according to this review, not so bad), No ingress protection, not to mention the 'last year's processor". To top it all MS still has the audacity of pricing it as per this year's flagship! What does this phone do better than a Galaxy Z fold, apart from making it incredibly thin and light. With minor SW adjustments the Z-fold can do everything that this one does, and do it much better. How is Microsoft planning to make any significant sales of their phones, if continue to make the same mistakes with the Lumia series and then decided to dump it altogether? Given all the mediocre specs, it can not be compared the surface book or surface pro either, as hardware-wise, those are the best in their categories. This one is nowhere close

So absolutely nothing has changed. All of these bugs remind of Windows 10 on mobile. The only thing good here is the fact that it runs Android, so, app compatibility. But with a large enough phone you can just install all of Microsoft's Android apps and get a similar result. and why only 6 GB I can get that in phones that only retail for $400. A lot of interesting features but a lot of convolution. There should be two cameras on the inside, one for each screen. Just open up the device and take a picture. Seriously disappointed in the software bugs as noticed from all of these reviews. Exact same issues we dealt with in the past with Windows Phone 8.1 and again, Windows 10, as ran on mobile devices. When you delay a device for a year, it is because, after a year, those bugs have been addressed. Microsoft continues to release hardware with bugs, across their product lineup, and why should anyone pay retail for their hardware? On MacRumors someone noticed that Microsoft has the best hardware, far superior to Apple, but the worst software. This is the reason Microsoft cannot persuade anyone from Apple to use their devices as their daily driver because Microsoft cannot deliver a consistent experience. The only thing it has going on for it now is Samsung's failure to deliver on the Fold and the Flip. Had Samsung knocked it out of the park with those devices Microsoft wouldn't have a chance, given these software issues.

Mine arrived earlier then I was expecting, FedEx was saying that it coming Friday, I'm very happy it took a while to install and update all my applications and the software update etc, but I absolutely love the hardware, and with some updates soon to the software it will match the marvelous hardware of the Duo, and by the way its not all that bad👍, and the camera is not trash, like some YouTubers have claimed.

So I took the plunge and bought an unlocked Duo at Best Buy along with a slim pen. I had high hopes but also knew that it wouldn't be perfect.
The hardware is great and I love the form factor.
And that's about it.
The software...ugh. Even after updating it just didn't work consistently.
The Kindle app was supposed to be optimized for the Duo. I could get it to span screens only once in a while.
Apps crashed and moved from screen to screen randomly.
Even having said that I was willing to give it a try until this morning.
The fingerprint reader is in the perfect place...to lock yourself out of your phone if you pick it up wrong.
It's going back today and for now I will stick with companies that know phones.

Does Surface duo supports 2 instances of the same app? Eg open two instances of the same app each one with their separate login like samsung phones have? Anyone know if the Galaxy Fold 2 does this?

It took me a little longer to return it. I used it for a week to give it a fair shake. I love the form factor and feel of the phone. Maybe Duo 2.
I've already stated the software issues and I found more; even with Microsoft's own apps.
What got me this time was Bluetooth inconsistency. It would connect/disconnect randomly with my watch and if I kept the phone in my pocket, my Galaxy Buds+ would fade in and out.
It feels like I paid $1500 to QA for Microsoft. I understand that there will be issues with something new but Bluetooth isn't new, Android isn't new. It honestly felt like...alright we've spent enough time on this, let's get it out there so it can get tested. Was anyone at Microsoft allowed to install any software other than Office on this thing.
So, yep, it went back and I will keep my eyes on the reviews for a while. I think Daniel's 3/5 was a little generous. $1500 requires a solid 4.5/5 I think.

My concern is the hinge on the bottom. Unless the bumper is as deep as the cam. To aliveate that they could have moved it to the middle of the side its on having it in the middle of the body would let the higges rest level. Unless the hinges now have a stop point to assist. Also is the rum on the camera rubber? That would help not crack the frosted glass. A lot of u knows.
Lets see what happens. Now the concerns are.... A faster processor would have made a better camera even with out changing the hardware. Perhaps a wide angle lens instead of the current one. I would have liked that device better. Low lite is a software fix with ai etc and a faster cam with a slight quality bump in order to keep the astetic would have made me a day one buyer. In all honesty I traded the cam for the dual screens. Adding snap 888 5g and nfc and wireless charging was enough. The 888 as I said above would have made the camera snappier. U use some of that nnokia software u own and make the camera app windows phone amazing give it manual controls and done. That's the duo 2 I wanted... Maybe that's duo 3 who knows. Or maybe 1.5? Last thing is we all saw rhe half camera on each side patent. They should have done as I said and waited. No one buying a camera super phone is buying duo. Especially now that taking a Pic is tablet or laptop like. No u look like a douch shooting an image. The d1 was elegant and beautiful and functional. The software was slightly janky esp the cam and its time to react. Again. Minor tweaks. The cam should have been last on the list. At the bottom. Truthfully.
Windows Central Newsletter
Get the best of Windows Central in your inbox, every day!
Thank you for signing up to Windows Central. You will receive a verification email shortly.
There was a problem. Please refresh the page and try again.