Update, December 2020: Surface Duo, 3 months later
To suggest Microsoft's Surface Duo is audacious would be an understatement. The costly $1,400 device delivers a new vision in mobile computing, now six years in the making. It is as much scientific experiment as science fiction — a radical rethinking of what phones could be in a technophilic world focused on data instead of voice calls.
This first-gen release is an important milestone for Microsoft, and the theory behind Surface Duo is mostly solid; that's the good news. But most people should also hold off on getting one until its software can mature.
What is Surface Duo good for, and why should anyone consider this form factor? There are some answers here that become clearer after spending a few weeks unfolding the future. Our Surface Duo review has all the details.
(opens in new tab)
Bottom line: Microsoft's Surface Duo delivers a unique dual-screen experience with Android that holds up (at least conceptually). With ground-breaking hardware design and the right apps, it's game-changing. But some early jankiness with the OS, performance issues, and the lack of modern hardware holds it back.
For
Hardware design is fantastic
Hinge is flawless
Better than expected battery
Dual screens increase productivity (and fun)
Against
OS is buggy
RAM and CPU may be slowing down the experience
Expensive
Lacks Qi, NFC, more cameras, water resistance
Years of engineering (and it shows)
Surface Duo review: Hardware is nearly everything
In this Surface Duo review, evaluating the hardware was the easy part. Surface Duo is a screen and hinges that also happen to be a handheld computer.
Putting aside the notable hardware omissions (more on that below), Surface Duo is a technological marvel. The outrageously thin 4.8mm chassis (unfolded), Gorilla Glass 5 internal and external panels, and the dual hinges fine-tuned with NASA-level precision impart awe.
Each 5.6-inch AMOLED display has an 1800 x 1350 resolution giving a pleasing 401 pixel-per-inch (PPI) density. Each display's aspect is 4:3, but that changes when you combine the two screens, resulting in a 3:2 aspect found on all Microsoft Surface devices. The screens support wide-color gamut (WCG) with 100 percent sRGB and 100 percent DCI-P3, making them highly accurate for editing and viewing content.
Surface Duo FAQ: Everything you need to know about Microsoft's first dual-screen Surface
Display brightness is below that of Samsung's flagship Galaxy phones, but good enough to be used outdoors, even in the sun. The text is sharp, clear, and overall pleasing. On occasion, Surface Duo's display ramps to extreme brightness when powered on, only to slowly adjust down. It is one of the many bugs that are part of Duo's early days.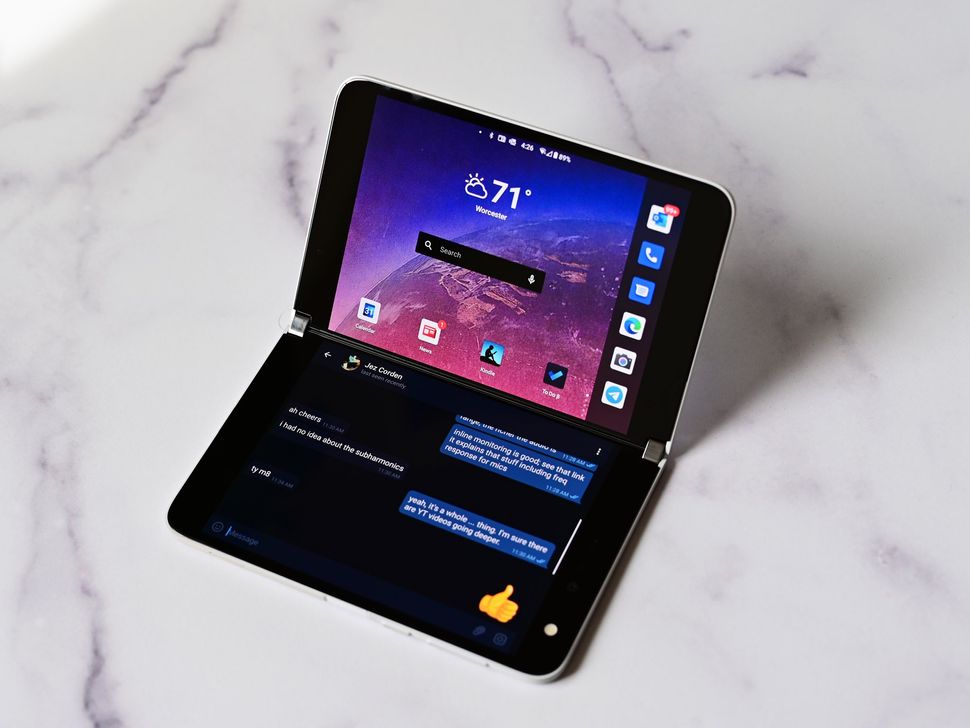 Swipe to scroll horizontally
Category
Specification
OS
Android 10
Display
Single: 5.6 inch (1800x1350), 401 PPI, 4:3 aspect ratio
Opened: 8.1 inch (2700x1800), 401 ppi, 3:2 aspect ratio
Type: AMOLED
Processor
Qualcomm Snapdragon 855
Network
WiFi-5 802.11ac (2.4/5GHz)
Bluetooth 5.0
LTE: 4x4 MIMO, Cat.18 DL / Cat 5 UL
SIM
Nano SIM + eSIM (no eSIM on AT&T model)
Network bands
FDD-LTE: 1,2,3,4,5,7,8,12,13,14,19 20,25,26,28,29,30,66
TD-LTE: 38,39,40,41,46
WCDMA: 1,2,5,8
GSM/GPRS: GSM-850, E-GSM-900, DCS-1800, PCS-1900
Memory
6GB RAM
Storage
128GB or 256GB UFS 3.0
Expandable storage
None
Camera
11MP, ƒ/2.0 1.0um, PDAF, 84.0° diagonal FOV
Audio
Mono speaker
Security
Fingerprint
Ports
1x USB-C 3.1
Battery
3,577mAh
Fast Charging using 18W in-box power supply
Pen
Surface Pen (not included)
Dimensions
Open: 145.2mm (H) x 186.9mm (W) x 4.8mm (T)
Closed: 145.2mm (H) x 93.3mm (W) x 9.9mm (T at hinge)
Weight
250 grams
Touch sensitivity is on the low-end, with some reports from other reviewers of typing errors and general inaccuracies. Some of this may tie into software, but it could also be a tradeoff with the digitizer and Microsoft's insistence on being thin. I had no issues typing, however.
There is a lot of angst regarding the bezels of Surface Duo. Behind them is where all the antennas and sensor logic lay, so it is not squandered space. Such bezels are necessary for rotating Surface Duo between its many positions without touching the display itself. While Microsoft could make these bezels a hair thinner, their functionality is apparent after spending a few minutes with the device.
Image 1 of 2
Between using Gorilla Glass 5 on the outside and going with a white chassis, Surface Duo is good at hiding any scratches or marring. For those worried about breaking the glass in a drop, Microsoft reportedly will have a program for fixing a cracked Surface Duo, though at the user's expense. You could, of course, purchase one of our picks for the best Surface Duo cases, as well.
To help avoid such damage, Microsoft includes a bumper case in the box. It attaches via tape due to the device's unique folding design and is not meant to be removed and reused. The bumper is excellent, not interfering with folding, and it adds some security and grip. However, for most of this review, I did not bother with the bumper because I found Surface Duo pocketable and easy to handle without it. The bumper rubber is a bit tacky, making it harder to pull out of your pocket while also picking up dust and lint.
While the displays and chassis are covered in glass, the hinge is polished metal. It seems resilient, although it could pick up minor scuffs. The hinge is terrific for opening and closing with consistency at every degree. It is essentially perfect, letting you open the displays with ease, but it also holds its place wherever you stop. There is no wobble, and because Surface Duo is so well balanced, it feels great to hold, especially in book mode.
Surface Duo's edges are a composite material meant to allow the cellular and Wi-Fi reception to pass through. That design also means there are no visible antenna lines. The composite is off-white and precisely cut for each Surface Duo, but it can also acquire unsightly discoloration, especially near the power and volume buttons. Using the bumper will prevent this, but this is one area where Microsoft can improve.
The power button and volume rockers are placed on the right side of the display and have an enjoyable click. Below them is the fingerprint reader, which is superb. I had no misreads during my usage, and it blows away the one Samsung uses in the similarly priced Galaxy Z Flip. The fingerprint reader is inactive when both displays are closed, but when left in "phone mode" or with the screens exposed, users can touch the reader to wake the device up and log in with ease.
On the bottom is a Type-C connector for charging. Here is where you can appreciate how thin Surface Duo is; if it were any skinnier, Microsoft could not even use a Type-C port. Included is an 18-watt fast charger with folding prongs. Of course, any Type-C charger, including higher wattage ones, can be used.
Surface Duo weighs 250 grams, nearly 25 grams heavier than an iPhone 11 Pro Max (226 grams). But because of Duo's design, most people think it is lighter. It's a subtle illusion created by having wide but thin displays.
Regarding pocket-ability, I wrote a whole article on that question. Surface Duo is a smidge wider than a standard U.S. Passport, a bit taller and thicker. Compared to an iPhone 11, Surface Duo is wider, but also a lot shorter. Carrying Surface Duo in a front jeans pocket, rear pocket, or even inner blazer pocket is very doable. Even female fashion, which is notoriously skimpy on pocket space, is acceptable.
There are plenty of clear drawbacks to the hardware. Surface Duo lacks Qi wireless charging, NFC, IP-resistance for water, a headphone jack, and support for dual SIM (though it has eSIM and nano-SIM, just not simultaneously). It misses the 5G hype train. At least for the lack of NFC for payments, if you have a Fitbit, you're good to go, or maybe it is an excellent opportunity to pick up a Galaxy Watch, as these wearables support tap-to-pay.
Image 1 of 2
While Surface Duo is missing many of the high-end features commonly found in smartphones today, the company was laser-focused on dual-screen functionality. Even adding NFC would be tricky on this form-factor. Putting the sensor on the back of Surface Duo seems obvious, but then your displays are closed. That means you may need a sensor on the front display too to work when rotated around. These are the challenges that Microsoft needs to solve.
So-so power
Surface Duo review: Performance and battery
Microsoft uses the 2019-era Qualcomm Snapdragon 855 – a flagship CPU of its time, now usurped by the Snapdragon 865 and 865+. The Snapdragon 855, however, is comparable in many ways to the 865 minus the mandatory support for 5G. That's a good thing as 5G right now is a lot of hype, with not a clear advantage for smartphones. 5G support drives up costs of the hardware while often reducing the battery life – both of which Surface Duo can't afford.
Using Geekbench 5.0, Surface Duo hit 737 on a single-core score and 2,815 for multi-core. The single-core score is similar to other phones, such as Samsung Galaxy S10 and S10+, while the multi-core does even better, beating out the Samsung Galaxy Note 20 Ultra with Exynos 990 (2,695 on Geekbench).
Benchmarks are one thing, and real world-usage, especially when powering two displays, is another. Surface Duo is, at best, OK for performance. When combined with the so-so 6GB of RAM, no one will accuse Surface Duo of being fast. Instead, it is acceptable, and some would accuse me of being too generous there. Sometimes, Surface Duo is slow to wake up; other times, Microsoft Edge can take up to seven seconds to resume. Minimizing window animation can be janky as well.
It is not uncommon with 6GB of RAM to have just 700MB left to spare after a few hours of usage. When devices like Samsung's Note 20 Ultra are shipping with 12GB of RAM, you have to wonder if Surface Duo would have fewer performance slowdowns with a similar configuration. It is also unclear if the lack of software optimization may be a culprit or a combo of both.
In specific scenarios like heavy web browsing or video streaming, the back of Surface Duo could get noticeably warm to the touch, but never hot.
Image 1 of 2
Surface Duo battery life is an unexpected bright spot. While many have written off the comparatively small 3,577mAh battery — especially when powering dual displays — it's good enough. The lowest I ever achieved for the remaining battery life is 25 percent. Most days, I was closer to 45 percent. While you need to charge Surface Duo every night for most people, it should last the whole day with moderate usage. Screen-on time was close to five hours. Standby battery is also excellent as Surface Duo barely uses any juice when its displays are closed.
Better than expected
Surface Duo review: Camera and images
Prospects were low for Surface Duo's meager 11MP front-facing camera. Back in January, we tempered expectations, knowing that Microsoft's focus was more about productivity than pixel-peeping.
Our Surface Duo review proved us right and wrong. The f2.0 lens and Phase Detection Autofocus (PDAF) pale compared to any 2019 or 2020 flagship phone from Google, Samsung, or Apple. Considering many of those phones have multiple lenses for ultra-wide and telephoto and larger sensors and advanced software, it seemed unlikely Microsoft could compete.
But Surface Duo's camera is, dare I say, competent. In outdoor