Top 7 announcements from the second day of Build 2017
Build 2017's day two keynote has come and gone, and it revealed a whole lot that Microsoft watchers are sure to appreciate.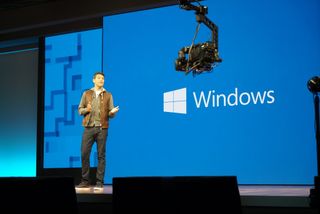 (Image credit: Windows Central)
It's fair to say that day two of Build was a little flashier than day one. Throughout the lengthy presentation, we got a glimpse at the not-too-distant future of Windows 10, as well as more information on Microsoft's mixed reality plans, developer tools, and a whole lot more.
These are the top seven takeaways from day two of Build 2017.
Redstone 3 is now (insert drum roll ... ) the 'Fall Creators Update'
That's right: We now have an official name for Microsoft's next big feature update to Windows 10 — previously known under its codename, Redstone 3. And though "Fall Creators Update" might feel like Microsoft is phoning it in a little by copping most of its last update's name, it's certainly descriptive. Naming conventions aside, the Fall Creators Update is already shaping up to be a notable upgrade.
First official look at Microsoft's new design language, the 'Fluent Design System'
Along with a name, we also got our first official look at the new design language that is set to roll out with the Fall Creators Update. Previously referred to as Project Neon, Microsoft's Fluent Design System is heavy on transparent blur elements and smooth animations that "make even subtle actions feel alive." We've already seen bits of this new design paradigm make their way into first-party apps, but we'll see more in Windows 10 and from third-party developers once the Fall Creators Update arrives.
Windows Story Remix
Shortly after revealing the next big Windows 10 update's name, Microsoft hammered home its focus on creators with Windows Story Remix. Described as an evolution of the current Photos app, Story Remix makes it easy to automatically create "stories" from your photos and videos. Microsoft says professional-looking transitions and 3D special effects make each story look great, and you can even tap into Groove Music from the app for your soundtrack.
Cloud Clipboards, Timelines, and 'Files on Demand,' Oh my!
This one is cheating a little, but there were three smaller announcements on stage today that deserve plenty of attention: OneDrive Files On-Demand, Timeline, and a cloud-based clipboard.
Files On-Demand marks the return of the highly requested OneDrive Placeholders, a feature that lets you see all of your OneDrive files on your PC without actually using up local storage. Timeline, on the other hand, lets you essentially scrub backward in time on your PC to restore programs and documents you were working on with snapshots of your system. Lastly, Clipboard will allow for cloud-based copy and paste, letting you copy something on one device and paste on another.
All three features are coming with the Windows 10 Fall Creators Update.
iTunes on the Windows Store
What was probably one of the biggest shocks of the keynote was news that iTunes is coming to the Windows Store. The obvious impetus for this move was last week's launch of Windows 10 S, which can only install and run apps from the Windows Store. Given Microsoft's target demographic for Windows 10 S is students, who may already be deep in Apple's ecosystem, this makes perfect sense. What's more, this is the second big win for the Windows Store in the past week, with Spotify announcing last week that it will be heading to Microsoft's app shop, as well.
Reaching out to iOS developers
Along with a number of other announcements around developer tools, Microsoft had some love for iOS developers. First, the tech giant launched its Project Rome SDK in preview for iOS. First launched for Android apps, Project Rome lets developers connect apps across devices, allowing for starting a task on one device and completing it on another.
Another big reveal was Xamarin Live Player, which streamlines iOS development on PC by letting developers deploy an app to iDevices and view code changes live in real time. And while a Mac is still required to submit an app to the App Store, this Xamarin Live Player streamlines the debugging process.
Windows Mixed Reality is a (really) big deal
To finish things up, Microsoft gave a whole of love to its Windows Mixed Reality platform. We learned not only that Windows Mixed Reality now supports awesome motion controllers, but developers can now preorder Mixed Reality dev kits from Acer and HP. The kicker? Acer's kit only costs $299, and HP's goes for just $329.
Your thoughts?
What are your impressions of the second day of Build? Did we skip an announcement we should have included? Let us know below.
Windows Central Newsletter
Get the best of Windows Central in your inbox, every day!
Dan Thorp-Lancaster is the former Editor-in-Chief of Windows Central. He began working with Windows Central, Android Central, and iMore as a news writer in 2014 and is obsessed with tech of all sorts. You can follow Dan on Twitter @DthorpL and Instagram @heyitsdtl.
Has Microsoft said fall creator update will come to phones

Well, they haven't. But it's highly unlike;y we'll see it for phones. Now I'm a "fanboy" but this is where we need to get real. They are deep intpo RS3 developement and if phone was a priority, they would have released "proper" RS3 builds to Mobile too, but no - It is just some "feature2" updates. Just bug fixes really. And just look at the tweets by the Insider team Engineers and Brandon LeBlanc's tweets especially. He said it's dead for consumers (on;y enterprise on focus now). I'm also not confident abt it being kept alive for enterprise too! Without any feedback from Insiders, it's difficult to build it right. They are just keeping it on life support until they can figure out (or already have) what to do with Mobile. L950/XL and L650 might not get *official* RS3.

Just a shame they seem to be letting it fizzle out when they're finally onto a platform people seem to be happy with (reading between the anger, frustration and inevitable b*tching). I, for one, enjoy the current builds - they're stable and provide everything I need. Yes, I want to see boundaries pushed. Yes, I want more developers on board - but that really is a chicken and egg scenario for mobile - the carrot here will be UWP on other platforms. Distancing Mobile from UWP is a good play - if UWP is viewed as a Windows Mobile language it will not get developers onboard... focusing upon Desktop/Laptop, Xbox, IoT and HoloLens is a much better play. I'd be sad, disappointed and, let's be honest, pretty damn annoyed if they do "kill" mobile officially. Personally, I'm rather hoping that there are 'behind the scenes' development continuing with the longer term Windows on ARM, Cshell/Continuum V2 being honed for a secretive Surface Mobile/"Pocket" range (with suitable push, marketing and PR all as a proper, conceived, push - they did it well with the SP relaunch and the Surface Book). Let's be pretty honest about Insiders - how useful is 60% of the so-called "feedback", the insider programme did give them "big data" and some useful usage feedback, but it was also a cheap marketing ploy. Microsoft is quite capable of developing a solid platform and apps without any Insider input.

Windows on ARM, C Shell and 10S are likely what they're working on for mobile, but people aren't understanding: they're very long term plays. As in years. As in more than two or three. I can pretty comfortably predict the chances of Microsoft releasing a 'Surface Phone' within the next year or two, is very, very, very tiny. They have to do the work of strip mining 10Mobile of what they've learned in terms of cellular and data communication tech, and scaling down W10S until it's battery efficient enough to work on smartphones. This is not a short term thing. In the meantime, Microsoft is very blatantly encouraging consumers to use Microsoft services and apps on iOS and Android. They're not hiding it, at all.

Hi Johnny, don't disagree with you at all. Timescales *could* be variable - *IF* they threw their weight behind it (but they won't - to that extent).
The tipping point for a mobile success would be:
1) winning the dev's through UWPs successful platforms (or should I say: successful platforms that support UWP)- thereby guaranteeing availability of 3rd party applications;
2) infiltrating and building up widespread adoption of critical MS systems and applications (cloud-first, mobile-first) to make an individual's move to a true MS "mobile" OS desirable en-mass;
3) having an efficient, remodelled Windows ARM with effectively the current (but improved) Mobile UX ready - i.e. not be a fully perpetual BETA

Do u mean like Charlie Sheen winning?

That definitely seems to be the case... Although, I don't think it will be three years until we see MS return to mobile with a worthy device, it won't be anytime soon........ But, Windows 10 seems to be shaping up nicely, and if that's what's to be running on "phones " in the future,,,, sounds good to me... I only hope there's at least one new device from someone in the near future to hold us fans over..

Stop suffering and switch to another OS, it is worth it right now

I'm pretty sure yes, we will have a new device, but it will be expensive, very expensive...

Windows S try to bring more app on the store, also if they are Centennial.
Microsoft Graph, Project Rome and Timeline try to give developers a reason for use Microsoft tools and to develop a windows app together with Android and iOS one.
XAML Standard 1.0 go futher, basically we will have UWP running on Android and iOS thanks to Xamarin technologies.
Cellular PC and 2in1 with ARM and eSim will allow Microsoft to build an ecosystem around mobile data plans in the store and always connected pc.
They are just building the base, to allow future investments in mobile to be less risky, if they would release a phone now, whatever it will be, it will fail. They will do it only when(if) they will be sure to not fail again.

Agree, it will take time to see a Mobile Device from Microsoft, but what they're doing is pretty intriguing and smart. I mean Linux as an App, woaaaaaa, iTunes, Damnnnnnnn! Who would think about it? Pretty crazy and their push on VR will also benefit their Mobile Device when everything will be ready, there's a lot of announcements by Microsoft, they all look innocents but i'm pretty sure they will go directly to their Mobile Device. And i forgot Cortana, so yes i'm really excited to see what Microsoft have for the futur...

You're right - but the end of this long term was a few years ago. With Windows 8 they wanted same experience, with 8.1 even better, and 2 years ago they promised One Core. Still there are always new projects of joining these platforms and meanwhile they forgot about phones. Either they know about this very long term goal, then they should have stick with something old or they know it's finish in a mid term time range, then they still should hurry up. But right now it's just losing market share and trust. And this loss effects the whole UWP platform, since the only important UWP platform is Desktop Windows by now. I'm interested in MR, but I doubt it will be mainstream too soon. And XBox is more for games and some entertaining passive apps. But any other type of application will have a a hard life. I also doubt, if they ever make me switch completely to Android, I will change my complete ecosystem over to Google, since it works much better for me (there are bugs since day 1 I switched from Android 2.2 to Microsoft, but I still think it's better than Android). Going back to Android also means, I'm buying Android apps which locks me somehow into their platform (also a big reason, why I stick pretty much on Windows Phone). I'm using maybe 1 hour a day an Android phone for apps I don't have on WP. But I deleted almost all Microsoft apps after testing, since they all do not work as I would expect. Maybe they got better now ...

I dont mind if Redstone 3 doesnt come to my 950XL, as long as there is another flagship i can buy that comes with Redstone 3. By September, my 950XL will be getting a bit long in the tooth. I also dont care if its not aimed at consumers. I will buy an "enterprise" flagship, and use it as a consumer. (and maybe at work too) . My only 2 requirements are GSM and Continuum (and the existing apps)

It will come to phones. Just don't expect any substantial features. Maybe Night Light.

Lol.... In order to hold fans over for the next two years there will have to be some type of new high end device released in the near future... Pray.

Seeing that they shipped a new Fast Ring mobile build of it today its pretty clear that it will.

Microsoft will most likely :( adopt the first rule of fight club for Mobile

User, and fans deserve to have an official final answer on Windows Mobile.

you are right but MS don't care

Their silence is answer enough.

Hello darkness my old friend... The sound of silence

There won't be one, just like there wasn't for RT. If you can't see the writing on the way at this point, there's nothing else that would help.

It's annoying because there has been no official statement even now. Look at this. https://twitter.com/brandonleblanc/status/862475135747371008
and this https://twitter.com/brandonleblanc/status/860185920212881408
Two tweets by Brandon saying it's basically dead for consumers (non-enterprise). This is about the most official news you can get.

Of course its dead, the shitcanned the entire mobile team LONG ago...

I read both of those tweets, and neither quotes Brandon as saying "it's basically dead." To me, it sounds more like he's tired of people threatening to move to another platform, and challenging them to go ahead and switch.

Brandon share his personal opinions on his personal account, not microsoft word

But Microsoft is not really Excel in communicating their Outlook on Windows 10 Mobile. They might see no PowerPoint to announce the obvious.

Here, I will give it to you...WIndows Mobile is DEAD, buy another phone....There...My jesus people with the windows mobile whining. It's done.

Seriously, this is getting ridiculous, to Stockholm Syndrome levels. Microsoft will NEVER say it officially, just like they never said RT is dead officially. They're bound by contract to OEMs not to do stuff like that, and it would be extremely embarrasing on a PR level to admit. Nokia didn't even say Symbian was a dead end, but everyone knew it was.

Exactly...If Microsoft came out and publically stated windows 10 mobile is dead, they would get sued by every american using the x3 and idol 4s.

Microsoft doesn't have to say it officially, because they already have as part of their product lifecycle policy. The policy says a minimum of 24 months after lifecycle start. The Lumia 950 and 950XL were released November 2015, soI don't expect any new updates after 2017. Newer OEM devices might help push that out into 2018, but I'm not holding my breath. It's game over, man, game over. Maybe we could build a fire, sing a couple of songs, huh, why don't we try that?

Who cares if Windows 10 mobile is dead?!!! If the next flagship comes out in January 2018, and runs Windows 10 RS3 x64 or ARM, or whatever with a GSM SIM card and a 1080p 5.7 or 6 inch screen, I dont care if Windows 10 mobile dies. My 950XL will be over 2 years old by then. As long as I have my current apps, and Cortana and BankofAmerica, and can plug into my 1080p HDTV, and have the Microsoft ecosystem, I dont really care what version of Windows 10 my new flagship runs.

Yes rightly said.it's enough know,for how long we are waiting for anything for windows phone

I am not sure if you can read so much through their "silence" on this matter, they are still giving mix signals. When CEO says we are going to redefine mobile like how we did it with PC through 2 in 1 surfaces, and when they show off full windows running on ARM chips. You really can't tell which way they are going with mobile. By all means no one can rule out or rule in that they are combining windows pc and mobile together.

they use windows phone in diffrent ad pictures for this update

We already have our answer.... Windows on phones is on the back burning, except for extreme fans.... So, either deal with it's current state, or supplement your mobile life via iDroid..... Notice I said "supplement" not switch.

The answer has been given since Nutella took over. Use your brain.

I think we are close to a Mixed Reality Window Phone ...

....and still no W10M development news...sigh!!!

Move on, just like life does.

No mobile means all this news is useless because it will end up being a dead platform. ITunes and Spotify will probably not even scale probably to phones. They won't care about that form factor.

The thing with remix 3D view 3D and the new app story remix is really great and you could make really great videos if its as easy as its shown on the video, but they need to make remix 3D available everywhere, for example in my country it says i am in an unsuported region so i wont be able to use this to the maximum but till the update comes who knows :D

MS only cares abou lt the US for some reasons.

Alot of products and alot of excitement. in reality, no one uses them other than xbox, regular windows, and office. unless 3D is part of your job.

What' on tap for day 3? 'bout ready to jump ship from my 928 to a Galaxy S8. Freakin' shame...

No point waiting any longer, you're merely Microsoft's ***** the longer you stick with their half-assed mobile platform...until UWP is very mature and they release a Surface phone, you're much better off on Android.

I love my Windows phone! I've been hoping that Build would reveal new plans for W10M but it isn't gonna' happen. We'll see what tomorrow brings but I'm jumping to the S8 more than likely by the weekend. (BestBuy and Target both offer a $100 gift card if I finance the phone for 2 years and complete the deal by Saturday) Going to miss those live tiles...

How did this become a cry fest for W10M?

I think this is the only time I've agreed with you. The superfans left on mobile need to accept it, use their W10M as they are now, or get another device on another platform. Microsoft has been pretty upfront their focus on mobile going forward is going be Windows on ARM (looks like W10 S), Android and iOS. NOT Windows 10 Mobile. It's like reading/watching someone go through all the stages of grief. We're past denial, and now we're fully into anger....

Because it's an article posted on Windows Central. (braces for downvotes)

Nah, you're bang on right. But, you should also remember: this site was Windows Phone Central, hence why there is (quite possibly a disproportionately) high number of readers who have a particular interest in mobile.
(Upvoted to negate whoever was throwing the negativity at you :) )

Because the Microsoft bashers desperately need to change the subject away from all of today's innovations.

What innovations? When majority of Devs produce products for it, then it will be innovative.

A picture is worth 1000 words, so you got a megabyte today on Windows Mobile. It's the new codename for windows products on iOS and Android. THAT is our reality. It's interesting that all of the news today is on "creativity" which is frankly a diversion from the business services MSFT used to have as their primary focus. Finally, keep in mind that what is announced is not always what is present in the final build. These rollouts are essentially surveys. It's like throwing a party. It's only a success if people come. Can MSFT actually sustain itself focusing solely on this direction. Perhaps the biggest benefit to developers is Microsoft Graph which goes untouched in this review.

They can't get any Devs on board for anything. All they can do is windows for pc, Xbox, cloud, and office. Everything else is a scam. Devs want mobile. MS doesn't have.

Ok, so anything for Micrsoft on a "mobile device" is just to go get an i-phone or an Andriod? Ok, thanks, got it!

If I could develop a mobile OS for 5% of all phone users, I'd definitely do it!!! Because in absolute numbers it was still relevant. And there would be no shame in it. It would've meant less profit, yes, but some happy customers. I just don't get the radical approach they chose.

Because for a multi Billion Dollar company with shareholders that demand year over year growth, it's small potatoes. It's simply not worth allocating the manpower, salaries and resources.

As i predicted yesterday, not really a fantastic Build. Really disappointed in what they showed. Sure its all nice but it really lacked vision and originality in the OS department and it lacked hardware overall. I think we can call it: W10M is dead

This explains why the Windows mobile photo app said stories instead of albums for a couple weeks ago. I was so confused.

Here you go: total frankness from Nadella and Belfiore about mobile. Their new mobile strategy is to 'make iOS and Android better' with Microsoft software. https://www.theverge.com/2017/5/11/15621428/microsoft-cross-device-ios-a...

Ok, I like the OS stuff, but I really wish they would focus on that instead of creators stuff! I want the OS to be bug free (no broken file paths, etc), polished, efficient, and secure. I would much prefer that to more pen tips in Onenote or something of that caliber.

A windows mobile was used in the keynote demos today - I don't think it is gone from the eyes of Microsoft yet. More importantly, where is the mention of MS Graph, this is probably one of the biggest thing to come out of today so far. If this works it could very easily be the underpinning of the biggest eco-system we have seen to-date

Yes, in the demo of OneDrive, and Joe Belfiore said "thank you" (maybe audience was excited at that time?).

I can't help but wonder how many of these announcements won't actually be include in the "Fall" update. It seems with Microsoft for some years now that "announcements" are always on the way, in the future, in development and eventually go by the wayside due to the competition getting to market prior to Microsoft.

Just wait until the fall. It's tech, things change. My People didn't make it for RS2, but will for RS3. No big deal.

There was literally nothing at build that interested me other than the little guy that actually reacted to events, and the real time translations, which already exist. Oh well.

Most were anticipating something mobile. MS will walk in the way of Black Berry. I guarantee and Nutella will bring MS there.

It is a fact for now. Microsoft is still lagging and just trying to catch up so that their whole business doesn't fall like nokia or BB. For now if you need business functionality MS has chosen iOS and Android so for me it is bye bye W10M. I will use my Icon as a car camera and my 950 as an emergency phone. No more waiting for me.

Imagine if Balmer and Elop came back. You can guarantee mobile will be their top priority. It is a product that will not die anytime soon as long as Google and Apple are still alive. Also Chinese mobile products are just gaining traction. Mobile is the future and Devs know this very well, except MS.

All of these news is only a confirmation that my next mobile device will be an Iphone. Thanks MSFT. One of your 1% windows mobile customer. Thanks Nadella...Big F for killing my fav phone OS.

Don't cry. Its no big deal. You'll get the same excitement from ios, if you join their beta program. You'll get all the apps you need and the support they give. Also MS products are way better on IOS and well integrated.

iOS and Android developers... What does this mean for W10 on ARM? Ideas?

They already do, you missed this from the article: "First, the tech giant launched its Project Rome SDK in preview for iOS. First launched for Android apps..."

So many projects from MS. Which one is real?

Fluent design system puts a complete end to one of the biggest repellants of Windows Phones and Windows since Windows 8; a lazy-fugly-flat GUI. This new Fluent Design System is how it was meant to be from the very start; an evolution of Aero. But better late than never. 1 less major reason to miss Windows 7, now waiting for them to provide an off switch for all the spyware in Windows 10 ( https://www.change.org/p/jerry-berg-microsoft-needs-to-add-an-off-option... ).

"the biggest repellant" that both Apple and Google copied extensively. Look at anything those companies did pre-Metro versus afterwards. Metro was ground-breaking and influenced literally all the major players

Its a waste. You can't do real work. And you have to pay to do anything. Continuum is a MS scam, just like Kinect.

You'll have to ask John de Lancie.

Does HP's mixed reality set come with a key logger?

What no one seems to understand is that it does not matter that W10M as an operating system is probably dead, because the experience will live on through Windows 10 on 5"-7" ARM devices and CShell. It is the experience we all love, not the OS specifically. This is no different than having to buy new hardware to move up to the next version (i.e. WP7 to WP8). The only remaining question is, what should you do if you need a new phone before that new hardware is available? That is a tough choice because you would have to buy dated hardware to keep that experience you love.

Elite x3 is still pretty good, i recommend that.

Good for as a dumb phone with internet capabilities.

Really awesome Build today.

Very exciting. That AND expanding stylus support. Obviously windows 10 mobile will support "timelines" and "files on demand", and "Cortana skills api" better than the other devices, so I fail to see the reason for all the moaning (There will be more cross over between apps between PC and mobile, and more complete support for Cortana skills). Honestly the "windows pc loves your devices" play is really smart - its the opposite of what apple and google are doing, it embraces consumers choices in devices rather than tries to fence them in. You get more bees with honey...

Nah, the only thing I get from all this is that apple makes better products and sw than MS. I'm up for a new laptop, I think I'll give Apple a try and join most of my customers who have all moved over to Apple over the last few years. And in a year from now I'll replace my X3 by an iPhone, I understand its a really good ecosystem if you do Apple all around.

It is way better than what MS is doing now. Remember simplicity and integration was what made wp7? Well Apple has made the iPhone that simple to use, while MS is going the route of Android (complicated at best for the regular consumer). Remember windows8? That was awesome. I loved the gestures! Swiping and pinching to do simple tasks. Menus within easy reach. Anyway, you won't regret by moving to Apple. You'll love the integration, you'll love imessage, and you'll love MS products for Apple.

Windows 10 S will be a great success if Adobe, Google joins....
But they don't. ☹

Adobe yes. Google, not so much

Had hoped that Belfiore would have taken time on his sabbatical to reflect on his absurd penchant for looking like a teenager. Otherwise known as 'mutton dressed as lamb'.

Has there been any announcements regards development for Continuum? I couldn't imagine MS walking away from Continuum any time soon...it surely has to be one of the defining features of the next mobile pc platform, but as of today it's still quite buggy although I use it 4-6 hours a day. It sure would be nice to know it's up there on Microsoft's list of "we're going to pour loads of love on it!" :)

I think nothing, but as Continuum is link to Mobile, so i guess have to wait, but i'm pretty sure is not dead, it is changing and morphing and it will become a Monster. We all like Monster, right?...

Its an unnecessary feature... No one in both business and consumer cares.

I'm assuming from your reply that you've either used it a lot and didn't enjoy it, or you've never used it at all and don't understand it. Can you clarify on what makes a programme that turns a smartphone into a desktop an unnecessary feature? - Sent using Continuum -

I save $105 a month by not buying crappy DSL, and using continuum on my 950XL. I control my i7 at my dads house for torrents using teamveiwer. Continuum Rules! - Sent using Continuum -

Windows Story Remix looks promising and iTunes, haha. I don't care about iTunes, but Apple with Micorosoft, woaaaaaaa. But Tim Cook is a very smart guy, peoples can say what they want, but Apple is worth more than 800 billions under his reign, so... And yes Linux as an App, Crazyyyyyyyy, but i love what Microsoft is doing, they just hit hard where peoples will never suspect they will and this is good, because no matter what peoples say about you as long as they talk about you, it's a good sign...

Cortana is cool, but Microsoft should make a coordinated movement to bring it to all important markets, not only USA. For instance, here in Brazil I don't have Cortana in my Android smartphone but Goggle works great. I'm a developer, some weeks ago I was contacted by Microsoft about open positions for Local Bing Team, so I thought "Oh, maybe this is the investment in Cortana I was waiting for...". Yesterday I was contacted again and Microsoft said there was a change in the planning/projects and there is no more open positions for Local Bing Team Brazil.

Anything exciting from the show? Most tech outlets aren't reporting much. I assume MS is dead in regards to a wow factor as a company. Move on people. Satya Nutella is and was never a mobile guy. He's bringing MS back to its roots as a software company. Because of him, MS will be irrelevant in the trending biz for a long time. You know what though, I can foresee an Apple'ish resemblance in the future where Balmer and Elop return with a vengeance for mobile.

So what does this tell me? I have been on Windows Phones for many iterations and now Microsoft is stating (in no uncertain terms) that they don't give a rats a$$! And, not just me but everyone who has loyally bought in to a Microsoft platform. I think maybe the time has come that we should return their loyal support by rewarding them with just what we received!

does all this mean we will get more apps in the store for windows phones?

#8 Takeaway: All of the "men" at Microsoft look and dress like teenagers. Presumably, in an attempt to look cool. But actually, they just look pathetic. Black shirts, jeans and sneakers? Really? Could you at least shave for a GD worldwide presentation?

It's BUILD... for developers... not for consumers, not for shareholders, nada. Look at how they dress for their other events ;)

This is a big one, the sooner the better, As on Tablets etc., you don't want everything stored locally especially things like music. What ever made them think taking that option away was a good idea. "Files On-Demand marks the return of the highly requested OneDrive Placeholders, a feature that lets you see all of your OneDrive files on your PC without actually using up local storage"

WM10 por Consumer is dead, I have been using Windows ecosystem for years but let be practical there are others OS out there, I am moving on,I'll be missing the best of wm10:home screen and the live tiles

Hopefully, in 20 years, all cell phones will be dead. I'll be running Windows 10 Obsidian 6 on a chip implanted in my body. Augmented reality will be projected on the back of my eyeballs. I'll have free 100GB LTE. I'll have thought recognition input to Cortana. As I walk through the market, women will have their availability visible (or not). Dangerous criminals will be tagged, as well as mental patients and pedophiles. When I walk through the graveyard, my dads facebook timeline will be displayed above his grave. (or maybe old age will be cured by then) As I walk though town, all the signs will be gone, just nature and beautiful landscaping, all signage will be augmented. Strip clubs and Liquor store signage wont be visible til you are 18. Microsoft will rise from the ashes, like a phoenix from the flames!

A lot of people have made good points on the "Pros and Cons" side of this forum. Honestly this is nothing new, and really shouldn't surprise anyone. Many have held out the past three years for a new flagship to be released as you see a new iPhone or Andriod being released pretty much every year. That's because in retrospect, that's what Apple and Google have to focus on because they is where all their profit is. MSFT knows they lost the mobile war years ago in its current form so why bother trying to compete with Apple and Google on a mobile level? They'd just continue to get destroyed. They are second to Amazon in cloud resources. They are pretty much neck and neck with Sony with regards to gaming, and Project Scorpio looks like it could be revolutionary with mixed reality. Say what you want about Chromebooks, but most offices are still using PC's. The latest maleware virus is an example of that. All those countries running some rendition of Windows OS. What if Apple suddenly pumped more money into OSX? Would it drastically change anything? Not really, so why do it? We have to start looking at this holistically, because MSFT is. Windows on ARM leaves the window (pun intended) for mobile on devices with 6" screens and larger. There is still Redstone 3 coming so they have time and with the market share already tanking, they can take all the time they want.

Thurrott says demos not running on code...was being done by offstage people..not impressed.

Elaborate or link please?... Not sure what you mean by that...

I don't care..not creative...just want solid gaming...this 10 has become a bloated monstrosity. They should make a pared down 10 Gamers Edition.