How to upgrade the SSD in Lenovo's IdeaPad Flex 5 14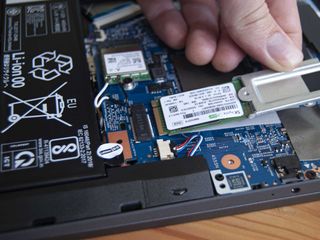 (Image credit: Windows Central)
Lenovo's IdeaPad Flex 5 14 is an affordable 14-inch convertible available with either AMD or Intel processors. While RAM is soldered and not accessible for upgrades, the M.2 solid-state drive (SSD) can be upgraded after purchase. This allows you to keep the price down at checkout and buy an SSD on sale later, whether for more storage, faster storage, or both. Here's everything you need to know about performing the upgrade.
Hardware and software to get the job done
How to upgrade the SSD in the IdeaPad Flex 5 14
Note: Before beginning any upgrades on a PC, it's a good idea to back up your data in the unlikely event something should go wrong. You'll also want to ensure you're not working in a static-filled environment, as it can cause damage to a PC's internal hardware. Consider investing in an anti-static wristband (opens in new tab) to avoid unnecessary damage.
The Lenovo IdeaPad Flex 5 14 is a 14-inch convertible laptop with excellent battery life, decent build quality, and strong performance. It's available with AMD Ryzen 4000-series mobile CPUs for the most power for your dollar, and it can be had with up to 16GB of RAM. The M.2 SSD that ships with the laptop is relatively fast, but you might be looking for something a lot faster or with a lot more storage.
The Flex 5 14 you purchased will already have an M.2 SSD inside, and if you're partial to the data on the drive, you can create an exact clone using a new SSD and an external M.2 enclosure. We recommend the Samsung 970 EVO Plus (opens in new tab) as an upgrade SSD. It's available in 250GB, 500GB, 1TB, and 2TB sizes. We also recommend the SSK M.2 PCIe enclosure (opens in new tab). You'll also want to check out Macrium Reflect, software used for cloning. We've written a complete guide to help you through the cloning process.
If, on the other hand, your Flex 5 14 is a fresh purchase and you don't care much about the data saved on the factory SSD, you can do a clean install of Windows 10 once the new SSD is installed. However, make note that some steps must be dealt with before you replace the SSD, like creating USB bootable media. Check out our complete guide to a clean installation of Windows 10 before physically replacing any hardware.
Once the cloning process is complete or you've gone through the steps to get set up for a clean Windows 10 installation, clear out a well-lit area and power off your Flex 5 14. It's time to replace the SSD.
Unscrew the nine fasteners on the back of the Flex 5 14 using a Torx 6 bit. Note that the four shorter screws go along the front edge that is tapered, while the five long screws go in the rear raised portion.
Pry up the bottom panel using a pry tool, guitar pick, or thumbnail. Start at one corner and work your way around. Try to avoid bending the back plate.
Unscrew the single fastener at the end of the M.2 SSD using a Phillips bit. Lenovo uses a half-size SSD in the Flex 5 14, but the extender is removed in the same way.
Pull the factory SSD away from the slot. Do not lift too much on the SSD to avoid damaging the laptop.
Insert the new SSD into the slot at about a 15- or 20-degree angle. Notice it is keyed and will only face one way.
Screw in the single fastener at the end of the M.2 SSD. No need to use the extender if you're using a 2280 format SSD as a replacement.
Replace the bottom panel by applying pressure around the edges and middle. It should click back into place.
Screw in the nine fasteners on the back of the laptop.
You can now go ahead with a fresh install of Windows 10 using bootable media. If you cloned the SSD, you should be able to start up the laptop and proceed as though nothing has changed.
Our top hardware and software picks
It's tough to beat Samsung's 970 EVO Plus when it comes to M.2 PCIe storage. It's fast, it's durable, and it's competitively priced for the performance you're getting.
Blazing SSD speeds
(opens in new tab)
Unreal performance up to 1TB in size

Samsung's 970 EVO Plus brings blistering read and write speeds, a competitive price, and a 5-year warranty, which altogether is an impressive package. Sizes start at 250GB and go up to 1TB.
The IdeaPad Flex 5 14 is an affordable convertible that delivers solid performance and battery life thanks to AMD Ryzen 4000-series mobile CPUs. The display is a letdown, but if you work around it, this is an excellent option for productivity work and casual use.
AMD-Powered Convertible
(opens in new tab)
Impressive performance and battery life

AMD Ryzen 4000 mobile CPUs are a great addition to the Flex 5 14, but its display still leaves a lot to be desired. For the price, though, it might be easy to ignore.
Additional Equipment
To make the upgrade process easier and less risky, consider investing in some of these affordable PC tools, and don't forget about Macrium Reflect and an external enclosure for those who want to clone drives.
SSK M.2 enclosure (opens in new tab) ($26 at Amazon)
This affordable aluminum enclosure works with M.2 PCIe NVMe SSDs like the Samsung 970 EVO Plus for cloning. Connect to the Flex 5 14 with USB-C.
Macrium Reflect 7 (Free at Macrium)
We've had success cloning drives with Macrium Reflect 7, and have even written a complete guide on how to use it properly. A free edition is available, but you can purchase a full edition with a bunch more features for those who truly take backups seriously.
ORIA PC toolkit (opens in new tab) ($36 at Amazon)
Having the proper gear to work on your PC will always make the job much easier. Here you get a plethora of tools contained in a portable case.
Rosewill anti-static wristband (opens in new tab) ($7 at Amazon)
Static electricity can damage sensitive PC parts, so remove the risk with an anti-static wristband. Fasten it around your wrist and clip it onto your PC for peace of mind.
Windows Central Newsletter
Get the best of Windows Central in in your inbox, every day!
Senior Editor, Laptop Reviews
Cale Hunt is formerly a Senior Editor at Windows Central. He focuses mainly on laptop reviews, news, and accessory coverage. He's been reviewing laptops and accessories full-time since 2016, with hundreds of reviews published for Windows Central. He is an avid PC gamer and multi-platform user, and spends most of his time either tinkering with or writing about tech.
Windows Central Newsletter
Thank you for signing up to Windows Central. You will receive a verification email shortly.
There was a problem. Please refresh the page and try again.