Verizon's Lumia Icon could still get the Windows 10 Mobile update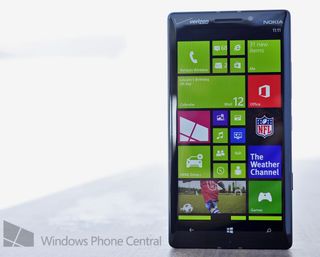 Owners of the Lumia Icon smartphone from Verizon Wireless might still be able to get the over-the-air update to Windows 10 Mobile. The phone, which launched in early 2014, is currently not mentioned on the list of eliglbe older Windows Phones for the Windows 10 Mobile upgrade.
In response to a question on Twitter by ZDNet's Mary Jo Foley on the status of the Icon, Windows Insider head Gabriel Aul stated:
The Lumia Icon is virtually identical to the Lumia 930 that launched internationally later in 2014, and that phone is indeed supported for the Windows 10 Mobile update. Hopefully. Microsoft can work something out with Verizon to get the update to those Icon owners.
WP8.1 never came to Verizon, but Verizon was the first out of the gate with WP8.1.1/Denim. So who knows.

If MS can work out a deal with Verizon to do direct updates for W10M on ICON, there is no reason they can't support L950/XL on Verizon either.

LTE Bands for Verizon are not present in those devices.

They are, they are just disabled.

If MS can reach a deal with Verizon, MS can just release a frimware update for L950/XL to unblock the CDMA.

The bands are there and they are not disabled, VZW just won't approve IMEI because ????

I thought they said they were but vzw was blocking the imei's to them Posted from Windows Central for Windows 10

I have no idea if MS and VZ read this stuff or not, but if they do, let me say this. If the two of you as companies could find a way to allow the 950XL on VZ with Win 10 and regular updates straight from MS, AND they could allow the same for the Icon, you would make my executive staff happy with me, my family happy with me, and you'd both keep me as a customer and advocate (which is pretty big because I recommend or not to a very wide audience). If that does not happen one of you will lose me, either the carrier or the ecosystem and I can tell you honestly that is a highly impactful choice that will become required if you two can't make this happen.

Ditch Verizon, order your phones directly from Microsoft and join ATT. Data speed is great and the call quality is better than Verizon.

That doesn't make any sense.

Aul said on twitter that one of the reasons Icon didn't get it, but 930 did is bc Icon is CDMA and 930 is GSM. Posted from Windows Central for Windows 10

the problem is not CDMA the problem is Verizon not providing the right Firmware/Radio for it.

lumia icon is the same and is also 930 gsm I have it in Colombia working on a different GSM network verizon.

Lol l929 works perfectly fine for just about any carrier in Canada unlike the 930 which has limited lte service

I use mine in DR with Orange.
But the thing isn't about the GSM network, it is about its original CDMA radio in the Verizon network

lumia icono es el mismo y es también 930 gsm lo tengo en Colombia trabaja en una red GSM Verizon diferente.

aul also tweeted "there is no second wave" which means that older phone might not get w10m...
i dont know what that means..
currently happy with lumia 535 w10m... :)

Off topic, I know.
I want to get the L640 but there's no retail store selling it in Nigeria. Wanted to get from Amazon and Ebay but none willing to ship to Nigeria.
What options do I have. Really want the phone for the long battery life but don't want the XL (hate XL screen sizes)

This is the second article (at least) that you've posted this. Please use the forums for questions like this and not the comment system. Thanks!

I'm somewhat new to Windows Central so haven't really been completely familiarized.
P.S. If you had left this reply from the beginning I wouldn't have bothered coming over to this article, would I?

I don't see a problem with asking a question in an article, the forums dont always give answers as quick

Try to see if you can order it straight from the Microsoft Store

Instead of a rude comment like the other person left, I found a place you might want to try. http://www.konga.com/microsoft-nokia-lumia-640-2249534

Thank you very much. Just placed an order.

You're welcome. Happy to help. :-)

Keep posting in the articles, eventually you'll get a reply :) forums aren't worth it

Get someone here to buy one and DHS or FedEx it to you...

Then come to Ghana, you will get some

If my Icon doesn't get W10 official OTA update, I am done with Windows Phone. I will buy an iPhone.

Okay... Goodbye I guess Posted via the Windows Central App for Android

Lol.. Wait till they don't give it to him.. Don't dismiss him quite yet.. Patience, my little taco muncher..

I work from home making $4000.00 a week munching taco's. Posted from down vote central.

Man, that would be like... a dream job. I'm in the wrong field lol

Lol.. Down Vote Central❓❓ LMFAO!

Ok thanks for letting everyone know....

I'm with you. My overall experience with the Lumia Icon has been terrible. Verizon dropped it months after releasing it, Denim took FOREVER! and now this. Such a terrible experience and I am just about done with microsoft becuase of it.

You mention Verizon dropped support for it yet you blame Microsoft. Your issue wasn't choosing Windows' phone. Your issue was choosing Verizon.

Don't bring logic into this superboy. Posted from down vote central.

maybe some people are more willing to change phone platforms than they are carriers...

Which is a shame for MS.. SMDH.

MS and Verizon share the responsibility. They released this device together. They are both about to lose my business.

First of all, Nokia made the device. Not Microsoft so you can't blame them. Secondly, Microsoft has no control over Verizon dropping the hardware from their stores and sales and they are still held to updates bg Verizon terms. So you can't blame Microsoft.

lol, Nokia is Microsoft and is therefore now in part responsible for supporting it. besides rhensley never said he was blaming Microsoft, just that he was done with Microsoft because of his experience with the Icon. doesn't mean he's putting the blame on them, just that he's ready for a different experience based on his own set of priorities.

Nokia is not Microsoft. So false.

http://www.theverge.com/2013/9/2/4688530/microsoft-buys-nokias-devices-a... lol, you really don't know much about the current state of affairs do you?

Buying devices division is not becoming Nokia. They basically just took Lumia. Try again

there isn't much more to Nokia than a device division... in any case Nokia and Microsoft are one in the same when it comes to anything about a Lumia and since the Lumia Icon is the current topic of discussion here Nokia in this context is Microsoft, plain and simple.

Heh...The Icon was the first US phone on any carrier to get Denim.... Posted via the Windows Central App for Android

That's not saying a lot seeing as it took so long to begin with lol Sent using Windows Central for Windows 10 on my Lumia 1520

My Icon with the Win 10 preview has not been without some challenges along the way, but currently as of the latest build, it is a very polished device. I'm fairly shocked it was not in the upgrade program because it is performing so well.

If you want W10M on Verizon, you could sell your Icon, buy a 735 (can get for just over $100 on Ebay) and pocket the change. Stick in a MicroSD card, and never look back. Yeah, if your a photo/pixel junkie, the 735 is a step back, but in almost every other aspect the 735 is a perfectly great solution. If you're in to selfies the front facing is a nice improvement. Way better battery life, and the O/S doesn't really skip a beat in performance 735 vs Icon. Just my opion, but understand your needs in a phone may be different... I ditched my Icon for a 735 some time ago and I'm glad I did. Oh, and what is really the difference between the OTA update and current insider.. nothing? C'mon, man.

that's just what i'm going to do. my Icon has just been a backup/loaner phone anyway so i'm just going to keep my Icon as purely a loaner phone so that when somebody's borrowing it and i need a Windows Phone i can just use the 735 which will purely be a backup for me.

Samsung needs to stop doing this making phones and abandoning them for the newer models, not all customers replace phones every year some do it every two years I choose the Samsung ativ se over the icon because of its removable battery and expandable storage, now I highly regret it I pray someone step up and defend us Samsung windows guys by creating a custom W10 rom for the Samsung ativ se

That is at the manufacter's discretion... Of course, Verizon as well.

I'm unhappy with not getting Windows 10 for my Samsung Ativ S Neo on Sprint either.

Lol I have a ativ s(lte aws) was lucky to get 8.1.1 for it but because MS gave up on carrier relations in Canada I doubt it will happen

Samsung have been doing that forever including their droids, NO hope for you (that's a shame because if they upgrade the Ativ i'll grab one as a backup phone).

Seriously, I pray this happens. I'm fine with running Insider, as long as we at least get Redstone. If I can't even get Redstone then I'll have to consider "upgrading" to either a 640 or iOS once the 6 comes down in price on Craigslist.

Yeah same here, I'm just hoping to get Redstone. By the time another major update comes out I'll probably be getting another phone.

If you are going to get a gsm 640, then why. Not simply get a 930 if you really like the icon or a 1520. Last gen flagships aren't that expensive

No one in their right mind in NA would spend over $100 nowadays for a phone without LTE which is why the 930 was and is still a no go in US and Canada.

I'm looking at that Galaxy S7 if I don't get it.

That would be really good for the people who have this phone since before the 950's, the Icon and the 1520 were considered the flagship devices of WP.

Flagship indeed; and also it was publish official that it will get W10.
But in Microsoft world (and pretty much every manufacturer) commitment is only from customer's side). And they want us to become Apple's behavior alike: hundreds of dollars in UPGRADES every year and long lines in front of the store ahead of the opening or pre-order 2 months ahead.
But they're not Apple and we're not Apple fanatics that don't have a single clue that behind the shiny ✨ OS it's just another flavor of UNIX OS and because of that we wand better because we're the only ones that stick with them; and we should get better.

Buyers of carried branded phones always get shafted

Yep! My current phone is an unlocked 950. I wait for nothing! :-)

Next time they should buy unbranded.

Next time you should take into consideration that not everyone has the luxury of good GSM service in their area before you make that comment.

You can buy unbranded phones for Verizon and other CDMA networks. Posted via the Windows Central App for Android

If you're going to make a statement like that, you need to support it with some links.

I am quite sure the iPhone, the past few Nexus phones and the Moto X Pure are unlocked and compatible with Verizon. Verizon doesn't carry the Moto X or Nexus phones either.

Yeah, you're technically right about the iPhone. But all of those phones still have to go through Verizon certification, so they are essentially unlocked Verizon phones without the Verizon nametag that happen to work on GSM carriers as well. The ICON works this way as well with most GSM carriers.

I don't care about the windows 10 update for my Icon I want new model phones to come out on Verizon wireless

Verizon could care less about the WP system.

Maybe they care, but just a very little bit

Actually, I'm not sure they could care less. I would say that they couldn't care less.

Same here - Verizon is the only workable choice for coverage for our company. The Icon might be the last hurrah until Microsoft really comes out with something cool that Verizon would need to deal with (Surface phone?) My hope is that we will be able to have access to the Redstone builds on the Icon. W10M is working great for me.

Since I went to the latest production branch build, my ICON has been working great. It's a great device, and I'm considering buying a new one if it's going to get W10M, since mine is almost two years old and the battery is starting to show it.

Being that I am already on W10, I am more concerned about not getting future builds. Does this latest speculation means we might get continual updates?

Nope, nothing to do with it right now. Posted from down vote central.

HTC M8?? Come on this was a pretty expensive phone.

No it wasn't you already admitted much of your cost was due to carrier change over.

$300 isn't expensive? Okay.

"no it isnt" even if it wasn't that doesn't mean it's okay for him to get ****** over.
"oh it's ok my underwear was cheap u can steal it to make doggie sweaters"

It's an HTC. Don't expect much

It's looking like HTC sitting on their hands, not MS or AT&T, no updated firmware or apps = no windows 10. For once, Micah is right to bash the M8

Thank god. I was about to lose my mind. Upgrade my Icon Man!!!!

WHY ARE YOU ALL TALKING ABOUT THIS LIKE MICROSOFT HAS ROLLED OUT THE UPDATE ALREADY? I haven't got any damn update on lumia 930 (not icon) ever and i'm so mad about this unbeliavably slow performance from microsoft :(

It has been rolled out for some though...

Its not rolled out. You need to know that app exists which allows you to download the update. Microsoft obviously does not want people to update even if they have eligible device. Windows phone is dead.

Can anyone with an Icon using Insider Preview tell me if the MMS text is working?

My MMS is working great. I share them with a large portion of my family and it has worked beautifully.

Works for me, and it has worked OK since some of the pretty early builds IIRC. Check to make sure your SIM is set up correctly.

It's like Microsoft wants people to leave the platform. Like they haven't treated Icon/VZ users badly enough. I have so had it with the way Microsoft leaves its very small user base in the dust. I can get better support for Microsoft profucts if I buy an iPhone or Android.

Or blame Verizon since they dropped the phone.

I am on Verizon. I blame Verizon.

Poor Mary Jo...she's been holding out hope!

I run my Lumia Icon on Windows 10 Mobile since it became available through WI program. It works great without any issues on latest build. If this is Verizon again, I made my decision already!

What build number are you on? I feel like my icon maybe behind.

The latest build available for the ICON is on the Production Branch. If you are on the Fast/Slow branches, believe it or not, you are actually behind on builds. Just figured this out about a week ago, and I'm finally on .164 now.

Is it still possible to join the WI program and slip the Window 10 update that way?

Seriously??? I'm not sure who I hate more about all of this, Microsoft or Verizon. So unitl I decide I guess I'll just hate them BOTH equaly! I'm sticking with the iPhone 6s+ until they BOTH get their acts together and offer us the Flagship Win10M Device we DESERVE!

Everyone blaming Microsoft for the icon update, isnt there a possibility it could be Verizon fault

What everybody fails to realize is that Microsoft owns the Lumia brand and the Icon was made by them. I was screwed by MS when I bought into their Home Server hardware solution months before they decided to drop support. Now I'm very leary about buying any hardware with Microsoft's name on it.

I have an icon and annoyed more at Verizon. But yes, it was a flagship as the 10xx series and annoyed microsoft turned their backs on these premium devices. Switching to att this fall to hopefully surface phone or it it's another disappointment move to a different platform altogether.

Microsoft can't Make Verizon do anything.

Microsoft can't Make Verizon do anything.

Microsoft can't Make Verizon do anything.

Alright alright, ****, I heard you the second time

I'm urinated off that there's no second wave. Earlier they said that ALL Lumias would get Windows 10 and that older models would get them some time after the newer models. Now they claim that there is no second wave. My Lumia 820 works perfectly and I am not pleased at having to spend another 150-200€ on a new phone.

Thing is though, officially they never claimed that - they just said they'd try. And they did, but the Insider program did what it was designed to do and highlighted that some devices just couldn't be counted on to be reliable for a general release, despite evident work to try and make them in the many builds.

There is no reason why the 930 should get it and the Lumia Icon doesn't WTF.

Would be interested to know how long Microsoft is going to support the 1520? And also why not the 1020? Yes I know people rated Win 10 poorly on 1020 but couldn't that have just been due to a lack of a much need firmware update!

One reason Verizon, second reason Verizon, third reason.... Posted from the Window Central App on a Fierce XL

Firmware wouldn't have changed the relatively weak processor, I'm afraid.

The Snapdragon S4 in all the higher end xx20 series Lumias destroys the SD400 (and other Cortex-A7 core-based chips). Builds .122 and .164 made the 920 I have much more usable.

It's basically same as 930, so it should get updated. The W10M works pretty well on my 930.

Personally, I'm perfectly content with 8.1.1 on my Icon. I was on the Insider Preview through .122, but couldn't sync bluetooth with my car consistently and Cortana not having quiet hours based on busy calendar times were both issues I had with 10. Also disliked OneDrive integration. And yes, I performed numerous hard and soft resets. I'm perfectly content with 8 for now, or at least until a new WP beast comes along for Verizon, but I hope you guys get your wish!

MS knew Verizon screwed over the Icon owners, but they are to blame as well. We never got 8.1, but we got 8.1.1 pretty quickly. We were on MS's official list of devices that were to get 8.1.2 but we didn't, instead they promised us W10M. OK, fine. The Icon was on every list of W10M devices that MS released. Now that it's official, they removed it from the list. They could have easily acknowledged that VZW will not let the update go through, but they could have kept us in the Insider program. I highly doubt that the Icon was a problem in the preview and we know they allow CDMA devices so there was no reason to kick us out of the Insider program. I never had any problems with Insider builds that others weren't having. The fact is, it was supposed to be a flagship, neither MS nor VZW promoted it, VZW EOL'd it within 18 months and now, barely two years into the device, MS EOL'd it. The idea that a device shouldn't have to be supported for more than two years is absurd. My iPad 2 still works perfectly, it's still sold and it's kept up-to-date. My daughters iPhone 4s is even older, still works fine and is still up-to-date. MS has chosen not to include older devices because they completely revamp their OS every two years. I actually went shopping for a S7 Edge today but there were other devices I liked as well and in the end, I couldn't make up my mind. But if I'm going to spend $700 on a device, I decided that while the carrier or manufacturer might abandon it, XDA will most likely keep it going for years.

I have been running W10 preview on my icon for a year with no issues. so there shouldn't be any reason for verizon to block it.

In this case, Microsoft is the one blocking it, and they claim it's because of all the negative feedback they received. It's run well on my Icon too. Sent from my more personal computer

I hate Verizon! Posted via Windows Central app for Windows 10!
Proudly rocking my Lumia 1520!

Just use windows insider app and you can use the latest windows 10 update. It runs great on the lumia 930 (icon) It even workshop better thans on the 950.... Posted via the Windows Central App for Android

I'm pissed about the 928. Honestly wtf.

I've been running Win10 Mobile on my Icon for months. Verizon is my network. Works brilliantly. I don't get what all the angst is about!?!

Did you see the story yesterday about the new Maps update that was only for Redstone insiders? That is only the start of the things you are going to miss out on.

Hopefully they have something for the ATIV SE also

Icon users, for blood's sake, start sending positive feedback! I can promise you that we don't have it that bad - just compare it with other phones. (And don't forget about the killer camera that will only be improved as W10M matures!) Sent from my more personal computer

I have a icon and 735 on Verizon. Upgrade advisor on both, neither are getting the update. That said, both ran win10 awesomely on WI.
Imvho Verizon sucks. We're moving to ATT very soon.

Oh wow confirmed no second wave.

Best news I have heard all day. Was hoping since 929 was so close to the 930 that it wld be included in the updates. Hope MS and VZW can work it out.

Well I'm surprised at all of the positive comments from W10M Icon owners. All I had been reading before was negative, so I didn't want to go the Insiders route to get W10 on my Icon. I did go that route to get 8.1 and had no problems, and was originally going to get W10 that way until I read all of the complaints and then chickened out! Maybe I'll try it! What I really want, though, is for Verizon to just give us the stinkin' update. I love my Icon and would love to keep taking wonderful pictures with it for another year or two.

Seriously, upgrade today. It works awesome. Check this out:
http://www.neowin.net/news/heres-how-to-upgrade-your-device-to-windows-1...

I hope my Icon gets wm10. I'm running 10 through the insider program and runs great. My only issue has been the camera app, I figured out how to get the lumina camera app back yesterday so that's taken care of.

How did you get Lumia Camera back?

Yeah and Donald Trump could still be the president.....oh ****. Never mind. Lol Posted via the Windows Central App for Symbian

Microsoft really keeps digging themselves a whole leaving out certain Windows 8 phones they said would be upgraded. Worthless and weak of them to pull such crap.

While I agree a bit, it's a tough hole to be in really. Billions are being written off in their "tries" in this arena and that's not easy for any company to stick with. But they are. So a bit of credit. And do remember that 80% of the market buys into an ecosystem where there are almost no updates at all. Why is that good for MS and Apple users? It gives the bad guys an easy playground to muck around in and less trouble for us.

No second waves... So sad, W10M works fine on my 512 mb devices, but they just abandon it. Now I'm not a proud user of Lumia 630 DS

My dilemma right now is whether to get another ICON on ebay, since you can still buy basically new ones for less than $200, or if the ICON isn't getting W10M, get a 735 and swallow the reduced camera quality. After that, I don't know, I guess it's either go with ATT's subpar (in my area) coverage or switch to a different platform. I really wish Microsoft and Verizon could work out at least one high-end phone. I really am not satisfied with their current offering of either a low-end LG Lancet or a Lumia 735.

735 are cheap right now and a very good phone. Believe it or not the camera takes surprisingly very nice pictures. No bs. Not to mention a oled HD screen that has pretty vibrant colors and deep blacks.

I like the pricing of the 735 and the good battery life, but the lack of OIS and 4k video/Lumia moments really gets me.

Not sure if the VZ version is getting the update or not. That's worth being careful over. As far as no OIS, well the 735 makes a good replacement for somethign like the old HTC 8x and had the 950 and 950XL come to VZ I'd likely have bought the 735 as a companion phone for other house members. Seeing where things are going now, that's not so clear a case anymore. But for those staying in VZ world the 735 is a good phone and even with limitations it's a decent modernization update to someone coming from a much older phone.

Comparing the ICON to the 735, if the devices are both new the ICON is still way better in terms of hardware, so it's far from an upgrade going from an ICON to a 735, but I would definitely agree that the 735 is an upgrade from devices like the HTC 8x or the Lumia 928.

Yeah I'm hoping the Icon gets Windows 10 officially. I like my flagship phones and the Icon is great. My phone has to have a wonderful camera. I'm not fond of the other operating systems.

8.1 did come to Verizon. L822, L735, L929.

>Icon is still under consideration consideration? WTF ? So you can give the 930 update but, you have to THINK about the 929, screw Microsoft AND VERIZON.​

Running Windows 10 on Icon through Insider program now. No problems.

My icon runs the latest build well. Camera app sometimes reboots the phone and occasional app issues require a reboot a