Why the Surface Go is the perfect PC for college students
By Brendan Lowry published
The Surface Go is a student's best friend. I should know ⁠— I am one.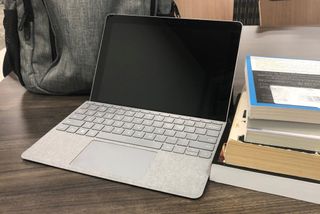 (Image credit: Windows Central)
Technology is designed to help us make our day-to-day life experiences smoother, and there's arguably nobody who will appreciate that more than university students. The life of a student can be (and often is) incredibly hectic, as you're always scrambling to tackle your next assignment, keep track of all your notes, and more. As a studying undergraduate myself, I'm always looking for ways that my studying, notetaking, and overall campus life experience can be streamlined. Over the holidays, I recieved a Surface Go — and after using it for my first week of classes, I can definitively say that it is the single best piece of tech I've ever used in my educational career.
A student's best friend
(opens in new tab)
Surface Go
Passing the test with flying colors

The Surface Go's portability, performance, and price make it an incredible tool for university students.
Defining what it means to be compact
Weighing in at just 1.7 lbs (with keyboard) and taking up only 9.6" x 6.9" x .33" of space, the Surface Go defines what it means for a convertible laptop to be compact. Not only is it practically as light as a feather, it's also small enough to slip into almost any pocket you'll find on any backpack or tote bag.
The small size and weight of the Surface Go is incredibly valuable to students, as they already have to carry too much every day between textbooks, notebooks, and other supplies. Being able to easily slip a mini-PC into my bag without having to sacrifice carrying other items is awesome, and it gives me the flexibility I need as a full-time student.
Dependable and reliable performance
While the Surface Go is by no means a powerful machine, it nevertheless delivers reliable, consistent performance that is perfect for what a student needs a compact 2-in-1 laptop for. The Intel 4415Y processor and 4 GB of RAM (models with 8 GB are available) can power multiple web browser tabs and productivity programs like Microsoft Word or PowerPoint simultaneously without any slowdown at all, and you can also use recreational apps like Spotify or Netflix too in the event that you want to listen to some tunes while studying or catch up on a TV show between classes. The Surface Go has a solid battery life too; depending on how bright you keep the screen and how heavily you tax the CPU, it can last anywhere between 5-7 hours, which will be sufficient for the needs of most students. If you need it to last longer, you can recharge it fairly quickly at a plug with the device's Surface Connect charger. The USB Type-C 3.1 port, which is primarily used for speedy data transfer, can also double as a charging port in a pinch.
| Category | Spec |
| --- | --- |
| Display | 10-inch 1800x1200 |
| GPU | Intel HD 615 |
| CPU | Intel Pentium Gold 4415Y |
| RAM | 4GB or 8GB |
| Storage | 64GB eMMC or 128GB SSD |
| Battery | 5-7 hours |
In terms of the display, the 10-inch 1800x1200 screen looks great. It has 99 percent sRGB and 76 percent Adobe RGB color accuracy, which is better than other devices on the market, including some Surface Pros. On top of that, the display has a maximum brightness of 435 nits, which is good for sunny conditions — perfect for when you want to spend some time outside on campus grounds.
Lastly, the optional (but heavily recommended) Surface Go Type Cover (opens in new tab) is hands down one of the best keyboards I've ever used. The Alcantara fabric is pleasant to the touch, but also firm and sturdy. The low-profile keys are lovely to type with, and the trackpad is smooth and precise. People who are used to larger devices will probably need some time to adjust to the smaller size of the keyboard, but once you do, you'll be in love. And when you consider how often students take notes or write papers, a keyboard you'll love using is worth every dollar. It's also worth noting that the Surface Go also works wonderfully with the Surface Pen (opens in new tab) for things like highlighting passages or drawing in art classes.
Easy on your bank account
If I've learned anything during my three years in college, it's that the people in charge are happy to bleed your wallet dry with tuition payments. Therefore, saving money is an incredibly important thing that every student has to strive to do. Everyone doesn't have upwards of a thousand dollars or more to drop on a hybrid laptop, and those people are exactly who the Surface Go is perfect for.
For just around $500, you can get your hands on the entry level Surface Go and its Type Cover, which is an absolute steal. Aside from the killer price, the best part about this is that the entry level device will be the best one for most students; while the increase in RAM and storage that the other options offer is beneficial, I think what the base model offers is more than sufficient. You might want to get a more expensive option if you work with a lot of video in your classes, but otherwise, students aren't losing much by opting for the most affordable version. College campuses typically have Wi-Fi that works indoors and out, so the version of the device that has LTE won't be worth the price hike either.
Overall, the Surface Go's budget-level pricing makes it a very enticing option for students, and when you consider how reliably it performs and how compact it is, it's clear why the device has cemented itself as an invaluable tool for students around the world.
A student's best friend
(opens in new tab)
Surface Go
Passing the test with flying colors

The Surface Go's portability, performance, and price make it an incredible tool for university students.
Brendan Lowry is a Windows Central writer and Oakland University graduate with a burning passion for video games, of which he's been an avid fan since childhood. You'll find him doing reviews, editorials, and general coverage on everything Xbox and PC. Follow him on Twitter.
I had a Surface 3 for my first year of grad school and while it was great, it was too slow, and when it came to inking the screen was too small and the resolution was too low. The screen was also cramped for laptop use. Also, the battery life was not great. (The Go would only be better in terms of speed, and not by much.) Upgrading to the Surface Pro (2017) solved all those problems, and you can get one for fairly cheap these days with pen and keyboard. Same for the Surface Pro 6.

Having owned and used both the Surface 3 and the Surface Go (8GB/128GB), I can say there simply is no comparison. While similar in size, the similarities pretty well stop there. The Go has a MUCH better screen with a significant bump in resolution. Processing power takes a quantum leap, and RAM is doubled AND faster. USB-C is a boon as well. I'm an IT Pro who has the opportunity to use a lot of different devices. I switched from a Surface Pro 3 to a Surface Go as my main mobile device to tackle my job and manage our network while I'm on the move. I'm not saying that a Surface Pro isn't a terrific option, and if that works best for you, well, that's what works best for you. But don't sell the Go short. It's a fantastic machine and a surprisingly great successor to the Surface 3.

Surface 3 and Surface Go have the same screen resolution, but Surface 3's screen is bigger. The color rendition is not very important while taking notes and using Word or a browser. Screen size is. So is resolution (specifically for taking notes). I'm comparing three 4GB devices: the Surface 3, the Surface Go and the Surface Pro (2017). The Surface Pro is fast enough for my purposes, but only just. All reviewers have said the Surface Go is nowhere near as fast as a U-series i5. Also, I upgraded to an 8GB Surface Pro eventually because it wasn't enough. And can we talk about battery life? Have you had three or four classes in a single day? Charging in the middle is no fun. Not charging until you get home is the way to go, and only Surface Pro can do that. Actually Surface Pro may be the only detachable PC on the market that can do that. All reviewers of the Surface Go have complained about subpar battery life. I'm not selling the Surface Go short for IT purposes. I wasn't talking about IT purposes. I was talking specifically about being a student, which is the topic of the article: taking notes, writing reports, doing research, doing presentations, and maybe writing code. For those purposes, it's not even close: Surface Pro is the better option. As a plus, you can get the Surface Pro (2017) and Surface Pro 6 for pretty cheap these days. For me it's a no-brainer: The Surface Pro is the superior option for students, hands down. I wouldn't even consider the Go, unless I were extremely strapped for cash - in which case I'd also consider other options (such as: cheap laptop + cheap iPad and pen, or cheap laptop + pen and paper).

Typing long papers on the floppy keyboard would suck though. With either device, I would want a dock and large screen at my desk. I would not have the Surface Pro now if it wasn't for the dock. Surfacebook is ideal if you afford it. Sometimes Microsoft sells refurbished ones for half price. They will definitely get you through a whole day.

I find the Surface type covers better to type on than older laptops (the keys make a nice click).

Yeah the Pro seems like a better primary device for students, it is already light enough anyway. While the Go is better for a secondary device (/the cheapest model) or if you don't need that bigger screen than the lower weight is nice. One thing to keep in mind is that with older Pro's the battery might be degraded while the Go is still quite new. Another thing to keep in mind is that Go has a usb-c but no usb-a port (cheap docks fix the usb-a issue but transfer speed will be slow, in that sense the cheapest model of the Pro 7 might be worth taking a look at when it is in sale).

I really wanted to like my 8gb ram Surface Go, but I had to sell it for a Lenovo C630 Yoga Windows on ARM device for several reasons.
1. Battery life is just not usable. Real life use was between 5 to 6 hours which meant that for a 8 hour full day class, I had to charge my device in between.
2. The performance is fine "for the most part", but annotating with the pen on powerpoint lagged so much, it was almost unusable. Such a shame when my 6th gen Ipad with 2gb ram could annotate on powerpoint more smoothly than the Surface Go. I think they could have fixed both the performance and the battery life issue by sticking a Qualcomm processor, but as it stands, there are just way too many compromises. But I do love the form factor of the Surface Go. I do hope that they improve on the next generation while keeping the price in line. My Lenovo C630 Yoga WOS somehow has as good of build quality of Surface Go while lasting over 12 hours on battery. The performance ended up being better than Surface Go as well.

I think if MS will release a Go 2 with the new gen (/more efficient) Intel of AMD cpu's it will check the performance and battery boxes while retaining that flexibility. Something like a Ryzen 3 4300U (quad core) but slightly under-clocked would be the sweet spot I think (should be efficient enough on 7nm, only the costs might still be too high).

This place is visited by people worldwide. You should always put metric and IS mass units (inside brackets).

Yeah why so many review sites still not use the metric system more is beyond me.

First Go article I've seen the says 'The Surface Go has a solid battery life.' Even if you got the 5-6 hrs noted, that certainly doesn't cover a college day. You do get the advantage of the option to use USB-C charging, off a battery if you want, but that increases the package weight, significantly. The Go isn't going to be too good at applications for the more STEM based students. Doesn't have the power. So you would need a second laptop/PC for that stuff. If the Go is relegated to a note taking, paper generation device, you'd likely be better off with an iPad. BTW, I have a Go, 8G/128 with LTE and love it. But unless you are a liberal arts major with no more than 4 hrs of class in a day, I wouldn't recommend it.

Obviously it's going to vary based on who the student is, what their day looks like, etc. I spend 6-12 hours on campus for my class days and the Go has been excellent for me, but then again I'm in school for a writing degree and the vast majority of my time on it is spent with the brightness lowered typing into a Word document. Plus I'm not using it all the time during those hours. But even so, I feel that with how plentiful wall plugs typically are on campuses, the battery thing isn't really that much of a concern. Especially with how fast the thing juices up on the normal Surface Connect charger. iPads are also certainly a great pick for notetaking, but the Go gives you a competent Windows 10 experience that, IMO, makes using it for things like researching, reading online texts, or working on projects a lot better.

So ... you don't take a lot of handwritten notes on the GO? Then why not get another cheap ultrabook with a bigger battery and a bigger screen? Or a similar-sized ultrabook with a bigger battery? Or a Chromebook? You don't mention the "competent Windows 10 experience" in your review ...

I can see why the Go is interesting for him though; the Go has a 3:2 screen which a nice ratio for typing and the type cover keys have a nice click. The weight is also much lower than most chromebooks or laptops. With Windows you also don't sell your privacy as much as you do with ChromeOS while the price is still low for the good screen etc (there are probably good deals by now on both the tablet and keyboard cover). With Windows experience I think he means better multi tasking compared to IpadOS and better mouse support.

I think you probably haven't used an iPad in a long time. iPadOS 13 has split screen plus slide over (that's 3 apps at a time), and Safari is set to display desktop websites by default. And I mean, the apps situation on Windows is still dismal. It doesn't matter that you can run full Win32 application when no one has made Win32 versions of all the most popular apps in the last decade, and neither Win32 nor UWP are targets for developers these days. I sincerely hope that Windows 10x is everything it should be, because I have a lot of Windows tablets that I would love to put it on (because of course there will be an unofficial way to get it onto tablets, just like you can put WoA on a Lumia). It would be great for Apple to finally have competition in the tablet space so that they make iPad OS even more powerful, like adding even better mouse support.

Maybe I'm out of touch, but what new apps have been created in the last decade that you can't run on Windows? Other than social apps and games that are targeted at phones. I get those are popular and sell devices, but I lean more towards getting stuff done than wasting time.

Actually setting 2 up right now, pretty much used only by overnight staff to enter some numbers into onedrive. Probably could have gotten away with an android tablet, but wanted something a little better :)

I would think twice about buying a Surface Go.
Disclaimer: I am a European student. This could be relevant, because Chromebooks are basically irrelevant over here, whereas they are direct competitors to Surface Go. I wouldn't call the Surface Go the perfect device for college students as this implies that it was the default option. Let me explain: This article suggests that you can handle multiple browser tabs with ease while running Word or PowerPoint and for example Spotify without slowdown. Office runs on basically everything and surely, running one or two tabs won't be a problem. But does that really reflect the use case of students? I'd like to disagree with reference to academic use cases and the heavy multitasking it involves, thus the need for RAM. Often you will need many tabs in multiple windows to find, compare and combine information. If you are a privacy conscious person, you will probably use a browser with add-ons, which tend to the browser. At the same time, you will open and annotate multiple PDFs. Later during your time in college or university you will probably use a tool for reference management and literature organisation. Spotify and WhatsApp, common apps that are opened while working, are websites wrapped in apps. Because of this, they run in their own isolated browser. These seemingly tiny apps use relatively much RAM. The bottom line: I suppose the normal academic use case can require heavy multitasking. Common Surface Go configurations come with 4 GB of RAM. This is not enough for this kind of multitasking. To back this up, I attached a screenshot from my Surface Pro (2017, 8 GB RAM) after a cold boot with some apps that are related to my statements above: https://imgur.com/a/gIHhyhm
- 3 PDFs
- 10 Firefox tabs (add-ons enabled)
- 2 File Explorer windows
- Spotify
- WhatsApp
- QuickPad
- Alarm
- 2 Word documents, Citavi-add-on enabled
- Citavi
- Windows itself consumes RAM For this measurement I explicitly excluded graphics editing, to keep it closer to the described use case. Sometimes you even have to use other research apps for example for statistics. People will probably know that their device isn't made for this and use other machines. The article suggests, though, that money is a key factor for students, so I guess having a second machine is rather uncommon. Also, a gaming-class PC at home is useless in class. Even my Surface Pro runs into RAM limits very often. Some say it is a good thing, when RAM is used but hitting the limit constantly without room to breathe, is not the intended behaviour. PCs can swap RAM data to their storage, which means they have virtually infinite RAM. But the swapping speed is limited by the speed of the storage. My Surface has an SSD for example, so the swapping is "fast". The Surface Go has a storage type that is much slower. Running into RAM limits will be much more noticeable than on higher-end computers.
Yes, there are 8 GB configurations of the Surface Go, but they are expensive for what you get and too close to a last gen Surface Pro for example. My advice would be to ask students at your institution that have studied for longer about the expected workload. The Surface Go is a neat device but expecting it to perform well on this sort of multitasking for the next few years could lead to disappointment and ultimately hurt the brand.

8 gigs on my Surface Pro get me through just about anything (though Matlab can take up a lot of resources). That being said I completely agree with 4GB being really not enough. You can get by (I did for about a year) but it's not a great experience. Not sure why you'd want Spotify or WhatsApp running while you're studying. I warn my undergrad students about the dangers of distraction. In fact, recently, I decided that for the next class I teach (which will be in a few months) I'm going to ban laptops in the classroom (exempt are devices for hand-written note taking). Also, WhatsApp web works pretty well and I infer from what you're saying that the desktop version is a lot heavier.

I was referring to the working periods on campus or even at home, when you research and write on your own.

Everybody has different learning strategies and preferences. Music helps some people relax while studying, even if for you it sounds like a distraction

I have the 4GB model as a student. It is great for college, word processing and things work great. Even some creative cloud applications work well. The battery life is the only real letdown.

If you made him buy it himself, he might have been a bit more flexible. ;) Nothing wrong with MacBooks, but they are a significantly different environment than a Windows based machine. I won't say better/worse, but different. I don't think they are inherently overpriced any more either. An 8G/128G i5 MacBook isn't priced much different than a similar Surface Laptop.

If it weren't for the 3:2 screen I think the Surface Laptop is kind of overpriced too. Its low weight and pen support are nice extra's but would make more sense if it would have a 360 degrees hinge. (I understand they have their reasons to have it be a clamshell but still)
MacBooks are quite expensive since Windows laptops are much better now than a few years ago (with precision touchpads etc).

I am an Educator, and I've had my GO for just over a year now. I don't think it is perfect for students (and definitely not for teachers).
What I like: the screen - it's awesome! Love the 3:2 ratio; great color; excellent brightness; it's wonderful. I also like the overall size of this machine; its weight and portability What I don't like: its price. The 4 GB model was $549 CDN, and type cover was another $149, so this unit was VERY much overpriced for its specs. And the specs are very weak. I don't know why Microsoft is still making hardware with only 4 GB of RAM. My phone has more RAM than this version GO. If I have a few Edge tabs open, Teams running, with some music playing on Spotify, and maybe one Word doc open, this unit is totally maxed out, and starts lagging like crazy. No way I can use this for work. This unit cannot keep up; I would not recommend it for students; I regret not getting the 8 GB version.

While not a college student, I own a Surface Go (8GB version) and use it as my daily driver for work and media consumption. Even some light gaming like Minecraft. When at home, I connect it with my Surface Dock and extend the workspace with two FHD screens while having the main screen available at the same time. Practically, the Go is capable of handling all of my work as customer supporter with multiple browser windows, two messaging apps and also Spotify in the background without noticeable drops in performance. Bottom line: For the price, the Go is somewhat of a powerful device for everyday work. At least for me. When extended with some accessories (dock, pen, Keyboard) it is even more like a workstation.

Thank you Brendan for this excellent article. I have a Surface Go and intended it to be used just for work travel, but it ended up being used way more. Since the intent was just for work travel, I didn't want to spend much on it. I got the 4GB version for $349. I'm blown away at how much I love my Surface Go. I do agree with you that most will be fine with the 4GB version. Windows 10 is very efficient at using its resources. Windows 10 can unload and reload process memory very fast to make the best use of the 4GB. I do see a lot of people though use Chrome and then have like 30 tabs open. Each tab is a child process that takes up ram and CPU load. People do this and then complain about battery life and task switching but they are being very sloppy about how they use Chrome. The classic Edge browser (not the new Chromium based one) is very smart about how it can unload memory and CPU load. You have to set in privacy setting to not allow Edge to run in the background. When you do this and minimize Edge, memory and CPU load will go to 0. Even if you don't minimize Edge, it can manage memory and CPU load of the tabs by unloading unused tabs. Chrome does not do this and will suck resources if you have many tabs open; even on more powerful laptops. I have not installed the new Edge yet. I'm afraid they will lose this efficiency behavior of classic Edge since the new Edge is based on the Chromium engine. I do use my Surface Go as a tablet quite often. Some uses I have for it as a tablet are killer and I can't see going back to not having a form factor like a Surface Go. One killer use case is using my Surface Go for reading sheet music. I have a bluetooth foot pedal for turning pages. This works really well. I have an in-depth review of my Surface Go experiences at http://walletcard.org/2019/06/15/surface-go-review-delivers-far-more-tha...
Windows Central Newsletter
Get the best of Windows Central in in your inbox, every day!
Thank you for signing up to Windows Central. You will receive a verification email shortly.
There was a problem. Please refresh the page and try again.