Windows 10 April 2018 Update biggest problems and complaints
The April 2018 Update is yet another big refresh for Windows 10, but it's causing headaches for some users.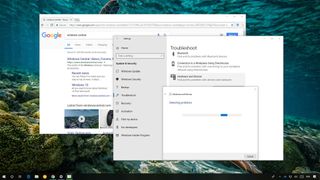 After several weeks of delays, on April 30 Microsoft gave the green light and started rolling out the Windows 10 April 2018 Update (version 1803) to compatible devices. Initially, the company made available the new version using the Media Creation Tool and Update Assistant, and then, on May 8, it became available more broadly through Windows Update.
This is the fifth major release of Windows 10, which introduces a few new features, such as Timeline to resume activities you were working on in the past, and Nearby sharing to easily share files and links without complicated setups. Also, the new version includes numerous improvements in the Settings app, Microsoft Edge, Windows Defender Security Center, Fluent Design, and a slew of other small changes.
While this is a significant update meant to improve Windows 10 over the previous releases, the rollout is not going as smoothly as everyone would have hoped. Even after weeks of Microsoft fixing last minute bugs, some frustrated users have been reporting problems and many complaints with Windows 10 version 1803.
In this Windows 10 guide, we highlight the most interesting complaints and issues during and after installing the April 2018 Update.
Windows 10 April 2018 Update common problems and complaints
Here some of the problems and complains that Windows 10 users are reporting:
Installation problems with the April 2018 Update
Some of the biggest complaints with the Windows 10 April 2018 Update are regarding installation.
Alienware hardware incompatibility
Shortly after the update became available, a small number of Dell's Alienware owners started reporting error message the prevents them from installing the new version.
Also, at the Microsoft forums, user BK bkraul says:
Although this problem turned out to be an inconvenience, it's an isolated issue happening to some Alienware devices, including:
Alienware 13 R3.
Alienware 15 R3.
Alienware 15 R4.
Alienware 17 R4.
Alienware 17 R5.
After numerous complaints, Microsoft acknowledged that this is a problem, and it's working on a fix. In the meantime, the Windows 10 April 2018 Update is being blocked on affected devices.
Intel and Toshiba SSDs incompatibility
In this new version, some users have been reporting storage problems, more specifically with solid-state drives (SSDs) from Intel and Toshiba.
At Microsoft forums, the company posted:
The good news is the company is aware of the problem, and it's working with partners and Intel to resolve this issue. Until a permanent fix is released, Microsoft is blocking the April update on computers using Intel SSD 600p Series or Intel SSD Pro 6000p Series.
If you've been affected by this issue, Microsoft recommends using these instructions to recover your device.
Unfortunately, the drives from Intel were not the only ones impacted, as reports are now also piling up for Toshiba SSDs.
Microsoft explains in its official forum:
The problem has already been confirmed, and Microsoft says it is currently blocking the update on affected devices, and it's working to offer a permanent fix. But it's not detailing when an update will be available.
Extra partition bug
Also, numerous users have noticed that after installing the Windows 10 April 2018 Update an additional drive running out of space appears in File Explorer.
On Reddit, for example, user Seroy says:
At the Microsoft forums, users Nic727 says:
A similar complaint can also be found at the Microsoft forums:
If you're seeing this problem as well, it's not recommended to delete the partition. Instead, you should use this workaround to resolve the issue.
Wrong edition installation
While it may appear to be an isolated problem, some users have reported that the upgrade process installs the wrong edition of Windows 10.
And this wasn't the only case. Another person claims that after upgrading his Windows 10 Pro machine, he ended up with Windows 10 Enterprise.
App problems with the April 2018 Update
In addition to installation problems, numerous users have been complaining about problems with apps and the Microsoft Store.
App freezing problem
Perhaps one of the biggest complaints that users have reported with the Windows 10 April 2018 Update is the problem with apps (such as Google Chrome, Mozilla Firefox, Cortana, and Slack) freezing or hanging after the upgrade.
On Reddit, user lth8892 says:
Also, Reddit users TheCuteCat posted:
Microsoft recently confirmed this problem, and according to the company the update KB4103721 fixes this particular issue.
Microsoft Store doesn't install apps
A small number of people have also complained about the Microsoft Store no longer downloading apps when clicking the Get button.
For example, Windows Central reader, Sony Haryono reported the following:
Sony Haryono even posted a video demonstrating the problem with the Microsoft Store app:
Settings problems with the April 2018 Update
There have been various complaints filed about the upgrade changing system configurations without the user permission.
Fast Startup
Although Fast Startup is a feature that makes Windows 10 boot faster, some people choose to disable it for a number of reasons. However, it appears that the April 2018 Update is no longer preserving users preference, and it's re-enabling Fast Startup.
User softskiller advises on Reddit to other people:
Camera and microphone
Shortly after installing the Windows 10 April 2018 Update, a bunch of users began to notice problems with apps trying to access the camera and microphone.
On Reddit, user coret3x says:
At the Microsoft forums, Ariel Acu explains:
Although a lot of users are finding out that many apps no longer have access to their camera and microphone, it's not an issue or bug. This is happening because of a change that Microsoft is introducing with the April Update that gives users more control over their privacy, which by default blocks certain apps from accessing your microphone and camera.
Speakers
In addition, many complaints have been piling up regarding the upgrade process and how it resets some speaker preferences.
In the same thread, user Rawkunn says:
And the_resident_skeptic reveals:
Keyboard and language
After installing version 1803, a number of users have been noticing additional keyboard layouts being added without user consent.
For example, on Reddit, Statharas shares:
Alongside the keyboard layout problem, in some regions, a few users are finding out that the Windows 10 April 2018 Update installs the US English language pack automatically without an option to remove it.
For example, user scj33 says on Reddit:
Redditor KrisadaFantasy also complains in the same thread saying:
NVIDIA settings
In the early days of the new version of Windows 10, some users are also complaining about missing settings, more specifically NVIDIA settings.
Blazing_Saddles on Reddit reveals:
However, if the NVIDIA settings disappear after upgrading to version 1803, you can quickly fix this issue by downloading and installing the latest driver from NVIDIA GeForce website.
Performance problems with the April 2018 Update
While most people would expect a new version to perform better than before, some users are experiencing performance problems after installing the April 2018 Update.
File Explorer
User flyovertunnel on Reddit and Maxx Delusional at the Microsoft forums says that after installing the Windows 10 April 2018 Update, File Explorer is constantly crashing.
Blue Screen of Death
Although version 1803 was originally delayed due to problems that caused a higher rate of Blue Screen of Death (BSOD), even after the company addressed the issue, some users are still experiencing BSOD problems.
On Windows Central, reader eljeffe58, shared frustrated complains about the April 2018 Update causing BSOD on a brand-new Surface Pro:
Also, on Reddit, Jakememe124 claims that since the upgrade, he has experienced eight Blue Screens of Death:
On Twitter, Mary Jo Foley, trusted Microsoft watcher, also shared her Blue Screen of Death trying to upgrade to version 1803:
Gaming
Although it appears that this issue isn't widespread, some users are also having performance issues playing games after installing the new version.
In addition, many users have been complaining about slow Alt + Tab while playing games. While Microsoft hasn't acknowledged this as a problem with the new version of Windows 10, some people say that disabling Focus assist fixes the issue.
Update problems with the April 2018 Update
Usually, during the early days of a rollout, problems with a new version of Windows 10 are expected, but what you typically don't expect are issues with follow up cumulative updates.
However, this is exactly what happened with this first cumulative update for the April 2018 Update. Shortly after Microsoft released update KB4103721, many users began to complain saying that after applying the update, their computers stopped booting.
From user StephenPhilipsZY at the Microsoft forums:
If you're experiencing problems with this update, you can follow this guide to remove it.
Wrapping things up
The April 2018 Update is the fifth major release of Windows 10 that delivers several new features, improvements, and security enhancements. However, looking at the large number of complaints from users and the problems that Microsoft has already confirmed, it's questionable whether the update needed a little more testing before pushing it to users.
Although we're calling out many issues with this new release, remember that most of them are only affecting a small number of devices, and some of the problems are happening as a result of a particular software or hardware configuration.
If your device hasn't received version 1803, the recommended method to get it is to wait until it's offered automatically through Windows Update. You can also use the Media Creation Tool or Update Assistant to upgrade, but you have to be very careful to make sure that your computer is fully compatible.
On Windows 10, you can always block the new version and wait until a few cumulative updates roll out to address some of the problems.
If you can't wait, before proceeding with the installation, make sure to do everything possible to reduce the chances of problems. Some of the precautions you can take include creating a full backup, disconnecting unnecessary peripherals, and removing apps that may cause errors.
Did you come across any issues during or after installing the April 2018 Update? Let us know in the comments.
More Windows 10 resources
For more helpful articles, coverage, and answers to common questions about Windows 10, visit the following resources:
Windows 10 help, tips, and tricks
Get the Windows Central Newsletter
All the latest news, reviews, and guides for Windows and Xbox diehards.
Mauro Huculak is technical writer for WindowsCentral.com. His primary focus is to write comprehensive how-tos to help users get the most out of Windows 10 and its many related technologies. He has an IT background with professional certifications from Microsoft, Cisco, and CompTIA, and he's a recognized member of the Microsoft MVP community.