Windows 10 build 14316 for PC: Everything you need to know
Forget the official changelog with only partial changes we'll show you everything that is new in build 14316 that you may not know about.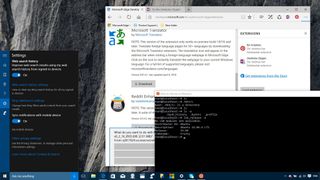 Only days after unveiling the major features Windows 10 users will receive as part of the Anniversary Update, Microsoft released a new Insider Preview for PC bringing a lot of new improvements we'll be seeing later this summer.
Windows 10 build 14316, which is available through the Fast ring, is perhaps the best preview Insiders have received in a long time. The build includes a preview of Bash on Ubuntu for Windows 10, and Cortana gets new features. Users can now try new Microsoft Edge extensions and test drive the new Skype UWP app. Microsoft introduces a new dark mode, and new features arrive in the Settings app. You can now bring Continuum for phones to your PC without Miracast or dock, and a lot more.
Here's everything you need to know.
Windows 10 build 14316
Cortana
In Windows 10 build 14316, Microsoft begins to deliver a more connected, more personalized, and more productive version of its digital assistant.
In the new version of Cortana, users will notice that Microsoft is moving some elements around and adding a few new options.
For starters, when you launch the assistant, you will now find that the Settings button is no longer listed in the Notebook. Instead, it has been relocated to the main left navigation pane.
In the settings, there is a new Language menu to select the language quickly that you want to use by default with the digital assistant.
Cortana now can sync across your devices. This means that if the feature is also enabled on your Windows 10 Mobile handset, you will get a notification when your phone is low on battery.
The Microsoft digital assistant can quickly help you to find or ring your phone. You can simply say: "Hey Cortana -- Find my phone" or "Hey Cortana -- Ring my phone", and depending on your settings, you will get a toast notification with the name of the phone, map highlighting location, and one "Got it" button to dismiss the notification and "Ring it" button to find you phone when it's just a few feet away.
Cortana is now able to track and share maps directions across devices. When you do a map search for directions on your PC, you can easily find and navigate the same course on your phone, including on your Android phone using Google Maps.
If you're having trouble setting up Cortana, you'll be happy to know that the operating system can now automatically download the speech settings to enable the assistant.
Finally, on the Notebook, users can enable or disable Reminder suggestions. This setting will allow the assistant to track things you mentioned and important dates, which it can use to bring related reminders (e.g., someone's birthday in your contact list).
Note: The new features will also work with Android devices, but you'll to use Cortana version 1.5 or higher.
Settings app
The Settings app on Windows 10 build 14316 is getting some necessary changes to make easier for users to find settings, improve battery life, and make Windows Update a little less annoying.
Homepage refinements
In the updated version, Microsoft refers Settings as "Windows Settings" and it's adding a search box front and center that users can use to find any setting. However, search doesn't work very well at this time, sometimes you'll find the settings you're looking for and sometimes you won't.
Notifications & actions
On Settings > Notifications & actions, you can set notification priority, so you never miss an important alert, and how many notifications you want to see per-app.
To do this, click on any of the apps under Notifications & actions and change the settings for "Number of notifications visible in action center" and choose from one of the priority levels, including Top, High, or Normal.
Battery
On Settings > Battery, Microsoft is renaming Battery Saver to simply Battery.
The Battery usage by app page has been updated, so you don't have to jump to a different page to manage per-app background settings.
Microsoft also added a new "Manage by Windows" option to preserve battery life when the device is in Battery Saver mode. Also, the option temporarily shuts down apps if it detects high battery drainage keeping apps in a doomed state until the next time they're re-open.
You'll now get prompt to turn on Battery Saver when the battery drops to 20%. This is a feature that was already available on Windows phones, but Microsoft is now bringing it to PC users.
Network & internet
On Settings > Network & internet, Microsoft is now adding the ability to turn your PC into a hotspot to let you share your internet connection with up to 8 devices with the Mobile hotspot feature.
Before a similar feature was available to share a cellular data connection, but you can share your internet connection from any Wi-Fi adapter.
Out-of-the-box, you can turn it on, and you're ready to go, but as needed, you can change the default network name and network password. Also, there is the Turn on remotely option that allows other devices to turn on the mobile hotspot feature on you PC. However, both devices must have Bluetooth turned on and be paired.
Personalization
On Settings > Personalization, Microsoft is making some additional improvements. Starting with Windows 10 build 14316 and later, users can go to the Colors and switch between a dark and light mode.
After switching to dark mode, some apps including Settings, Calculator, Store, Alarms & Clock will also change colors. However, some Universal Windows Platform apps, such as Microsoft Edge, News, and other, have their own color scheme settings, which means that you will have to make those apps darker manually.
Also, now users have a new option to show color only the title bars while keeping Show color on Start, taskbar, and action center separate.
Update & security
On Settings > Update & security, there are some improvements as well. In Windows 10 build 14316, you will find some new update settings to make installs a little less annoying.
On Windows Update, now there is a new link to give you easy access to the Update history section, which means that you no longer have to go through the Advanced options first.
Under Update settings, you can now set the hours you're actively using your computer, which the operating system will use as a reference to prevent downloading and installing updates automatically during that period. You can do this by clicking the Change active hours link.
To temporarily override Active hours, you can set a custom time to finish installing updates on your computer. Just click the Restart options link, turn on the feature, and set the time you want.
On Activation, Microsoft is just adding a little more information about the Windows 10 licensing that you're using. In the new build, you will now find a Registration section letting you know how the device is registered.
The For developers part is changing quite a bit. Microsoft is now adding some settings specifically for developers, including Windows Explorer Settings, Remote Desktop Settings, and PowerShell Settings.
Additionally, there is a new Enable Device Portal setting to enable developers to turn on remote diagnostics over the network.
Virtual Desktop
Another area Microsoft is improving in the latest preview of Windows 10 is Virtual Desktop. Now you can pin any window and make it available on every virtual desktop you create. Just click the Task View button in the taskbar, right-click a window, and select Show this window on all desktops.
Bash on Ubuntu on Windows
Perhaps one of the most exciting features in Windows 10 build 14316 is the addition of Bash on Ubuntu on Windows.
Yes, you can now run native Linux commands in Windows 10!
For those unfamiliar, Bash is a popular command-line tool among Linux and OSX users, and Microsoft made the decision to incorporate the tool in Windows 10 to help primarily web developers and people working on open source projects.
Build 14316 includes a preview of Bash, but you'll need to install it manually to get it working. To do this you need to enable Developers Mode on Setting and install the appropriate modules:
Open the Start and click Settings to open the app.
Click Update & security.
Click For developers.
Turn on Developer Mode.
Use the Windows key + R keyboard shortcut to open the Run command, type appwiz.cpl, and press Enter.
Click Turn Windows Features on or off from the left pane.
Check the Windows Subsystem for Linux (Beta) option.
Click OK.
Restart your computer.
Open Command Prompt, type Bash, and press Enter.
Note: If this is the first time you're starting Bash, you'll prompt to install Ubuntu on Windows. Press Y to accept and continue.
Apps
Windows 10 build 14316 also includes a few new and updated apps.
Connect app
Connect is a new app that works in the same way as the remote desktop app, and it allow you to project your Windows 10 Mobile Continuum experience to your PC. The biggest advantage is that you don't need a dock, Miracast, extra monitor, or even a keyboard and mouse.
Everything works very similar to how remote desktop works on Windows. To connect your phone, you need a Continuum compatible phone, such as Lumia 950 and Lumia 950 XL, a local wireless network, and Windows 10 build 14316 installed on your PC.
Then follow these steps:
Open the Connect app listed on the Start menu.
Unlock your Windows 10 Mobile phone.
Swipe down to access Action Center.
Tap Connect.
Tap your computer name under Connect on your phone and see the magic happen.
Also, the Connect app lets you project on your PC other Miracast-enabled devices in the same way it works for phones.
Note: The app is under development, you will experience a slow response and flickery streaming.
Skype UWP Preview app
Microsoft is also delivering the first preview of the upcoming Skype Universal Windows Platform Preview app.
The app includes text, video, and voice messaging on a single app virtually identical to the desktop version of Skype.
In its current form the app works, you're getting all the essential features, but don't expect too much. The Skype app still under heavy development, as such there are a lot of missing features, the UI still feels broken, and there are a lot of bugs. However, Microsoft is promising more changes coming soon.
Messaging app
While it's currently not working, the Messaging app now including a settings section for "Messaging everywhere". This is a new feature that Microsoft will turn on soon. It will allow you to send and receive text messages from your phone into your Windows 10 PC.
Feedback Hub app
Starting on build 14316, the new version of the Feedback Hub allows Insiders to comment on feedback. Also, you will see replies from Microsoft engineers on feedback, which the company calls "sticky comments."
Test Takers
In this build, there is also a Test Takers app, but it crashes every time you try to launch it.
Microsoft Edge
In Windows 10 build 14316, the software maker is bumping the version of Microsoft Edge to 37.14316, adding a couple of new extensions, a few new features, and several improvements in the web platform.
On extensions, Microsoft Edge is getting the Pinterest "Pin It Button" and OneNote Clipper to allow you to save anything you see on the web into OneNote. Reddit Enhancement Suite, Mouse Gestures, and the Microsoft Translator extension received small updates.
On features, the web browser is getting the ability to drag and drop folders when uploading content to OneDrive, Dropbox, and Google Drive.
You can now display your favorites in "tree" view to make it easier for you to organize and quickly get to the link you want.
This version of Edge adds the ability to import bookmarks from Firefox, in addition to Chrome and Internet Explorer.
Edge will give you reminders on in-progress downloads when you're about to close the browser.
You can now set the default save location by going to Settings > Advanced Settings and change the option under Downloads.
Another tweak you'll notice is that the "Open with" options are now listed on a dropdown menu.
Microsoft is also introducing a new preview feature that will automatically pause Adobe Flash "peripheral content" like advertisements and animations that are not part of the content to help reduce battery consumption and improve the user experience.
Finally, there are several improvements on the F12 Developer Tools, JavaScript, and some Web Platform features. For more specific details visit the Microsoft Edge changelog page (opens in new tab).
Upgrade UI improvements
In Windows 10 build 14316, Microsoft is updating the upgrade screen. Now instead of a black screen with loading circle, you'll get a screen identical to the one you see when installing regular updates.
Emoji
Microsoft even had some spare time to update the entire set of emoji on Windows 10 to align with the modern design language we see today throughout the operating system.
Wrapping thing up
Considering that the Windows 10 Anniversary Update isn't due until the summer and with much work yet to be done, build 14316 is by far, the best preview Insiders have received in a long time. There are a lot of improvements, visual changes, and a lot of new features.
Remember that this is just the beginning, as new builds continue to roll out, we're expecting to see more changes in the Start menu, Action Center and Toast Notifications, and in upcoming previews, we should see the arrival of new pen support changes, which the company now calls "Windows Ink."
Which feature do you like the most in this build of Windows 10? Let us know in the comments below.
Windows 10 resources
For more tips, coverage, and answers on Windows 10, you can visit the following resources:
Windows 10 help, tips, and tricks