Windows 10 Mobile Anniversary Update rolls out on AT&T and other carrier phones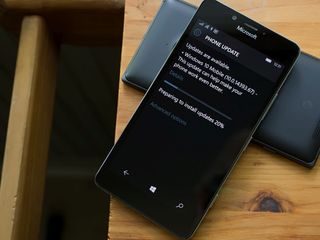 We have confirmed that the Windows 10 Mobile Anniversary Update is now rolling out on carrier-based devices from AT&T and other networks.
The update is available for the AT&T Lumia 950. However, there is no new firmware with the double-tap to wake feature just yet. We have not yet verified for other AT&T Lumia phones or other carriers. Nonetheless, our internal guidance that we reported on a few weeks ago did say that carrier updates were to follow one week after general availability, and that is what looks to be happening.
This is the same update (via Neowin) that began to roll out last week to unlocked Windows 10 Mobile devices, with the version number 14393.67. As with all over-the-air updates, both with locked and unlocked phones, it may take a few days for the new version to show up on your specific phone. You can check to see if the update is available by going to the Settings selection on your phone, then tap on the Update & security option, then on the Phone update selection and then finally tap on Check for updates.
Hands on with the Windows 10 Mobile Anniversary Update
Windows Central Newsletter
Get the best of Windows Central in in your inbox, every day!
I just $hit my pants with excitement hoping I finally get DTTW.
..
Edit: I'm sad. Nothing yet. I'll go clean up now.

That's what I'm talking about! +950.

Lumia Icon on the awful carrier named verizon is updating as we speak.

I am so glad I bought the unlocked phones when they had the two for one special. I was sick of cleaning up my pants too.

I didn't have that option when my phone broke. MS stores were out of stock and only one AT&T store out of five near me had a 950. I would have had to wait a couple weeks - I couldn't.

That's awesome news! Glad carriers didn't hold back the update in any way.

Nothing yet on my 950 (AT&T)... Looking forward to having DTTW!

Have been trying to install on my 950 (AT&T), it downloads and restarts but then half way through, it reboots and i get a message with "Unable to install Error Code: 0x80070570).....Anyone esle having this issue??

Do it later and do a soft reset.I had the same issue but eventually it upgraded

Does this include the new firmware that was released weeks ago?

Don't know yet. I'm working on it.

Of course. They need more time to test what others are already using on unlocked 950's.

I do scratch my head over this.. If someone brings a unlocked 950 / 950xl to att is it flashed to the att firmware version? Does att test the unlocked phone / firmware in house before activation to see if it affects their network? Crazy stuff here (im on verizon)with providers.. I would be amused to hear att's answers to those questions lol.

If you bring an unlocked phone to AT&T, they just issue you the necessary SIM card. They're not about to make changes to the phone and incur liability for a device they had nothing to do with.

Right on so the new firmware is obviously not affecting their network in a bad way as unlocked 950's are allowed and already have it. Why delay it to att locked 950's?

Because US carriers HATE anything to do with Windows! #MORONS

Nope, unlocked phones work exactly how GSM devices should: You simply insert your SIM card and go on your merry way, no hassle. The only caveat is that getting proper LTE support might be a little difficult for devices like the 950 XL, but Windows Central wrote an article on how to solve that problem. Otherwise, my Lumia 950 XL Dual SIM Unlocked (Official name for it) works just fine on AT&T. I get LTE, texts work fine, I still get account alerts, VVM ever since Microsoft enabled it for dual-sim devices, everything works as it should. After enjoying how hassle-free an unlocked device is, I plan on buying unlocked phones (Whenever possible) from now on. It's awesome getting updates directly from Microsoft. :)

Welcome to how the rest of the world works. Even CDMA phones here in India are Open-Market, as they call it. Just pop your SIM in and viola, everything works. Some phones even support any SIM card here in India. 4G, GSM or EVDO CDMA.. Your choice.

Is the firmware update associated with the panorama camera feature in some way? Many, including myself, have reported getting the AU but no panorama feature. Any insight here Dan?

I believe that's on the firmware update not the software update like the anniversary update

We though they would combine the two like last time.

great news for all windows 10 mobile phone users

Hey benjimen. How is Stagefright going? I lost count. is it version 4 or 5 now? Enlighten us.

and all one of you.............are you an apple licker/polisher....or your just trollin cause your so full of .......

I don't know.i just checked update and nothing there yet. I'm on fast insider and may have to get out of the program and then check update

I considered this move too. I'll wait to see though.

If you are on insider fast, you probably have 14905 which means that 14393 would be a backward step. Firmware, when available, will download regardless of what ring you are on.

Firmware is all we want. We are on the fast ring.

Release Preview for me. I just want my Double Tap to Wake back! That's all I miss from my L830!!

One ring to rule them all!

Um...you already have a version that's higher than this one if you're on the fast ring.

lol I"m quite positive there will always be that guy who doesn't understand how Rings work.

LOL. No. You misunderstand. LOL. We want the firmware, not the software. LOL.

And they are the ones we are hoping to be the foundation of the OS and spread the good word. "This thing doesn't work, and I shouldn't have to learn things."

Damn it my AT&T Lumia 950 is already on build 14393.82. I just want the DTTW firmware! Can anyone confirm if the firmware will show up on WDRT anytime soon? Did it show up last time (March) firmware rolled out? I'm ready to roll back on WDRT if the firmware is available.

You can confirm by plugging phone in and checking.

DTTW was available for me today on WDRT. So just did a fresh install L950xl Posted via the Windows Central App for Android

If you have a 950XL, it's not an AT&T branded phone, and therefore the firmware has been available for a while now.

I don't care about DTTW, I'm hoping it fixes my phone not wanting to stay connected to wifi.

I have an att branded 950 and I received this update on last week, after I received my device replacement (Asurion). Did anyone receive this update sooner?

Just checked on L640 go phone and already downloading.

When it's done, could you leave an opinion? :)

Meanwhile with the Lumia 640 on T-Mobile...

Exactly. Haven't seen anything yet.

I got the update actually on my T-Mobile 640, that was once in Insider (just to get W10M) but hasn't been since leaving and changing to Production Ring.

Same with my TMo 640 previously on insider slow, now on production. Just waiting to get on my home wifi to download

Why some carriers are late for ota updates??

Arg... AT&T needs to get the firware rolling out for the 950.

I received the update notification on my T-Mobile Alcatel Fierce XL. 385Mb download.

Downloading now, my friends! Lumia 950 :)

Was just about to ask what about those on 10586.545? Checked my ATT 1520 and there's 14393.67 waiting for me..

Anyone elses camera stop working after getting this update. I'm using an unlocked 950XL?

No luck hard reset didn't work either. Think ill have to use the recovery tool. Hopefully that helps.

When you say stop working,explain a little more

I received notification that it's available for my Verizon Icon!

Lumia Icon is downloading now.

Updating now on my Verizon Icon.

Downloading 14393.67 on my Verizon Lumia 735!

ATT Chicagoland (if that matters) getting update on L640 now.

I am downloading the anniversary update now. ATT, Louisiana.

Okay, since people are adamantly tracking these things. AT&T Denver Colorado with a Lumia 950 and update showed up sometime between 9:05AM and 12:30PM. Also, firmware is indeed not showing available. Cheers folk.

Have been trying to install on my 950 (AT&T) / non-insider, it downloads and restarts but then half way through, it reboots and i get a message with "Unable to install Error Code: 0x80070570).....Anyone esle having this issue??

It's installing on my Cricket Wireless 650.

I have a branded phone but not from USA, and I already got the firmware update. AT&T is mean it seems ...

Just installed on 950 at&t

It sucks, T-Mobile never released this update for his phone. Or for that no updates for window 10.

Insider is your only option. It's pretty good on Windows 10 Mobile now. Just join it to get the update, install said update and then change to production.

I have a 950 on ATT. Should I pay the 30 bucks online to have the phone unlocked? Is it worth it? I would like to get the firmware sooner.

I pretty sure unlocking the phone only lets you use it on another carrier's network, but it's still an AT&T branded phone. If that's the case, then it will still be talking to AT&T servers for upgrades. Would be nice for someone to take one for the team and find out though........

Can somebody explain why we had to wait for carrier approval for this OS update. I can understand having to get approval for firmware updates but the OS updates were one of the talking points about windows 10. Once we were on 10 MS would be able to push out OS updates to us without having to wait for carriers. Now most of us are on 10 and here we are once again waiting for carrier approval for OS updates.

Wow, just upgraded to the Anniversary Update and it's a total disaster. My start screen is missing a bunch of icons, tons of apps say "Pending," and I cannot open even one app. Store and Phone are not even on my app list! Any advice on how to correct things other than a hard reset? I really don't have the time to set everything up again... :/

It happened to me when I upgraded from Windows phone 8.1 to 10. If you go to the Store app, you'll notice the apps are updating in the background. I hope it gets fixed by itself

There isn't even a store app on the phone. So infuriating...

Happened to my daughter's 640. I understand you stated other than a hard reset, only a hard reset using her latest backup resolved it. I tried other methods, but I couldn't get them to work. The phone also sat for hours until I got home from work to look at it. Her phone has been working extremely well since then.

If the apps say pending... Wait. They're re-installing.

You need to be on Release Preview Insiders to get the Panorama update! http://www.windowscentral.com/windows-10-mobiles-camera-app-adds-panorama-mode-release-preview-insiders

Downloading on my non insider AT&T 830

Finally!! Posted via the Windows Central App for Android

I'm camping in Maine using the Campgrounds WIFI which is DSL, It's taken me 3 HR's to download it. At home 10 Mins or less.

Why isn't this in the phone section of the Windows Central app?

Finally got it on my Lumia 1520.

Awesome. Any news at all on Lumia 640XL getting Win10?

Where's my skype app though ?

Got it last night on my locked 640 LTE on O2 UK. And as bonus, they've enabled Visual Voicemail!

Wednesday August 24th 4:45 it happened. Apparently someone thought it was important enough to wake me with a beep through my Quiet Hours. They're not on my preferred list.

Why have they given the catogries fr updts .....slow ring fast ring release preview and now this stupid thing wts the benifit who wants slow if were getting in fast there should be only one way to get update not this bullshit........and there is even not any more features they are adding only releasing their empty updates with only change in build number no new featurs ....only saying crabs big word - aniversary update then official update then rs1 and rs2 only a couple of changes in every big update .....fk wit MS

Has anyone checked for an update on the Lumia 640 XL?

My wife's at&t Lumia 830 got the update same time as my 950.

The Lumia 640 LTE works much better and is a lot smoother with the anniversary update.

hi, my L640 (ATT) got 14393 update last night and since than my phone doesnt work. i cant open any apps not even phone app,camera , cortana , outlook. 3rd apps says "pending" and first party app lost its icon. when i tried to look my account info in seeting and it turns out my MS account is gone...i tried adding the account but its not letting me. hard reset is the last option but i want to back up it but w/o MS account backup doesnt work.. any help...

I just updated my AT&T Lumia 1520 I'm having a brightness issue. I have it in low but sometimes it goes brighter like mid-high. Any idea?

I m using 950xl unlocked... Still waiting for anniversary update...

And, once again, Bluetooth is messed up with this update ☹

I'm still waiting for the update.

Is anyone else having issues with their Exchange account? I can no longer sync my work email/calendar since the anniversary update, getting the error message "this device does not meet the security requirements set by your administrator" I've tried soft reset, hard reset, deleting the account and adding it back,...so much for efficient, mobile computing!
Windows Central Newsletter
Thank you for signing up to Windows Central. You will receive a verification email shortly.
There was a problem. Please refresh the page and try again.