Windows 10 October 2020 Update biggest problems and complaints
The last major refresh of the year for Windows 10 is out, but it's causing some issues for some users.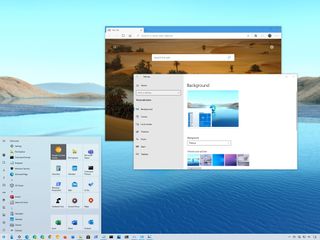 (Image credit: Windows Central)
On October 20, Microsoft began the gradual rollout of the Windows 10 October 2020 Update (version 20H2). This represents the tenth feature update for desktops and laptops, which it's being offered to compatible devices as a minor update with subtle improvements to complement the work available with the May 2020 Update.
Although the rollout is off to a good start, since the company has been more aggressively limiting availability through Windows Update, not everyone is having a smooth experience installing and using the new version, as a small number of users have been reporting isolated incidents and called out some design inconsistencies.
However, it's not all bad news, considering that many users have reacted very positively about the October 2020 Update alongside the complaints. (If you want all the details, you can read our full Windows 10 October 2020 Update review.)
In this Windows 10 guide, we'll highlight the top complaints and problems spotted by users with the October 2020 Update. In addition, we'll also look at some of the positive reactions to the new version.
Windows 10 October 2020 Update problems and complaints
Here's a compilation of complaints and problems that some users have been facing with this version of Windows 10:
Installation problems with October 2020 Update
While the new version is only available for a select number of devices that Microsoft considers to be fully compatible, some users have been reporting problems during and after the installation.
Random problems after upgrade
Shortly after the October 2020 Update became available to the public, several users noticed some isolated problems after the installation.
For instance, at the Microsoft Community forums, user MattGreenberg1 (opens in new tab) reported.
Also, at the Microsoft Community forums (opens in new tab), some users reported problems signing in to their accounts.
Windows Update breaks after upgrade
On Reddit, some users noticed version 20H2 temporarily breaking Windows Update. For instance, chowder908 reported:
In the same forum thread, other users shared the same experience. On a followed up post update, the person who originally posted the issue confirmed that the problem was eventually resolved automatically.
Interface problems after upgrade
In some instances, the October 2020 Update did not apply some changes and caused account problems.
For example, on Reddit, user Rinketi complained, saying:
On another thread, harburgerz noticed the same problem with the Start menu after the upgrade.
Also, some users complained about how Windows 10 still includes a bug that results in Start menu app tiles continuing showing an update progress bar after an app had already finished updating.
Although the bug is still a problem with version 20H2, Microsoft has already resolved the issue. The only problem is that it may not become available for a while.
In one particular case, after performing a clean installation, the Windows 10 version 20H2 lost visibility of the devices in the local network as Roseysdaddy noted on Reddit:
Inconsistency design with October 2020 Update
Design inconsistency isn't new to Windows 10, but with the October 2020 Update, many users have noticed additional user interface inconsistencies.
For example, on Reddit, harryagamez noted that someone in the Windows 10 team did not update the thumbnail in the "Colors" settings that show a preview of the desktop with the new changes:
The thumbnail that needs updating not only appears in the "Colors" page, but also in the "Background" and "Themes" pages.
Starting with Windows 10 version 20H2, the Start menu is expected to display tiles with a new semi-transparent background that matches the system color mode, but as many users pointed out, it's not the case for all apps.
For example, khachdallak on Reddit posted:
Sure, the forum thread was posted a few days before the official release, but the final version of the feature update still ships with this design problem. (You can try it by pinning the Google Chrome app to the Start menu.)
In another thread, user Catterson reported another design inconsistency:
While Microsoft only promised a theme-aware Start menu, it would have been logical to remove the solid background color on every app icon no matter where they're displayed.
Microsoft Edge integration problems with October 2020 Update
Also, beginning with the Windows 10 October 2020 Update, the Chromium version of Microsoft Edge becomes the new default browser for users. Although the new browser is more capable than the legacy version, it's not a change that everyone wants since some users reported complaints of no longer being able to use the old version as their PDF reader.
On Reddit, RoiteTrom36 complained, saying:
On a different thread, you can find a similar complaint from spiwar:
Upgrade confusion with October 2020 Update
As per usual, the release of this new feature update also caused some confusion since many users could not get around the reason why the October 2020 Update was not available to them.
For instance, at the Microsoft Community forums, user DonT5 (opens in new tab) reported that the update wasn't being offered on his devices:
On a Reddit thread, other users also noted the same concern:
Although it's now a known fact that Microsoft implements temporary safeguard holds to block feature updates on devices that may have a compatibility issue, it's not something that most regular users would know. During the May 2020 Update rollout, the Windows Update settings page displayed a notification letting users know that a new update was available but not yet compatible with their devices. However, it's not the case with the October 2020 Update – at least not at the time of this writing.
Positive reactions with October 2020 Update
Along with the problems and complaints, many users took to the internet to share their positive experience with the Windows 10 October 2020 Update. And perhaps the most notable change with version 20H2 is the new Start menu design, which drops the solid background color for icons in the "All apps" menu and brings a new semi-transparent tile design that matches the color of the system mode.
On a highly liked and commented post on Reddit, user parvinderandroid posted a before and after screenshot of the Start menu, and many users reacted positively.
For example, "FalseAgent" said:
User "parvinderandroid" posted:
And user "Freddyminu" noted:
On Reddit, matthewlien32 reported:
Finally, in another forum thread, user dtallee reported:
Wrapping things up
As you can see, the update doesn't seem to have any significant issues (thus far). In part, it's probably because most devices receiving the update are running version 2004. Since both releases share the same common file system, the update only requires an enablement package to activate the new features that Microsoft has already delivered in a dormant state into version 2004 during the development cycle. As a result, the install process is quick and painless without reinstallation, which is usually the reason of many complaints.
Also, Microsoft has been more limiting the availability of the October 2020 Update more aggressively than before to minimize the chances of devices running into issues during and after the update. According to the health dashboard page (opens in new tab), the company will be throttling the availability for the next several weeks to "ensure a reliable download experience," which means that the feature update won't be offered immediately to every device.
While there are a number of ways to upgrade to the new version of Windows 10, if the update is not being offered to you automatically, it's not recommended to install it manually until you know for sure that it's safe to upgrade.
However, if you can't wait, you should at least consider creating a temporary full backup before proceeding with the install. In addition, you should also uninstall apps that may cause conflicts, and disconnect unnecessary peripherals to prevent problems during the installation.
If you come across any issues with version 20H2, remember to share them in the comments, or use the Windows Central forums to get help. We also have a comprehensive guide to troubleshoot and fix virtually any problem as you make the leap to a new version of Windows 10.
Windows Central Newsletter
Get the best of Windows Central in in your inbox, every day!
Mauro Huculak is technical writer for WindowsCentral.com. His primary focus is to write comprehensive how-tos to help users get the most out of Windows 10 and its many related technologies. He has an IT background with professional certifications from Microsoft, Cisco, and CompTIA, and he's a recognized member of the Microsoft MVP community.
This article does not mention these issues: 1. The Explorer in the taskbar sometimes shows thumbnails for Edge tabs, even if the Edge integration into Alt + Tab is turned off. Seems to be triggered by virtual desktops in particular, judging by some user reports (and my own experience).
2. The most annoying bug, sometimes Edge windows move forward in the Alt+Tab list so that pressing Alt+Tab switches to the wrong window.

I've noticed both of these - even when alt-tab Edge tab switching is off. The whole implementation needs lots of work. Also I noticed Timeline is missing all my Office documents. That thing is even more broken than before. Overall, pretty smooth sailing but these small things need a fix.

Can anyone let me know what happened to StorageSense? After having upgraded from 1909 just now, under Settings > System > Storage > Configure or run StorageSense
...before I had a dropdown for time delay regarding deleting files from Recycle Bin and a dropdown for the Downloads folder.
After the upgrade now both says Downloads folder, but one says after being there, the other one after not being opened.
What makes it even more strange is that values of both dropdowns were just taken over from previous settings although now they are for a different functionality as their label suggest. I'm not sure if it's simply a label issue or there actually had been a change behind and it just takes settings never set to remove files now.

For me, it broke Windows Hello with the Logitech BRIO 4k (camera still works fine for everything else). I've been around with MS and Logitech already, but so far no solution. Hello still works fine via PIN and fingerprint (and with other cameras), just not Facial Recognition using the BRIO. I'm curious, does anyone else have 20H2, the BRIO webcam, and a working Windows Hello via Facial Recognition?
Windows Central Newsletter
Thank you for signing up to Windows Central. You will receive a verification email shortly.
There was a problem. Please refresh the page and try again.