Microsoft updates universal File Explorer with new features in Windows 10 version 1809
For the first time ever, Microsoft has added notable new features to its universal File Explorer in Windows 10. But why?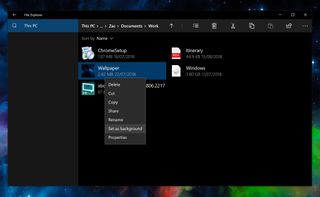 Microsoft's universal File Explorer has been updated with new features and changes for the first time in Windows 10 version 1809, adding new behaviors such as drag-and-drop, better right-click support and more. The universal File Explorer first debuted with Windows 10 Mobile back in 2015 and eventually made its way to Xbox and HoloLens too. Microsoft even started bundling it with Windows 10 desktop starting with version 1703, albeit in a hidden state.
The universal File Explorer has never been (and still isn't) intended for desktop use as it was only ever built for versions of Windows 10 where the legacy File Explorer didn't exist, on devices where the user wasn't expected to do much file management anyway. Starting with version 1809, however, it appears Microsoft has started work on the universal File Explorer again, as we've noted the following changes to the app in the latest Redstone 5 builds:
Drag and drop support.
Better right-click menu support.
Improved copy/paste system similar to legacy File Explorer.
New cut option.
Can set images as wallpaper directly from the app.
UI buttons at the top instead of bottom of the app.
These changes are very interesting, if only because Microsoft has never updated this app before. The app is still hidden on the desktop in 1809, so why has Microsoft decided to update it now? Well, according to my sources, Microsoft is planning to use this universal File Explorer on Windows Core OS (WCOS) devices including Surface Hub 2, HoloLens 2, Andromeda, and even PCs with Polaris. Work on this universal File Explorer has only really just started, so expect to see even more improvements over the next several Windows 10 feature updates.
Early groundwork
What we see in version 1809 is the early groundwork for the universal File Explorer that will be used on WCOS. Today, the app is still very basic, but it should be fine on devices like the Surface Hub 2 and HoloLens 2, both of which are expected to launch with WCOS within the next year. WCOS for traditional PC form-factors is still years out, so Microsoft has more time to build out the universal app with a better UI and more features before then.
My sources say that there are no current plans to outright replace the classic File Explorer on legacy Windows 10, which isn't all that surprising as the classic File Explorer is a behemoth that can't simply be ripped out of legacy Windows. The universal File Explorer will be used on WCOS devices at first (unless you manually enable it on legacy Windows 10), which makes sense as that's the new, modern version of Windows 10 that guts legacy components and features in favor of UWP-first experiences.
UWP File Explorer on RS4 (left) vs RS5 (right). They've moved some buttons to the top of the app. I heard they've done a bit more in internal builds... but at least 'something' is happening. Slow progress, but progress nonetheless. pic.twitter.com/0A6wjHSy67UWP File Explorer on RS4 (left) vs RS5 (right). They've moved some buttons to the top of the app. I heard they've done a bit more in internal builds... but at least 'something' is happening. Slow progress, but progress nonetheless. pic.twitter.com/0A6wjHSy67— Zac Bowden (@zacbowden) 10 June 201810 June 2018
Regardless, it's evident that Microsoft really wants to push towards a truly modern Windows 10 experience, and bringing more and more of old Windows over to UWP is slowly starting to take shape. We've seen this happening with Control Panel, Paint, Snipping Tool, and more. Microsoft is only just getting started in its modernization of Windows; the next few years are going to be very interesting for Windows fans.
How to enable
If you're interested in trying out the universal File Explorer on desktop for yourself, check out our dedicated how-to guide detailing everything you need to do. It's pretty easy!
Windows Central Newsletter
Get the best of Windows Central in your inbox, every day!
Zac Bowden is a Senior Editor at Windows Central. Bringing you exclusive coverage into the world of Windows on PCs, tablets, phones, and more. Also an avid collector of rare Microsoft prototype devices! Keep in touch on Twitter: @zacbowden.
Perhaps by RS7 MS will switch to this version and get rid of the legacy file explorer

i hope not, the old file explorer is fine, well almost, it is a shame it have the awful ribbon menu, but apart from that it is fine and as been said in the article, it is deeply embedded into Windows anyway.
Maybe give people a choice.

What's wrong with the "legacy" Explorer? From my experience most of UWP apps are slower to start and less responsive that native "legacy" counterparts. Nice examples are the Start menu or the Settings app, comparing to Start menu in Windows 7 or Control Panel.

UWP apps are not slower to start. You have a broken window. About time MS are their own development dog food. UWP visual studio. UWP office. Then. Maybe they can re-enter mobile. They need to crush their internal old school win32. And you old fashioned "what's wrong with the old file explorer" need to move to OSX and go live in the past. YOU are holding back progress

Ahahahaha more like you enjoy being sold dog **** as bread. Their UWP are almost virtually all rubbish compared to their previous counter parts. You aren't promoting progress. You're promoting regress.

Until then you may check my app File Cards which has many things that File explorer will never have ;).

Looks awesome, but is there a way to try it before buying? I'm on the fence right now

Thanks. The problem is that Microsoft simply doesn't (or at least didn't) care about the Store and there were multiple times that trials did not work - one could install the app and use it forever. And I don't earn enough money to constantly check whether it is working or not... Clearly I'll check now and then if it has improved and what other developers do so I might change that or experiment with that... This is a video from one older version: https://www.youtube.com/watch?v=zKbQeYSAC3g

I can understand that. I'm down to buy it. Thanks for the video and info!

Tried the app. Love it! Two questions I had. How do you use the reminders? Is it through Cortana? I didn't see any direction in the app when I toyed around with it. Also, is there any way to add "My PC" as a location to access? That would make it top notch because I find myself using it every so often still

Long overdue improvements to this UI. As I only work with neophyte users I can assure Microsoft that it would be very helpful to be able to see a Details/List view, not sure if that was there as Zac did not show it but more important would be the ability to LEAVE the text under the buttons without the need to click the 3 dots would mean so much to neophytes. I don't understand why this is not an option throughout the entire Windows experience. Also, can you open multiple file explorer windows and drag and drop between them?

They really do need to get rid of the legacy File Explorer on desktop and all the associated legacy UI. Just look at the enormous pain it has been to add something as simple a dark mode. The core Windows UI needs to go 100% UWP. And that can't happen soon enough.

In that case, Office 2016 looks a lot like a legacy software, with small fonts like File Explorer.
The thing I disagree about the new File Explorer and other Universal apps is they try to be touch friendly, but for people which have a laptop and not a touchscreen is ridiculous to have such large fonts.
Just my 2 cents.

They already have UWP versions of Skype, Excel, PowerPoint, Word and OneNote.

The issue isn't with font size, but with element padding, and they're solving that problem with the ability for UWP apps to set the UI to compact mode, which shrinks the element padding. It's live in the built in Mail app, if you go to personalization under settings you can switch between three spacing options.

File explorer has tons of functionality and third party extensions.

I've been looking for ages to integrate sftp/scp functionality in File Explorer, do you know of something that works as fast as WinSCP?

One of my favorite extensions is HashTab. It will be disappointing if they eliminate all the various apps with such tight integration.

Good to see this is happening. It just need to happen faster, as all things at Microsoft should be, but now Windows is no longer a top priority, it probably won't. All things in Windows 10 needs to be UWP, there is no doubt about that. Microsoft is starting to get a taste of how convenient web component can be. They are using web in the UWP store, Cortana, Skype UWP and a lot more. This behavior is complete understandable since is allow them to iterate new features and functionalities faster, but it's not ideal. In box app work better when native, and as a giant company, they should do native instead of cross platform tech.

why do you say windows is no longer a top priority?

Web Technologies have been part of Windows UWP since Windows 8. HECK their Windows API can run on a PWA if it's on Windows. The reason Skype was made on Electron is because that way it could be installed on Mac and Windows 7.

Microsoft actually cares about UWP? That's new.

If they plan to have a UWP File Explorer on other flavors of Windows, at least make it robust and not a piece of crap. One of the reasons I choose Windows 10 as my tablet OS is the ability to do things in apps like FX. If it is as crappy as many Android or that horrible iOS one, then I might as well just start using those OSs. Stop trying to be like them and be like Windows, only more touch and mobile.

I doubt it, take Groove Music as an example, it still doesn't match Windows Media Player with all the sound enhancement options to speed up/slow down music, add sound enhancements, integration with last.fm, etc.
I think this Universal File Explorer won't be massively popular until they start a pilot and replace the legacy with this one and users use it as a daily driver and provide feedback to Microsoft.

I want this for desktop! Old File Explorer, while very feature rich, is so ugly and sticks out like a sore thumb compared to the rest of Windows 10.

Totally agreed. Not to mention the old file explorer is UBER slow... On my work PC which runs Windows 10, it takes an awfully long time just to open up certain folders for some reason. No idea why either.

Are those folders on the network with thousands of files? Those are the only ones on my workstation that open slowly.

Finally, I was wondering when they would pick this up again. Also the file explorer can launch websites via whatever browser is set as default, so incase you're feeling lazy... but personally I wouldn't recommend doing that. In XP it would always launch Internet explorer (unless you fiddled around in the registry) - if I recall correctly.

Sorry but WCOS "within the next year" is almost certainly a pipe dream. I'm convinced that MS and your sources are just stringing us along. It's the old "check's in the mail" routine. The old "why get married, when we're happily dating" routine. I'm sure they "have" a WCOS team, but I'm also convinced it has absolutely ZERO PRIORITY in Microsoft management team's eyes. There's probably like 3 fat, 60+ year old, near-retirees, working on WCOS. Microsoft execs are 99.9% focused on raking in Azure and Office 365 subscription $$$ while moron CEOs are still salivating over articles in Business Insider about how important the "cloud" is to their careers, all the whilst cashing in on their personal stock stockpile. I appreciate your optimism, but seriously, the "next few year" are full of more empty promises.

Sorry, I think you have misread. WCOS for Surface Hub 2 and HoloLens 2 will be out within the year. WCOS for PCs is still a long way away. Surface Hub 2 is shipping in spring 2019, and it runs WCOS. So, yes, WCOS will be shipping within the next year.

Zac, I'm pretty sure that CoreOS for PC will take a really long time. It looks like MS already has a stripped down core and is trying to take bits out of Windows that are crucial to their new devices and maybe developing at least new stuff, required for their thermostats or what they have, to be Core OS compatible and decomposed. However, I don't really see any need to have the PC sku CoreOS structured. IS there a reason why the PC sku should be stripped down? Whatever that is not capable to run Windows as is today is not even considered a PC. I don't think that PC will be provided with CoreOS any time soon. It is no, can't and should not be a prio for Microsoft. (in my opinion at least. maybe I am missing out on a point, but don't see it other than "it would be nice to get legacy stuff lost")

Do you have issues with someone being 60+ years?

I think it is even worse than you think. I believe that they have a really high priority inside Microsoft, and still the slow coming about. I think they had underestimated the required effort big time, and as always their internal process flows are slowing things down to an ineffective pace.

Very happy to hear about this. I hate the legacy File Explorer that Windows 10 currently has.

is this website dead nowadays? inb4 Rubino kicks in with some irrelevant hit stats

Site is doing better than ever, why?

Like I said in another story, They just need to purchase files and folders, work on the stability for a few months and release as the new file explorer. It's an awesome app. Just needs a few polishing items.

Chromebooks have shown that you can provide most users a basic initial experience that then can be bolstered by extensions or add-ons. I would venture to guess Universal File Explorer Extensions could be provided through to the store just as Edge Extensions. Additionally, let us not forget that there are already universal apps that have a file picker component like OneDrive and DropBox already in the store. I also don't doubt that MS could reserve Win32 File Explorer for Pro/Enterprise SKUs and focus on Universal File Explorer for future Home and/or WCOS builds.

They should add quick access and other often used folder shortcuts to the left bar (which is now unused anyway). Search bar to one of the top bar (also unused space now), and tabs would also be nice. Perhaps they should just go for an extension/plugin system in e.g. the store (like Edge has) so people can get advanced features.