Windows Phone Summary of the Week: December 05-11, 2011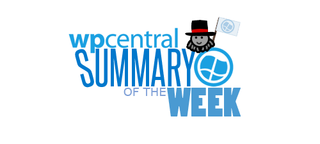 This week has been exceedingly busy, and to start our summary off we have episode 132 of the WPCentral podcast! LEt us not waste any more time on your Sunday/Monday read, catch the full summary after the short break.
We're kicking off this week's highlights with PhoneStalker, an app that allows you to creepily keep track of those who you care about. Windows Phone UK have "Into" running which allows owners to earn rewards for spreading the word about the platform, and a current promotion is a free Nokia Lumia 800. The Ellen Degeneres Show gave away HTC Radars, part of the 12 day giveaway in the run-up to Christmas. WPCentral reader, Miguel Rochefort, has created a simple (yet useful) website that allows Windows Phone owners to pin any website as a Live Tile using a copy of the site logo (favicon). Neat.
RegHardware is running a poll for their 2011 awards. Windows Phone and the Lumia 800 are up for "Mobile of the Year" and "Smartphone OS of the Year". Be sure to head on over and vote for the platform. Arnaud Michelet, the developer behind the France traffic (opens in new tab) app, has released some interesting statistics which show a huge surge in traffic from Lumia 800 handsets, hopefully telling a positive story about sales in France. Microsoft has updated their EULA and ToS, so be sure to check out the new agreements, which show alterations for data collection and Xbox Live services.
Verizon has given Microsoft an ultimatum of sorts with demanding LTE handsets to fully support the platform. The software giant has altered things on the Live service as Twitter images are now being rendered in "What's new?" in the People (and Pictures) hub. Nokia and T-Mobile are planning an event on December 14th (we'll be there), which is set to introduce the Lumia 710 to the U.S. and hopefully some other announcements. "Beaming" is rumored to be heading for Windows Phone, Xbox and Windows 8 that will allow transfers of music, photos, video and more. This will take up what "Squirting" offered Zune 30 owners.
Gore Verbinski, best known for directing The Pirates of the Caribbean series of films, has signed a deal with Microsoft for his studio (Blind Wink Productions) for the company to produce exclusive content for Xbox and Windows Phone. Expect to see some entertaining titles to arrive in the future, with the first being a Kinect Arcade game. Windows Phone is hitting Paris with a 10 foot display being erected in the capital to improve marketing in the area, much like the huge display in New York.
The platform has rightfully earned its place in PC World's "10 Tech Wins of 2011". Lync Mobile is here and can be downloaded from the Marketplace! Tele2, a Swedish carrier, is currently offering the HTC Radar, an Xbox 360 console (with Forza) for 244 SEK, on a 24-month contract. Not bad, eh? Windows Phone has been performing terribly in Australia, mostly down to poor marketing and carrier pushing, but things are getting worse it seems. Apparently, Telstra are attempting to make it as difficult as possible to actually purchase a Windows Phone.
Good news with regards to NFC (Near Field Communication), as the OS supports it. It's up to OEMs and Microsoft to work out a good time to enable it and begin offering consumers some cool functionality. HP is going to provide webOS as open source soon, could this prove to become competition to Windows Phone? Fujitsu has teamed up with Microsoft to take over two stations in Japan with marketing and a demo booth, Shinjuku and Akihabara, reaching out to millions of travellers a day. Harry McCracken, over at CNET, has added to our positive opinions list we covered the other day by posting his views on the platform after a weeks usage.
If you thought you'd only be getting Battlewagon next week as the only Xbox Live title, you'd be gravely mistaken. DoodleGod, from JoyBits, will be coming to a phone near you on December 14th. Dance Central 2 is set to make some moves on Windows Phone soon also, who said Xbox Live on-the-go wasn't fun? Earthworm Jim returned this week as the Xbox Live Deal of the Week, but still remains fairly slimy. The long awaited Xbox Companion app is now available for Xbox owners to control playback, search content, and more right from their phone. Xbox Live Hasta la Muerte has arrived allowed players to save some souls.
Sonic 4 (Episode 1) has been Mango updated, which also fixes some sound issues players had been experiencing when earning an extra life. The much anticipated Halo Waypoint update has arrived and (as promised by Microsoft) ATLAS is now featured for all you Halo fanatics.
NextGen+, a custom ROM for the HTC HD7, has been bumped to version 1.8 and includes a number of features as well as the recent 7740 update etc. Fancy having some fun this festive season? Funny Faces allows you to embarrass friends and family with photo editing. MetroRadio, an unofficial Pandora app, is now available to download, but is no use since Pandora updated their API, which broke the app. An update is in the works.
Windows Phone has got its own version of the iOS Cydia, titled 'Bazaar'. Homebrew apps will be displayed for users to download, but this app requires a custom ROM to be installed (see linked post for more details). We recently highlighted an Ffffound app, by RogueCode, but it has since been pulled by Microsoft for displaying images with some scenes of nudity. We put forward the question as to whether or not Microsoft needs to revise their adult content policy.
Opera Mini has been ported to Windows Phone, but can only run on devices loaded with custom ROMs. A number of apps were updated this past week, including: Pictures Lab, Engadget, BoxFiles, Shazam, WhatsApp, MyCraigsAds, Urban Dictionary 7 and ArkWords.
We've covered some positive feedback provided by UK carrier and retail stores sales staff, who are pushing out the Nokia Lumia 800. We love reporting on interest for Windows Phones and in Singapore, this is no let down. Images were sent in that showed how much interest was brewing for the Lumia 800. But, should you already own the handset, an update is being rolled out by Nokia that addresses a number of issues. This is the first of two (second arrives in early 2012).
NCIX in Canada is offering the 800 unlocked for $689 CAD, comes with support for AT&T's 3G+ network too. The handset is also available at MobiCity in Australia (unlocked too). While the 800 steals all the thunder, the 710 has been laying dormant, but Nokia has now announced that they are beginning to ship the lower-end device out to selected markets. We take a look at the HTC LED notification on Windows Phones that seem to surprise some new owners. After the HTC Titan on AT&T went out of stock (shock - horror!), it's now back in business and the carrier is now shipping orders. What are you waiting for?
"The Little Amazing Show" is continuing, this time being shot in Madrid. We have part two of our Windows Phone emotions cheat sheet, providing you with more means to express your mood while texting contacts. The Nokia Mapstronaut is offering €1,000 to the winner of a places competition, while Microsoft are busy releasing an Xbox Live app for iOS. We've kicked off a new feature at WPCentral - WPDoodle. The talented Jason Harrison is now creating humorous doodles for Windows Phone. Should you have any suggestions on what he can doodle next, be sure to get in touch.
AJ Troxell has created an ingenious concept, which may help you become reunited with a lost Windows Phone. WP7 Lock Screen is a package containing a .PSD for customising a wallpaper, adding in contact information so whoever may come across your lost handset can get in touch. We take a look at the Gorilla Glass featured on the Lumia 800 being tested against some coin dropping, scratching and more. While Nokia India hasn't hired Deadmau5 and hosted a 4D presentation, they have taken over 5 malls with flash mobs.
Not much news for developers apart from a new book being published that will allow you to create a Windows Phone game in just 24 hours. We've also come across an app bar icon pack that's constantly being updated. A good resource for getting the bar crisp and sharp looking.
Highlights
Creepily keep track of those you love (and who don't love you back) with PhoneStalker
Win a Nokia Lumia 800 with "into" by Windows Phone
12 Days of Giveaways includes the HTC Radar
Keep organized with Pin-to-start for mobile websites
RegHardware Awards 2011 - vote for the platform and Nokia Lumia 800
France seeing a massive increase in traffic for Nokia Lumia 800
Microsoft updates EULA for Windows Phone, focuses on data collection
Microsoft updates Terms of Service [Part Two]
Verizon draws a line in the sand with Microsoft?
Twitter images now rendering in People and Picture hubs
Nokia and T-Mobile bringing 'something exciting' to NYC on Dec. 14
"Beaming" coming to Windows Phone, Xbox 360 and Windows 8? [Rumor]
Gore Verbinski's studio to produce exclusive content for Microsoft
10 meter Windows Phone erected in Paris
PC World puts Windows Phone in '10 Tech Wins of 2011'
Lync Mobile now available on the Marketplace
Tele2 offering HTC Radar with Xbox 360s + Forza for 244 SEK
Windows Phone still struggling Down Under
NFC already supported in Windows Phone 7.5
HP's webOS goes Open Source; Future competition for WP7?
Xbox LIVE services interrupted, Companion app not working
Microsoft takes over Shinjuku and Akihabara stations in Japan
CNet's McCracken: "Microsoft's mobile software is terrific"
Gaming
Thanks to divine intervention, two games coming to Xbox Live next week
Dance Central 2 coming to Windows Phone
Earthworm Jim returns as the Xbox Live Deal of the Week, still kinda slimy
Xbox Companion Windows Phone app now available
Xbox Live - Hasta la Muerte ya está aquí. Err, it's here!
Sonic 4 Mango update turns the music back on
Halo Waypoint with ATLAS is now live in the Marketplace
Software
Xbox Companion app for Windows Phone --> -->
NextGen+ custom ROM for HD7 brings performance and new features
Homebrew custom Start screen may make its way to your Windows Phone
Supreme Shortcuts is the end all be all of shortcut apps [Homebrew]
Funny Faces allows you to embarrass your family for the holidays
Unofficial Pandora app clears the Marketplace! MetroRadio is now live.
Pandora already blocking MetroRadio?
Windows Phone gets its own Cydia. Introducing Marketplace alternative 'Bazaar'.
Ffffound finds trouble in the Marketplace. Adult content rears its head again.
Opera Mini ported to Windows Phone but limitations abound
ArkWords: dictionary, thesaurus and translator for Windows Phone 7 --> -->
Pictures Lab updated to version 4.0 bringing festive effects and more language support
Official Engadget app goes to version 2.0 with Mango
BoxFiles for Dropbox gets pinnable folders
Shazam Mango updated to version 2.2
WhatsApp gets updated adds voice notes
MyCraigsAds updated to v2.5 with Mango support
Urban Dictionary 7 & ArkWords get Mango updates
Hardware
Nokia Lumia 800 feedback from carrier and retailer sales staff
Folks line up for Nokia Lumia launch in Singapore
Update rolling out for Nokia Lumia 800
Unlocked Nokia Lumia 800 available in Canada, has AT&T 3G+ bands
Unlocked Lumia 800 now available at Australia's MobiCity
Nokia Lumia 800 hits the Top 20 in Business Insider
Nokia Lumia 710 begins global roll out
HTC Windows Phone LED indicator
HTC Titan and Radar get their 'Camera Modes' updated
AT&T HTC Titan back in stock...go go go!
International HTC Titan getting new software update
Fujitsu IS12T receives 7740 update too
Fun
The Little Amazing Show ad-campaign: Episode 3
Windows Phone emoticons cheat sheet: Part II
Win €1000 from the Nokia Mapstronaut
Xbox Live app released for iOS
WPDoodle - Bow before the almighty Titan! Yes, even you 'Droid and Lloyd
Help return your lost Windows Phone with WP7 Lock Screen
Windows Phone ad focuses on the Samsung Omnia W
Nokia Lumia 800 Gorilla Glass tortured --> -->
Nokia marketing Lumia in India with a flash mob
Developers
Learn how to develop Windows Phone 7 games in just 24 hours
Windows Phone app bar icons [Developers]
Get the Windows Central Newsletter
All the latest news, reviews, and guides for Windows and Xbox diehards.
Rich Edmonds was formerly a Senior Editor of PC hardware at Windows Central, covering everything related to PC components and NAS. He's been involved in technology for more than a decade and knows a thing or two about the magic inside a PC chassis. You can follow him on Twitter at @RichEdmonds.