Windows Phone Summary of the Week: May 21 - 27, 2012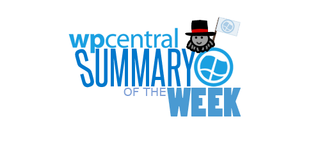 It's a sunny Sunday. Well, it is here at the UK HQ of Windows Phone Central. So in line with the sunshine, let's crack into another weekly summary of all the Windows Phone headlines that we have published in the week.
But before we go into the recap itself, we've got episode 143 of the Windows Phone Central Podcast for you to check out. As well as the podcast, our Jay Bennett has pushed through version 2.3 of the Windows Phone Central app, which is now available on the Marketplace.
We've been joined by George Banfill from Linknode, the team behind AlbumFlow and MegaTile, for this week's developer interview where he speaks about the development process on Windows Phone. Are you prepared for the upcoming hurricane season in the states? If not, check out some apps for your smartphone. Right, let's get into the summary. Head on past the break for the full run through.
Our Rafael has written an in-depth editorial on the limitations of Skype on Windows Phone, which prevents such features such as running in the background to take calls and the like. T-Mobile CEO, Philipp Humm, has commented in an interview with the Seattle Times that he's 'quite pleased' with how Windows Phone is performing. A skydiving and Windows Phone enthusiast decided to take a break from university work and took his Lumia 800 up Mt. Everest.
Windows Phone Central popped along to the WPUG Bar Camp event in London last Saturday, where a number of apps were presented, and even our Jay Bennett gave a talk about his experience developing for the platform. Nokia has announced changes of plan for the upcoming Nokia World, which is set to be held later this year in Helsinki, Finland. Instead of a single convention, the manufacturer wants to take a SXSW approach.
The marketing agency IDC has shown positive growth in their Q1 report with regards to shipping volume for Windows Phone, but unfortunately the iPhone and Android are still advancing further ahead. If you're fed up of (or not wanting to) be bothered by AT&T and other carriers offering promotions to you via the phone, etc. then you can opt-out of being contacted. Bing Maps is now powered by Nokia for traffic and geocoding, which brings more support, detail and different colours being used on the web and on Windows Phone.
Nokia has revealed that the BBC iPlayer will be available on Windows Phone in the next few weeks, but those waiting for a Sky Go app will have some more waiting to get through. Closing up our highlights is Nokia with their SmartStart support program, which has launched in the states, Canada and Mexico. This service allows Lumia owners to arrange dates when Nokia support staff can contact the individual and help with a number of topics.
NumberTap has received some update love from the developers which introduces badges and other features. We've got hold of the unlockable avatar items for Chickens Can't Fly, which will be available in an upcoming update. The items include a hat and pair of slippers. Droplitz Delight, the mobile-exclusive sequel to the popular Xbox Live Arcade and Steam puzzle game, is now available on the Marketplace. If you're after the latest price reduction then you'll want to check out Monopoly, which is this week's Xbox Live Deal of the Week.
We've taken a look at Candy Sports, a promotional game where you can use codes found in Lifesaver Gummies, Skittles and Starburst candy wrappers to play for your chance at the prizes. Do you enjoy strategy games? What about Command & Conquer? You'll love ARMED! for Windows Phone, especially since it's currently on sale. But should cats be more your thing, you can always check out Pirate Cat, which is free through June 1st.
With all the talk surrounding Skype and Tango handsets with less RAM, we take a look at what's going on and how you can still get the app. The Register, a popular tech publication, has released an official app for Windows Phone, as well as TalkBox for those desiring another way to message contacts and the Wall Street Journal Live. With the official LinkedIn app being available on the Marketplace, the third-party solution IN+ will be removed.
SAPER is a unique app for Windows Phone that turns the smartphone into a mine detector, perfect for war-ridden countries and the military, but if you're more into design and art you'll definitely want to check out ARTistic, a social network for just that. As well as the BBC releasing an official Top Gear app for Windows Phone users, should you be interested in stock markets there's always Market & Me which looks incredible with Metro goodness.
After a long and depressing absence, the Birdsong team has announced that version 1.7 has gone through the submission process. The update addresses a number of issues that users have reported since 1.6 was released last year. Speaking of Twitter apps, Rowi is also updated with multiple accounts, TweetMarker support, and now features an Aviary photo editor.
Microsoft has been busy fixing and adding features to the Facebook app for Windows Phone, which has now been updated to version 2.5. This version introduces a number of improvements, including the layout of messages and comment / like pages for photos and posts. Closing off our app updates and software section is Nokia releasing the beta for version 2.0 of their Transport app.
Kicking off our hardware section is our review of the Samsung Focus 2 Windows Phone, is it worth the purchase? Could well be the case with Amazon offering the device for just a penny. Should you be one of the lucky few who participated in the Lumia 900 survey we covered a while ago, you'll be receiving the promised Amazon gift card any day now. Speaking of Amazon and the Lumia 900, you can pick up the Windows Phone for just $10.
The magenta version of the Lumia 900 has appeared on Nokia Australia's Facebook page, which reaffirms the existence of such a colour. O2 in Germany is set to stock the flagship Nokia Windows Phone sometime next month, no details on pricing just yet. Do not fear, however, as a Batman version of the 900 is well on its way.
Both the AT&T TITAN and TITAN II are out-of-stock online, which adds to the good news of the Lumia 900 that saw demand greater than supply. Telstra have officially announced the TITAN 4G (TITAN II) in Australia. With the Lumia 610 receiving custom ROM love the past weeks, the Lumia 800 now sports a compatible version of RainbowMod.
The Lumia 610 is now in stock at Clove UK, and is heading to Vodafone soon. If you simply can't wait to get your hands on the low-end Windows Phone, we've got an unbox video you can check out in the meantime.
Pizza Hut in Australia have been busy bees giving away five Lumia 800s and $100 vouchers. Microsoft, on the other hand, has been busy creating some quality nature wallpapers for Windows Phone owners to enjoy. If you'd like to get your hands on a Windows Phone, you could win one by baking a cake.
Tesco Mobile is wearing this week's "Dunce" hat by displaying the Lumia 800 being powered by Android, unless they really do have Google powered Windows Phones? Nokia launched their Blown Away by Lumia challenge in Bulgaria with popular artist Deo as host. Winners of a developer camp in Macedonia have also been announced this week. Microsoft took their Smoked by Windows Phone campaign to Toronto, showing Canadians some platform love.
Nokia has responded to a strange Lumia 900 advert observation that pointed at odd animations for some of the stock live tiles, and stated that it doesn't mean anything, crushing Windows Phone 8 hint speculation. Wrapping up our media section is the Lumia 900 being featured in the latest Flo Rida music video.
Unfortunately the only news we have for our resident developers is Windows Phone Geek launching their developer component marketplace for indie developers to take advantage of by purchasing (and selling) all sorts of tools.
Highlights
Gaming
Software
Hardware
Media
Developers
Rich Edmonds is Senior Editor of PC hardware at Windows Central, covering everything related to PC components and NAS. He's been involved in technology for more than a decade and knows a thing or two about the magic inside a PC chassis. You can follow him over on Twitter at @RichEdmonds.
Cool. Bit of a quiet week though.

it certainly was a quiet week.
Windows Central Newsletter
Thank you for signing up to Windows Central. You will receive a verification email shortly.
There was a problem. Please refresh the page and try again.