This Prime Day deal let me add 'face unlock' to my Windows PC for less than $50 — but act fast
This 1080p webcam has Windows Hello face unlock built in, and it's now 30% off.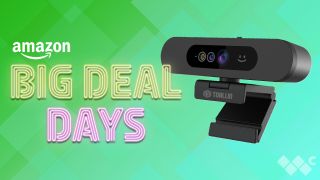 (Image credit: Windows Central)
One bit of technology that no one really talks about but has changed my life in the last handful of years is face unlock on my Windows laptop. It comes built in to most high-end laptops these days, and it's so fast and secure that I rarely, if ever, need to type my password anymore. So when I'm at my desktop PC, I feel like a caveman not having Windows Hello there to log me in automatically every morning.
Luckily, it's Amazon Prime Big Deals Day, which means hundreds and thousands of tech gadgets are on sale for much less than they usually are, making this a great time to save a few bucks on a cheap Windows Hello enabled webcam for my Windows desktop PC.
And that's exactly what I've done with the TOALLIN 1080P webcam, which comes with IR sensors for Windows Hello built right in. It's usually on sale for $70, which is quite expensive for a webcam, but right now for Prime Day, it's down 30% to just $49. Act fast though, as the deal will only last for as long as stock is available!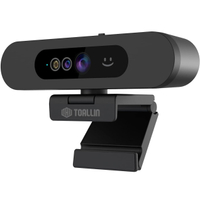 TOALLIN 1080P Webcam with Face Unlock | was $79.99 now $49 at Amazon
Are you looking to add Windows Hello to your existing Windows PC? Now you can with the TOALLIN 1080p webcam, which features a high-quality sensor for video calls and built-in IR sensors for secure face unlock using Microsoft's built-in Hello functionality.
✅Great for: Video calls, face unlock
💰Price Check: $115 at Newegg
Big Deal Days
• LIVE: The best of Big Deal Days
• The best gaming laptop deals
• Best pre-built desktop deals
• Deals on PC parts under $100
• Deals on PC parts under $75
• Deals on PC parts under $50
• Deals on PC parts under $25
So what makes this webcam worth my money? Well, it's a 1080p sensor for starters, which is great for the daily video calls I have to partake in for work. That sensor is a 1/2.9" CMOS one with a 90-degree FoV. Not only that, but it also has a competent noise cancelling microphone built-in, which is great for those who may not have a dedicated one at their desk.
It also has a built-in privacy cover, which is always a nice to have as it means you can manually obscure the sensor when you don't want anyone peering in on you accidently. Of course, the main reason why I bought this one was for the Windows Hello integration, which enables secure face unlock on my Windows PC.
This works quite well, and it uses dedicated IR sensors to achieve this. This means it's very secure, meeting Microsoft's high standards and essentially matching the speed and security of Face ID on an iPhone. Setting it up is super easy, jus t plug it in, restart your computer, and head to your account page in Windows Settings to enable the face unlock.
Once it's set up, every morning when you power on your computer, instead of being prompted for a password, you will instead see the little Windows Hello scanning indicator at the top of the login screen, and sitting in front of your PC will allow the sensor to automatically identify you and log you in. It works so fast, much faster than a traditional password.
Get the Windows Central Newsletter
All the latest news, reviews, and guides for Windows and Xbox diehards.