The best pre-built gaming desktop savings to grab after October Prime Day
Skip the PC building process and save your cash.
Quick menu
• Today's best deals
• Competitor deals
• Gaming desktops
• Prime Day FAQ
Amazon Prime Day is back, kind of. It's not carrying the same name, instead going with Prime Big Deal Days to describe this two-day sales event in October, but we all know what it really is: Prime Day 2 in disguise.
The rules are the same as the Amazon Prime Day event in July: those who sign up for an Amazon Prime membership (or sign up for a 30-day free trial and cancel it immediately after, to be tactical) will bag exclusive discounts.
Naturally, not everything listed on Amazon during these Big Deal Days will feature genuine savings. Plenty of search results on the gigantic storefront are still bulk-bought junk re-listed by those looking to make a quick buck, and they'll be out to deceive you. However, some pre-built gaming desktop PCs with genuinely capable configurations are lurking in the shadows, and I'm finding them for you.
Although Big Deal Days officially starts at 3 AM ET on Tuesday, October 10, early deals appeared as always. I'll keep searching for gaming desktops worth having and cut out the price-inflated nonsense that would likely arrive at your doorstep like a busted PC piñata.
Amazon Prime Day: Today's best deals
The best deals from competitors
Today's best gaming desktop deals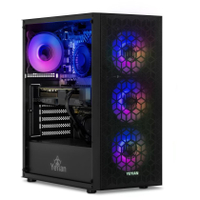 Yeyian Yumi (Core i5 12400F, RTX 4060) | was $1,199.99 now $869.99 at Newegg
A surprisingly hefty discount comes from Newegg to undercut Amazon by sticking with a 12th Gen Intel Core i5-12400F CPU, but the GPU is a modern RTX 4060 from NVIDIA ready for DLSS 3.5 and Frame Generation. It's a clever way of sticking to budget parts and using AI to upscale the lower native resolution and play in higher fidelity, backed up by 16GB of DDR4-3200MT/s RAM and a 1TB SSD.
It even comes with a free keyboard and mouse, making it a fantastic first choice for anyone interested in modern PC gaming. Built-in Wi-Fi means no trailing cables to your router, and the standard parts make for straightforward upgrades in the future. Windows 11 is pre-installed, so you're ready to play right out of the box.
✅Great for: First time PC gamers craving the gameplay of modern AAA exclusives.
💰Intel 13th Gen upgrade: $934.88 at Amazon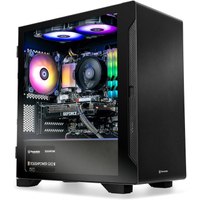 Thermaltake Graphite 360 (Ryzen 5 5600X, RTX 3060) | was $1,199.99 now $899.99 at Amazon
This is kind of perfect, considering I just recommended everything you need to build a custom gaming PC, and it's an almost perfect match. AMD's Ryzen 5 5600X processor is still one of the best-selling CPU options in 2023 due to its unbelievable performance value, and pairing it with the RTX 3060 just makes sense.
In fact, I'll be upgrading my personal machine to almost match this perfectly, and I definitely spent more than $900 over the years, so this Thermaltake pre-build is a steal. The RGB RAM and case fans are a nice touch to appeal to your average gaming fanatic, and a 1TB SSD offers plenty of space for modern games.
The case and some internal parts might be less exciting, like a standard CPU air cooler, but they're totally capable of keeping temperatures under control and could easily be replaced in the future. This is probably the best pre-built gaming desktop on Amazon so far and would perfectly suit anyone looking to play at 1080p or 1440p with around 60-144Hz monitors.
✅Great for: Mid-range PC gaming at full-HD 1080p around 144 FPS or 1440p at 60 FPS.
💰Price check: $999.99 at Best Buy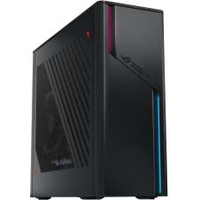 ASUS ROG G22CH DB776 | was $1,899.99 now $1,769.99 at Amazon
Although it has a compact form factor, the G22CH DB776 offers powerful internals to run the best games. It sports an Intel Core i7-13700F and pairs it with an NVIDIA GeForce RTX 4070 GPU to handle intensive graphics and computing tasks, which produces smooth gameplay.
What's more, it comes with a 1TB Gen 4 SSD with 16GB DDR5 of RAM and Windows 11 already installed so you can game on for a long time without encountering issues. Thanks to its small size, it doesn't take up much space on a desk and can even be used on your main media area, connected to your TV. There's also some simple RGB running down the front and side of the tower, which can be customized using ROG's proprietary (and free) software. Of course, if you want to check out an even more powerful configuration, look at my ROG G22CH DB978 review, which features an RTX 4070 and an i9-13900KF for impressive rendering abilities.

ASUS' sub-brand ROG has been in the gaming space for a long time and has most recently been in the spotlight for the ROG Ally gaming handheld, which comes with Windows 11 installed on it. If you're specifically wanting a powerful gaming tower that doesn't take up much space then this is a great way to go.
✅Best features: The NVIDIA GeForce RTX 4070 is more than capable of handling more intensive games
💰Price check: $1,899.99 at Best Buy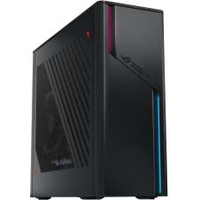 ASUS ROG G22CH DS766 | was $1,699.99 now $1,349.99 at Amazon
It might not be as powerful as the previously listed ROG tower, but the G22CH DS766 is still an affordable performance option that can handle your gaming needs. Thanks to its Intel Core 13700F CPU and NVIDIA GeForce RTX 3060 Ti GPU it is capable of offering smooth performance and ray tracing at a better value from what the less powerful RTX 3060 configuration provides.
The compact tower doesn't take up a ton of space, which makes it easier to place in various places whether that be on your desk, on the floor, or on a TV stand. Despite this, the casing holds a 1TB Gen 4 SSD, 16GB DDR5 RAM, and even includes RGB lighting on the front and sides for fun effect.
What's more, it comes with a keyboard and mouse, so you don't even need to supply those accessories separately.
✅Best features: NVIDIA GeForce RTX 3060 Ti combined with Intel Core i7-13700F makes for a powerful device

💰Alternative deal: $1,299.99 at Best Buy (slightly different RTX 3060 configuration)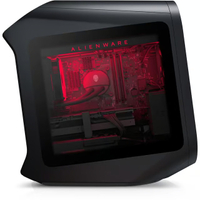 Alienware Aurora R15 | was $3,799 now $2,999.99 at Dell
Alienware is Dell's gaming brand, giving gamers an easy way to pick up prebuilt desktops and other PCs. The Alienware Aurora R15 is a powerful prebuilt gaming PC that runs on up to an AMD Ryzen 9 7950X CPU paired with an NVIDIA GeForce RTX 4090 GPU. Those processors are more than enough to handle the best PC games.
This particular model includes 32GB of DDR5 RAM and a 2TB M.2 PCIe NVMe SSD.
Alienware has since released an Alienware Aurora R16 with improved airflow. While the newer model has several improvements over the R15, it comes at a much higher price. The Alienware Aurora R15 gets you the RTX 4090 and other high-end specs at a much more affordable price, especially when you take advantage of the current $800 discount.
✅Best features: The NVIDIA GeForce RTX 4090 is a powerful graphics card that can handle the best PC games, especially when paired with a high-end CPU.
💰Price check: $3,099.99 at Best Buy (Intel Core i9 and RTX 4080 model)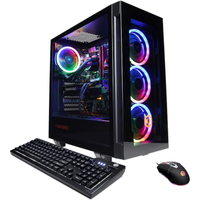 CYBERPOWERPC Gamer Xtreme (i5-12400F, RTX 3050) | was $949.99 now $849.99 at Amazon
Finding a capable gaming PC under $1,000 is no easy task unless you're willing to build everything yourself. Still, sweating the specifics of component compatibility is stressful for a novice builder alongside the process of putting everything together with your fingers crossed that everything boots without errors.
CyberPowerPC has been taking the process off your hands for years, and its Gamer Xtreme machine has been a regular feature in its catalog. It's not the most cutting-edge desktop, but its parts are only one generation behind the modern options, and it's nothing to sniff at.
A combination of a 12th Gen Intel Core i5-12400F processor and NVIDIA GeForce RTX 3050 graphics card isn't designed for 4K gaming at 240Hz, but it's perfectly capable of handling mid-range titles at 1080p. Essentially, this is the perfect starter machine for any budding gamer or those looking to experiment away from consoles like Xbox.
✅Great for: PC gaming beginners looking for the absolute best value for money without going overboard on a ready-made desktop.
💰Price check: $869.99 at Best Buy (white case)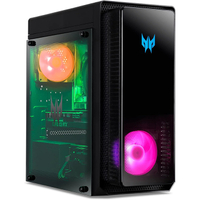 Acer Predator Orion 3000 — RTX 3060 | was $1,399.99 now $999.99 at Amazon
There aren't many options that stay under $1,000 if you're looking for modern components, but Acer has cleverly made budget-friendly cuts in all the right places with this up-to-date Predator Orion pre-built gaming desktop. You get a 13th Gen Intel Core i7-13700F processor alongside 16GB of DDR5 RAM, both cutting-edge and built-in Wi-Fi 6E support for the latest in wireless networking.
The savings come with the graphics card: a previous-gen NVIDIA GeForce RTX 3060 desktop GPU. It's still no slouch, featuring 12GB of VRAM, and it'll handle plenty of modern games if you aim for a middling 1440p resolution or even stick with full HD at 1080p. Plus, a 1TB PCIe Gen 4 solid-state drive makes for ultra-fast game installs and helps reduce load times, which is crucial for the latest releases.
✅Great for: 13th Gen Intel CPU and DDR5 RAM couldn't be more future-proof, and a graphics card is one of the easiest components to upgrade manually.
💰Price check: RTX 3070 upgrade for $1,749.99 at Best Buy
Big Deal Days: Frequently asked questions
The specifics for Amazon Prime Big Deal Days are now publicly available, with minor hints as to which brands and categories will enjoy significant discounts. Rest assured, we'll update this page with the latest dates and details whenever the company releases more information.
Amazon Prime Big Deal Days starts at 3 AM ET on Tuesday, October 10, and will run through October 11. If you have any Alexa-compatible hardware, you can say, "Alexa, set a reminder for Prime Big Deal Days" to have Amazon create a reminder for the event.
Which countries are taking part in Big Deal Days?
Australia, Austria, Belgium, Brazil, Canada, China, France, Germany, Italy, Japan, Luxembourg, Netherlands, Poland, Portugal, Singapore, Spain, Sweden, the US, and the UK will all take part in Prime Big Deal Days via their respective storefronts. If your country doesn't have its own localized version of Amazon, you may still be able to make purchases from a neighboring variant, but usual restrictions likely apply, so check your local Amazon international shipping terms and conditions.
Do I need an Amazon Prime membership?
Yes. Prime Big Deal Days is a member-exclusive sales event just like Prime Day before it and Prime Early Access Sale before that. If you're not already a member, you'll need to sign up for Amazon Prime for $14.99 per month or $139 annually (plus tax) to qualify for discounts. For new users, a 30-day trial of Prime is the perfect way to take advantage since you're free to cancel your subscription after the event.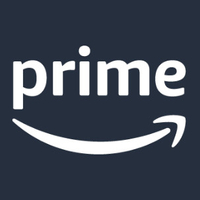 Amazon Prime: Free 30-day trial
Enjoy all the benefits of exclusive discounts during Amazon events, and cancel anytime. If you decide to stay, it's $14.99/month (plus tax) after the trial. Includes extra benefits like free games via Prime Gaming and more bonus content for subscribers.
Get the Windows Central Newsletter
All the latest news, reviews, and guides for Windows and Xbox diehards.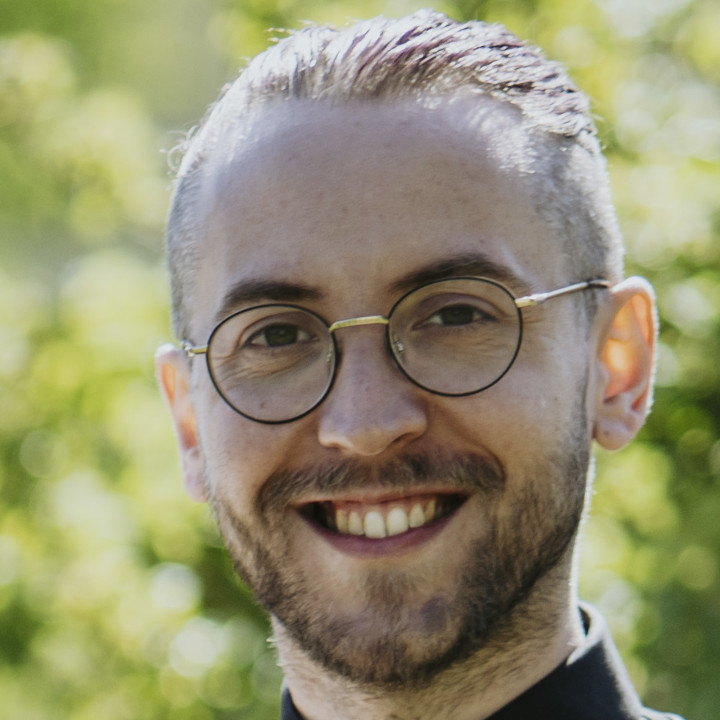 Ben is the channel editor for all things tech-related at Windows Central. That includes PCs, the components inside, and any accessory you can connect to a Windows desktop or Xbox console. Not restricted to one platform, he also has a keen interest in Valve's Steam Deck handheld and the Linux-based operating system inside. Fueling this career with coffee since 2021, you can usually find him behind one screen or another. Find him on Mastodon @trzomb@mastodon.online to ask questions or share opinions.