Beats Music, Bing Travel, Viber and more are your app highlights for the week!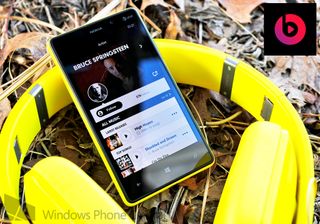 It's Saturday here in California, which means I head into the app archives from the past week to pull out the best new apps in the Windows Phone Store that you might have missed. I'll also bring highlight any cool updates, betas, and games. It's a fun time to sit back and make sure your Windows Phone is rocking the greatest apps available. It was actually a pretty good week. We launched our own official app on Windows 8 and some new big name apps joined the Windows Phone Store. Let's jump in and get started.
New
Bing Travel Beta – We really love the various Bing apps on Windows 8. A few of them like, like Sports and News, have made the jump to Windows Phone, but there's still a few more that need to come over. This week we gained two. First up is Bing Travel Beta for those suffering from an incurable case of wanderlust. The app is a great way to itch your travel bug and offers you the ability to do things like check arrivals & departures, check flight status and search for flights or hotels. The app also serves up cool destination recommendations and interesting travel articles. Grab it from the Windows Phone Store. (Free)
Bing Food & Drink Beta – Not to be left out, Food & Drink from Bing also joined Windows Phone this past week. This app gives you recipes, shopping lists, food news, cocktail recipes and much more. Basically it's the ultimate app for foodies. Grab it from the Windows Phone Store. (Free)
Beats Music – It was originally going to launch a week and a half ago, but was delayed for Windows Phone. That's right, Beats Music is now available for Windows Phone users. The app is more or less music streaming service MOG killed and resurrected with Beats Music branding. Say what you will about their headphones, but Beats Music is actually a pretty great service. Download the app and use the week free trial to see if you'd be interested in another streaming service. Grab it in the Windows Phone Store. (Free)
Garmin HUD –Want to feel like you're living in a Minority Report world? Then you should grab the official Garmin HUD app for Windows Phone. Before you do, you'll need to own a physical Garmin HUD+ device for your car. The app syncs up with the device to display pertinent information on your dashboard in your car. Grab it from the Windows Phone Store. (Free)
Windows Phone Central for Windows 8 – Yes, I know this technically isn't a Windows Phone app, but it's so awesome. Our app is out officially on Windows 8 and it's pretty awesome. Everything you love about Windows Phone Central can be found in that app. It's also free and more features coming down the road with future updates. Grab it from the Windows Store. (Free)
Updated
PDF Reader – There are a few ways to read PDFs on Windows Phone, one of comes to us from Microsoft and is called PDF Reader. It also just received a new update this week. You now have the ability to open more PDF files, improved rotation support and rendering of files. PDF Reader also throws in increased stability and performance when you're handling those big files. Pick it up from the Windows Phone Store. (Free)
SofaScore LiveScore –Try saying that without wanting to shout it. Anyways, SofaScore LiveScore is one of the best ways to keep track of various sport games around the world. It has nearly every single sport and league, so you'll be able to check out the results for your favorite teams. The update this week adds Live tile support for specific matches, ability to search for teams, and much more. Grab it form the Windows Phone Store. (Free)
Viber – Messaging service Viber picked up an update for its Windows Phone app this week. The app is now at version 4.0 and brings new features. You'll now find support for the Sticker Market so you can send and receive little stickers. There's also Viber notification sounds for incoming push notifications, more details when messages have been seen and contacts online, and the ability to hide notification content. Grab Viber in the Windows Phone Store. (Free)
Skype – We really want to love Skype, but at this point we're mostly using the service because it's all we have. It could be so much better, but we're still happy to see the app pick up somewhat regular updates on Windows Phone. The latest this week revolve around general improvements, so nothing ground breaking. Grab it from the Windows Phone Store. (Free)
Nokia MixRadio – One of our favorite music services, Nokia MixRadio, picked up a new update this week. You now have the option to repeat single tracks. In addition to an improved player view when no artist image is available, lyrics staying open between tracks, improved downloading for offline mixes and more. Pick up the new MixRadio in the Windows Phone Store. (Free)
Beta
Facebook Beta – Not any new betas this week, but one of the most popular was updated this week. Facebook Beta picked up an update that didn't include new features. It does however include performance increases and bug fixes. So you know. It's faster. Grab it from the Windows Phone Store. (Free)
Games
Grand Theft Auto: San Andres – It finally freaking came. Grand Theft Auto: San Andreas is now available for Windows Phone. There's not much else to say, just go play it. Grab GTA:SA in the Windows Phone Store, assuming your device has 1GB of RAM or more. ($6.99)
Pixel Gun 3D – Want to play a Minecraft inspired first person shooter with multiplayer on Windows Phone? Then you need to try out Pixel Gun 3D. You'll need at least 1GB of RAM to play the game, but we're liking what we see so far with gameplay. Grab it in the Windows Phone Store. ($0.99)
That's all the apps and games for this week. Be sure to check out all our game coverage if you're wanting to see what else came out this week. Don't agree with the list above? Sound off below in what apps and games you really liked this past week!
Get the Windows Central Newsletter
All the latest news, reviews, and guides for Windows and Xbox diehards.