Beats Music, Bing Travel, Viber and more are your app highlights for the week!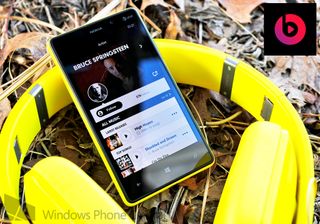 It's Saturday here in California, which means I head into the app archives from the past week to pull out the best new apps in the Windows Phone Store that you might have missed. I'll also bring highlight any cool updates, betas, and games. It's a fun time to sit back and make sure your Windows Phone is rocking the greatest apps available. It was actually a pretty good week. We launched our own official app on Windows 8 and some new big name apps joined the Windows Phone Store. Let's jump in and get started.
New
Bing Travel Beta – We really love the various Bing apps on Windows 8. A few of them like, like Sports and News, have made the jump to Windows Phone, but there's still a few more that need to come over. This week we gained two. First up is Bing Travel Beta for those suffering from an incurable case of wanderlust. The app is a great way to itch your travel bug and offers you the ability to do things like check arrivals & departures, check flight status and search for flights or hotels. The app also serves up cool destination recommendations and interesting travel articles. Grab it from the Windows Phone Store. (Free)
Bing Food & Drink Beta – Not to be left out, Food & Drink from Bing also joined Windows Phone this past week. This app gives you recipes, shopping lists, food news, cocktail recipes and much more. Basically it's the ultimate app for foodies. Grab it from the Windows Phone Store. (Free)
Beats Music – It was originally going to launch a week and a half ago, but was delayed for Windows Phone. That's right, Beats Music is now available for Windows Phone users. The app is more or less music streaming service MOG killed and resurrected with Beats Music branding. Say what you will about their headphones, but Beats Music is actually a pretty great service. Download the app and use the week free trial to see if you'd be interested in another streaming service. Grab it in the Windows Phone Store. (Free)
Garmin HUD –Want to feel like you're living in a Minority Report world? Then you should grab the official Garmin HUD app for Windows Phone. Before you do, you'll need to own a physical Garmin HUD+ device for your car. The app syncs up with the device to display pertinent information on your dashboard in your car. Grab it from the Windows Phone Store. (Free)
Windows Phone Central for Windows 8 – Yes, I know this technically isn't a Windows Phone app, but it's so awesome. Our app is out officially on Windows 8 and it's pretty awesome. Everything you love about Windows Phone Central can be found in that app. It's also free and more features coming down the road with future updates. Grab it from the Windows Store (opens in new tab). (Free)
Updated
PDF Reader – There are a few ways to read PDFs on Windows Phone, one of comes to us from Microsoft and is called PDF Reader. It also just received a new update this week. You now have the ability to open more PDF files, improved rotation support and rendering of files. PDF Reader also throws in increased stability and performance when you're handling those big files. Pick it up from the Windows Phone Store. (Free)
SofaScore LiveScore –Try saying that without wanting to shout it. Anyways, SofaScore LiveScore is one of the best ways to keep track of various sport games around the world. It has nearly every single sport and league, so you'll be able to check out the results for your favorite teams. The update this week adds Live tile support for specific matches, ability to search for teams, and much more. Grab it form the Windows Phone Store. (Free)
Viber – Messaging service Viber picked up an update for its Windows Phone app this week. The app is now at version 4.0 and brings new features. You'll now find support for the Sticker Market so you can send and receive little stickers. There's also Viber notification sounds for incoming push notifications, more details when messages have been seen and contacts online, and the ability to hide notification content. Grab Viber in the Windows Phone Store. (Free)
Skype – We really want to love Skype, but at this point we're mostly using the service because it's all we have. It could be so much better, but we're still happy to see the app pick up somewhat regular updates on Windows Phone. The latest this week revolve around general improvements, so nothing ground breaking. Grab it from the Windows Phone Store. (Free)
Nokia MixRadio – One of our favorite music services, Nokia MixRadio, picked up a new update this week. You now have the option to repeat single tracks. In addition to an improved player view when no artist image is available, lyrics staying open between tracks, improved downloading for offline mixes and more. Pick up the new MixRadio in the Windows Phone Store. (Free)
Beta
Facebook Beta – Not any new betas this week, but one of the most popular was updated this week. Facebook Beta picked up an update that didn't include new features. It does however include performance increases and bug fixes. So you know. It's faster. Grab it from the Windows Phone Store. (Free)
Games
Grand Theft Auto: San Andres – It finally freaking came. Grand Theft Auto: San Andreas is now available for Windows Phone. There's not much else to say, just go play it. Grab GTA:SA in the Windows Phone Store, assuming your device has 1GB of RAM or more. ($6.99)
Pixel Gun 3D – Want to play a Minecraft inspired first person shooter with multiplayer on Windows Phone? Then you need to try out Pixel Gun 3D. You'll need at least 1GB of RAM to play the game, but we're liking what we see so far with gameplay. Grab it in the Windows Phone Store (opens in new tab). ($0.99)
That's all the apps and games for this week. Be sure to check out all our game coverage if you're wanting to see what else came out this week. Don't agree with the list above? Sound off below in what apps and games you really liked this past week!
Windows Central Newsletter
Get the best of Windows Central in in your inbox, every day!
Except there's no forums.. :(

Patience young grasshopper. Forum support is coming.

Instagram BETA also got a Update today!

Love food + drink. Beats needs some work though. Very sluggish on my 928 and a little confusing during first uses.

Windows Phone has no apps..

Your momma has no apps ;) lol

Lol..
................
She doesn't :-(

Heh heh...chuckled quite a bit at that one...:D

Did a little pee come out❔

lke why are you even commenting on this!!! GODDDDDDDDD MAN!

Since the last FB beta I often get a "we having trouble to get..." error when loading Notifications and Chat Messages... :(

I'm getting that a lot too (red stripe with that same message).

Loved Beats Music! The interface, look, and feel if the entire service seems pretty fresh and well done. Unfortunately, I can only afford one music service and I'm not giving up my grandfathered $14.99 Xbox (formerly Zune) with the option of owning 10 free songs per month. That said, I'm very impressed with Beats Music.

You're sorta fans of Tom Cruise there, aren't you? :)
When it comes to remember a movie you don't miss a chance to name one with him, Jack reacher, top gun, minority report - latest mentioned here ;)

How about Bing fitness app? Is that out? I ask cuz I can't find any of the beta apps when I search for them, but your links take me to them.

Yeah I want that app too, don't see it anywhere

Beats music sucks! I don't like the UI, it is ugly and there isn't much help as far as guiding you in how to use+navigate through the app and all. Pandora is still simple and works fine for me, but ultimately cloud music is what I use on a regular basis. Nokia Radio is fine. Just too bad they don't offer anything like paying a whole year upfront and getting a discounted price. By the way, if you have AT&T service you can trial Beats music free for 3 months. They did good there and also allowing AT&T users to get a family line for Beats as well (5 users for $15 a month).

Uh, I'm on att and I'm still seeing the 7 day trial thing. Idk where you got that info, it's just not happening bro.

im on att and single user lines get 30 days trial. need to enter your at&t number when registering for an account

I like this app update. I hope to see more.

The Beats app is pretty nice so far

I update to gtr3 preview and now hill climb racing doesn't work any help?

So true about Skype on WP. We 'want' to love it, but oh boy do they make it difficult. It's basically...well...rubbish. Hoping they have something major up their sleeves about that for WP 8.1.

Que lastima, I've had no problems with it.

Perhaps I'm using it differently or I have different expectations, but I don't have an issue with Skype. I have it on the iPad so I do have a comparison point. I fire it up and make my call and it works. What is it not doing that makes people dislike it so much?

No Beats Music for India? :(

No pandora,No spotify too.

Something must be done about this.

No Beats here in UK either :(

Still waiting for Bing News sharing option.

Hello everyone, can someone suggest something? I got the Black update in my Lumia 520 a couple of days ago. When I play music on my phone I cannot increase of decrease the volume. It stays the same. Whether I change it up to 30 or to 0 (while the music is playing) it just stays the same! Anybody help?

Wow, same problem on my L720 too, after the Black update!

Well, do you have any solution for this problem? It's really frustrating.

Try basic methods first... Reset your phone, perform a "remove battery" sequence where you hold (I think) down volume, then up volume, then power button, then down volume again. Search it up if it's not right.

WP sucks period. App store is sooo bad unvelible. If you look at WP most of tiles not update even after 30 min and some of phones have glitches to also wass up with notification center?.WP is 2-3 years in bussines and can have notification?.I hate to say but if i ever buy WP is gonna be for Nokia Camera not for Windows os or marketplace witch i think sucks.I'm regular user not android or apple fan and what i said here is totaly true.

You suck lame brain. Go back to your iPhone and stop crying like a little whiny iPhone bitch

I love troll posts like this. I mean it has all the characteristics of a brilliant post. It has spelling mistakes (unvelible, bussines, totaly) not to mention the numerous grammatical errors. The MOTHER of greatness in this post of course is where the troll writes, "but if i ever buy WP ... " I love it. Doesn't even own a Windows Phone but comes on here to comment about it (rather unintelligently, I might add). Fantastic post sir. Thanks for joining yesterday just to post this master class in idiocy.

He claims he IS a regular user, and not an Android or iPhone fan. Seriously, check the bottom sentence. Still, you picked apart his comment like nothing else! Hilarious. :)

And yet he is a "regular user" of Windows Phone. XD

The latest update to bing travel beta won't install for me, says there's an error. I uninstalled to start from scratch but still won't install on my phone. Boooooo. Hopefully the next update will sort this.

What's up with this 7 day trial bullshit from beats? I swear, no one has that much free time to try out beats fully.

Y beats music nt fr indian market yet???

My WP 8.1 phone (HTC 8S) can't seem to get Bing Travel installed AND found in the app list. WP Store continues to say it's already installed and replaces the <Install> button with a <View> button on Travel's Overview page. However when I hit the <View> button, I am brought back to the start screen since the app is no where to be found. Any ideas? Thanks since I'm hoping to use this for my trip to Greece.
Windows Central Newsletter
Thank you for signing up to Windows Central. You will receive a verification email shortly.
There was a problem. Please refresh the page and try again.