Best 21.5-inch monitors for your Windows 10-powered office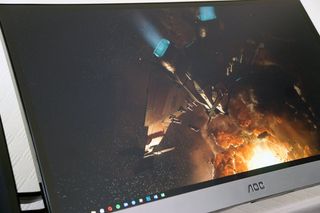 While everyone has their own personal favorite when it comes to monitor screen sizes, 21.5-inch solutions hit the sweet spot for many. We'll be taking a look at some of the best and highest rated screens you can buy on Amazon within this screen size segment.
There are some super-affordable screens you can fetch for with prices starting from as low as $60 if you really take the time to look past the more popular and featured listings. We've already rounded up some displays that cost less than $100, but if you're able to spend more or wish to add some touch-screen functionality into your desktop experience, we've got you covered too.
Samsung SF350
Samsung is among the top dogs when it comes to screen technology and displays, whether you're purchasing a monitor for a PC or a television for the big room. This full HD 21.5-inch monitor offers a slim build with a high gloss black finish. As an added bonus, support for VESA mounting is here.
But that's not all, Samsung has even implemented AMD FreeSync so if you have a compatible AMD graphics card, you'll be able to take full advantage of latency-free gaming by having the refresh rate of the monitor dynamically adjusted to what's being rendered.
There's even an Eye Saver mode that when enabled will reduce blue light emissions and flickering, perfect for computing during late hours. Connectivity wise, there are both VGA and HDMI ports that should be enough for most setups. For $129.99, you really can't go wrong with a Samsung monitor.
See at Amazon (opens in new tab)
Dell S2240T
Just because you're on the hunt for a 21.5-inch screen that doesn't mean you need to become like every other 21.5-inch display owner. Dell's S2240T has a secret feature up its casing: touch. With the combined power of Windows 10, you'll be able to enjoy touch screen features like pinch to zoom, swipes and more.
Should you be wondering just how comfortable using a touch screen on a display will be, Dell has considered this and the company opted to include a stand that can be configured for not only normal viewing angles, but also tilt back 60 degrees for a more natural experience. As for technical specifications, there's 1080p, 10-touch support, HDMI, DVI or VGA connections, USB to be plugged into your PC, and even VESA mounting.
The price tag may put some people off, however. To enjoy a touch screen desktop experience, you're going to need to part with $276.06.
See at Amazon (opens in new tab)
HP Pavilion 22xw
HP's Pavillion 22xw is an IPS display that allows you to view content from a wider range of angles, ideal for those times when you have multiple heads staring at rendered pixels. It's also an attractive unit that looks the part and should compliment most office setups.
This does come at a cost, however. There's no support for VESA mounting, which means you'll have to make do with the attached bracket. The stand itself is fairly accessible and allows for easy connections for both VGA and HDMI. Response time is just 7ms, which is slightly slower than other options available in this segment.
There are also 23-, 24- and 27-inch variants available at more expensive increments. Be sure to choose the option where Amazon is both shipping and selling the unit, which will set you back $121.98.
See at Amazon (opens in new tab)
HP 22er
We have two displays from HP in this round-up, the second being the 22er, another 21-inch monitor from the company. If the look and design of the above model didn't quite excite you enough to part with your hard earned cash, this stylish unit may make the cut with its tiny bezel.
IPS technology is included for spectacular viewing angles with support for up to 1080p. No VESA mount again, but there's a fair amount of tilt in the included stand. Options for VGA and HDMI are available just like the other HP display we featured.
Amazon will sell this monitor to you for a mere $138.84.
See at Amazon (opens in new tab)
ASUS VX VX228H
The VX228H from ASUS has an incredibly quick 1ms response time for those that require only the best when it comes to monitor transition. The company has also included its Eye Care technology that will aid in reducing the amount of eye fatigue experienced when using the screen for prolonged periods.
For connections, this monitor sports 2 HDMI ports and VGA so you have scope to get multiple devices connected to a single unit. Not bad for $119.99, which is significantly cheaper than some other screens in the 21.5-inch segment.
See at Amazon (opens in new tab)
Acer G227HQL Abi
The last 21.5-inch monitor in our round-up is from Acer. The G227HQL is your no frills, functional and reliable display with IPS technology. The included stand has an X-shaped base, giving the monitor stability without taking up your paperweight storage space in front.
For inputs, you have the choice between VGA and HDMI. There isn't any support for VESA mounting, so you'll not be able to attach this monitor to the wall or brackets without glue and some creativity. Still, for $129.99 it's a solid monitor choice.
See at Amazon (opens in new tab)
So that's our list wrapped up. Have a favorite that you feel should have made the cut? Be sure to sound off in the comments and share your choices!
Windows Central Newsletter
Get the best of Windows Central in in your inbox, every day!
Rich Edmonds was formerly a Senior Editor of PC hardware at Windows Central, covering everything related to PC components and NAS. He's been involved in technology for more than a decade and knows a thing or two about the magic inside a PC chassis. You can follow him on Twitter at @RichEdmonds.
21.5 is a bit small for me, I prefer the 24-27 inch range, but there are some really nice monitors in this lineup

It is too small to provide standard dpi at 1080p, meaning you won't get a WYSIWYG display. For office use, either a 23 or 24 inch monitor (depending on the rounding used, as both these sizes are usually 'somewhere between 23 and 24 inches') is more standard and better suited. I rarely see these 'not-quite' sized monitors in offices. Kind of surprised to see an article focussing on them, perhaps some specialist offices use them for some purpose?

That's exactly what I was thinking like who are these people that consider 21.5 the sweetspot? Pretty sure gamers dont. Nor developers or designers. Medical Imaging professionals like radiologists dont. For normal business folk tied to a desk, 24" is virtuially the same price as 21.5" and as you pointed out, 21.5 doesnt seem to doesnt naturally support 1080p in terms of (dpi), so the reccommendation is beyond me...5-10 years ago, this article would make sense.

What are you people talking about? What does "naturally support 1080p" even mean?

I think there was already a similar article for this size. I have been waiting for 24" one.

If you are after a larger screen I can highly recommend the Dell U2515H. I've just ordered a second one today.

Will there be a seperate article for each size of monitor? Seems a bit odd.

I like square monitors only !

I used 22" for years. Decent size. Upgraded to 32" 1080p. Back down to 27" 4K. Wowza, the screen real estate resolution and pixel density is insane.

For the price they command, Samsung feels compelled to save pennies by providing short cables... They are not on my buy list at work unless others are out if stock. Posted via the Windows Central App for Android

Once you go 21:9, you never go back to the old.

Give me a touch screen monitor on a swivel base please.

The Dell S2240T is extremely poor value if you can get the slightly larger 2314T for $4 more.
Windows Central Newsletter
Thank you for signing up to Windows Central. You will receive a verification email shortly.
There was a problem. Please refresh the page and try again.