Best cheap gaming chairs 2023
Cheap gaming chairs to level up your entertainment setup!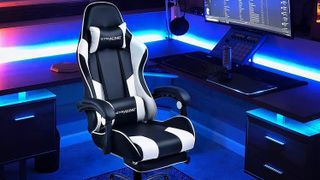 (Image credit: GTRACING)
Gaming chairs are arguably one of the most overlooked must-haves when preparing your entertainment area. You may have the most spectacular gaming setup, but fall short when it comes to a chair that fits your standards. When it comes to your throne, don't settle for discomfort! Don't risk turning your focus from your intense gaming session to your aching limbs because of a mediocre chair. For our top choice of the best cheap gaming chairs, we recommend the OFM Essentials Racing Gaming Chair for its padded design that's built for hours of comfort.
Best overall: OFM Essentials Racing Chair
Why you can trust Windows Central Our expert reviewers spend hours testing and comparing products and services so you can choose the best for you. Find out more about how we test.
OFM Essentials Racing Gaming Chair
Affordable
Padding that contours to the shape of the body
Can flip armrests up while reclining
Manufacturing can be slightly misaligned
Cushions can become flat
The OFM Essentials Racing Gaming Chair is perfect for anyone who wants an excellent gaming seat at an insanely affordable price. Measuring 30.5-by-28.2-by-44.5 inches, and weighing 37 pounds, this racing seat can carry up to 275 pounds of weight.
This gaming chair is ergonomically designed with padding that contours to the shape of your body. Plus, the headrest and armrests are also padded to ensure you stay comfortable while immersing yourself in gaming activities. With this chair, you can put in a shift in the gaming world without feeling sore or achy.
Not only is this soft leather gaming throne comfortable, but you can flip the arms up while you're reclining. This keeps your hands and arms super free if you need them to be. You can also swivel around in a full 360-degree circle. You never have to get up!
Although this gaming chair's quality is excellent for its affordable price, some customers report that the cushions do compress over time and become quite flat. You may need to use an additional pillow if you're planning on pulling an all-nighter. Another complaint is that the manufacturing can be slightly off and you may need to shimmy screws into the holes to make them fit.
Best rocker chair for comfort: Respawn-110 Racing Gaming Chair
RESPAWN-110 Racing Gaming Chair
Segmented padding for contoured support
Has an extendable footrest
Adjustable headrest
Comes in awesome, bold colors
Seams fray after a while
Chair doesn't raise very high
The RESPAWN-110 Racing Gaming Chair is pivotal for anyone who wants to elevate their gaming setup with the best-looking and comfortable features. This visually appealing piece of furniture measures 28.5-by-26.8-by-51.4 inches. It can comfortably withstand up to 275 pounds of weight.
The design comes in a variety of bold and unique colors, which give it an incredibly aesthetically pleasing look. The fabric is made from high-quality leather materials and mimics the appearance of a race car seat. It comes equipped with an adjustable footrest and headrest for added comfort and functionality. This also makes it perfect for anyone who naturally fidgets or rocks while sitting.
This comfortable chair can tilt from 90 to 130 degrees, so you never have to worry about your back hurting from sitting in one position for too long. This gaming chair also comes with segmented padding that contours along with your body for added comfort.
On the flip side, some customers claim that the seams fray easily and that the chair doesn't raise high enough for people 6 feet and taller.
Best value: GTRACING Gaming Chair
GTRACING Gaming Chair
360-degree swivel and deep recline
Holds up to 300 pounds
Good for kids and adults
Reclines and swivels
Armrests can be too low
Cushions can become flat
The GTRACING Gaming Chair is a great throne for anyone who loves to entirely lose themselves in their virtual world for hours on end. It can comfortably and safely support a hefty 300 pounds of weight. This makes this chair great for junior gamers as well as adults.
The chair itself is made from high-quality PU leather that features a metal frame and nylon wheels. Under the PU leather, there is a thick layer of padding, which keeps you comfortable so you can focus all of your energy on leveling up in your game. It was also designed ergonomically and allows you to adjust the headrest and lumbar pillow.
For anyone who fidgets or likes to change positions often during long sessions, this chair is excellent as it offers a 90-to-170-degree recline and swivels around 360 degrees. If any parts become damaged within one year, there is a one-year warranty to replace parts for free.
Although this gaming chair has an abundance of great qualities, some customer feedback says that the armrests can lay a little too low. It's also said that the cushions can lose air and become quite flat after long periods. However, it's also been noted that plumping the padding up every so often can solve this problem.
Best gaming chair for comfort: BestOffice PC Gaming Chair
BestOffice PC Gaming Chair
Keeps its shape
Easy to install
Supports up to 250 pounds
Ergonomic design
Minimal back support
Not great for all-day sitting
This gaming chair is an excellent addition to your entertainment room, especially if you're someone who prioritizes good posture. This chair comes ready to perform with padded armrests and soft PU leather material. Plus, its ergonomic back support keeps your body perfectly positioned for hours of gaming.
This chair can carry up to 250 pounds with ease, making this it a great choice for kids and adults. The seat cushion is made from high-density foam and is designed to keep its shape. You won't have to worry about all of the padding shifting around every time someone sits. Additionally, the armrests can be flipped up or down, giving you the most comfortable experience.
Other than the price, one of the best features of this chair is its ergonomic neck pillow. Although, some user feedback claims that without this pillow, there is not much there in terms of support for your back. The backrest of the chair is quite firm, but adding a small pillow to the mix can easily remedy this.
Best floor seat: X Rocker Extreme III 2.0 Gaming Rocker Chair
X Rocker Extreme III 2.0 Gaming Rocker Chair with Audio System
Small gaming chair with built-in speakers
Built-in speakers
Engineered for gamers
Connects to TV
Can be folded and stored
Not for use with desks
Small
Not enough padding along the back and neck
The X Rocker Extreme III is the perfect gaming chair for children, small adults, or anyone who wants to plop down in front of their TV. It measures 26-by-17.5-by-17 inches, which makes it fantastic for smaller media rooms. This chair has a comfortable, curved design that follows the shape of your back. It is specifically engineered with gamers in mind, so you can comfortably lose yourself online.
What sets this chair apart from other cheap gaming chairs is that it comes with two built-in speakers and a volume control panel. This helps you cancel out background noise and fully immerse yourself into your gaming world. Another cool feature is that you can connect the Extreme X Rocker to your Xbox, iPad, computer, and more.
This chair is perfect for those small spaces as it arrives assembled and can be folded and stored away when you're not using it. As ultra-convenient as this gaming chair is, some X Rocker Extreme III chair owners mention that there is not enough padding along the back and neck to keep you comfortable for long gaming sessions.
The bottom line
Choosing a gaming chair that is not only affordable but also fits in with the aesthetics of your room and caters to your needs as a gamer is extremely important. You wouldn't settle for a mediocre PC or monitor, so why settle for a mediocre gaming chair?
If something like the Anda Seat Phantom 3 is too pricey, we recommend the OFM Essentials Racing Gaming Chair as it is affordable, comfortable, and has a modern design for both gaming and working at your desk. It meets all of the basic needs of most gamers.
Get the Windows Central Newsletter
All the latest news, reviews, and guides for Windows and Xbox diehards.
Camille Sanghera is a UX writer and copywriter for global brands as well as an author of self-help books. Although she has lived and traveled internationally, Camille is originally from British Columbia, Canada. She merges over 10 years of writing experience with a love of words to bring authenticity and human connection to every project. When not writing, Camille can be found exploring nature with her dog, sketching to music, or laughing with loved ones.
You can chat with Camille on Instagram at @projectpvo.