Best Linksys Modems in 2022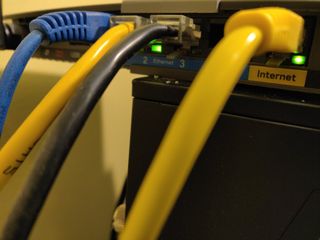 (Image credit: Windows Central)
Cable internet providers use the DOCSIS standard for cable modems. The most common version currently is DOCSIS 3.0 which can provide up to 960Mbps with 24 channels. Using a modem with more channels gives you a higher potential top speed but your connection will only ever be as fast as your package from your ISP. If you want to save some money over modem rental fees, the Linksys CM3016 is the best overall package for most people thanks to its fast 686Mbps speeds that are more than adequate for most customers.
Best Overall: Linksys CM3016
Why you can trust Windows Central Our expert reviewers spend hours testing and comparing products and services so you can choose the best for you. Find out more about how we test.
Linksys CM3016
Fast enough for most
Reasons to buy
+
686Mbps download speeds
+
16x4 channels
+
DOCSIS 3.0
+
Gigabit Ethernet
Taking charge of your own networking equipment can save you a lot of money over a couple years. It also gives the user a lot more freedom for people to expand and customize their networks. A strong modem is the foundation for your entire internet connection converting outside signals into something your computer understands.
Most people don't need full gigabit speeds yet so the Linksys CM3016 is a great option for getting online with a good amount of headroom thanks to speeds up to 686Mbps. It is never completely possible to tell exactly what speeds you will get due to variables like signal strength and the setups offered by your internet provider.
With a full gigabit Ethernet port on the back, the CM3016 should provide enough speed for most people with its 16 downstream and 4 upstream channels. Standing vertically in black, this modem should blend in with any networking setup and keep your speeds high.
Best for Gig Speed: Linksys CM3024
Linksys CM3024
Top speed for a custom home network
Reasons to buy
+
960Mbps download
+
240Mbps upload
+
24x8 Channels
+
DOCSIS 3.0
+
Gigabit Ethernet
Reasons to avoid
-
Expensive
-
Not easily concealed
Sometimes you need a couple 4k video streams, some game downloads, and constant remote access to a storage server to maximize your entertainment. Or perhaps more realistically, you share a connection with a few heavy users. If you need the fastest possible connection you can get on cable, the Linksys CM3024 pushes speeds up to 960Mbps for downloads.
With 24 downstream channels this modem can get you close to gigabit speed with DOCSIS 3.0. If it's supported in your area, a gigabit connection will keep speeds high and consistent when paired with a fast Wi-Fi router or a gigabit network switch. With 8 upstream channels, this modem supports upload speeds of 240Mbps which is great for streamers looking to make the jump to 4K.
Standing vertically with one gigabit Ethernet port on the back, this modem can blend in and become an afterthought with it's well ventilated casing. This is a great modem for the internet user that needs all the speed they can get.
Best Low Cost: Linksys CM3008
Linksys CM3008
Small size to blend in
Reasons to buy
+
Small size
+
Gigabit Ethernet
+
DOCSIS 3.0
Every inch of space is valuable and the Linksys CM3008 comes in with a tiny footprint that can fit in nearly any space with your router. With the smaller size comes fewer downstream channels leading to an overall lower top speed. Most users won't be negatively impacted by this, however, since the this modem still pushes a respectable 343Mbps on its 8 downstream channels.
With support for DOCSIS 3.0, the CM3008 can keep up with a lighter users that prioritize space savings but still want enough speed for HD video. That speed is delivered through a gigabit ethernet port to your router. This modem is a great partner for a mesh Wi-Fi system and other compact routers thanks to its ability to blend in with the profile of a standard power brick. For the compact minimalist network that still supports HD streams and everyday browsing, this is a powerful contender.
Best with a router: Linksys CG7500
Linksys CG7500
The whole network in one box
Reasons to buy
+
960Mbps download
+
240Mbps upload
+
24x8 Channels
+
DOCSIS 3.0
+
Gigabit Ethernet (x4)
+
AC1900 Wi-Fi
There are a lot of people that strive for all-in-one solutions for all of their technology needs. Offering a complete networking package with 4 Ethernet ports and fast AC1900 Wi-Fi 5 speeds alongside a fast 960Mbps modem, the Linksys CG7500 delivers a ton of power in one box.
With the CG7500, you can deliver your full internet connection speed to your wired and wireless devices thanks to gigabit Ethernet ports and fast AC1900 Wi-Fi. This modem and router combination will fit well with a powerful but minimal computing setup without needing any additional patch cables and only one power outlet. Though, the whole unit needs to be replaced in order to upgrade your wireless or modem capabilities.
Still, with 24 downstream channels and 8 upstream, this modem delivers top speeds and should be more than enough for all but the heaviest users for quite some time. Thanks to its curvy vertical stance, the CG7500 should fit right in where your old rental modem used to sit with no additional cables or power outlets needed.
Bottom line
The modem that makes the most sense for you ultimately comes down to what speed packages your internet service provider (ISP) offers and what you need out of your network. The Linksys CM3016 provides a high speed connection that won't bottleneck the majority of cable internet connections. This means the modem will be fast enough to deliver the speeds you pay for without leaving so much headroom that it's a waste of money. If you need more speed you can always step up to the next unit but make sure that you have a fast enough package to take advantage of the extra capabilities by checking compatibility with your ISP.
Get the Windows Central Newsletter
All the latest news, reviews, and guides for Windows and Xbox diehards.