Best PC for Playing Metro Exodus in 2022
At Windows Central, we specialize in all things tech, especially hardware, and that includes gaming PCs. When we recommend a computer for a specific game, you can rest assured knowing that we know what we're talking about.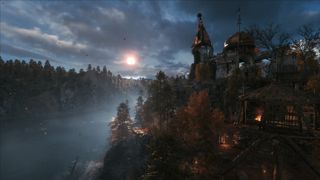 Overall, the best gaming PC you can buy for Metro Exodus is the MSI Trident X. Between its beefy NVIDIA RTX 2080 graphics card, monster Intel Core i7-9700K processor, 16GB of RAM, and the included mouse, keyboard, and game codes you'll get with this bundle, the MSI Trident X is the best of the best if you're planning on exploring Metro's Russian wasteland — or any modern game for that matter.
MSI Trident X (RTX 2080, 2 TB)
Huge value, huge power
Who should buy the MSI Trident X?
Why you can trust Windows Central Our expert reviewers spend hours testing and comparing products and services so you can choose the best for you. Find out more about how we test.
If you want to play Metro Exodus on its best settings and at a high resolution and don't want to spend the time building your own PC rig, the MSI Trident X is the PC for you. It's very pricey, but you get what you pay for, and if you have a 4K monitor you'll even be able to push 4K comfortably.
Is it a good time to buy the MSI Trident X?
Overall, it's a good time to buy the MSI Trident X. Since both the GPU and CPU in the MSI Trident X are among the best products on the PC gaming market, there's not much of a chance that the price for the PC is going to change much in the future. There's really no reason to wait on buying this PC.
Why is the MSI Trident X such a good PC?
The main reason that the MSI Trident X makes the top of our list is that it's packing some of the strongest PC gaming hardware under the hood. The NVIDIA RTX 2080 is a beast of a graphics card that makes it possible to play Metro Exodus with ray tracing, which is an overhaul to normal lighting that makes it look more realistic, while the Intel Core i7-9900K is an equally-awesome processor that can handle whatever you throw at it.
Add the 16GB of RAM, which is more than enough for every game out right now, and you've got yourself a truly fantastic gaming PC that can even push 4K if you've got the monitor for it. In addition, the case is pretty stylish too, with angular edges and RGB-lit accents that will make your setup look snazzy.
In addition to the PC itself, you also get a ton of free stuff with your purchase of an MSI Trident X because of a special promotional offer. Every purchase comes with an MSI gaming keyboard, mouse, and three free games: Battlefield V, Anthem, and — you guessed it — Metro Exodus. This is an incredible amount of value, and people that want to play Metro Exodus won't even have to pay for it separately.
You can also buy the PC in several different configurations depending on what your needs or preferences are when it comes to storage space and power. However, I recommend choosing the version of the PC with the RTX 2080 GPU and the full 2 TB hard drive because it gives you superb graphics power and a ton of storage to work with, which is perfect for people who play a lot of games.
Alternatives to the MSI Trident X
While the MSI Trident X bundle listed above is fantastic, its steep price may not be something everyone can afford. Thankfully, there are alternative options out there that can handle Metro Exodus well. The first option is a less expensive bundle of the MSI Trident X with some reduced quality, the second is a mid-range pick that's cheaper and runs the game solidly, and the third alternative is a budget choice that'll work provided you don't mind turning a few settings to medium or low.
MSI Trident X (RTX 2070, 512 GB)
Similar power at a lower cost
If you don't need the massive 2 TB of storage and don't mind downgrading the power of your GPU a bit, then this version of the MSI Trident X is best for you. The RTX 2070, while not as great as the RTX 2080, is still an awesome GPU, and you still get the same great processor, keyboard, and mouse. However, you won't get all three games included in the bundle, and instead you'll have to choose just one of them.
Alienware Aurora R7
Middle of the pack
If you're happy to settle for playing Metro Exodus on high settings in normal resolution, the Alienware Aurora R7 is a great mid-range pick that can save you some money. Its NVIDIA GTX 1070 graphics card and Intel Core i7-8700 processor aren't the best pieces of kit, but they're pretty good. While you won't be pushing games to higher resolutions with this rig, you will be playing them on high settings with smooth frame rates. In addition, you get the same 2TB hard drive that the first MSI Trident X bundle has, which is a nice bonus.
CyberpowerPC Gamer Xtreme
Low riders still take the high road
If you're on a budget, then we recommend the CyberpowerPC Gamer Xtreme. At $800, you get a system equipped with an NVIDIA GTX 1060 graphics card, an Intel Core i5-8400 processor, and 8GB of RAM. By far, this PC is the least powerful on the list, but it's still capable of handling Metro Exodus well as long as you don't mind turning settings like texture quality, lighting, and shadows down.
Bottom line
Ultimately, when it comes to pure power and value, the MSI Trident X takes the cake as the best gaming PC you can buy for Metro Exodus. Between its extremely powerful hardware, sleek look, and promotional bonus products, you can't go wrong with it.
MSI Trident X (RTX 2080, 2 TB)
Huge value, huge power
Get the Windows Central Newsletter
All the latest news, reviews, and guides for Windows and Xbox diehards.
Brendan Lowry is a Windows Central writer and Oakland University graduate with a burning passion for video games, of which he's been an avid fan since childhood. You'll find him doing reviews, editorials, and general coverage on everything Xbox and PC. Follow him on Twitter.