Best Role-Playing Games on PC 2020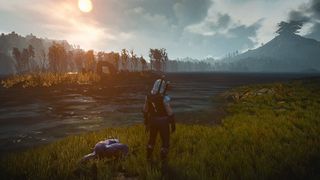 (Image credit: Windows Central)
Role-playing games allow gamers to escape into a virtual existence, exploring vast lands of beauty and engaging with mysterious species. While the genre originated with tabletop gaming, it's become one of the most popular video game options, allowing players to build characters or even entire parties and customize them as their power grows with new abilities and gear. With so many to choose from, we've rounded up the best RPGs on PC for you to start a new adventure. To get the best experience from these games, you should also check our guide to find the best gaming desktop PC.
(opens in new tab)
The Witcher 3 Game of the Year Edition
Hunt monsters

Setting off as Geralt the Witcher, you're tasked with saving the world as well as your adopted daughter. Choices matter in quests, and everyone has a personality. Prepare to lose countless hours in this incredibly detailed world. From wandering down country lanes or navigating the bustling streets of Novigrad, it's easy to appreciate just how much time was spent in crafting a living, breathing world.
(opens in new tab)
Bad cop

Solve crimes or take bribes and drugs as you play an amnesiac detective navigating the city of Revachol, which was once considered the capital of the world but is now in disarray. The game is filled with side quests and quirky characters, and you'll have a wide variety of ways to interact with them as you take advice from different aspects of your fractured psyche.
South Park: The Stick of Truth
Perfect parody

The Stick of Truth developers worked closely with South Park's creators to capture what makes the series so good. Plodding along as the new guy in the neighborhood, it's easy to feel like you're actually in an episode. While the game is an RPG, it also makes fun of genre staples like The Elder Scrolls and The Lord of the Rings, so the more familiar you are with the inspirations, the better the jokes will land.
(opens in new tab)
The future is here

While the latest game from the developers behind The Witcher 3 has had some serious issues on consoles, Jez Corden's Cyberpunk 2077 PC review said it might be the best game ever made. Explore the sprawling metropolis of Night City and take in incredible visuals, excellent voice acting, and a world crowded with NPCs representing gangs, corporations, police, and people caught in the conflict between them.
(opens in new tab)
Kingdom Come: Deliverance - PC
War in Europe

Playing as the son of a blacksmith with no nobility, you're tasked with surviving in the wild, making some coin, and progressing through the life of Henry. He's not special, nor does he have magical abilities. He's a simple citizen of Bohemia, 1403. It's an excellent choice for history fans, presenting a realistic open world where you'll choose how to solve quests and face the consequences.
Monster Hunter: World - PC
Team Up

Join up to three other players in cooperative hunts where you'll fight dragons and other gigantic monsters in various ecosystems. Every victory gives you the chance to craft new gear that will help you take down even more dangerous foes. Get familiar with 14 different weapons with their own unique attacks and use other tools to track, distract, and disable enemies.
(opens in new tab)
Divinity: Original Sin 2 - Definitive Edition
God mode

Gather a party for this tactical, turn-based RPG where you'll need to use the environment to your advantage, attacking enemies from high up and manipulating the elements to serve you. Up to four players can team up and explore the world of Rivellon or compete in PvP. Choose from six characters with their own backstories, which will affect how the rest of the world reacts to you.
High school hijinks

Take on the role of a Japanese high school student who must team up with his friends to stop a series of mysterious murders. You'll need to divide your time between dungeon crawling to solve the mystery, fight monsters, level up your character, and spend time on mundane activities like building relationships with your allies and upgrading your gear, and studying and working to improve your skills.
Deeply meta

Play a human who's fallen into a world of monsters in this humorous RPG that deconstructs the genre and gaming in general. You won't need to kill anything and can instead talk your way out of danger and even become friends with the bosses. When you do fight, you'll need to time your attacks for extra damage while dodging, combining JRPG mechanics with elements of a top-down shooter.
Elder Scrolls V: Skyrim Special Edition
Endless options

You can do pretty much anything you like in this massive game. Join a mages guild, thieves guild, or even a mysterious dark cult. You could even build your own house, get married, and run a bustling trade business. There are ruins that beg to be explored and mysteries to uncover. There's a lot to do in Skyrim, which is why you often see Steam accounts with playtime in the thousands of hours.
(opens in new tab)
Apocalyptic fun

Explore a version of Colorado devastated by nuclear war and make alliances or enemies with various factions vying for control. Assemble a squad of fully customizable rangers to take into tactical combat and explore the wilderness in an armored vehicle. The decisions you make will have big impacts, but there's also plenty of goofy humor to enjoy, so try to explore as much as you can.
Level up
The best role-playing games on PC can offer hundreds of hours of entertainment as you customize your character, grow in power, and take on epic challenges in highly detailed worlds. Our favorite is The Witcher 3: Wild Hunt (opens in new tab) because of its excellent characters, detailed world, and dramatic quests. It will also give you a great reason to check out the Netflix series set in the same world.
If you like The Witcher 3, you should also check out the developer's new game: Cyberpunk 2077 (opens in new tab). Moving from fantasy to science fiction, the title lets you explore a sprawling city with the help of Keanu Reeves' Johnny Silverhand. If you prefer turn-based to action RPGs, Wasteland 3 (opens in new tab) is a great choice. It's got lots of tactical complexity mixed with goofy humor. Whichever of these titles you pick, you'll get an enormous amount of entertainment.
Rich Edmonds is Senior Editor of PC hardware at Windows Central, covering everything related to PC components and NAS. He's been involved in technology for more than a decade and knows a thing or two about the magic inside a PC chassis. You can follow him over on Twitter at @RichEdmonds.
Windows Central Newsletter
Get the best of Windows Central in in your inbox, every day!
Thank you for signing up to Windows Central. You will receive a verification email shortly.
There was a problem. Please refresh the page and try again.