Better pings and speed with over $300 in freebies with Fios on Black Friday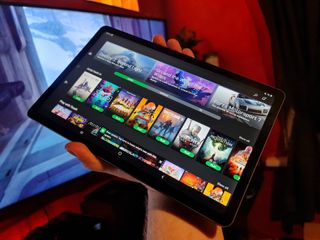 (Image credit: Windows Central)
It's like upgrading your Xbox, PC, and phone all at once. All of our devices rely on the internet to work their very best and with many of our favorite services like Game Pass pushing our connections to the limit, it's the right time for an upgrade. Many of us get roped into cable internet with bundles offering expensive rental fees and slow upload speeds. If an objectively superior fiber-optic connection isn't enough to convince you to switch, Verizon is also giving customers a boatload of freebies when they take advantage of this Black Friday Fios deal (opens in new tab).
If you sign up for the fastest Gigabit plan, Verizon will give you a choice between a free Nest Hub Max or a $200 Verizon gift card. The cheaper 400Mbps plan gets a $100 gift card while the slowest 200Mbps plan gets $50. All plans come with 12 months of Disney+ and AMC+ so you can get streaming right away. If you're a Verizon Wireless customer, you can also save $10 on your wireless bill, $20 if you go with Gigabit.
A free Nest Hub Max and streaming extras with your Internet upgrade
Verizon Fios (opens in new tab)

Upgrade your connection with Verizon Fios and get a free Nest Hub Max, 12 months Disney+, 12 months AMC+, and up to $20 off your wireless bill. You can also save the $99 setup fee when you sign up online.
If you've snagged an Xbox, Game Pass, and some extra storage, you're in for a great time gaming, but you'll still need to download or stream the games. If you've scored on the best Black Friday Xbox deals, a fast fiber connection can take that experience to the next level. The easiest way to get rare achievements is to be the first one to start the game after all.
Verizon's Fios connections have nearly 1:1 download to upload speed ratios. That means that your 400Mbps Fios connection will also have 400Mbps upload. Upload speed is important for streaming and sharing files online. Cable internet struggles to offer 50Mbps upload speeds on its most expensive plans. The Gigabit plan takes things even faster with 940Mbps download and 880Mbps upload.
Windows Central Newsletter
Get the best of Windows Central in in your inbox, every day!
Thank you for signing up to Windows Central. You will receive a verification email shortly.
There was a problem. Please refresh the page and try again.