Biggest Xbox announcements from Gamescom 2018
Microsoft revealed bundles, release dates, and much more at the event.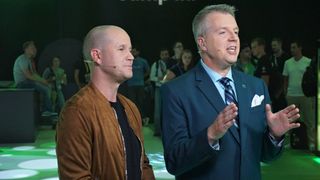 Today, Microsoft held its annual Xbox Gamescom event. The company announced a lot of new Xbox One bundles alongside release dates for games like DayZ and expansions like Sea of Thieves: Forsaken Shores. You can read about everything Microsoft announced at the Inside Xbox show below.
Hunt: Showdown
Hunt: Showdown is a first-person shooter which features a blend of competitive and cooperative combat. Monsters have taken over the world, and in order to survive, humanity must hunt them as close to extinction as possible. The game is coming to Xbox Game Preview soon. Hopefully it'll come to the console this year.
PlayerUnknown's Battlegrounds
PlayerUnknown's Battlegrounds (PUBG) is a battle royale game which has garnered a significant following on Xbox One and PC. For the past few months, it's been a part of Xbox Game Preview, but it's launching as a proper release soon. According to Bluehole Studio, PUBG is going to be updated to "Version 1.0" on September 4, 2018 for Xbox One.
Controllers
Microsoft unveiled a new PUBG special edition controller for Xbox One, alongside more options to design your own through Xbox Design Lab. There are more options than ever before to make an accessory you can truly call your own creation.
Battlefield V
Battlefield V got a new trailer which focuses on "Companies" and combat customization. However, the star of the show had to be the gorgeous, metallic-gradient "Gold Rush" Xbox One X. While a lot of consoles were announced throughout the evening, the Battlefield V edition stood out due to its striking color.
State of Decay 2
State of Decay 2 is a getting a "Daybreak Pack" on September 12. The download places you in the shoes of a powerful "Red Talon" soldier in a "Horde Mode" scenario. You have to defend a location from much more aggressive zombies as time goes on. The longer you survive, the better rewards you get.
Sea of Thieves
The Sea of Thieves: Forsaken Shores expansion is coming to Xbox One and Windows 10 on September 19. Forsaken Shores adds a new region called "Devil's Roar". As you may have guessed, it features active volcanoes and other dangers. However, you have a trusty rowboat to navigate these toxic waters.
Fallout 76
Fallout 76 got a hilarious "vintage" video detailing buildings and how they affect gameplay. While the trailer features a lot of exaggeration, normal players will mostly come across other gamers who want to build bases together. There's also a Fallout 76 Xbox One X bundle coming in November.
Steam
Microsoft announced that it's partnered with THQ Nordic to bring five Microsoft exclusives to Steam. Beforehand, the titles were only available on the Windows 10 Store which limited their commercial appeal. Games like ReCore: Definitive Edition and Super Lucky's Tale are part of the deal.
Ori and the Will of the Wisps
At Gamescom 2018, Moon Studios announced a new mode for Ori and the Will of the Wisps. The company said, "We are super excited to announce our all-new Spirit Trial mode. Spirit Trials will be found throughout the world... and allow players to asynchronously race against their friends."
Metro Exodus
Metro Exodus is a post-apocalyptic first-person shooter which has garnered a lot of interest in recent months. The mew trailer departs from the frozen wastelands to tour a region bathed in autumn leaves. According to 4A Games, the footage is a great example of the environmental diversity awaiting players.
Life Is Strange 2
Dontnod Entertainment discussed new footage for Life Is Strange 2 at Gamescom 2018. The game follows a new cast of characters on an incredible journey across the country.
Devil May Cry 5
Devil May Cry 5 is launching on March 8, 2019. The game features Xbox One X enhancements and maintains a smooth frame rate even during the heat of battle.
Sable
Sable is an adventure game coming to Xbox One in 2019. The visuals have been heavily influenced by anime and other animation techniques.
Halo: Fireteam Raven
Halo: Fireteam Raven is an arcade game which is currently only available in America. However, it's making its way to Europe soon.
Xbox Game Pass
Halo: The Master Chief Collection is joining Xbox Game Pass on September 1. The game will also get its long-awaited Xbox One X upgrade then, with improved matchmaking and other features. Xbox Game Pass is also available for just $2 for new members, and is getting a dedicated app on Android and iOS. ​
DayZ
DayZ is joining Xbox Game Preview on August 29, with Xbox One X enhancements in tow.
The Division 2
The Division 2 got a new trailer for Gamescom 2018. It features a destroy American capitol and destitute populace.
Shadow of the Tomb Raider
Shadow of the Tomb Raider features "Warrior Trials" which are extremely challenging tombs. There will also be a Shadow of the Tomb Raider Xbox One X bundle.
The Dark Pictures Anthology
Until Dawn was a PlayStation 4 exclusive which told a compelling horror story and featured photorealistic visuals. However, Supermassive Games is bringing The Dark Pictures Anthology to Xbox One as well. The Dark Pictures Anthology is a collection of horror games, two of which will release every year.
Forza Horizon 4
Forza Horizon 4 is getting dedicated Xbox One bundles when it launches in a few weeks.
Those were all of the biggest announcements from Inside Xbox at Gamescom 2018. A lot of great experiences are coming to Xbox One in the coming months from various publishers, and hopefully, you're as excited as we are for games like Hunt: Showdown and DayZ.
Keep an eye on WindowsCentral.com/Gaming for all the latest in Xbox and Windows 10 gaming, accessories, news, and reviews!
Windows Central Newsletter
Get the best of Windows Central in your inbox, every day!
Asher Madan handles gaming news for Windows Central. Before joining Windows Central in 2017, Asher worked for a number of different gaming outlets. He has a background in medical science and is passionate about all forms of entertainment, cooking, and antiquing.
Disappointed the two things I was most excited for at E3 still didn't get mentioned at Gamescom. Age of Empires IV & Minecraft Super Duper Graphics Pack.

I was hoping for an updated Elite controller. The PUBG & Design Labs controllers are nice but my Elite is in need of replacement.

Yup, I was really hoping for that.

Agreed, both my Button's are playing up now and the controller needs to go in for another fix.

I want crossplay between the Windows Store and Steam when they release multiplayer games on Steam. And I would prefer GOG. There's no need to give Valve even more money.

Exactly, why the hell are they bringing the 5 WinStore exclusives to Steam only, and not to GOG, or only to GOG?

naming a shotgun something you put babies to sleep with, edgy

All is pretty much Meh; where is that commitment to PC gaming Spencer was blabbing about for years? How about a mention of the biggest PC franchise of Age of Empires, not a word on the progress there, which probably all but guarantees its been trashed.

Sable looks incredible. I'm glad they gave it more air time as they only gave it a few seconds at E3.

I'm so glad I didn't get Recore on Windows 10. Now I'll just get it on steam. So now the "XB" just lost few more exclusives... That's the thing about MS, we never know what will eventually end up on other platform. They just keep calling things exclusives while hiding the fact that it'll come on other platform...