Where to buy Xbox Series X: Restock at Walmart, Best Buy, GameStop
Everything you need to get hands-on with Xbox Series X and Xbox Series S this holiday.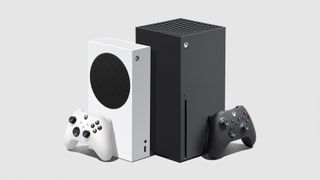 (Image credit: Microsoft)
With Microsoft's two next-generation Xbox Series X and Xbox Series S consoles selling out month in, month out, supplies have gotten better in recent years. The extensive preorder campaign that first opened back in 2020 saw stock stripped near-instantly from retailer pages amid overwhelming demand for the consoles. And while Microsoft struggled to meet demand initially, things have improved over time. But we're staying on top of all the details you need to know, including where to find Xbox Series X|S stock this month.
Xbox Series X, Xbox Series S restock: Where can I find stock?
Why you can trust Windows Central Our expert reviewers spend hours testing and comparing products and services so you can choose the best for you. Find out more about how we test.
Xbox Series X and Xbox Series S are finally here but securing a preorder hasn't been easy for everyone. Microsoft first opened Xbox Series X and Xbox Series S preorders in September 2020, and as expected, they sold out crazy fast. With high interest in next-generation hardware and supply unable to meet demand, retailers worldwide saw their stock allocations stripped by eager buyers. Websites halted with error messages due to high traffic, making it far from a streamlined experience.
That makes it essential to look out for new stock. The initial rush has died down, so things have become easier to find opportunities from various retailers.
Upcoming Xbox Series X, Series S restocks
Leading 4K
The full next-generation experience.

Xbox Series X is Microsoft's new flagship, as its most powerful console with over 12TF GPU performance and a custom SSD. It boasts up to 4K resolution and 120 FPS, full backward compatibility across four generations, and ray-tracing support.
Next-gen in HD
Experience next-gen gaming for less.

Microsoft serves the next-generation for less with its budget-friendly Xbox Series S. The console packs the same high-performance CPU and SSD technology as Xbox Series X, while scaling back the GPU and removing the disc drive.
Finding an Xbox Series X or Xbox Series S over the coming months may prove challenging, with shipments for some retailers behind schedule, and stock shortages even for existing orders.
But many retailers have been keen to sell consoles where available, and staying on top will reward those lucky few. The Xbox Series S remains the easier console to find, with stock briefly lingering in some regions after restocks. The more affordable console features many next-gen features, although preorders have attracted diehard enthusiasts, with the Xbox Series X unsurprisingly the one to go fast. Right now, finding an Xbox Series X still proves challenging.
Microsoft is expected to deliver additional batches to retailers in the weeks around the launch and we've already seen numerous restocks occur last month. You can check our stock tracker below, which outlines the stores with stock still live.
Where to find Xbox Series X, Series S in stock
Xbox Series X and Xbox Series S stock is going fast, making it crucial to have your cash ready once the time comes. And while we've committed our full-time team to track Xbox stock, it's also sometimes merely down to luck. Keep an eye out for notifications from your preferred retailer and check back frequently where possible.
Xbox Series X, Xbox Series S US stock
Xbox Series X and Xbox Series S are now up for sale in the U.S. The Xbox Series X retails for $499 nationwide, while the Xbox Series S comes in at $299.
Swipe to scroll horizontally
Microsoft also launched its Xbox All Access financing program on September 22, 2020. Each 24-month plan includes an Xbox Series X or Xbox Series S console, accompanied by two years of Xbox Game Pass Ultimate, for $35 per month or $25 per month, respectively. Xbox All Access preorders opened at the Microsoft Store, alongside Best Buy, GameStop, and Walmart.
Xbox Series X, Xbox Series S Canada stock
Canadian orders for Xbox Series X and Xbox Series S are now open alongside their U.S. neighbors. The Xbox Series X costs $599 in the country, while the Xbox Series S receives a $379 RRP.
Swipe to scroll horizontally
Xbox All Access also heads to Canada with Xbox Series X and Xbox Series S exclusively via EB Games, with financing available for $40 per month for its flagship, or down to $30 for its more affordable console.
Xbox Series X, Xbox Series S UK stock
Xbox Series X and Xbox Series S preorders opened a few hours earlier in the UK, adjusting for local time zones. Microsoft and third-party partners typically sell stock priced at £449 for Xbox Series X, and £249 for Xbox Series S.
Swipe to scroll horizontally
Microsoft also opened Xbox All Access to the UK for Xbox Series X and Xbox Series S preorders on September 22, 2020. Microsoft won't offer the service itself, partnering with GAME and Smyths Toys to enroll buyers in its 24-month payment plan, instead.
Xbox Series X, Xbox Series S release date
Xbox Series X and Xbox Series S both released on November 10 across the globe, with their respective price points in each region. Microsoft debuted both consoles in existing Xbox One markets with a simultaneous global launch across multiple continents. It contrasts the Xbox One launch, which notoriously witnessed a staged rollout, excluding many markets in its early months and years.
Xbox Series X, Xbox Series S price
Unlike traditional next-generation console launches, Microsoft debuts Xbox Series X alongside a more affordable Xbox Series S. The Xbox Series X costs $499 in the U.S. In contrast, its smaller sibling, Xbox Series S, costs $299. It brings both consoles in line with the Xbox One S and Xbox One X pricing when they first released. Both Xbox One and Xbox One X were positioned at $500 from launch, so this isn't a surprising move on Microsoft's part.
Xbox Series X and Xbox Series S pricing varies worldwide, and we've wrapped up a comprehensive list of RRPs for both consoles in top regions.
Swipe to scroll horizontally
| Region | Xbox Series X | Xbox Series S |
| --- | --- | --- |
| United States (USD) | $499 | $299 |
| Canada (CAD) | $599 | $379 |
| United Kingdom (GBP) | £449 | £249 |
| Europe (EUR) | €499 | €299 |
| Mexico (MXN) | $13,999 | $8,499 |
| Australia (AUD) | $749 | $499 |
| New Zealand (NZD) | $799 | $549 |
| Japan (JPY) | ¥49,980 | ¥32,980 |
| South Korea (KRW) | ₩598,000 | ₩398,000 |
Microsoft is also offering both consoles through its aforementioned 24-month financing plan dubbed "Xbox All Access." Those eyeing Xbox Series X can purchase the console at $35 per month, or $25 per month, with 0% APR payments. Xbox All Access also includes its Xbox Game Pass Ultimate subscription over that 24-month window, bundling Xbox Game Pass, Xbox Live Gold, and EA Play on PC, alongside cloud streaming on Android devices.
However, before entering Xbox All Access, understand that purchasing any device through monthly installments comes with serious risks. While the low entry price proves alluring, and Microsoft provides zero-interest plans for all buyers, you're locked into regular payments for two years. Xbox All Access often comes out cheaper than paying upfront but make sure you can cover the expense for the entire plan.
Where to preorder Xbox Series X and Xbox Series S
Orders for Xbox Series X and Xbox Series S consoles are being taken via the Microsoft Store and third-party retailers in your local region, where stock allows.
There's no better place to shop than Microsoft, providing an opportunity to reserve directly from the manufacturer itself. The online storefront is among those with the most stock, with the first batch already arriving in homes. That also comes with Microsoft Store benefits, including its Microsoft Rewards system that provides points with each purchase. The Xbox Series X and Xbox Series S won't be available via physical Microsoft stores, following its decision to shutter all brick and mortar locations.
You can also order through a variety of third-party retailers. Every retailer has an allocation of units, and with demand exceeding supply, it's crucial to act quickly to order through your preferred retailer. Enquire with retailers in your region for more details on their release plans for Xbox Series X and Xbox Series S.
Select retail partners also allow the purchase of Xbox Series X and Xbox Series S through Microsoft's official Xbox All Access financing program. Xbox All Access spans 12 countries this year through the Microsoft Store and select retailers.
Xbox Series X, Xbox Series S countries and markets
Xbox Series X and Xbox Series S debut across an extended list of markets compared to Xbox One back in 2013. The previous Xbox generation notoriously started with just 13 regions, excluding many consumers deeply rooted in the Xbox 360 family. Microsoft has now reinvented its approach, with sights set on 36 markets.
The expanded rollout sees the company provide full coverage for North America, with an expanded European presence. The Xbox Series X and Xbox Series S also pushed into Asia, with Japan and South Korea also grabbing more market share than in previous generations.
Xbox Series X, Xbox Series S bundles and deals
Microsoft launched Xbox Series X and Xbox Series S with one edition of each console, expected to ship just two stock-keeping units (SKUs) throughout the launch window. Past Xbox One consoles saw multiple versions, whether game bundles or limited-edition redesigns, but they're uncommon within each console's first year on the market. Microsoft isn't diverging from the trend, especially given the global market's current challenges.
While Microsoft hasn't detailed any planned Xbox Series X and Xbox Series S bundles, they may be available. Third-party retailers have previously packaged their units with games, accessories, and subscriptions, as seen with GameStop who offers some bundles at over double the price of the console. We recommend visiting your local retailer online or in-store for additional details on available promotions on Xbox Series X and Xbox Series S.
However, Xbox Series X and Xbox Series S won't see discounts anytime soon. It's the norm with any new console, but especially the case with Microsoft's latest hardware family. "When we looked at trends and silicon and hardware costs in this generation, we saw that we weren't going to see the kinds of decreasing costs that we saw in prior generations," said Liz Hamren, head of Xbox platform engineering and hardware at Microsoft, in a leaked press briefing. "And that led us to realize that we could deliver a fully next-gen, more accessible console at the beginning of a generation."
Microsoft likely sees a loss on every next-generation Xbox console, making higher revenue through supporting software and services instead. That means both Xbox Series X and Xbox Series S look to deliver outstanding value but may disappoint those looking for discounts and promotions soon after launch.
How to buy Xbox Series X, Series S via Xbox All Access
Microsoft also launched Xbox Series X and Xbox Series S with the revival of Xbox All Access, its 24-month financing program, designed to spread to cost for next-gen hardware. The all-inclusive contract bundles either device with its Xbox Game Pass Ultimate subscription, with no interest or hidden fees. Pricing comes in two flavors, with Xbox Series S costing $25 per month, while Xbox Series X comes in at $35 per month.
Xbox Game Pass includes various Microsoft gaming services, headlined by its Xbox Game Pass library, granting unlimited access to hundreds of Xbox and PC games. The Netflix-style service now even includes all Microsoft-published titles like Halo, Gears of War, and Forza on launch day, as well as Electronic Arts titles with the new EA Play deal. It also includes Xbox Live Gold, providing access to online multiplayer on Xbox consoles, and Xbox Game Pass' cloud gaming on Android devices.
However, buyers should understand that Xbox All Access comes with risks. This isn't your average subscription service, where you can cancel at any time. Xbox All Access is a 24-month contractual obligation, where Microsoft pulls in an external financing agency, including a credit check to determine eligibility. It eases the initial investment, but you'll need to pay on time every month, adding up over time.
But if you're able to cover the monthly cost, Xbox All Access proposes an attractive deal. The overall cost for Xbox Series X or Xbox Series S, and your Xbox Game Pass Ultimate subscription, actually end up slightly cheaper than buying upfront in most regions.
While Microsoft first offered a limited trial for Xbox All Access with Xbox One, the company has expanded the program to 12 countries, via Microsoft and third parties. The storefronts and financing agencies backing Xbox All Access varies between regions, with a full list of global retail partners below:
Australia: Telstra
Canada: EB Games
Denmark: Elgiganten
Finland: Gigantti
France: FNAC
New Zealand: Spark
Norway: Elkjøp
Poland: Media Expert
South Korea: SK Telecom
Sweden: Elgiganten
UK: GAME, Smyths Toys
United States: Best Buy, GameStop, Target, Microsoft Store, Walmart
For more details on financing the Xbox Series X and Xbox Series S through Xbox All Access, check with your local retailer.
Xbox Series X, Xbox Series S best accessories to buy
With Xbox Series X and Xbox Series S out now, there's also an extensive lineup of Xbox Series-compatible accessories to consider alongside your preorder. Microsoft has pledged to full backward compatibility with its latest consoles, extending to controllers, headsets, and storage devices. It means that buying accessories for Xbox One today guarantees value following the switch to new gen consoles. We've rounded up some of the best products you can buy today, pairing perfectly with Xbox Series X or Xbox Series X.
Best Xbox Series X, Series S headset: LucidSound LS35X
The LS35X remains an in-house favorite at Windows Central, locked among the best Xbox One headsets with its leading wireless audio. LucidSound delivered its best with these cans, with high-quality metal and plastic construction, both lightweight and comfortable. The earcup and coolant gel also make these easy to wear for extended periods, complementing 15-hour battery life.
Audio fidelity won't disappoint, bringing out all the details from footsteps and reloads, while still rendering the full glory of epic soundtracks. Hassle-free wireless completes the package, leveraging the same Xbox Wireless connection used by your Xbox controller, eliminating dongles and docks. For those looking for the best headset money can buy, the LS35X remains one to beat.
The full soundscape

With its excellent audio, reliable and clear microphone, immense comfort, and wonderful battery life, the LucidSound LS35X is the perfect wireless headset for most Xbox One gamers.
Best Xbox Series X, Series S controller: Xbox Elite Controller Series 2
Microsoft revived the Xbox Elite controller with a second revision in 2019, changing its ultra-premium gamepad with a reinforced design and new features. The returning staples all hold up, with customizable sticks, buttons, and rear paddles, complemented by its robust in-hand feel through metallic accents and rubberized panels. The company also beefed up the battery, added a charging dock, and introduced more customization tweaks, distancing this from your average controller.
The Xbox Elite Controller Series 2 makes an attractive product even better, improving the original in countless ways. It also works with Xbox Series X and Xbox Series S, given Microsoft's promise for backward compatibility, including accessories. This product even influenced many of the next-gen Xbox controller changes, if you can live without a "Share" button.
Xbox Elite Controller Series 2
Gaming luxury

With premium features, premium construction, and premium details, the Series 2 also comes with a very premium price tag. If you can weather the bill, you won't find yourself disappointed, though. This might be the best controller ever made.
Best Xbox Series X, Series S USB storage drive: Samsung T7 SSD
The Xbox Series X and Xbox Series S heavily rely on their custom SSD solutions, which means your existing hard drives won't feature the same compatibility as Xbox One consoles. Xbox Series-optimized titles mandate the internal SSD to run, or an SSD expansion card that's yet to go on sale. But an external USB SSD pairs great with next-gen consoles, capable of running any Xbox One, Xbox 360, or original Xbox titles via backward compatibility. You can also store Xbox Series titles on USB devices when not in use, and transfer them to the internal SSD when needed.
Samsung's T7 500GB external drive could be for you, packing above-average speed below $100. It doubles the storage of your Xbox Series S, making it great for offloading multiple titles.
Samsung T7 500GB Portable SSD
Expand your Xbox

While Xbox-compatible SSDs aren't cheap, Samsung's T7 500GB external drive secures great gaming results at a small premium. It's encased in a shock-resistant metal finish, and fits stealthily beside any console.
Xbox Series X, Xbox Series S: Which is for you?
Microsoft enters the next generation with a two-pronged approach, divided between the Xbox Series X flagship and the more affordable Xbox Series S. It comes with the company looking to serve enthusiasts with the most powerful console on the market, while still providing a more budget-friendly alternative for the average consumer. The upcoming devices represent sizeable leaps over Xbox One, embracing the same shared values. Check our full breakdown of Xbox Series X versus Xbox Series S for additional context.
Xbox Series X represents Microsoft's next-generation frontrunner, ushering hugely revamped hardware to increase performance, reduce loading times, and more. The console features top-tier hardware, including the latest AMD Zen 2 processor and Navi GPU architectures, flanked by a custom NVMe solid-state drive (SSD) with speeds up to 40 times faster than Xbox One X.
The Xbox Series S arrives with a similar premise but scaled back with reduced graphical power and near half the retail cost. The compromise comes with the hardware inside the box, with a lower-spec GPU, reduced RAM, and smaller-capacity NVMe SSD. The console also pulls the disc drive, making this a digital-only variant.
Xbox Series X targets 4K resolution at 60 FPS, with many titles already pushing further with up to 120 FPS outputs. The Xbox Series S scales back to 1440p resolution and 120 frames-per-second, but with shared features like variable refresh rates (VRR) and ray tracing. Both consoles feature the same SSD speeds at different storage volumes, meaning identically speedy load times, while eliminating a past bottleneck.
While the Xbox Series X and Xbox Series S provide a firm divide in the Xbox console family, much of the Xbox One experience still translates. The consoles feature full backward compatibility with games that work on Xbox One and all accessories like controllers and headsets. The only difference comes with the Xbox Series S' disc-less design, cutting off any physical disc-based media.
Games designed around Xbox Series X and Xbox Series S feature exclusive upgrades, outpacing their Xbox One counterparts. And while upcoming titles like Halo Infinite will offer a cross-generation experience bridging Xbox One and the Xbox Series family, future projects will eventually be exclusive to the next generation of consoles.
Get the Windows Central Newsletter
All the latest news, reviews, and guides for Windows and Xbox diehards.
Matt Brown was formerly a Windows Central's Senior Editor, Xbox & PC, at Future. Following over seven years of professional consumer technology and gaming coverage, he's focused on the world of Microsoft's gaming efforts. You can follow him on Twitter @mattjbrown.