Casual Connect 2013 Wrap-up: Windows Phone and Windows 8 report card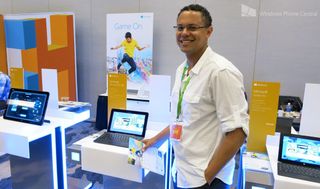 Yesterday we ran our final Casual Connect USA news item for the year: a preview of upcoming games Animal Park Tycoon and Yeti Rising. Now its time to look back at how Windows Phone and Windows 8 fared at the show. Did they live up to our predications, and has Windows Phone gaming prospered since Casual Connect 2012?
Microsoft's showing
Hey, it's me! You couldn't tell very well who it belonged to, but this was the Payment wall booth.
We didn't expect Microsoft themselves to have much presence at Casual Connect. The Windows platform holder went all-out at GDC earlier this year and of course E3, but didn't make any advance announcements for Casual Connect.
As it turns out, Microsoft did have a small, understated booth dedicated to Windows 8 at Casual Connect. Poor Windows Phone got left out for some reason. Justin Saint Claire, Product Manager (pictured at top) did hint that both platforms will make a stronger showing next year.
Game developer support
This year Windows Phone saw so much more support from game developers than last year. For comparison, we only learned about six different games at Casual Connect Seattle. At this year's event in San Francisco, we learned about 14 brand new games, to say nothing of app announcements and interviews concerning existing games. Established indie developers are lining up to bring their titles to Windows Phone (and Windows 8), and they're excited to talk about them.
Interest in mobile Xbox games however has dwindled to near nonexistence – such a huge shame. Yes, today's announcement of 15 games (technically 12 newly announced titles for Windows Phone 8) from Gameloft is fantastic. But one publisher - no matter how impressive and varied their games may be - cannot sustain the Xbox lineup on Windows Phone. We need developers like Artifex Mundi, Handy Games, and Flare Games to care about Xbox support as well.
Hopefully Microsoft has a change of heart and decides to promote Xbox Windows Phone once again. If they revamp the mobile Xbox certification process and policies in order to make Xbox support appealing, developers will come around.
Now here are all of this year's Casual Connect stories for you. If you missed any, please check them out, watch the videos, and leave comments!
Windows Phone only stories:
Windows 8 only stories:
Windows Phone and Windows 8 stories:
Out of all the games we covered from the show, which ones are you fine guys most excited for?
Windows Central Newsletter
Get the best of Windows Central in in your inbox, every day!
Paul Acevedo is the Games Editor at Windows Central. A lifelong gamer, he has written about videogames for over 15 years and reviewed over 350 games for our site. Follow him on Twitter @PaulRAcevedo. Don't hate. Appreciate!
I don't get why MS doesn't do everything in their power to make WP prosper, they should be making it as easy as possible to get games Xbox ready.

Unfortunately the reason is that they cant/wont make enough money from it as they would and do from Windows and Xbox. WP is important but not vital for MS's survival. In the end Windows 8/9/10 will most likely be the successor of Windows Phone and ride the coat tails of Xbox and Windows as a full blown PC/phone...

Foolish thinking by Microsoft when the market for smart phones and tablets is growing larger than the traditional PC market. They really screwed up the Halo launch and killed the buzz.

Why are 3rd party game devs more excited about WP gaming than Microsoft? Are they waiting for another $900 million write down before they get serious?

BTW who is the hottie on the right (brunette with glasses)? :)

Noemi Esparza, PR Manager at GREE.

I didn't think you would reply Paul. Cool :)

Why must they tease us so with a picture?

The yellow thing in the last picture reminds me of a sports cup... Something most gamers are unfamiliar with, ha ha

There are just so many decent to great looking games!

What is it about the Xbox certification process on Windows Phone that is so slow or tough? What about the option of granting some titles Xbox certification after they initially launch, for those worthy? I would think there are many benefits to Xbox certification (more free promotion, getting highlighted in the app store, higher sales numbers, etc.) that would make it worthwhile.

Here's a series of editorials that answers those questions: How Microsoft can save Xbox games for Windows Phone

Great wrap-up Paul, thanks. Hope Microsoft gets things in gear, still shaking my head 1080p support was not available last year at wp8 launch.

Good wrap up Paul. Especially the part about the nonexistence of Xbox games. How can you not care as a developer? I think it's always worth it to publish with Xbox features despite all those big flaws.

When the certification process makes the difference between releasing a game now or in 6-12 months time, I can see why they're avoiding it.

Why is there a picture of candy crush mascots? Is candy crush coming to WP?

I would like to know too??? Ia Candy Crush coming to WP???

It's sp take your heart and stomp on it. LoL

They're just pictures from the event. I'd have included Windows Phone-related mascots if there had been any.

Right now now my Lumia 920 doesn't play Spiderman smoothly, and they're working on is upgrades to support higher res screens, new SOC's, etc. WinPho 8 is finally the same kernel as the desktop, but they have some way to go before its as functional of an ecosystem as android and ios. I expect they are waiting for windows blue (post gdr3) and Xbox one to launch before they start pushing

Right now the platform isn't mature enough yet, and market share is low. But, within a year or two, things will change more than in the last year or two.
Windows Central Newsletter
Thank you for signing up to Windows Central. You will receive a verification email shortly.
There was a problem. Please refresh the page and try again.