Cyberpunk 2077 set a new record for itself over the weekend with PC players
By Rizwan Anwer published
The game saw a big bump after it went on sale for half off on Steam.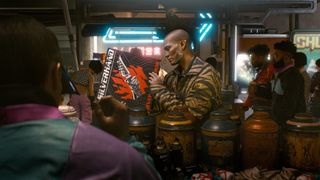 (Image credit: CD Projekt RED)
What you need to know
Cyberpunk 2077 was on sale during the Black Friday weekend, and the game has managed to garner as many as 23,000 new positive reviews in a single weekend on Steam.
The Witcher 3 and Cyberpunk 2077 were on the global list of top sellers over the weekend.
Cyberpunk 2077 is a name that will not be soon forgotten, but not for the reason you might think. Whether you remember it for the catastrophic launch on consoles, or the game causing the company to becoming the subject of scrutiny over the treatment of its employees, the game has left its mark.
Lately, the game has been flying under the radar as CD PROJEKT RED focuses on updates and the upcoming current-gen versions (the company announced today it's expecting it to hit in early 2022), the game also went on sale for half off during Steam's Autumn/Black Friday sale. According to Pawel Sasko, Cyberpunk 2077's quest director, the game saw a huge bump over the weekend.
Sasko tweeted that the game has received "almost 23K new very positive reviews" on Steam. He also noted that both Cyberpunk 2077 and The Witcher 3 were in the top 15 products on Steam. At the time of this writing, Cyberpunk 2077 is still at number 2, right behind the Valve Index VR Kit. The Witcher 3 has dropped significantly but is still in the top 50.
The PC version has always been one of the most consistent ways to play the game since launch, but it wasn't without its problems. The team has been working on a number of fixes over the past year. The first expansion is also still in development.
A dark and gritty world
(opens in new tab)
The standard for next-gen.

Cyberpunk 2077 might have had a rough start, but it's still kicking and it's better than ever, especially on PC. Play as V and enter a new world while Keanu Reeves lives inside your head.
Finally this game is emerging from the cloud of stink it was put at release and showing what a great game it is, in its own terms.

Nothing like a 50% or so discount to make the game worth the price.
For me it was either RDR2 or CyberPunk this sale. I went RDR2
CyberPunk will be the Winter Sale.
Windows Central Newsletter
Get the best of Windows Central in in your inbox, every day!
Thank you for signing up to Windows Central. You will receive a verification email shortly.
There was a problem. Please refresh the page and try again.