Final Fantasy XIV Fan Festival 2023 London announcements: New Jobs, Final Fantasy XI Raid, Xbox open beta and more
New details have been announced for Final Fantasy XIV Dawntrail at Final Fantasy XIV Fan Festival 2023 London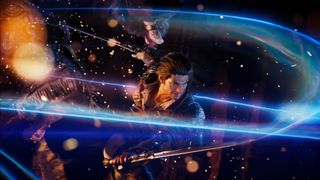 (Image credit: Square Enix)
What you need to know
News regarding Final Fantasy XIV: Dawntrail, the 5th upcoming expansion to Final Fantasy XIV, has been shown off during Final Fantasy XIV Fan Festival 2023 London.
These announcements include new player Jobs, details regarding the new 24-player Alliance Raid, the Xbox open beta test date, and more.
Final Fantasy XIV: Dawntrail is set to release in the summer of 2024 on Xbox Series XS, PlayStation 4 and 5, and PC.
---
On October 21, 2023, Square Enix hosted 2023's second Final Fantasy XIV Fan Festival in London to showcase a new trailer and features of the 5th upcoming expansion to Final Fantasy XIV, Final Fantasy XIV: Dawntrail. Among the new details announced include the reveal of new Jobs, the title of the 24-player Alliance raid, the date for the open beta test of the upcoming Xbox version of Final Fantasy XIV, and more.
Here are all the biggest announcements of Final Fantasy XIV Fan Festival 2023 in London:
New Melee DPS Job: Viper
The first major piece of new information for Final Fantasy XIV: Dawntrail is the full reveal of one of the two Jobs that will be added: Viper. The Viper is a Melee DPS Job that uses a pair of swords that combine to form a double-bladed staff.
It is an original Job exclusive to Final Fantasy XIV, not based on any Job from previous Final Fantasy games. However, longtime Final Fantasy fans will notice that the Viper's move-set bears a resemblance to Zidane, the protagonist of Final Fantasy IX who uses similar weapons.
The new Ranged Caster DPS Job will not be revealed until the next FFXIV Fan Festival event in Tokyo on January 7, 2024.
New areas: Kozama'uka and Shaaloani
Square Enix showcased a couple of new areas that the players will explore in FFXIV: Dawntrail. The first is a jungle-themed area called Kozama'uka filled with tropical forests, rivers, and indigenous tribes. The second is an arid region called Shaaloani, a land featuring desert plains and a railroad built to aid the transport of Ceruleum deposits.
New Allied Tribe: Moblins
One of the new Allied Tribes that will be added in Dawntrail will be the Moblins, a culture similar to the Goblins. Moblins are skilled gatherers and traders who reside in the jungles of Kozama'uka. This tribe will host quests for players proficient in the Gatherer and Crafter Jobs.
New boss and dungeons
Image 1 of 4
During the event, we were given a glimpse of the new dungeons, and one of the bosses' players is expected to encounter in Final Fantasy XIV: Dawntrail. The dungeons will include tropical jungles, mountains with mystical fauna, and ancient ruins.
One of the new bosses of Dawntrail will be the Eliminator, a gigantic mechanical war machine.
New Alliance Raid: Echoes of Vana'Diel
The new 24-player Alliance Raid series will be called Echoes of Vana'Diel. This will be a special Raid series as it will be a collaboration of Final Fantasy XI, the first MMORPG of the Final Fantasy series. No details regarding the Raid's plot and content have been announced at this time but will be revealed at a later date.
New Limited Job
A new Limited Job will be added into the latter half of Dawntrail's post-launch patch series. A Limited Job is a Job with its own exclusive set of quests and content separate from the regular Jobs. The only Limited Job Final Fantasy XIV currently has is the Blue Mage, which was implemented into the game during Final Fantasy XIV: Stormblood.
Xbox Open Beta Test date
Square Enix has announced that the open beta test for the Xbox version of Final Fantasy XIV will take place between the middle of January 2024 and February 2024.
FFXIV x Fall Guys Collab
The release date for Final Fantasy XIV's unexpected collaboration with Fall Guys has been announced. The Fall Guys mini-games will be added to the Manderville Gold Saucer on October 31, 2023, alongside FFXIV's Patch 6.51 update. There will also be special prizes for completing these mini-games.
Final Fantasy XVI Crossover
Final Fantasy XIV will feature a limited-timed, crossover event with Final Fantasy XVI. In this event titled "The Path Infernal", players will get to team up with Final Fantasy XVI's protagonist Clive, and take on Final Fantasy XVI's version of Ifrit, the franchise's reoccurring fire-based Summon monster.
Cloud Data Center Stress Test
Square Enix is inviting players to take part in a stress test for cloud data centers that will be later implemented into Final Fantasy XIV. The stress is scheduled to take place from November 21, 2023, to November 27, 2023.
The Stress Test will be held in the North America (East Coast) Data Centers, but players from all over the world can take part. To take part, players will need to create new characters specifically for this test (they will automatically be deleted after the test is over). During this test, Data Center Travel and the backup configuration settings feature will be unavailable.
To aid participating players in this test, they will be granted Tales of Adventure Items for the Main Scenario Quests and every Job up until Final Fantasy XIV: Shadowbringers, and 50,000,000 Gil.
New adventures are dawning for Final Fantasy XIV
Things are starting to get exciting for this upcoming PC title as we move ever closer to Final Fantasy XIV: Dawntrail's release date. What new adventures await us in the next expansion, and what could the Magical Ranged DPS Job possibly be? Stay tuned to find out, as more updates for one of Square Enix's best PC games will no doubt be revealed during Final Fantasy XIV's next Fan Festival in Tokyo, on January 7, 2024.
Get the Windows Central Newsletter
All the latest news, reviews, and guides for Windows and Xbox diehards.
Alexander Cope is a gaming veteran of 30-plus years, primarily covering PC and Xbox games here on Windows Central. Gaming since the 8-bit era, Alexander's expertise revolves around gaming guides and news, with a particular focus on Japanese titles from the likes of Elden Ring to Final Fantasy. Alexander is always on deck to help our readers conquer the industry's most difficult games — when he can pry himself away from Monster Hunter that is!