Please don't bother with the official Hogwarts Legacy game guide because it's shockingly bad
If you want the best how-tos and tips on getting through Hogwarts Legacy, you should use our guides instead (for free).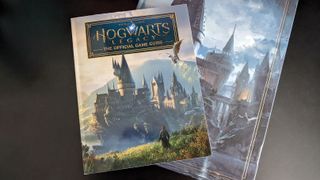 (Image credit: Rebecca Spear / Windows Central)
Hogwarts Legacy has been out for a while now, but it wasn't until this week that Hogwarts Legacy: The Official Game Guide was also released. I've absolutely loved Avalanche Software's wizarding world game and have written dozens of guides for it. In fact, I'm flattered to say that millions of you have used my guides and have spent over seven million minutes reading them so far.
As is my practice as a games editor, I purchased the official game guide to see if there are any tricks, secrets, or tips that I and the player base haven't picked up on yet. However, I was unprepared for how lacking this particular game guide would be. This is especially frustrating since the many complex Hogwarts Legacy puzzles and quests are part of what makes this one of the best PC games and best Xbox games out there.
I would be a little more lenient (although still disappointed) if this were a third-party creation, but this is the official guide for Hogwarts Legacy, and as such, it should have all of the information people need.
A game guide that doesn't always guide
Hogwarts Legacy guides
- How to choose the best wand
- How to get large potting tables
- How to solve the floating candles map
- How to open The High Keep's main gate
- How to complete The Helm of Urtkot
- How to use Rowland's Map
- The Hippogriff Marks the Spot location
- How to capture a Graphorn
- How to get all beasts
- How to solve Merlin Trials
- How to open Eye Chests
- Where to find Troll Bogeys
- Hogwarts Legacy review
Hogwarts Legacy: The Official Game Guide is an incredibly small and thin paperback for what is expected from a AAA open-world game. It turns out it manages to be so small because it's missing tons of useful information. The book is split into four different parts (much like the game), with chapter headers that address various mainline quests and sidequests. Near the back of the book, it provides less than half a page of info regarding the final boss fight (which definitely should have more details) and then ends in a reference library.
While the pages are filled with beautiful screenshots and drawings, there is comparatively very little text. This official game guide often serves more as a picture book or pamphlet that feels like it's meant to entice people to play Hogwarts Legacy rather than giving helpful details for players who are actually playing it.
At other times, it provides useful walkthroughs but then doesn't describe things clearly, or it skips steps and encourages players to figure things out for themselves. The book tends to get the vaguest when addressing puzzles. I don't even know how often I read platitudinous notions that say something to the effect of, "think cleverly to succeed," rather than explaining solutions. On top of that, many of the images were selected for their aesthetics but don't actually show the helpful details players need.
Seriously, what's the point of an official game guide if it doesn't guide players through a game?
Moreover, certain sidequests and puzzles are only lightly touched on or have been left out of the official game guide entirely. For example, there are only three small paragraphs regarding the 16 Daedalian Keys. The guidebook tells you where to find the first key, but it doesn't state where any of the 15 remaining keys are hidden within the labyrinthine castle. Instead, it simply reads, "catch them all for a prize," and doesn't even bother mentioning or showing the cool house-specific robes players can unlock by doing so.
Similarly, the book does not tell you where to find Demiguise Statues for unlocking Alohomora Levels and there isn't even any mention of the prominent Hogwarts puzzle doors, which have proven confusing for many players.
There are times when the book starts to be helpful but then leaves critical information out. For instance, the Herbology Class section has a quick guide for where to find recipe resources, but some ingredients are missing from this page such as Fluxweed Stem and Shrivelfig Fruit. The opposite page explains that you'll want to "buy seeds from Beatrice Green at Dogweed & Deathcap" but fails to mention the crucial detail that you find this store in Hogsmeade Village. On top of that, there's absolutely no mention of The Magic Neep, another important shop for acquiring magic plants.
To be fair, the official guide does handle quests a little better. For example, explaining where to find the one-eyed witch statue for the "Dissending for Sweets" quest, which many players have had difficulty locating. But overall, the walkthrough information the book gives is hazy without explaining all of the particulars or skipping steps. If you were hoping for a Hogwarts Legacy walkthrough or a book that could provide detailed assistance with solving puzzles, then this official guide will be disappointing.
As I briefly mentioned before, the official guide's biggest redeeming quality is that it is packed with interesting images. Some are screenshots, while others are drawings that were not in the Hogwarts Legacy base game (as far as I saw). But then why would you purchase this official game guide for art when the absolutely stunning The Art and Making of Hogwarts Legacy hardback is right there for you to purchase? Now, that's a book that's worth your time as it's large and filled with both concept art and explanations for design choices that many Harry Potter fans will find interesting.
The art book is truly stunning, but the official guide isn't worth your time
I absolutely love the charming wizarding world adventure that Avalanche Software created. There are so many little secrets, Easter eggs, and puzzles to discover while going through a year at the magical school. However, it's not always easy to solve these quests and puzzles. This is why I made it my goal to quickly identify tricky parts of the game and write up Hogwarts Legacy guides, so I could assist those who needed them.
If you're considering purchasing Hogwarts Legacy: The Official Game Guide, I don't recommend it —unless you're a collector. It fails to provide answers to many puzzles and can be vague with certain quest walkthroughs. Thankfully, there are plenty of detailed Hogwarts Legacy guides online that will help you on your magical journey, like the ones here at Windows Central.
If you are interested in the Hogwarts Legacy: The Official Game Guide for the artwork, I suggest you consider purchasing The Art and Making of Hogwarts Legacy instead. This is a hardback with large pages that help show off digital paintings and concept art for the game. Plus, it's fun reading about the specific details the artists incorporated into their designs.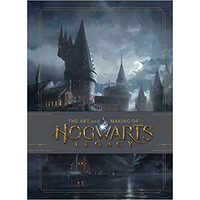 Get the Windows Central Newsletter
All the latest news, reviews, and guides for Windows and Xbox diehards.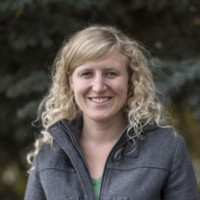 Self-professed gaming geek, Rebecca Spear, is one of Windows Central's gaming editors with a focus on Xbox and PC gaming. When she isn't checking out the latest games on Xbox Game Pass, PC, or Steam Deck; she can be found digital drawing with a Wacom tablet. She's written thousands of game guides, previews, features, and hardware reviews over the last few years. If you need information about anything gaming related, her articles can help you out. She also loves testing game accessories and any new tech on the market.