How to get started with PC gaming in 2022
Welcome to the master platform. Here's how to get started with PC gaming.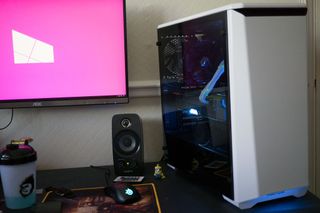 The PC remains the best platform for gaming, whether it be for esports, graphics fidelity, and even massive multiplayer experiences. There are hundreds of thousands of titles available and digital distribution services like Steam and GOG make it easier than ever to build a game collection without leaving the house. We'll run you through how to set up and configure your PC, get started with said digital stores and get the most out of Windows 10 for all things games.
Hardware ready
Before you begin with gaming on a PC, you first need to buy or build one capable of running whatever you wish to play. Unlike consoles, games released for PC have different requirements, some are more demanding than others. Depending on what kind of power the PC you'll be using packs, you'll need to adjust graphics settings accordingly, which allows you to reduce the look of a game slightly to improve performance. It's a delicate balancing act but offers more control than a console.
There are many pre-built options out there but building your own can cut some costs but you'll need to troubleshoot everything yourself. Generally speaking, you'll want to aim for at least an Intel Core i5 or AMD Ryzen 5 processor and Nvidia GTX 1070 GPU. This will allow you to enjoy even more demanding titles at 1440p resolution and a comfortable 60 frames-per-second at the very least.
Build a capable gaming PC for less than $800
And unlike a console where a TV and living room are usually an ideal combination, for PC gaming it's all about the gaming den and smaller monitor. 25-inch panels are generally considered the sweet spot, especially when you consider 1440p. 4K isn't quite ready, regardless of what console makers and others would lead you to believe. Even a pricier GTX 1080 struggles to push content at that resolution — give it a few more years.
You'd be hard-pressed to build a PC that matches the Xbox One X for 4K gaming at the X's price point, but a PC offers so much more and is well worth the added cost.
Great PC games you don't need an expensive GPU to enjoy
Preparing Windows 10
Microsoft's latest OS is a solid piece of kit. Windows 10 not only offers excellent levels of performance in games but also comes pretty well-optimized out-the-box. You should be good to go as soon as you complete the initial OS installation but one of the most important tasks you'll need to complete is to update your GPU drivers, depending on which vendor you've chosen to go with (AMD or Nvidia):
Another good idea is to ensure you have the latest updates for Windows 10 itself and you have all drivers installed for other PC components — this aids in keeping everything working together in harmony. We compiled some other useful tips, which while aren't as important as keeping drivers up-to-date may help extract even more performance from your setup.
How to optimize Windows 10 for PC gaming
Lastly, you'll want to download Discord, which is the go-to app for gamers who wish to communicate with friends. In order to talk with them, you'll need a headset.
Full Steam ahead
Now that your PC is all configured and ready for action, you need to install some games. There are two major storefronts that are popular right now — Steam and GOG (opens in new tab). As well as these two, you also have the choice between some publisher stores like Ubisoft's UPlay, Blizzard's Battle.net, and EA's Origin, not to mention Amazon and retailer websites for physical copies.
For digital downloads, each of the available storefronts work in similar ways. You download and install the software, create an account and attach necessary payment information, browse the catalog of games and make purchases. Any games you buy can subsequently be downloaded and installed. GOG is unique in that it allows for you to run games without DRM protection, meaning you don't have to be logged in to play games, nor do you need to have the GOG suite installed.
Shop around. You don't need to rely on just one platform.
Other useful resources
Hold on, there's more!
Windows Central Newsletter
Get the best of Windows Central in in your inbox, every day!
Rich Edmonds was formerly a Senior Editor of PC hardware at Windows Central, covering everything related to PC components and NAS. He's been involved in technology for more than a decade and knows a thing or two about the magic inside a PC chassis. You can follow him on Twitter at @RichEdmonds.
First, I think people looking at games to install on a PC should look only at the RECOMMENDED requirements, not the minimum. In almost any case, the recommended specs really are your minimum if you want to enjoy the game fully. Second, I don't think having the latest video drivers is always your friend. I can't tell you how many times--and I'm sure many of run into this, too--I've had to drop back a version or two because the latest driver actually created problems or a worse gaming experience. Install video drivers with caution.

I agree with you on how having the most current video driver isn't always the best thing. I have a couple of Gigabyte AIO GTX1080's and if I use the most current video driver from the NVIDIA site, I have issues. If I use the latest driver from the Gigabyte site specific for those cards, I have no problems at all.

"Second, I don't think having the latest video drivers is always your friend." Nor is gaming mode and Windows Game DVR a friend to those of us who use the Rift...

Well, introducing GOG and the concept of "DRM free games" to someone who's totally new to PC gaming makes no sense. You don't want to confuse them for what in the end is just techie nitpicking. Also, if you're going to refer a total beginner to a game store other than Steam, you forgot to mention the Windows Store, which to be frank is the easier and faster way to buy games straight out of the box, and the catalog is at least decent.

Lots of systems now a days comes with no optical drive but I'm very far away from retiring mine. With decades of old games shipping on disc, the optical drive invaluable and still a core part of a PC spec. Not to mention, as a content creator, I need means of backing up stuff and distributing it. For me, a desktop PC without an optical drive is no good.
Windows Central Newsletter
Thank you for signing up to Windows Central. You will receive a verification email shortly.
There was a problem. Please refresh the page and try again.