How to get the Windows 10 November 2019 Update before anyone else
You can install the final version of the Windows 10 November 2019 Update before it's officially available. Here's how.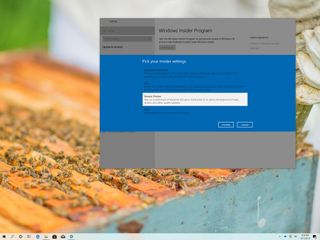 Microsoft is planning to start the slow rollout of the Windows 10 November 2019 Update sometime in the coming weeks, but now that it's finalized, you can download the feature update using the Windows Insider Program without having to wait until the official release date.
If you're not familiar, the Insider program provides early access to upcoming releases of Windows 10 using three readiness levels (Fast, Slow, and Release Preview), allowing enthusiasts and developers to try out new features and offer feedback to help shape the future of the OS.
However, because the company uses the Release Preview ring to test the final version of every feature update and deployment mechanism before making it available to devices, you can use this channel to upgrade your computer to the latest version as soon as the update is finalized.
In this Windows 10 guide, we walk you through the steps to download the final release of the November 2019 Update.
How to install Windows 10 November 2019 Update using the Insider Program
While it's technically the final version, Microsoft uses the Release Preview ring to monitor and detect issues with new feature updates before making them available to consumers, which means that using this method, there are still chances of running into unknown bugs and other problems.
Warning: This is a friendly reminder that modifying an installation of Windows 10 can negatively impact your current setup. We recommend creating a temporary backup before proceeding as a precaution.
To enroll your computer running the May 2019 Update in the Windows Insider Program to download version 1909 before anyone else, use these steps:
Open Settings.
Click on Update & Security.
Click on Windows Insider Program.
Click the Get started button.
Click the Link an account button.
Select your Microsoft account from the list.
Click the Continue button.
Under the "Pick your Insider settings" section, select the "Release Preview" option.Quick tip: The option may also appear as Just fixes, apps, and drivers depending on the version you're running or when you're changing these settings.
Click the Confirm button.
Click the Confirm button one more time to agree to the terms.
Click the Restart Now button.
Once you complete these steps, now that the November 2019 Update is available in the Release Preview ring, your device will download and install it through Windows Update automatically.
In the event that you learn the feature update is already available, you can also force the upgrade from Settings > Update & Security > Windows Update, and clicking the Check for Updates button.
Opting out of the Windows Insider Program
After Windows 10 version 1909 installs, we recommend removing the device from the program.
To stop getting pre-releases of Windows 10, use these steps:
Open Settings.
Click on Update & Security.
Click on Windows Insider Program.
Under the "Stop getting preview builds" section, turn On the toggle switch.
Once you complete the steps (and after version 1909 is available to everyone), the device will stop receiving previews automatically, and it'll continue to receive maintenance updates for as long as the feature update is supported.
Although these instructions are one way to get early access to the final version of Windows 10, consider that the updates available in the Release Preview ring can cause issues during and after the upgrade. If you want to minimize the chances of running into problems, it can be a good idea to wait until you receive the notification through Windows Update.
Mauro Huculak is technical writer for WindowsCentral.com. His primary focus is to write comprehensive how-tos to help users get the most out of Windows 10 and its many related technologies. He has an IT background with professional certifications from Microsoft, Cisco, and CompTIA, and he's a recognized member of the Microsoft MVP community.
Any news on the ISO image?

I'd like to know as well.

https://www.windowscentral.com/e?link=https2F%2Fclick.linksynergy.co...

Considering how things have gone with the last couple of major updates...
Yeah, I'm good with waiting for a while.

19H2 is not a feature update
more of a service pack update with new features. A small jumping from 18262 to 18363

@Allan Breum Same, these issues are getting ridiculous now. My W10 install on my H500M build is somehow became Windows to go... I ain't kidding I need to reset the PC as it's acting extremely funky as it's not sending out upstream packets correctly. BUT it won't let me reset the PC because Settings says it's running windows to go LOL!

At least you actually mentioned the version number 1909.
November, fall, 19H2, snow, longhorn, Seattle means absolutely nothing because that text doesn't feature anywhere in settings.
I actually started looking for an update i already had installed a month ago.

Same here. Since there really wasn't much new stuff, I didn't realize I already had it.

Hello everyone! I already have the computer ready as for all updates! :D ... But I have a question... if I move to Release Preview, I still receive security updates as in the final versions?. regards!

Is there an ISO or EXE for the Update only? (not the full OS clean install)

The last update culminative update I installed destroyed my laptop. All sorts of pink lines appearing on the laptop screen, start menu is erratic to say the least, mouse pointer gets frozen on the top right corner of the screen.
Won't even bother with these updates.

Why the rush? i would want to make sure there is no problem before i even think of updating to this, it seems every update lately has a problem or 2. i would not join insiders anyway as it requires a Ms account.

"How to get the Windows 10 November 2019 Update before anyone else" Why in the H would I want it first? How about an article on how to NOT get it? Or least, delay it as long as possible?

Exactly. Thank you for the sense of reason. More like "Here's how you can experience problems with your computer before anyone else." I'll jump right on that one. 😣

https://www.windowscentral.com/how-delay-windows-10-19h2-update-while-st...
Windows Central Newsletter
Thank you for signing up to Windows Central. You will receive a verification email shortly.
There was a problem. Please refresh the page and try again.