How Surface and Azure are making Microsoft experiences 'best on Windows'
Microsoft's CEO Satya Nadella promised the best Microsoft experiences would be on Windows. Surface and Azure may make good on that promise.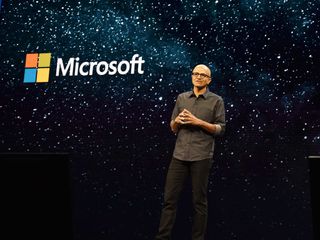 Microsoft's iOS and Android cross-platform investments and platform-agnostic dev-box positioning have been at the forefront of recent news coverage. A ubiquitous computing mission led by Azure as "the world's computer" has also drawn attention to Microsoft's investments beyond Windows.
In a multi-device, multi-ecosystem personal computing world dominated by mobile platforms Windows is no longer the dominating force. To keep Windows relevant Microsoft is making it part of the "connective tissue" binding user experiences across ecosystems and devices. Though iOS and Android dominate mobile most people use Windows PCs for desktop computing.
Thus, Android, and iOS integration with Windows via Timeline, Sets, Your Phone, Android Launcher, Cortana, Microsoft Graph, Microsoft 365 and more is vital to Microsoft's mission.
Still, Windows as a computing platform where Microsoft's services shine on first-party Surface and HoloLens hardware, and partner Windows devices is Microsoft's goal.
Devices and Services
In 2013 former Microsoft CEO Steve Ballmer shared Microsoft's (pre-cloud and AI) "devices and services" mission:
That vision, affected by struggling smartphones and two failed Surface attempts, wasn't realized during Ballmer's tenure. Not until Surface Pro 3's 2014 launch did Microsoft's hardware efforts beyond Xbox start reflecting that vision.
How Surface changed Microsoft forever
Surface rising
Surface Pro 3 finally struck the balance between content creation and consumption and context conformity, that exemplified the "device that is useful for work and play" Ballmer expressed as the goal of Microsoft's device family.
Corporate vice president for Surface Panos Panay demonstrated how OneNote, Surface, Surface Pen and cloud worked together from initiating OneNote with the click of the pen, to writing on the screen, to saving to the cloud. Though OneNote is available on other platforms, the experience isn't as complete as with Surface and Windows.
Surface Book, Surface Laptop, Surface Studio and Surface Hub make Microsoft's Office, Whiteboard, Edge, and more shine in a way they can't on non-Windows hardware. Touchscreens on most modern Windows PCs and all Surface devices, combined with Windows Ink and integrated Cortana allow for a natural, immersive and collaborative experience that can't be had on non-touchscreen devices like MacBooks running Microsoft apps.
Nadella explained Microsoft's hardware investments are to bring all the company's cloud infrastructure, application services, and hardware capabilities to a user's digtal experiences.
Surface collaboration through Azure
In 2016 I wrote about Microsoft's "you are the hub" Windows 10 devices strategy. Microsoft's device family was introduced as a collaborative hardware platform with user experiences at the center moving seamlessly across devices via a common platform.
For example, though Azure supports cross-platform collaboration, team members using Microsoft tools via Windows on Surface Hub, Surface Pro, HoloLens and the rumored Andromeda digital journal, would have a richer touch and inking experience, with more options, than someone using an iPhone or MacBook.
Microsoft's hardware initiative is meant to spark interest in its entire ecosystem. Surface Pro inspired an industry of 2-in-1s and expanded access to Microsoft's ecosystem via what is now the only growing PC segment.
Microsoft is building inking into a collaborative enterprise environment
Innovative PCs
Image 1 of 12
Devices like Intel's, Lenovo's and Asus' recently introduced dual-screen PCs show how versatile Windows is across form factors. Writing on an electronic paper display (EPD) and uploading the content to OneNote on the connected LCD as is possible with Intel's Tiger Rapids concept dual-screen PC, also demonstrates the ecosystems investments in a "best on Windows" Microsoft experience OEMs can emulate.
Additionally, Windows Core OS, as seen with Surface Hub 2, enhances user experiences by conforming to context. Windows Core OS is also reported to power Microsoft's rumored folding Andromeda pocket PC allowing it to transition between mobile, tablet and desktop scenarios. As a pocketable Windows PC, iOS and Android integration could keep users engaged in Windows as they field smartphone alerts from this device as is possible with other Windows 10 PCs with features like Your Phone. iOS and Android integration on present and future Windows PCs is another way Microsoft is creating best on Windows Microsoft experiences.
Surface and cloud synergy has begun making good on Nadella's best on Windows promise, and though there's a long way to go expanding hardware categories and Always Connected PCs, with unique Windows experiences will likely continue that trend.
Get the Windows Central Newsletter
All the latest news, reviews, and guides for Windows and Xbox diehards.
Jason L Ward is a columnist at Windows Central. He provides unique big picture analysis of the complex world of Microsoft. Jason takes the small clues and gives you an insightful big picture perspective through storytelling that you won't find *anywhere* else. Seriously, this dude thinks outside the box. Follow him on Twitter at @JLTechWord. He's doing the "write" thing!
And in the mean time they can't even make a decent touch keyboard on W10 for 2 consequent feature updates!

Maybe in the enterprise...for now. But what statistics do you have that indicate the average user actually cares about "best experience"? At the rate Microsoft seems to be supporting their non-Windows apps and hooks into their services, do people really care if they get the "best" experience if what they are getting is good enough? Microsoft tried to push this same concept with Windows phones...that went nowhere except with those of us who were the cheerleaders.

It went nowhere due to the momentun being axed and it is effecting them heavily. I am seeing first hand how axing the mobile division as given Google an easy move into the enterprise sector. Companies are actively using firebase as a test bed not azure because the ubiqitious nature of android devices. In addition Microsoft focusing on Android and ios over their own ecosystem is reinforcing that decision. I have been tasked with finding Firebase alternatives as it doesn't play nice with current infrastructure but they want to be where firebase is - not Azure and that means going all in on Google's ecosystem. When I mentioned they would be tied into a vendor lock-in (in this case Google) the response was - that's not really a bad thing? My office consists of mixed nationalities and the younger guys have zero experience with Microsoft Office. They all solely use Google apps thus they made it a prequiste for everyone to use google apps for efficiency. I'm not the only one who saw this happening several years ago.

Thx for sharing, I could soon in the position to Pro-actively implement Jason Ward's "Best on Windows" lots of luck needed. Then soft skills, then hardwork

It went nowhere cause there's just nowhere to go tbh. Why do you want to code & QA for 2 Windows? Why code for Android, Win PC, iOS and WinPhone, 4 OSes instead of Android, iOS and WinPC (including S-mode and ARM), 3 OSes? And this WinPhone OS is not only late to the party, it starts with 0 user base and 0 dev base.

I truly believe despite MJF and the ZDnet article that embeded in Windows now is Home Hub and the WP Phone stacks. I think the New Skype on WP shows that it functions in portrait candy bar mode and was designed to do so. UWP and PWA are not really for windows but for a more mobile windows. The future always was Windows 8/WP8 we just skipped 10 to get to it. 10 Came out as a back to basics to gather engagement and lock everyone in. I expect AndromedaOS/Polaris/HubOs2 to be more like how Windows 8 and 8.1 were with less desktop and more touch and ui.

We need an article that describe how to co-use Andromeda next to Surface Hub 2. Like Expanse the Sci fi. I swipe the Andromeda screen towards a Surface hub 2, what on display on Andromeda is now projected on Surface hub 2. This is no longer a Sci fi.

It's possible with today's technology, the issue is latency, pairing and security. It's simply casting and screen mirroring but to do so you have to pair the device, then you have the hand shake and then the app loads on the screen and mirrors the device. Too long of a process.

I think this can be a startup idea. This alone could drive Andromeda sale! Microsoft - open the seseme!! Let the developers to start turning the products into startup ideas!!!! Do it like hololens!!!

Surface rising! Good one, there's no stopping Surface division at this point, it's too late. 😉

I own a Windows PC, as most people do who are reading this and are fans of this site and of Jason Ward. However, my budget won't even come close to obtaining any Surface product. I can begrudgingly live with that and have to. However, if Microsoft wants to make a portion of their vision for computing successful, functional entry-level devices (4/32) will need to approach tablet pricing, that is not terribly far past $100. Cheapest I have seen is about $250 for the 1st source, but not available in North America. That's why my mobile devices run some flavor of Android. LG phone is Android 7, FireHD 8 is Android 5 sideloaded with Google Play Services. The Microsoft ecosystem needs to play there in some fashion as well.

It would work like that if Microsoft was earning money on Windows and used Azure as incentive. However Microsoft's plans are quite opposite - earning money on Azure and using Windows as incentive. To conclude, all those feature that you mention like Timeline work across devices ONLY if the developer pays for Azure (or Amazon or whatever). Of course as Microsoft doesn't pay for Azure its services do work but for everything 3rd party... good luck with that. What you talk about is Apple, not Microsoft. Apple sells devices and not iCloud. So for developers using users's iCloud for all kind of sync is free. Microsoft says you can use for free only 100 KB and that for some stone age level of syncing.