How to upgrade the SSD in your Lenovo IdeaPad 730S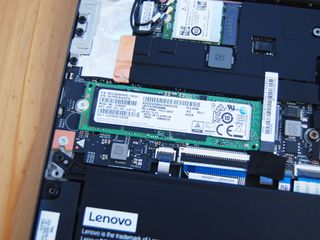 The Lenovo IdeaPad 730S is an impressive 13-inch notebook that does a lot right without adding a ton of half-baked features. One of its best features is strong performance thanks to 8th Gen Whiskey Lake Intel processors (CPU), 16GB of RAM, and up to a 256GB Samsung PM981 solid-state drive (SSD). If that isn't enough space for all your data, you can upgrade the M.2 PCIe SSD yourself with relative ease. Here's everything you need to know to get the job done.
Hardware and software to get the job done
How to upgrade the SSD in your Lenovo IdeaPad 730S
Note: Before beginning any upgrades on a PC, it's a good idea to back up your data in the unlikely event something should go wrong. You'll also want to ensure you're not working in a static-filled environment, as it can cause damage to a PC's internal hardware. Consider investing in an anti-static wristband to avoid unnecessary damage.
Lenovo's IdeaPad 730S delivers a 13.3-inch display in an aluminum unibody design that's slim and light. It's great for anyone who doesn't need a touch display or a convertible build, and it comes with 8th Gen Intel Core CPUs, up to 16GB of DDR3 RAM, and up to a 256GB NVMe PCIe SSD in the M.2 form factor. Though most configurations ship with a Samsung PM981 drive that delivers solid performance, it's not a ton of space in the modern data climate. Luckily, you can remove the back panel of the laptop and replace the SSD with one of your choosing, as long as it's in the M.2 form factor and is compatible with the PCIe NVMe standard.
Since the IdeaPad 730S only has room for one piece of storage, your best bet is to clone the existing SSD — including Windows 10, apps, and any of your personal data — over to the new drive using an external enclosure. We've had success using Macrium Reflect, and we've even written a complete guide on the cloning process. Alternatively, you can do a clean install of Windows 10, but you'll be starting essentially from scratch.
Once you have your new SSD cloned with your old SSD's data (or you've decided on an alternative route), you can proceed with the following steps. Be sure to power off your laptop before removing the back panel.
Unscrew the nine fasteners on the back panel of the laptop using a T6 Torx driver.
Pry open the bottom panel using a thumb or pry tool. Start with a corner and carefully work your way around so as to not damage the panel.
Unscrew the single fastener holding the M.2 PCIe NVMe SSD in place. Use a Philips-head screwdriver.
Pull the old M.2 SSD away from the mount. It should slide out with relative ease.
Insert the new M.2 SSD into the slot, keeping the flat side down.
Screw in the fastener at the end of the new M.2 SSD section, being careful not to apply too much force. This secures the SSD in place.
Replace the bottom panel of the IdeaPad 730S by applying pressure around the edges. You should hear the panel snap back into place when it's seated properly.
Screw in the nine fasteners on the back panel.
You can now power on your laptop with your fingers crossed. If you cloned the original drive over to a new SSD using an external enclosure, you shouldn't need to adjust anything; the laptop should boot normally, albeit now with more or faster storage.
Our top hardware and software picks
Best M.2 PCIe SSD
Up to 2TB of high-performance storage

Grab a 970 EVO at 250GB all the way up to 2TB in size, and enjoy read speeds up to 3,500 MB/s. This is a lot of speed and a lot of space, and it comes with a 5-year warranty.
As far as M.2 PCIe NVMe SSDs go, Samsung's 970 EVO is top of the pile for performance, reliability, and warranty.
Budget M.2 PCIe SSD
Up to 1TB of affordable storage.

The Samsung 970 EVO hits about $250 for 1TB, which might be too much. Crucial's P1 drive can be had instead for about $164 for 1TB, delivering read speeds up to 2,000 MB/s. It also comes with a 5-year warranty.
If you'd rather not spend as much money on a Samsung 970 EVO, Crucial makes reliable storage that doesn't quite hit the same speeds.
Sleek 13-inch notebook
Powerful performance in a light chassis

If you don't need a convertible laptop with a touch display and active pen support, the IdeaPad 730S should be considered. It's compact, it has a great display, and it offers strong performance to get through a day's work.
The Lenovo IdeaPad 730S is a strong performer, but its storage maxes out at 256GB when buying from the manufacturer. Luckily, you can upgrade the SSD yourself.
Additional Equipment
Upgrading a laptop will go much smoother if you have the right tools and software for the job. We've had much success cloning with Macrium Reflect 7, the external SSD enclosure is highly rated and relatively affordable, and the Rosewill anti-static wristband can help ensure no damage comes to your PC's internal hardware.
DMLIANKE M.2 SSD enclosure ($23 at Amazon)
If you're cloning your old M.2 SSD over to the upgrade M.2 SSD, you'll no doubt want to invest in this external enclosure. It fits PCIe and SATA M.2 SSDs so it can be reused for other upgrades in the future.
Macrium Reflect 7 (Free+ at Macrium)
We've had success cloning drives with Macrium Reflect 7, and have even written a complete guide on how to use it properly. A free edition is available, but you can purchase a full edition with a bunch more features for those who truly take backups seriously.
ORIA PC toolkit ($34 at Amazon)
Having the proper gear to work on your PC will always make the job much easier. Here you get a plethora of tools contained in a portable case.
Rosewill anti-static wristband ($6 at Amazon)
Static electricity can damage sensitive PC parts, so remove the risk with an anti-static wristband. Fasten it around your wrist and clip it onto your PC for peace of mind.
Get the Windows Central Newsletter
All the latest news, reviews, and guides for Windows and Xbox diehards.
Senior Editor, Laptop Reviews
Cale Hunt is formerly a Senior Editor at Windows Central. He focuses mainly on laptop reviews, news, and accessory coverage. He's been reviewing laptops and accessories full-time since 2016, with hundreds of reviews published for Windows Central. He is an avid PC gamer and multi-platform user, and spends most of his time either tinkering with or writing about tech.