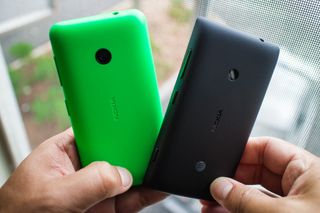 A lot can happen in a week. New apps join the Windows Phone Store or Windows Store. Your favorite apps can get a big update with a new look or new features. Device rumors come and go. Seven days might not seem like much, but it can be an eternity in the tech news cycle. Every week we're going to compile the biggest stories into one post, so you never fall behind – In Case You Missed It.
Windows Phone
Microsoft + Windows
Apps
Games
Xbox
Misc.
Thoughts from this past week
Want an affordable phone? Grab the Lumia 630. Want a phone to supplement your current phone? Grab the Lumia 630. That's one thing I took away from this past week. We looked at how the Lumia 530 compared to the Lumia 520. Surprise, the Lumia 530 is better than the Lumia 520. Then we compared the Lumia 530 and the Lumia 630.
While the two devices have somewhat similar specs and performance, the Lumia 630 is preferred over the Lumia 530. The vastly superior display of the Lumia 630 make it a better buy and one you should go for if you're looking for an affordable phone. Yes, the Lumia 530 is cheaper, but your eyesight is worth the extra bit of money you'll spend on the Lumia 630.
Microsoft announced Age of Empires: Castle Siege for Windows Phone and Windows 8. I can't wait for this game. It comes sometime during September, and it brings my favorite RTS series to phones and tablets. John had a great interview with the dev team, and you should read it to get pumped for this game. The ability to control where units go, something you can't do in Cloud Raiders or Clash of Clans, will be welcomed by RTS fans.
This week wasn't too busy in terms of news, but I guess that's because we're in that calm before the storm phase. Next week is IFA, and Microsoft is expected to announce two new handsets. The next edition of ICYMI will probably have a lot of exciting information. Till next week.
ICYMI Mailing list
Subscribe to my newsletter to get the above content and more delivered to your inbox. I'll share the above content with you, plus share a few extra links to cool stories and products from around the web. You can even submit links to your blog post or apps that you'd like to be shared with the community. Just send me a tweet (@samsabri) with the URL to your story or app and include the hashtag #ICYMI. I already sent out today's with two giveaways for gift cards inside. Make sure you're subscribed so you don't miss out!
Share your thoughts on this past week of Windows Phone, Windows, Xbox and Microsoft news!
Get the Windows Central Newsletter
All the latest news, reviews, and guides for Windows and Xbox diehards.