The HP OMEN 27qs is an excellent way for gamers to obtain incredible framerates without sacrificing picture quality or spending a ton of money. Contrast isn't incredible and HDR support is mostly forgettable, but the OMEN 27qs nails the basics when it matters.
Pros
+

Solid, consistent base picture quality

+

Simple, attractive design that's easy to setup

+

Great gaming performance with high refresh rates, v-sync support, and fast response times

+

Solid pricing for a quality 240Hz gaming monitor
Cons
-

HDR support is practically negligible, and contrast is average at best

-

Speakers are... Just not good
Why you can trust Windows Central Our expert reviewers spend hours testing and comparing products and services so you can choose the best for you. Find out more about how we test.
HP may have made its name with consumer and enterprise-ready laptops focused on productivity and creativity, but the company's gaming-centric OMEN brand has continued to expand and evolve in recent years. Now, there's a new lineup of HP OMEN gaming monitors, and the 27qs is aimed at those that want a balanced gaming experience with a whole lot of frames.
A 27-inch panel paired with a 1440p resolution and a smooth 240Hz refresh rate is an excellent foundation for a mid-range gaming monitor, and HP's offering pairs that with a solid, attractive design and an even more attractive price tag. More expensive monitors will offer better visual experiences across contrast, brightness, and HDR support, but the HP OMEN 27qs is an awesome choice in this price range. Here's my full review with all the information you need to know before buying.
Disclaimer: This review was made possible by a review unit provided by HP. The company did not see the contents of the review before publishing.
HP OMEN 27qs review: Pricing and specifications
Pricing highlights
The HP OMEN 27qs is firmly in the "mid-range" category with a retail price of just over $400.
Its 240Hz refresh rate is the biggest selling point, undercutting many other 1440p alternatives.
Overall, the monitor is well-balanced and features a quality design, ensuring you don't compromise much to obtain 240Hz at this price.
Value rating: 4.5/5
---
HP OMEN 27qs
Price: $429 at HP
Display specs: 27-inch IPS LCD, 16:9 aspect ratio, QHD (2560 x 1440) resolution, 240Hz refresh rate, 1ms GtG response time, 400 nits max brightness
Display features: VESA DisplayHDR 400, AMD FreeSync Premium Pro, NVIDIA G-Sync compatible, anti-glare coating, OSD with built-in controls
Weight: 7.9kg / 17.42lbs (with stand)
There are some seriously impressive gaming monitors out there, if you're willing to pay as much as a decent gaming PC for them. OLED and mini-LED panels, absurdly high refresh rates, crazy curved displays and ludicrous features, they're all there. Most gamers are looking for something more reasonable, though, and that's where the HP OMEN 27qs comes in. The value proposition here is incredibly simple: it's a very good, standard 27-inch 1440p gaming monitor... With a 240Hz refresh rate.
That's the whole pitch, and it comes with a retail price of just over $400. For those that desire a comfortably higher refresh rate than the standard 144Hz or 165Hz found in other 27-inch QHD monitors, it's a compelling price tag. This monitor doesn't stumble on any of the fundamentals, and its quality construction gives me confidence it'll be a reliable monitor for years to come. If you have a gaming PC capable of consistent 1440p gaming at high frame rates in all the best PC games, the HP OMEN 27qs is a solid value.
In the box, you get the HP OMEN 27qs monitor, the AC power cable, a DisplayPort 1.4 cable, and a USB Type-B to Type-C data cable (to enable the onboard USB ports). The packaging is quite sustainable, with a highly compact box constructed of sustainably sourced and recyclable cardboard, and the monitor protected inside by paper pulp cushions. There's little to no plastic in sight. Unboxing the monitor to begin the setup process is straightforward, with everything nicely laid out.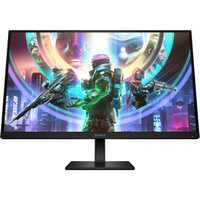 HP OMEN 27qs
There are more affordable 27-inch, 1440p panels from basically every manufacturer, but how many of those offer 240Hz and a balanced, overall quality experience at this price? HP's latest OMEN gaming monitor is a stellar value, as long as you really want that high refresh rate.
HP OMEN 27qs review: Build quality and design
Design highlights
This is an understated gaming monitor constructed mostly of matte black plastic, with flat edges and rounded corners.
It's a 3-piece monitor that's dead simple to install, and the stand is quite sturdy but doesn't take up too much space.
Simple, attractive RGB lighting on the rear is the only flourish, with the display standing front and center between thin bezels.
Design rating: 4.5/5
---
Design overview
- Dimensions: 613.7 x 223.3 x 523.7mm / 24.16 x 8.79 x 20.62in (with stand)
- Weight: 7.9kg / 17.42lbs (with stand)
- Base area: 214.9 x 209.8mm / 8.46 x 8.26in
- Adjustment: VESA mount support (100 x 100mm, bracket included), 100mm height adjustment, pivot / tilt support
- Ports: x1 DisplayPort 1.4, x2 HDMI 2.0, x1 USB Type-B 3.2 upstream, x2 USB Type-A 3.2, x1 3.5mm audio jack
- Other details: x2 integrated speakers, on-screen controls, customizable RGB lighting
From many angles, you honestly can't tell the HP OMEN 27qs is a gaming monitor. For many people, this will actually be a plus. Constructed almost entirely of matte black plastic with a satin finish, the OMEN 27qs fades into the background, so you can focus entirely on its 240Hz display. You get thin bezels on three sides, flat edges, rounded corners, and a gently curving back that's augmented by this monitor's only real design flourish: an RGB-lit diamond.
It all starts with the setup, though. It's easy and straightforward to firmly attach the compact square base to the narrow stand, and it's even easier to clip that stand into the back of the OMEN 27qs (with a hidden quick-release button for when you're ready to take the monitor down). There's also the option to use VESA wall mounting, if that's better for your setup. The base is small enough to leave plenty of room on your desk but is still very stable, but the stand feels a little too narrow. It looks nice, but this monitor wobbles a tad more than I want.
The construction feels quality even without the use of premium materials or interesting textures, with understated elegance that'll belong on any desk. The RGB lighting is hidden from view most of the time, but is a lovely accent whenever you can see it, standing out more than a simple strip or lit-up logo. There's also enough adjustability here, with pivot support (enough to make the monitor completely vertical), solid height adjustment, and top-down tilt support. Unfortunately, there is no left-to-right swivel support, for some reason.
Nicely textured on-screen display (OSD) controls are easily found on the back right-hand corner of the monitor, and it's a proper four-directional button rather than a finicky joystick. The two USB Type-A ports on the back of the monitor are unfortunately stashed with the rest of the ports, making them harder to find by touch alone, but they're not inaccessible when you're sitting in front of the monitor. Overall, though, I really like this monitor's design.
HP OMEN 27qs review: Display and picture quality
Display highlights
A standard IPS LCD offers a balanced viewing experience with decent color accuracy and max brightness.
Contrast is about average for a mid-range IPS LCD display, but splotchy backlighting hurts it more.
There are various presets for different color profiles, including one for use at night that filters out blue light.
Display rating: 4/5
---
Display overview
- Display specs: 27-inch IPS LCD, 16:9 aspect ratio, QHD (2560 x 1440) resolution, 240Hz refresh rate, 1ms GtG response time, 400 nits max brightness
- Display features: VESA DisplayHDR 400, AMD FreeSync Premium Pro, NVIDIA G-Sync compatible, anti-glare coating, OSD with built-in controls
- Other details: 99% sRGB / 95% DCI-P3 color gamut, HP Eye Ease blue light filter, flicker-free panel
The display rests at the core of every monitor, so how is the one nestled within the HP OMEN 27qs? Well... Mostly average, but that's not necessarily a bad thing at this mid-range price point. It's consistent and pleasant to look at, performs well, and features a number of options to customize the viewing experience; there are no major misses here, and that's great to see.
To begin with, the OMEN 27qs features a standard, backlit IPS LCD panel, rather than the fancier (and more expensive) miniLED and OLED panels you might find in premium gaming monitors. That means contrast is middling (even by IPS LCD standards, really) and brightness isn't exceptional, but picture quality and color reproduction are consistent and suitable to most content.
HP claims the OMEN 27qs boasts 100% of the sRGB color gamut and 95% of the DCI-P3, which is respectable color accuracy fit for a lot of creative work. I wasn't quite able to achieve those numbers, but the Gaming and Native presets got the closest (and also tended to look the best out of all the presets, in my opinion). A lot of people are liable to leave the monitor in its Standard color preset, though, so let's see how it does:
As you can see, the Standard preset falls short of HP's claimed metrics, with 99% of sRGB and just 76% of DCI-P3. This preset looks fine, but I far preferred the punchier (and apparently more accurate) colors of the Gaming mode, which looks more vivid overall. The Native preset is the most color accurate of the bunch, and it offers a very natural, balanced color profile that I think a lot of people will enjoy. There's also the Night preset, which filters out a lot of blue light to hopefully help with late-night eye strain.
If you're looking to get this monitor, stick with the Gaming and Native presets, as those are by far the best all around. One thing I don't like is how switching between presets also changes the brightness of the monitor, which can make it frustrating to compare and contrast them. Keep this in mind if you're considering which preset you like best. Here's the color accuracy of all seven of the non-Standard presets on the OMEN 27qs:
Swipe to scroll horizontally
| Display mode | Color gamut |
| --- | --- |
| Gaming | 100% sRGB, 93% DCI-P3, 85% AdobeRGB |
| Warm | 98% sRGB, 76% DCI-P3, 73% AdobeRGB |
| Cool | 98% sRGB, 76% DCI-P3, 73% AdobeRGB |
| Cinema | 99% sRGB, 76% DCI-P3, 73% AdobeRGB |
| Night | 98% sRGB, 75% DCI-P3, 72% AdobeRGB |
| Native | 100% sRGB, 94% DCI-P3, 86% AdobeRGB |
| HP Enhance+ | 99% sRGB, 76% DCI-P3, 73% AdobeRGB |
HP claims a max brightness of 400 nits, which is honestly good enough for most office-bound monitors (many IPS LCD displays tend to max out at around 300 nits). In my testing, the OMEN 27qs actually just surpassed that max, getting bright enough to remain clear even in an office lit by midday sun. The anti-glare coating is subtle and does wonders to reduce annoying reflections, too. On the reverse side of things, this monitor doesn't get too dim, which may be annoying for those who constantly work in darkness and need to be unobtrusive.
Contrast-wise, HP claims a ratio of 1,000:1 and that's basically exactly what it is. This is completely average for a modern IPS LCD display, meaning blacks are actually dark grey and shadow detail can easily get crushed in dark scenes. Contrast here feels just barely worse than average, though, as subtle backlight splotching becomes more pronounced in darkness, drawing attention to the less-than-perfect contrast. Things are better when considering white balance, with the OMEN 27qs sticking pretty close to the "ideal" 6,500 Kelvin mark. Whites look flat and neutral without skewing too far toward blue or yellow, although the Cool (blue), Warm (yellow), and Night (even more yellow) presets obviously change the white balance.
Swipe to scroll horizontally
| Setting | Brightness | Black | Contrast | White point |
| --- | --- | --- | --- | --- |
| 0% | 53 | 0.05 | 970:1 | 6,300K (0.317, 0.317) |
| 25% | 121.4 | 0.11 | 1,100:1 | 6,400K (0.316, 0.316) |
| 50% | 190.9 | 0.18 | 1,070:1 | 6,400K (0.316, 0.317) |
| 75% | 315.3 | 0.29 | 1,090:1 | 6,500K (0.314, 0.316) |
| 100% | 442.8 | 0.41 | 1,070:1 | 6,600K (0.313, 0.315) |
Finally, let's talk about HDR support, because it's here! More specifically, it's the VESA DisplayHDR 400 standard, which is basically the entry point for HDR displays. I will say, enabling HDR when playing games or consuming media certainly doesn't make things worse. Highlights aren't blown out, colors aren't out of whack — everything looks fine! The issue is that HDR doesn't really seem to make anything look better. If I had to guess, this monitor just doesn't get bright enough to take advantage of HDR content. The middling contrast levels can't help either. It's nice that you get HDR at this price point if you really need it (and it doesn't harm anything), but I struggled to tell when it was on or off.
HP OMEN 27qs review: Gaming performance
Gaming highlights
The 240Hz refresh rate remains the selling point for this monitor, and I encountered no issues enjoying high frame rate gaming.
A speedy 1ms response time and v-sync support guaranteed the monitor always felt responsive and sharp.
I didn't notice any ghosting when gaming, often a risk with more affordable high refresh rate monitors.
Gaming rating: 5/5
---
The OMEN brand means gaming is woven into every fiber of this monitor's being, and it absolutely nails the experience here. 240Hz is steadily gaining popularity with gamers, offering unparalleled smoothness in games that's actually obtainable in many games (which doesn't always feel true with 360-500Hz and beyond monitors), and offers a noticeable advantage over lower refresh rates. It can also be expensive to obtain this refresh rate, with most other (decent) 240Hz gaming monitors being $700 or more.
Sure, you can get a 240Hz gaming monitor for less, but it'll probably be 1080p, and it'll almost certainly fall short of the performance here. High refresh rates aren't universally better if there's a ton of ghosting smearing detail on the screen, but the HP OMEN 27qs exhibits none of this. Everything stays perfectly clear all the time, ensuring you get incredible smoothness and nothing else. 1ms grey-to-grey response time (on the monitor's fastest setting) means that smoothness is also married to responsiveness, important when you're engaging opponents in a competitive first-person shooter like Counter-Strike 2 or Valorant.
AMD FreeSync Premium Pro support and NVIDIA G-Sync keeps that 240Hz refresh rate locked to the frame rate of your game, preventing screen tearing that can take you out of the action for a split second. The QHD resolution provides the perfect middle ground between FHD and UHD at this screen size, so that everything is crisp and detailed. Solid brightness levels and an anti-glare coating ensure a rogue reflection never costs you a kill.
The OSD also supports an on-screen FPS counter and crosshair, so you can keep an eye on your performance and improve your accuracy without relying on the game having those features. DisplayPort 1.4 should be the go-to for gaming PCs, but HDMI 2.0 ports mean this monitor actually works well with Xbox Series X|S at 1440p and 120Hz (which both consoles support). It all just works, with flawless performance that rivals far more expensive monitors, even when the picture quality doesn't.
HP OMEN 27qs review: Other features
Other features highlights
The on-screen display (OSD) is nicely laid out and easy to navigate, with plenty of options to customize the viewing and gaming experiences.
The monitor also comes with the OMEN Gaming Hub, which almost feels like it's trying to do too much.
The included dual-speaker system is just not good, though, and only two USB Type-A ports isn't particularly useful.
Other features rating: 3.5/5
---
Time to wrap this review up with "everything else." To start with, the HP OMEN 27qs gaming monitor does not feature any integrated webcam, although I didn't really expect it to. It does boast two internal speakers, though... And I almost wish it didn't. These speakers are useable for video conferences and podcasts, but little else. Even on the "Music" or "Video" audio presets, the OMEN 27qs is tinny, lacks detail, and has a sorrowful lack of bass. I wouldn't use these speakers for gaming, or basically anything else but just human voices.
At least the on-screen display (OSD) is actually pretty nice, as I've mentioned before. It's a good layout, with the only improvements I'd like to see making it easier and clearer how to exit out of certain sections. There are plenty of features here, with ways to customize the gaming features, picture quality, audio, inputs, even the OSD itself. It's a nice change of pace versus a lot of other monitors. On top of that, the monitor installs the OMEN Gaming Hub on first connection, which is, frankly, a lot. This is a full gaming hub meant to tie in all HP OMEN products, including being a launcher, PC optimizer, and gaming storefront. Feels like far too much for just a monitor, but you do get another way to edit all those aforementioned features, so I won't complain too much.
Finally, let's talk about the USB hub. Oh yes, the HP OMEN 27qs features a staggering three USB ports. There's a USB Type-B upstream data port for connecting to your PC, and two USB Type-A 3.2 ports enabled once you make that connection. Basically, you're trading one of your PC's USB ports for... one extra USB port? That's better than no extra USB ports, of course, but I would've liked one or two more here. At the very least, I wish the USB ports weren't positioned alongside all the input ports on the rear of the monitor, as it makes it difficult to find them by touch alone.
HP OMEN 27qs review: Competition
It'd be impossible to list every gaming monitor that realistically competes with the HP OMEN 27qs, but I can provide some of the best alternatives that Windows Central has tested and reviewed. Starting from the high-end, the ASUS ROG Swift OLED (PG27AQDM) is the absolute best 27-inch, QHD, 240Hz refresh rate monitor. That OLED is gorgeous, and the overall visual and gaming experiences are unparalleled. So why wouldn't you just buy that monitor? Well, because it costs well over twice what the OMEN 27qs does, at $1,000.
If you want something a little more reasonable, the Alienware 27 Gaming Monitor (AW2723DF) is the best IPS LCD 27-inch, QHD, 240Hz refresh rate monitor. It's still a little over $200 more expensive than the OMEN 27qs at full price, but you're getting a premium and intelligent design, fantastic picture quality, and even superior gaming performance with an overclockable display that goes up to 280Hz if you need it. For even more frames at an even lower price, the Alienware 27 Gaming Monitor (AW2724HF) boasts a ludicrously smooth 360Hz panel and costs just $30 more than the OMEN 27qs at retail price. It's only 1080p, though, and the overall experience isn't as balanced or polished as what you get with the OMEN 27qs — in other words, that extra 120Hz needs to mean a lot to you.
The new Lenovo Legion Y25-30 is also a solid pick. It's a smaller monitor and only 1080p, but you do get a great 240Hz gaming experience and save some cash. Finally, you can look elsewhere in the HP OMEN gaming monitor lineup. The HP OMEN 34c gives you a lovely curved, widescreen, QHD, 165Hz display for $50 more than the 27qs. Trading the higher refresh rate for a far better multitasking experience may be worth it for some. On the other end, the HP OMEN 27k is a 4K gaming monitor with a 144Hz refresh designed for use with gaming consoles like Xbox Series X|S thanks to HDMI 2.1 (which supports 4K gaming at up to 120Hz), and with multiple PCs thanks to KVM support. This monitor is quite a bit more than the 27qs, though, charging a $120 premium for that crispy 4K panel.
Of course, you can also peruse the rest of the best gaming monitors Windows Central has tested for even more options.
HP OMEN 27qs review: Score card
Swipe to scroll horizontally
| Attribute | Notes | Rating |
| --- | --- | --- |
| Value | The OMEN 27qs offers consistent and balanced quality, great gaming performance, and a 240Hz refresh rate at a very reasonable price. | 4.5/5 |
| Design | The monitor is incredible easy to setup, doesn't take up too much desk space, and features a well-built, attractive, and understated design. | 4.5/5 |
| Display | This display isn't exceptional, being a fairly average IPS LCD panel in most regards, but it is consistent and is always pleasant to look at. | 4/5 |
| Gaming | The 240Hz panel offers flawless performance with minimal to no ghosting, and is bolstered by a 1ms response time and v-sync support. | 5/5 |
| Other features | The OSD is one of the best I've seen on a monitor, with plenty of features, but the speakers aren't good and the USB hub isn't particularly useful. | 3.5/5 |
HP OMEN 27qs review: Final thoughts
You should buy this if ...
✅You want to enjoy 1440p gaming at the highest frame rates
The HP OMEN 27qs makes its claim to fame by making high frame rate, QHD gaming far more obtainable. The 240Hz refresh rate is no joke, and great gaming performance in every metric makes it worthwhile.
✅You're looking for a balanced gaming monitor for less than $500
The HP OMEN 27qs doesn't fall in to the "budget" category, but it does skirt the premium range of extremely expensive gaming monitors while offering a very balanced, competitive experience.
You should not buy this if ...
❌You don't care about the high refresh rate
Let's face it: the OMEN 27qs is all about that 240Hz refresh rate. If you don't care about having a 240Hz panel, you can trade the cost it adds for better picture quality or higher resolutions elsewhere.
❌You need great contrast and HDR support
I really enjoy the overall picture quality of the OMEN 27qs, but there are two undeniable weaknesses. Contrast is barely average, for one. HDR support fortunately doesn't make anything worse like on some other monitors, but the positive effects are also negligible.
The HP OMEN 27qs isn't trying to break records or push boundaries. It's not a dramatic set piece for your gaming setup, nor does it boast incredible, brag-worthy features. It's just a really, really good gaming monitor that nails the fundamentals and provides a more affordable entryway to true high frame rate gaming. If you have a gaming PC that can handle 1440p gaming at up to 240 FPS, this is the best option you're going to find under $500, bar none.
If you're willing to pay more, you can get nicer displays or higher refresh rates. If you're willing to lose quality or resolution, you can save some money. The OMEN 27qs strikes a lovely middle ground, though, and I've greatly enjoyed using it to game, work, and consume media. Average contrast, iffy HDR support, and awful speakers are all blips on what is otherwise a fantastic monitor with great picture quality, flawless gaming performance, and an attractive design that isn't too loud. Seriously, though, you need to want the 240Hz refresh rate.
For those that want a 1440p, 240Hz gaming monitor and aren't willing to spend over $500 to get it, the HP OMEN 27qs is an excellent option. It's a no-frills entry into high-framerate gaming, nailing the fundamentals and aiming for value over features.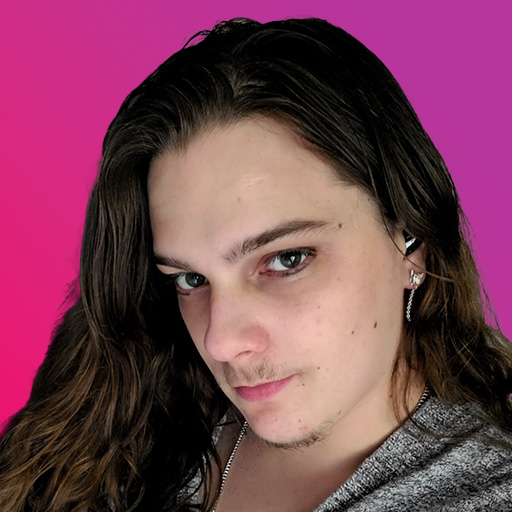 Zachary Boddy (They / Them) is a Staff Writer for Windows Central, primarily focused on covering the latest news in tech and gaming, the best Xbox and PC games, and the most interesting Windows and Xbox hardware. They have been gaming and writing for most of their life starting with the original Xbox, and started out as a freelancer for Windows Central and its sister sites in 2019. Now a full-fledged Staff Writer, Zachary has expanded from only writing about all things Minecraft to covering practically everything on which Windows Central is an expert, especially when it comes to Microsoft. You can find Zachary on Twitter @BoddyZachary.