Prime Day PC Deals 2021: The best deals on laptops, hard drives, Xbox accessories & more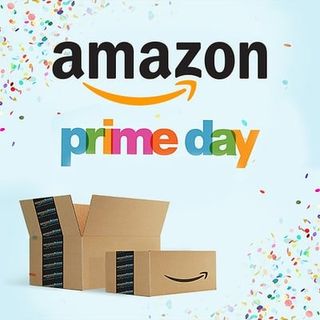 Prime Day 2021 is the day any Amazon Prime member should be looking forward to and it's finally here. It's jam-packed with thousands of deals and some of the lowest prices of the year. The event is basically as good as Black Friday for anyone who does most of their shopping at Amazon.
What Prime Day deals are there?
It's still a little early to say exactly what's going to be on sale during the big day. The best we can do is tell you what has been on sale in the past, which tells us what we can expect to see drop in price this year. As mentioned above, the big thing will always be Amazon brands. For example, the newest generation Echo Dot (opens in new tab) only released late last year. It hasn't had a lot of opportunities for big sales, so it's a safe bet it's going to play a prominent role in Prime Day 2021. Expect to see it drop from its $50 price to as low as $30 or even $25 (it hit $29 on Black Friday). All the other Echo devices, including the 3rd-gen Echo Dot, Echo speakers, and the different variations of the Echo Show will drop in price and be bundled with extras like the Amazon smart plug for extra incentive.
Expect to see Amazon's new Blink security cameras like the Blink Mini (opens in new tab) or the newest iteration of the Blink Outdoor Security Cameras (opens in new tab) to go on sale. Other Amazon-owned tech brands we are pretty sure you'll see sales on include the Ring video doorbells and Ring Alarm, the Eero mesh networking systems, the Echo Buds true wireless earbuds, Fire TV Sticks and Cubes and TVs, Kindle e-readers, and so many more.
Outside of Amazon, there are some items that just always go on sale during big events like this. The Instant Pot pressure cookers, for example, come out with new models regularly and those new models need a chance to shine. Expect to see a lot of robot vacuum cleaners like from iRobot. There are often a lot of deals on audio from Apple AIrPods or the Bose QuietComfort series to Bluetooth speakers like the UE Hyperboom. There's always the possibility of items we haven't predicted showing up, too, so be on the lookout.
When is Prime Day 2021?
Amazon has finally made it official. This year, Prime Day will be June 21 and 22. That's a Monday and a Tuesday and much earlier than Prime Day usually happens. We new from an earnings call that it was most likely going to happen before the end of Q2, so this just confirms that.
Prime Day was a bit later last year due to the global pandemic, but it will actually be earlier this year than it normally is. We usually see it around mid-July, so it will be interesting to see if this is the new time for Amazon going forward or not.
While the main event will be 48 hours, we expect to see deals throughout the month and well before the actual start time for Prime Day. Remember that Amazon's new day always starts at 3 a.m. Eastern, so whenever the official day arrives, that's when you can expect to see the first deals.
Of course, like Black Friday, the "big day" is usually not the only day for saving. We expect to see many deals drop even before Prime Day starts, and we expect to see other retailers like Best Buy and Walmart get in on the action by hitting the discounts a week or two before.
There are rumors that there may be a second Prime Day in the fall around the same time as last year's. Amazon has denied that, but we wouldn't really expect any different.
Who can participate in Prime Day?
This is an important question because it's not an event that's open to everyone like Black Friday is. You need to have an Amazon Prime membership for these sales. While other retailers will also offer sales and say things like "No membership required," many of the best prices will still be exclusive to Amazon. If you want to save, make sure your Prime membership is up to date.
If you aren't a Prime member, the membership costs $119 for a year or $12.99 per month. There is a 30-day free trial (opens in new tab) you can sign up for. Obviously, wait until you know the date so you can make sure it's active within 30 days of the sales event. The 30-day trial gives you full access to all of Prime's benefits, including exclusive deals.
Amazon Prime 30-day Trial | Free at Amazon (opens in new tab)

All of Amazon's Prime Day deals are exclusively available to Amazon Prime members only! If you're not a member yet, you can start a free 30-day trial to gain access to all the deals and the two-day sale, as well as free two-day shipping, the Prime Video streaming service, and more.
Is it possible Prime Day 2021 is delayed?
We now know for sure it's not delayed. In fact, it's early. We were always pretty sure Amazon wasn't going to delay it this year, but official confirmation is definitely nice. Amazon doesn't want Prime Day close to Black Friday because it wants its own Black Friday. This is a chance to offer huge savings and huge opportunities for its members that stay so loyal year after year, and Amazon will definitely not want to disappoint. One of the biggest problems last year was with shipping and the need to prioritize getting out essential goods to parts of the country that needed them at the time. That should not be an issue this year.
Prime Day 2021 vs. Black Friday
Everyone always asks themselves this question internally: "Should I wait for Black Friday?" For the most part, the deals you see on Prime Day will be at least equal to what you see on Black Friday. The truth about deals is the longer you wait, the more likely you're going to see something drop in price, so some deals might end up being better on Black Friday but only because they're six months older by then. And there's always the chance that it might sell out altogether and you'll have missed any opportunity to get it at all. Not to mention, you've already missed out on six months of enjoying something you wanted. My advise? If this is an item you've been waiting for a sale on, get it while it's discounted and enjoy your purchase.
What type of deals can we expect?
The biggest and most common deal we see on any given day and especially on Prime Day is the direct discount. Just a simple drop in price from an item's street price (or the average price it's selling for, usually below its MSRP) to a new deal price that expires when the event is over. However, that's not the only way to save. A lot of companies that do business through Amazon offer their own unique ways of saving.
Gold Box Deals: Amazon offers up new deals every day, and these deals are listed in the Gold Box Deals of the Day section. This section usually gets a small transformation for the big event and ends up featuring a lot more items on sale. It's a good place to look if you're browsing for savings as devices on sale here usually last all day, have a variety of possibilities to choose from, and are down to some of their lowest prices ever.
Lightning Deals: A lot of Prime Day deals come in the form of Lightning Deals. Unlike Gold Box sales, these are very fast. They have limited stock and only last for a few hours. Amazon will generally give a heads up about upcoming Lightning Deals so you can prepare to be there when the time starts, but even if you aren't you can join a Waitlist after the Lightning Deal sells out just in case some people back out.
Coupon Deals: These come in the form of on-page coupons you can click a checkbox to gaurantee or in the form of coupon codes. During Prime Day, we'll often see something like "Click here to save with Prime" or "Your final price with Prime will be: $$$" or messages like that. If there are a variety of items on sale this way, you might find them listed out on a landing page that just automatically ticks the box for you. Otherwise, you'll have to manually click it. You can find the box for savings underneath the price on the product page.
What were the most popular deals for Prime Day 2020?
It's crazy that despite all the delays, the shipping issues, and the looming specter of Black Friday, Prime Day 2020 still ended up being a huge day for Amazon and Prime members. The 48-hour event actually ended up being more like a week-long exercusion with some deals, and, according to Amazon, Prime members ended up saving $1.4 billion. These were the top deals for our readers:
SanDisk and WD Storage on sale at up to 35% off
Bose QuietComfort 35 II Wireless Headphones on sale for $199
Echo Show 5 with Blink Mini Smart Security Camera for $50
Apple AirPods Pro on sale for $199
23andMe Health + AncestryService DNA Test down to $99
Fire TV Stick 4K as low as $25
Sony XM4 Noise-Cancelling Headphones with $25 gift card for $298
Echo Dot (3rd Gen) with 6 months of Amazon Music Unlimited for $19
Chamberlain MyQ Smart Garage Door Opener for $17 with $30 promo credit opportunity
Spend $40 or more on Amazon gift cards and receive $10 in credits to use on a future purchase
While some of those were expected, like the 23andMe ancestry kits that we regularly see during big events, a couple were nice surprises like Sony's brand new and super awesome XM4 noise-cancelling headphones getting a deal. That was one of our favorite deals from the event. Of course, these were just a few of the many great ways to save that we saw during Prime Day and shared with you. Get ready to see even more deals this year with even more popular products hitting all-new lows.
Do I need to be a Prime member for Prime Day deals?
Yes, you need to be a Prime member. This is a question worth emphasizing because it often seems a bit confusing for some since Amazon is, throughout most of the year, a pretty open space when it comes to shopping. Prime Day is an event exclusive to Prime members. Whether you've been a member for years or you wait until the month of the big day to sign up for a 30-day free trial (opens in new tab), you have to be a part of that club to play.
Amazon Prime 30-day Trial | Free at Amazon (opens in new tab)

All of Amazon's Prime Day deals are exclusively available to Amazon Prime members only! If you're not a member yet, you can start a free 30-day trial to gain access to all the deals and the two-day sale, as well as free two-day shipping, the Prime Video streaming service, and more.
What about other retailers?
Prime Day is, as the name suggests, very much Amazon's day, but that doesn't mean other retailers won't try to jump on the train as it's chugging along. Best Buy will usually feature some sort of "Black Friday in July" event, often the weekend before or in the week leading up to Prime Day. Walmart and Target usually feature some sort of shopping events as well. Many of these will feature price matches with Amazon, too, so if you're looking for an Echo Show, you can try getting it at the same price at Best Buy as it is on Amazon. You can also check out eBay. We see a lot of coupon codes and site-wide savings events around the spring and summer with eBay, and there is usually at least one or two events that directly compete with Prime Day.
Is Prime Day international?
Yes, it is. Last year, Prime Day deals were available in more than a dozen different countries including: Australia, Austria, Belgium, Brazil, Canada, China, France, Germany, India, Italy, Japan, Luxembourg, Mexico, Netherlands, Singapore, Spain, Turkey, the U.K., the United Arab Emirates, and the United States. If your country isn't on this list, maybe it will be this year since Amazon is always trying to make the event bigger and better.
How can I keep up on Prime Day?
We think Prime Day 2021 is going to be one of the best Amazon has ever done. It's really hard to stay on top of literally hundreds of thousands of deals, especially when so many of them are on tech and entertainment and stuff you really want. There are several tools you can use, though, to find the best deals and follow only the stuff you want to follow. There are also several things you can do to be ready for the onslaught.
The first thing you should do is prep your Amazon account. Make sure you have the right information in there, like an up-to-date address if you've moved. Make sure your Prime membership is active and not going to expire the day before Prime Day. You don't want to be scrambling to fill out your information before that product in your cart disappears.
Download the Amazon app on your smartphone. You can use it to set alerts, track Lightning deals, follow products you're interested in to see if they drop in price, and more. It's also super easy to checkout with the app if you've already installed it and set it up. Might save you a few seconds between an item going on sale and an item selling out.
You can also use some browser extensions like Amazon's Assistant. Get pop up notifications about new sales while you're working.
You might also want to get a device with Amazon Alexa. In the past, Amazon has run deals exclusively through Alexa, some of which were even available before the big day and only available to voice shoppers. Grab the 3rd-gen Echo Dot (opens in new tab) for just $39.99 if you don't have one already and make sure it's hooked to your Wi-Fi network before Prime Day.
If you really want to go all-out for the big day, sign up for the Amazon Prime Rewards credit card (opens in new tab). The first time you sign up you get a $70 Amazon gift card you can save for Prime Day. Plus, you'll get 5% back from whatever you spend on Amazon, including stuff you're already saving on during Prime Day.
J.D. Levite has been in the deals game since 2012. He has posted daily deals at Gizmodo, The Wirecutter, The Sweethome, and now covers deals for Android Central, iMore, and Windows Central. He was there for the first Prime Day and has braved the full force of Black Friday. If you cut him, he bleeds savings. But don't try it for real. That's a metaphor.
Windows Central Newsletter
Get the best of Windows Central in in your inbox, every day!
Thank you for signing up to Windows Central. You will receive a verification email shortly.
There was a problem. Please refresh the page and try again.