Best Endless Runner Games for Windows 10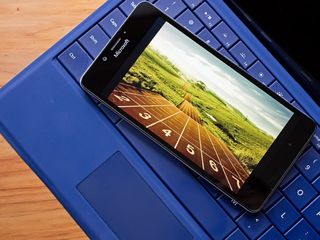 If you are looking for a solid time waster of a Windows 10 game, an endless runner style game may be just what you are looking for. These Windows 10 games test your reaction skills, patience and luck to see how long you can survive a never-ending obstacle course.
Gameplay with the endless runner genre is often easy to learn, but can be painfully difficult to master. There is also an addictive pull with many of these Windows 10 games that make them well suited for the occasions you want to devote a little more time to your gaming.
The Windows Store is packed full of endless runner games and after a good bit of consideration, we've tapped these titles as the best the Store has to offer.
Subway Surfers
Why you can trust Windows Central Our expert reviewers spend hours testing and comparing products and services so you can choose the best for you. Find out more about how we test.
Subway Surfers has been a staple endless runner game for Windows 10 Mobile for some time now and continues to deliver a fun game experience. The game is set in global locations where a crew of teenage hooligans race along the tracks, avoiding the grumpy Rail Inspector.
The game offers simple, swipe-based controls, a respectable collection of characters and hover boards to unlock and plenty of achievements to pursue. Graphics are colorful, vivid and full of detail, and gameplay requires your undivided attention. Glance away from the screen for the slightest moment and you can find your runner getting smacked by an oncoming train.
I think what keeps Subway Surfers at the top of the endless runner category is that the back drop for the game routinely changes. We have seen Subway Surfers visit London, New York, Tokyo and other global venues. The Windows 10 game is currently visiting Iceland.
This free Windows 10 Mobile game is a fantastic time waster and addictive enough to satisfy those times when you need more game time.
Download Subway Surfers from the Windows Store (opens in new tab)
Touchdown Hero: New Season
Touchdown Hero: New Season is a sports-oriented endless runner game from the creative minds at Game Troopers. The Xbox game title is available for Windows 10 PC and Mobile and sends you to the gridiron to see how many touchdowns you can score.
Played from an overhead view, you race across an endless supply of football fields, dodging defenders and crossing as many goal lines until you are tackled. You guide your player around the field by touch with spin moves and a slow-motion feature available to help you escape defenders.
Graphics offer a slight retro appearance that looks good and gameplay challenge keeps you on your toes. As you advance through the game, NFL-style uniforms become available to customize your player and there are plenty of Xbox achievements to pursue.
Touchdown Hero is a simple game to pick up and spend a little down time with. The game is surprisingly difficult with a decent addictive pull. Touchdown Hero is a free title with a few in-app purchase opportunities and a great addition to the endless runner genre.
Download Touchdown Hero: New Season from the Windows Store (opens in new tab)
Temple Run 2
The Temple Run series of endless runner games have all been smash hits in the Windows Store. You have the original installment of the game along with two movie-themed versions, Temple Run Oz (opens in new tab) and Temple Run Brave (opens in new tab). Each are fantastic endless runner games in their own right, but Temple Run 2 stands out from the crowd thanks to its Xbox integration.
You play the role of a treasure hunter who is being chased by a rather irritated beast. While the goal of the game is to run as far as possible, you need to keep the angry monster at a distance as well.
Controls include a series of swipe gestures to jump over, slide under and make turns as you run across the never-ending path. Tilt controls are also available to shift your runner from side to side. Coins can be collected as you play the game and can be used to unlock new runners or pick up a few power-ups.
Gameplay challenges range from jumping over or sliding under fallen trees and building rubble and shifting your runner from side to side to avoid collapsed pathways. Should you stumble, it gives the monster an opportunity to pummel your runner.
Temple Run 2 is a free game, available for Windows 10 Mobile and sports colorful and detailed graphics, challenging gameplay and overall is a great way to pass the time.
Download Temple Run 2 from the Windows Store (opens in new tab)
Alto's Adventure
Alto's Adventure is one of the more beautifully drawn endless runner games in the Windows Store. Available for Windows 10 PC, you play the role of Alto who must race across snow covered hills to capture runaway llamas.
The endless mountain course has plenty of boulders, buildings and chasms to ruin Alto's day. Controls are simple: you tap the screen or use keyboard controls to jump Alto over or across these dangers. To keep things interesting, Alto's Adventure includes over 180 in-game goals and Xbox achievements to pursue.
While the graphics are fantastic, they can add to the challenge of the game. Periodically, the game transitions from daylight to night or you may face clear skies or storms. The darker of these scenes make it more difficult to see oncoming dangers that can send Alto crashing into the snow banks.
Along with simply being a great looking game, Alto's Adventure tests your skills at timing to avoid these dangers. There is also room for creativity by getting Alto to perform stunts as he jumps.
This free endless runner game is only available for Windows 10 PC and plays out nicely from a tablet, laptop or desktop computer.
Download Alto's Adventure from the Windows Store (opens in new tab)
Again, the Store is jammed full of endless runner games that are fantastic titles to spend a little time with such as Rainbow Rapture, Despicable Me and Dark Lands but these titles stood out as the best the Store has to offer.
If you have tried any of these titles, let us know what you think of things in the comments below. If we have overlooked your personal favorites, feel free to share those recommendations as well.
Get the Windows Central Newsletter
All the latest news, reviews, and guides for Windows and Xbox diehards.
George is the Reviews Editor at Windows Central, concentrating on Windows 10 PC and Mobile apps. He's been a supporter of the platform since the days of Windows CE and uses his current Windows 10 Mobile phone daily to keep up with life and enjoy a game during down time.
I'm suprised Minion's Run isn't up there, or Sonic Dash? Why pick such poor choices as Temple Run which has been out FOREVER, or ALTO, wtf is Alto's run, I never even heard of alto's, and it doesn't even look like a traditional running game, its side scrolling?

alto's adventure is only available for pc n is one of the best rates n cool relaxing game! n its sad they din consider windows phone yet!

Search for Alto's Adventure HD. I have it on my 950xl.

Do you now yeti run? Nice one too...

That is because you life in the Windows bubble. Altos is one of the most famous game in Apple and Android ecosystems. For me Altos is the best endless running game right now. To bad is only available in PC

And how do you like monster buster over there in apple and android world?

I've always liked Ragdoll Run. It's just a very original take on the concept.

Subway surfer drains my 950xl and also heats up in few game play only. Repeated complaint has got no attention from developer.

Blame Ms. I have had my unit run fine with games and then get an update and all of a sudden those same games run hot and with issues. Oddly subway surfers runs fine without heating and right now this os version is the worst i've had for heating.

I'll check out Alto's adventure...thanks.

I stopped playing TR2 after my wife showed me her Android and iOS versions of the game and learning yet onces again WM development has been abandoned... atleast so far Sonic Dash seem to still be supported... biggest problem the game though is every now and again updates make the game unplayable... horrendous input lag and sub 10 FPS... if gameloft would resupport spiderman unlimited, that would be my fave enless runner... but that game has also been abandonware for almost 1 year now :(

I wish alto was on mobile I love the game on pc

Alto looks good but sad its not on mobile.

What about lara croft relic run?

If it even ran at a smooth 30 fps it would be a decent game, at 60 fps it would be a good game... but since it run at sub 2fps every now and again i can't stomach it :(... shame too it is fun

My personal favorite is sonic dash. It's still updated, and it's very clean. Runs will enough on a 950xl, but hiccups when you pick up a red coin.. Good thing that only happens once or twice a day. Tried Relic Run, subway, and many others.. But just like sonic.

Seriously George, have you got nothing better to do? You must put out one of these endless runner round ups every few months.