Best Hidden Object Games for Windows 10
If you need a break from the fast-paced gaming titles in the Windows Store but are still wanting a challenging way to pass the time, you may want to take a gander at the hidden object genre.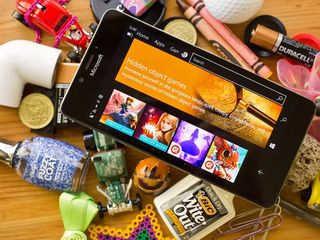 These games challenge your skills at concentration and observation to find objects that are hidden in plain sight, often with a picturesque scene. Many of these games have accompanying storylines in which solving the picture puzzle unlocks a clue to a larger mystery, expanding the challenge of gameplay. There are also titles that have a series of mini-games to provide a little variety to the overall package.
While there are plenty quality hidden object games in the Windows Store, these are some of the best the Store has to offer.
Update 4 March, 2017 We have made a few changes to this article based on new releases, reader's input, and staff debate. There may be some new titles in the mix, as well as those that we continue to view as the best from the Windows Store.
The Blacklist: Conspiracy
Why you can trust Windows Central Our expert reviewers spend hours testing and comparing products and services so you can choose the best for you. Find out more about how we test.
The Blacklist: Conspiracy is a hidden object puzzle game for Windows 10 that takes on a crime fighting twist. Available for Windows 10 PC and Mobile, the free game is based on the hit television series The Blacklist and features many of the series' main characters.
Raymond Reddington, a master criminal turned crime fighter, leads you through a series of hidden object puzzles full of clues needed to hunt down criminals and solve the game's mysteries. Clues are rushed off to the F.B.I. lab for analysis with a few mini-games tossed into the mix to offer a little variety to this hidden object game.
You even get to interrogate suspects and witnesses to detect lies and point out contradictions in their stories. There are several crossroads with The Blacklist: Conspiracy that impacts not only character's actions but also the storyline. Should you find yourself struggling to locate items in the puzzles, there are plenty of hints and power-ups available to get you headed in the right direction.
The Blacklist: Conspiracy is a from the creative gaming minds at Gameloft and offers plenty of twists and turns to the storyline. It is an entertaining and challenging hidden object game for passing the time.
Download The Blacklist: Conspiracy from the Windows Store (opens in new tab)
Deadly Puzzles: Toymaker
Artifex Mundi offers a fantastic range of hidden object games in the Windows Store. Deadly Puzzles: Toymaker is a murder mystery game in which you hunt for clues amongst hidden object puzzles to track down a murderer known as the Toymaker.
Deadly Puzzles: Toymaker has two game modes, both with a fair amount of challenge. There is the Casual mode where the hint and skip buttons recharge quickly, and hidden object areas glisten from time to time. The Casual mode also has no penalties for tapping on the incorrect item.
The Expert mode is a tad more intense with longer delays for the hint and skip features, and active zones do not periodically glisten. There are also penalties for tapping too many incorrect items.
Deadly Puzzles: Toymaker includes a wide range of scenes where you must find a list of hidden objects. When successful, clues to the murder mystery are revealed, and you move a step closer to solving the Who Done It. You can zoom into scenes to reveal the finer details, and some objects can be opened to reveal objects.
If you are a hidden object game aficionado, the Artifex Mundi series is a must. Deadly Puzzles is just one of the many entertaining titles the developer offers, and it's available for Windows 10 PC and Mobile. Deadly Puzzles: Toymaker has a free trial version, with the full game currently running at $3.99.
Mirrors of Albion
Mirrors of Albion is a Windows 10 hidden object game that sends you Victorian-era London to solve a series of crimes and eventually defeat the efforts of the evil Queen of Hearts.
As you first launch the game, an extensive tutorial will greet you which covers the basics of gameplay and the vast assortment of power-ups. You find yourself traveling across London to a variety of venues to hunt down clues that help solve the game's mysteries.
Puzzle scenes are full of detail and can also be enhanced with pinch zooming. Hidden objects are listed either by name or silhouette along the bottom of the display with your hints and power-ups. Power-ups include a magnifying glass that causes the hidden objects to glisten and a tesla wand that causes the items to glow with an electric field.
As you progress and gain experience, additional venues become available that tests your skills at observation and concentration. Available for Windows 10 PC and Mobile, Mirrors of Albion is a free game with an addictive pull. Mirrors of Albion does a good job of balancing visual puzzles with story, as you progress through the mystery.
Download Mirrors of Albion from the Windows Store (opens in new tab)
Zootopia: Crime Files Hidden Object
Zootopia: Crime Files Hidden Object is a Windows 10 game from Disney based on the Academy Award winning motion picture, Zootopia (opens in new tab). Available for Windows 10 PC and Mobile, the free game has you partnering up with Zootopia Police Officers Judy Hopps and Nicke Wilde to solve a range of crimes plaguing the city.
Solve hidden object puzzles for clues, take them to the crime lab for analysis and eventually, nab the crook. The graphics are colorful and full of detail, the puzzles increase in difficulty at a nice pace, and there are plenty of Zootopia characters to meet and interact with such as Hurriet the Sloth, Clawhouser, Rhinowhitz and more.
Zootopia: Crime Files Hidden Object includes six cases to solve, each with multiple puzzles filled with clues. As with most hidden object games, should you need a little help finding items, Zootopia has a few hints and power-ups to get you on the right track.
All said and done, Zootopia: Crime Files Hidden Object is a fun game to pass the time with and a great addition from Disney to the hidden object puzzle genre.
Download Zootopia: Crime Files Hidden Object from the Windows Store (opens in new tab)
If you have tried out any of these Windows 10 games, let us know what you think of things in the comments. There are plenty more quality Hidden Object games in the Windows Store, such as Disney's Find 'n Seek (opens in new tab) and Adera (opens in new tab). Should we have overlooked your favorite Hidden Object game in the Windows Store, feel free to toss out your recommendation in the comments as well!
George is the Reviews Editor at Windows Central, concentrating on Windows 10 PC and Mobile apps. He's been a supporter of the platform since the days of Windows CE and uses his current Windows 10 Mobile phone daily to keep up with life and enjoy a game during down time.
No mention of "The Blacklist"? I am really digging that game. And it's free!

Is this games any good as mystery pi?

Is there games with xbox achievements ?

Actually, yes. And It's via Microsoft studios Adera (https://www.microsoft.com/store/apps/9wzdncrfjb4p) ​First part is free, as well as the gamer points. It's a very well presented hidden object game.

It's a shame that in my app market(Portugal) you see many negative reviews regarding Artifex app's because no one sees the description that it is paid after a while, and they are very good games!! Thanks for sharing wincentral!!!

All these wonderful games and non with Xbox Live support.

Adding achievements is expensive. Only big companies can justify the expense

thanks, i really don't know about the blacklist. i'll try.

Avoid Mirrors of Albion. It's the very worst of freemium... constant "specials", thousands of objects to collect, time-limited quests, and things that constantly chew your energy. I got to level 9 and quit, as it's not worth the hassle

Mirrors of Albion is one of the most hectic, confusing games I've ever played. As soon as you finish the tutorial, dozens of quests pop up. And I mean, DOZENS of them. It's easy to get lost in all of it. If you want good hidden object games, I've found two that I particularly enjoy. Hidden City: Mystery of Shadows starts when you get transported into another dimension, along with your friend, who goes missing. You start out trying to find him, and then the locals start asking you for help with small tasks. You can always go back to your first quest, though. It has some time-limited quests when a holiday hits, but other than that, it's pretty good. The more you play a location, the more difficult it becomes to find the items you're looking for. You can zoom in a lot to find them. I've only failed twice in a week after playing every moment I could. I will tell you that I ended up staying up until 3:00 AM the first night I downloaded it. It's avaliable in the Microsoft store, and you don't have to pay for the full game. The Panic Room: House of Secrets is currently one of my favorites. It has such an interesting concept. You wake up trapped in a house, after being abducted by a man called "The Puppeteer." He's a unique character. There are three main characters besides him - Jenny, Jim, and Jack. As you play more of the game, you delve deeper into who owned the house before the Puppeteer got ahold of it, and who the Puppeteer actually is. It then makes you choose between two factions: The Underground and the Followers. The Puppeteer does have a reason for trapping you in the house; he wants you to value your freedom and work towards achieving it. He also taunts you from time to time. I just wish my blood would refill faster so I can keep playing. The full game is free, and is avaliable on Facebook and for iOS.
Windows Central Newsletter
Thank you for signing up to Windows Central. You will receive a verification email shortly.
There was a problem. Please refresh the page and try again.