Best Linksys Wi-Fi Extenders in 2022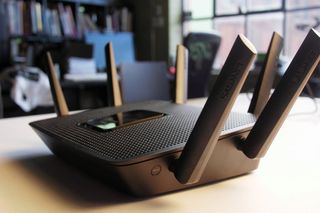 (Image credit: Windows Central)
Every day we ask more and more of our wireless networks with new smart home devices like virtual assistant speakers and streaming devices. What once felt fast enough for Wi-Fi can start to show signs of slowdown in certain areas of our homes where the wireless signal is weaker. One quick and easy way to improve this is with a range extender and Linksys has been making networking equipment like this for years. The RE7000 Wi-Fi extender provides a great balance of features and will keep up with the needs of most people that use several online devices. The RE7000 gives you the best balance of features but everything here supports Wi-Fi 5 speeds and at least one Ethernet connection.
Best Overall: Linksys RE7000
Why you can trust Windows Central Our expert reviewers spend hours testing and comparing products and services so you can choose the best for you. Find out more about how we test.
Linksys RE7000
High speed in a small package
Reasons to buy
+
Discreet size
+
Fast AC1900 speeds
+
MU-MIMO
Reasons to avoid
-
No dedicated backhaul
-
Only dual-band
If you need something that blends in but still pushes enough speed for a full PC or streaming setup, the RE7000 can help with its more than acceptable AC1900 speeds and single Ethernet port in a clean antenna-free housing. It also supports technologies like beamforming and multi-user, multiple-input, multiple-output (MU-MIMO) for a consistent and fast connection even when a lot of people are connecting all at once.
This device is only dual-band, however, meaning that you won't get a dedicated backhaul for your devices, which will share a signal with your router. This will only become an issue when transmitting a large amount of data. This extender compromises very little in pursuit of this subtlety and should be easy to place discreetly behind furniture and should even blend in well out in the open. It would be hard to notice this device in a hallway or bedroom if you didn't already know where it was.
Best for top speed: Linksys RE9000
Linksys RE9000
Speed first, appearances later
Reasons to buy
+
AC3000 is very fast
+
Tri-band connection
+
Four Ethernet ports
+
MU-MIMO
Reasons to avoid
-
Very large
-
Exposed antennas
-
Expensive
Sometimes you just want to buy the best and most advanced option, even if you don't need all the features. This is the feeling I get from the RE9000 from Linksys with its four big antennas and four Ethernet connections on the back. This Wi-Fi extender confidently backs up its macho appearance with three wireless bands for a strong backhaul connection to the primary router with plenty left over for devices.
When top speed is an absolute requirement, the AC3000 speeds from the RE9000 will be able to keep up with you and the modern MU-MIMO support will be able to keep up with your guests. This is a great choice when you have a lot to get connected and there is no option to run a wire or move the main router. If you have a lot of people using your Wi-Fi
Best feature set: Linksys RE6700
Linksys RE6700
Bring Wi-Fi and audio with one outlet
Reasons to buy
+
Power outlet pass-through
+
Audio connector
+
Smart appearance
Reasons to avoid
-
Design lacks subtlety
-
Speed is slow for the price
Placing your Wi-Fi extender in the right place is important for signal, so it's nice to see that the RE6700 has an electric outlet pass-through so you can plug an electric device into the extender if the best outlet is already in use. It also has an Ethernet port for a local device with no or weak Wi-Fi.
The RE6700 also has another unique feature among its peers: a 3.5mm speaker jack. This allows you to turn an old fashioned speaker into a modern wireless speaker. Combining this with respectable AC1200 speeds, this should be an easy addition to an entertainment room or bedroom where electric outlets come at a premium and Wi-Fi signal needs a boost.
Best value: Linksys RE6300
Linksys RE6300
Fast enough for everyday browsing
Reasons to buy
+
Wi-Fi 5 connection
+
Discreet size
+
Dual-band with beamforming
Reasons to avoid
-
Less speed headroom
-
Antennas spoil the look
You don't always need top tier specs in every part of your property. This is where something like the RE6300 comes in with a strong feature set similar to the faster RE6700 extender, only sacrificing some speed and the pass-through power. It even keeps the Ethernet port. It still manages to hold onto a respectable AC750 speed, which should be enough for streaming music or browsing the web with a couple of devices.
It doesn't clean up shop completely since its slower technology is going to result in slowdowns and buffering if a lot of devices get connected and try to pull data all at once. Still, this is a great option for the corner of you your property that doesn't require all the speed of your entertainment room.
Bottom line
Linksys is a trusted name in networking and has been making high-quality components for many years. Aside from the RE9000 which more closely resembles a full router with its four Ethernet ports, your choice mainly comes down to how much speed you need. However, the RE7000 pulls ahead of all the options thanks to its a smaller package and support for MU-MIMO technology, which gives it a much longer life span.
Get the Windows Central Newsletter
All the latest news, reviews, and guides for Windows and Xbox diehards.