Best mechanical keyboards for gaming on Windows 10 in 2022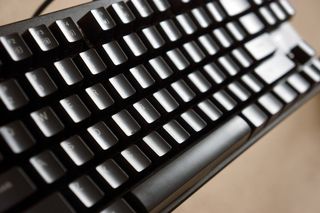 A keyboard might not seem like it would be that important of a component to a gaming PC system, but alongside your graphics cards, RAM, and monitor you should be paying some attention to the keys. Whether you're into firing out a dozen spells in quick succession in an MMORPG or a no-scope sniper in your favorite first-person shooter (FPS), finding a decent keyboard is arguably a vital endeavor.
Wait, what's a mechanical keyboard?
Why you can trust Windows Central Our expert reviewers spend hours testing and comparing products and services so you can choose the best for you. Find out more about how we test.
So, why a mechanical keyboard? What's all the fuss about and are they worth paying out more than more affordable membrane keyboards? Absolutely. Mechanical keyboards sport individual switches under each key, which improves performance and enhances tactile and audio feedback with each key press. It has also been found that mechanical keyboards last longer than membrane counterparts, which is always a positive.
As for membrane keyboards, instead of using more expensive individual switches for registering key presses, they typically utilize strips of plastic that don't offer the same level of feedback and simply don't feel as solid as mechanical switches. That said, when looking at mechanical keyboards, you'll need to take into account the different switches available, as well as models offered by the various peripheral manufacturers. And the price hike.
Switching ... keys?
The most popular brand of switches are Cherry MX, and even these come in different flavors (actuation forces — how much force is required for a keystroke to register — are shown in parenthesis). We've listed the more popular Cherry MX switches below, though it's mainly down to personal preference. There's no right or wrong choice and many Cherry MX alternatives — like Gateron — are actually very good.
Cherry MX Black - If you're not a fan of loud click noises and tactile feedback, the Black switches are for you. Easier to tap keys multiple times. (60cN)
Cherry MX Blue - Popular with typists due to the audible feedback, accompanied by the tactile "bump" when pressing down on a key. (60cN)
Cherry MX Brown - The middle ground in the Cherry MX range. Quieter than the Blue switch, but retains soft tactile feedback. (55cN)
Cherry MX Red - Similar to Black switches, these offer less resistance and are favored by gamers due to them requiring less force to actuate. (45cN)
If you're moving up from a membrane keyboard (if you're not sure what kind of keyboard you have, then it's probably membrane), the selection of mechanical keyboards available to you will be a vast improvement. There are a lot of choices, so we've rounded up some of the best mechanical keyboards worth your consideration. Of course, if you want to get really serious about your next keyboard investment, you can go one step further into the realm of custom-tuned keyboard setups. But for the rest of us mere mortals, the mechanical keyboards from the likes of Logitech, Razer, and Apex will do just fine.
No matter how much you read online, you need to get a feel for the switches available. We recommend that you pay a visit to your local computer stores to test out some of the available switch types and see which you prefer. But here are some of our favorites that you should consider adding to your peripheral arsenal.
Razer BlackWidow Chroma (V2)
If you know anything about PC gaming, you know the Razer name and might have expected to see a Razer keyboard on this list. The entire BlackWidow series of mechanical keyboards is a popular choice for gamers due to reliability, durability, included features and the accompanying software.
While the Razer BlackWidow Chroma uses Razer's own switches (manufactured by China-based Kaihua), it's a solid experience for those looking to leave membrane behind. And if you absolutely must have Cherry MX, there's always the BlackWidow Ultimate (2016) (opens in new tab) that comes with Blue switches.
As for features, you have Chroma lighting effects, five macro keys on the far left, USB and audio pass-through, anti-ghosting to enable you to go wild with keystrokes, and a braided fiber cable. You then have the Razer Synapse app to customize everything from the repeat interval to the multi-color lighting (there's a lot there, so we have a handy guide on setting up the BlackWidow Chroma. That's not bad considering you're looking at spending around $129.99 (opens in new tab) on the keyboard itself.
Razer also makes a variant called the BlackWidow X Chroma that features a unique visual design but loses a few of the BlackWidow Chroma's extra features. Check out our review for a comparison.
See at Amazon (opens in new tab)
Logitech G810
The Logitech G810 ($99.99 (opens in new tab)) is yet another keyboard for those who would rather focus on the game, rather than flashy LED screens and other miscellaneous additions. Logitech's custom Romer-G switches in the G810 are similar to the new Cherry MX Speed used by the Corsair K70 RGB.
Much like other options in our collection here, the Logitech G810 features RGB lighting that can take advantage of a spectrum of 16.8 million colors. Whatever you may be using inside your desktop case, this keyboard will be able to pair up and reflect more visual magic into the room.
See at Amazon (opens in new tab)
Corsair K70 RGB RAPIDFIRE
Corsair's new K70 RGB mechanical keyboard ($119.99 (opens in new tab)) is for those who require the fastest experience. Sporting the newest Cherry MX Speed switch (it's all in the name!), the keys on the K70 are super-responsive and require only small amounts of movement for them to press down and register input. In fact, the switches themselves actuate at just 1.2mm of travel.
However, this high level of sensitivity isn't for everyone, and wouldn't be recommended for typing up that new e-Book you're working on — the K70 series of keyboards can be purchased with other Cherry MX switches. For gamers, these excitable keys allow for speedy reflexes in-game, which is ideal if you're in a first-person shooter and need to be on point for your teammates. As an added bonus there's full RGB lighting.
If all that weren't enough already, Corsair has included USB pass-through and there's also a detachable soft-touch wrist rest to aid you in those long sessions.
See at Amazon (opens in new tab)
Corsair Strafe
The second Corsair mechanical keyboard to make our list is the Strafe, available with Blue, Brown and Red Cherry MX switches. Sporting USB pass-through for attaching your mouse and free up a port on your PC, this particular keyboard packs a punch for the price.
Corsair has also thought about the different titles owners of this keyboard will enjoy by including textured and contoured keycaps for FPS and MOBA setups. Throw in the included anti-ghosting functionality and it's quite the keyboard for both typists and gamers — especially at its competitive price of just $99.99. See our full review for more details.
See at Amazon (opens in new tab)
Ducky Keyboards
We're fans of Ducky keyboards. They really are solid peripherals for both gaming and general typing. The only downside to these keyboards is the rarity outside of Asia. While partners do sell in select markets on behalf of Ducky, it can still prove difficult to find the perfect one for you.
Couple great German switches (Cherry MX series) with a solid design and construction and you've got a sound input experience. Head over to the Ducky website and see the collection of mechanical keyboards to see which option is best suited to you.
HAVIT HV-KB395L
This more affordable keyboard is a delight to type on. HAVIT opted to go with low-profile Kailh Blue switches, which are like Cherry MX Blue but have a much shorter travel and actuation — it feels as though you're typing on a premium laptop. It's a blast when typing and is also rather capable at gaming, and the audible and tactile feedback with each press is a joy.
There are some flaws, including the lack of media controls on the function keys and no dedicated macro keys for gamers. But as a mechanical typing experience, you could do a whole lot worse. It's also just $79.99 (opens in new tab), or $59.99 (opens in new tab) for the tenkeyless version.
See at Amazon (opens in new tab)
Your favorite didn't make our list? Let us know which mechanical keyboard is your trusty companion in the comments!
Updated December 11, 2017: We refreshed our list to ensure we're still offering the best mechanical keyboards for your buck.
Windows Central Newsletter
Get the best of Windows Central in in your inbox, every day!
Rich Edmonds was formerly a Senior Editor of PC hardware at Windows Central, covering everything related to PC components and NAS. He's been involved in technology for more than a decade and knows a thing or two about the magic inside a PC chassis. You can follow him on Twitter at @RichEdmonds.
I have replaced my computer a few times now in the last 7 or so years. But never replaced my keyboard because it was just so good. Or maybe I got used to it. Still use it for work and games. I'm a casual to semi pro gamer, depending on the game.
Link is to a picture of the keyboard. It is a Memorex MX series keyboard. http://images.amazon.com/images/P/B00008W96U.01.LZZZZZZZ.jpg

Took me a while to find a replacement to my 20 year old, 10lb Compaq keyboard.

I know... Forgot to add name earlier, "Memorex MX3300 Multimedia Office keyboard", as written on the box (saw it online).

Heh, just ordered my first mechanical keyboard yesterday.

I left a mechanical keyboard at my aunt house, never trough that it made her nostalgic.

Obviously this writer doesn't play games. Us gamers KNOW to have a decent keyboard and mouse. Try a Razer setup and you'll never look at Logitech or Genius the same way again.

Obviously you're either a dick or a fanboy, or both. Not every gamer has been gaming forever, or had the money to buy an expensive peripheral. Not only that, razer is just a name, they aren't automatically the best there is. So here's a pro tip for you, the world doesn't revolve around you.

My experience with Razer has been ok, but not the BEST as you assert. Their customer service and support are not very good and while their products are good there is nothing superior about them. I like my Corsair's Strafe RGB better than the razer, but it is still not as good as my DAS Keyboard. That keyboard just feels right. I should mention I am not a macro or extra programmable key kind of guy. So not a fan of Logitech stiff either. Posted via the Windows Central App for Android

I decided with Logitech because of the dedicated media keys

I've played games for the best part of nearly two decades. Better yet, while I stand by the options I've provided in this list, my current setup is a Razer Hex, BlackWidow and BlackShark. So by your logic, I'm technically a gamer, but you suggest I'm not in your comment. Odd stuff.

Mechanical gaming keyboards are easy to find, test and make your mind on the purchase. Now, try to find a nice wireless mechanical keyboard for typing and you got yourself a chalenge. Most of them are low quality garbage that you have to buy online only.

I'm assuming people want wireless keyboards because they want to game at a distance, example is couch gaming. The reason wireless keyboard are difficult to find is because there isn't a demand for that as consoles currently rule that market. Maybe when that becomes more popular with steam machine or Xbox play anywhere, will the market for gaming wireless keyboards increase.

The new(er) Filco Majestouch Wireless. EZPZ ;)

I love Corsair mechanical keyboards! Excellent to type on.

I'm still baffled to this day as to why they haven't come up with a control method better suited to gaming than a TYPING PERIPHERAL. Yeah, I know it's convenient and accurate and blah blah, but it's pretty crazy if you think of it. We shouldn't be talking about the best typing peripheral customized for gaming.

Well Razer has a couple custom keypad things. Really not sure what they're used for other than lots and lots macro keys. But you could probably use it to replace keyboard for games.
Have you ever heard of the Key Mouse? It was a kick-starter that never quite finished because they didn't raise enough to deal with some production issues. But it looked awesome. Posted via the Windows Central App for Android

They have, they are called joysticks, gamepads, ddr dance mats, steering wheels ect... But you always need a keyboard for a PC. So why not use the imput devices available?

Sure. But they aren't used because they're available, they are chosen because supposedly they're the best for the task. That's the issue I see. There should already be a better peripheral for gaming than keyboard and mouse.

Any suggestions? I think keyboard and mouse is excellent for gaming.

I'm not saying they aren't (while I personally consider a gamepad to be more comfortable for those game styles suited for it). I'm just pointing how they are peripherals designed for something else than gaming and are still used for gaming, which is a bit primitive IMHO, from a perspective of technological evolution.

I agree. It's not easy coming fron a console to be a PC gamer with mouse and keyboard. I think the mouse is ok, but the keyboard will take a lot to get used to. Going from one console to the next is no problen, but PC is a whole other animal and I feel if I play a shooter online on there, ima get an asswhooping by using a controller. I was thinking of maybe a combination of the mouse and joystick would be ideal for me. Possibly something with a trackball.

If it ain't broke don't fix it. I honestly can't think of anything with same precision and m+kb

Yep, the Steam Controller. That's pretty much the alternative being described here. Works grand for streaming to the PC. Finally we have a PC controller and no longer have to use console controllers which are a poor fit for PC gaming.

There are in fact peripherals that will do that for you, but few of them are the one thing almost any keyboard is: versatile. I can play on this thing and then I can switch to typing in chat and switch back to playing in a moment. This makes the keyboard a valuable device to use in gaming. Aside from that is the fact that the keyboard is just there -- it's common to every computer. That makes it usable by default, the same way mice are.

I use a trackball instead of a mouse for gaming.

:/
Can't delete a comment.

What about Unicomp keyboards with the IBM-designed buckling spring mechanism?

Don't worry they aren't on their merch sponsor lists......

Just got one a few weeks ago.
Just like my old model M from back in the day .
It's a fantastic keyboard and I'm loving using it.

Mechanical keyboards - nicer, yes, more expensive, yes, break more often, seems like it... 6 months or a year after buying whatever, how many people go to the store's site to write or edit a review to say: "It broke"? It's one thing to write a review when you're all excited about your new toy, when you're anxious to tell everyone how wonderful it is -- it's quite another when down the road you're not feeling so smart after all, as your once neat toy is sitting there broken, & you know that best case you'll still have to deal with the company's support & have the [somewhat expensive] hassles of shipping it off. But some people do write or edit those reviews, & if you read them, for almost every single model of mechanical keyboard made, there are sometimes a great many complaints that it broke. One culprit often mentioned are the solder joints where each switch is attached to a board. Just had one break at 8 months, replaced by a Logitech 610, that already had a key sticking at the 2 month mark. And hopefully the Corsair that was replaced under warranty, & shows an improved design in the replacement will hold up better. But the fact is many mechanical keyboards have problems lasting more than a year or two. SO check the reviews, where incidentally you might find several complaints on the recommended Logitech 810.

Well there's a reason why mechanical keyboards aren't the most used nowadays for their original task which is typing. Instead they have become this weird niche product for gaming. It's all kind of weird.

Nobody uses them because they're crap, slow and annoying.

What are you all smoking? Mechanical keyboards are superior in every way. I have had none of mine ever fail and can type faster on them than laptop or Apple type keyboards Posted via the Windows Central App for Android

I have to say, the idea that mechanical keyboards fail sooner then membrane ones is pretty strange. That is demonstrably untrue, just with the testing stats. They are also very much faster to type on for most users. The reason they are less used in offices now is due mainly to price (though volume is also a factor).

Actually because they are more expensive. Only enthusiasts eager to spend more for this pheriperal. As far as I know (and I owe three mechas), they are more durable, better build quality, and satisfying more to use. Annoying is probably relative - Some normal people found the clicky sounds annoying, but keyboard enthusiasts enjoy it much.

I did not get mine for games as I play very few, i got a mechanicle keyboard as i like the feel of them for typing.

I have a CM Storm Quickfire TK w/ GREEN switches. Much better for a guy like me, who also plays drums and tends to bust sticks a lot. Heavy travel and you are SURE you hit the key heheh... quite noisy. Also I have a Qisan 68 key w/ Green switches, which is nice and compact. GREEN SWITCHES WIN!!!

Das Keyboard is pretty good. I like mine. Sort of expensive, but they use very solid solder joints (so the keys can be user repaired or replaced) that seem to last a long time, and they use cherry switches.
Also WASD keyboards good, have a friend who loves his. Plus WASD keyboards is a great place to order custom keycaps. Got great blank ones from them. Posted via the Windows Central App for Android

sweet! im building a pc soon and this was definitely needed, probably going for a brown but not sure which one yet. any mice recommendations?

Since the G9x is a dead legend, you could opt for the Logitech Prodigy 403.

i got somekind cherry g80 keyboard bought for $60. now they cost $110 they are nice. but also snakeoil. mech keyboards are meme there are also ibm model m keyboards. classic mech keyboard. they used to cost $10...

What's snake oil meaning?

Meh on the Razer keyboards and mice, IMHO. They look great and I'm sure they function well, too, but they have too much cloud-based software. Call me paranoid, but I like stuff that has all functionality out-of-the-box with just a simple driver/software install without an Internet connection or needing to sign up for an account somewhere, especially stuff like a mouse and keyboard. I've got a Corsair Strafe with cherry mx red switches (picked up on a deal at a local electronics store) that I love, and then I ended up getting a Corsair Sabre mouse at a great price, too. Corsair's software is pretty minimal compared to Razer's. No account necessary. I had a Logitech "normal" keyboard and mouse setup prior to getting my Corsair gear, and I had nothing but weird issues with it on Windows 10. Lots of double key presses on the keyboard everywhere. Whenever I'd launch a game, my mouse scroll wouldn't work in the game until I went back to my desktop and then back to the game. I tried just about everything short of rolling the Logitech drivers back to a really old version and never could get this to stop happening. My husband (who has last year's K70 keyboard and has had the same mice that I have), could never get the all of the extra mouse buttons to function right in games, either. So I don't have a ton of faith in Logitech's drivers, at least for their normal-use keyboards and mice. I've yet to have these issues with my Corsair setup, so I'm happy.

Cloud sync in Razer's software is entirely optional. You do realise that, right? That it works fine offline and needs no account? Right?

waiting for the new ROCCAT Suora

Yep, and as mentioned above, Unicomp still makes them.

He mentioned 'Ducky keyboards'.

Using the SteelSeries Apex M800 and it's pretty good. Had a Gigabyte Aivia Osmium MKB prior and it was really good but a tad too big for my slide-out kb desk tray. First mechanical was a Razer Black Widow which I returned after a day of use because the Synapse software is/was horrid.

Big flaw in the article when it comes to the K70 RGB and there's clearly some copy paste included in there. The keyboard you are talking about is the K70 RGB Rapidfire. This keyboard came out a few months ago and it has an exclusivity with Cherry MX to use the SPEED switches. It's the only keyboard in the world that has them right now, and it's freaking amazing. I'm typing on this keyboard at the moment and let me tell you, it is THE BEST keyboard overall with a great typing experience, as well as gaming performance. The Rapidfire is part of the K70 RGB SERIES. The K70 RGB comes in a variety of switches, Red, Brown, Blue, etc. It also comes in a non RGB version. Same for Rapidfire. Non RGB version available. The K70 RGB itself is a couple years old but along with the Rapidfire, they've also released the K70 RGB LUX SERIES which is the updated K70 RGB (better RGB performance, USB passthrough) They keyboards are absolutely premium quality. They are made of brushed metal, have a really good arm rest and to top it off, they have a DEDICATED VOLUME WHEEL. I can safely recommend this keyboard to everyone. Look it up on YouTube if you are interested cause keyboards don't get much better than this.

no love for 60% mech kbs??XX??

"The entire BlackWidow series of mechanical keyboards is a popular choice among gamers due to reliability, durability, included features and accompanying software."
Funny... I tend to hear the opposite. I've heard so many complaints from people about Razor products having horrible durability and breaking quite often. Also have heard plenty of complaints about their software too. You also fail to mention the Cherry MX Silent switches, which the Corsair Strife has available as an option. Plus the Corsair Strife RGB. Its funny how you mention the popularity of the Cherry MX switches but then list only a few of the keyboards that use them and put them way at the bottom. A lot of people out there will only use Cherry MX switches on their keyboards since the clones don't match up with them. Said clones only existing because Corsair helped to create the RGB switches with Cherry and got exclusive rights to it for awhile. Which further makes me wonder why Corsair's boards are wait at the bottom considering they've generally been more innovative with gaming mechanical keyboards than the other more popular brands. All of that griping aside, as reliable as mechanical keyboards are made out to be and the fact that these are made for more hardcore gamers, why the hell can't the keys be as reliable? Finally decided to buy one of these suckers myself a few months back and the lettering on them pretty much gets scratched off as fast, if not faster, than the $15 keyboards I used to use. Plus being back lighted, its even more obvious when they do wear off versus a traditional keyboard. Perhaps manufacturers need to take a break from coming up with fancy stuff and just make gamer-proof keys.

Razor was at one time a really trusted brand. My first few products from them when they were still a newer company had a long life and took a lot of abuse. I had one of their mice for almost 10 years when the scroll wheel finally went out. Bought a replacement and it just wasn't the same - felt cheaper and cost more. The name still is big, but I don't trust them like I used to. As for the keys, some fo the back lit keyboards have lazer cut keys instead of printed ones so the light can shine through. Those should hold up a lot better. I have a Max Keyboard Nighthawk and it has held up for 5 years or so now without any problems. The spacebar has gotten a little shiny from wear, but nothing has rubbed off. I have also heard good things about WASD Keyboards.

I really dislike the keyboards that have all that backlighting leaking up between the keys. I want only the letter on the key to be illuminated.

Visit a used computer shop and get an old IBM ps/2 keyboard. They are the original mechanical keyboards and can double as a weapon when needed. 😋

I have the corsair k65 RGB, fantastic little keyboard even if it is a bit expesnive, but the lack of the numeric is why I have got it, fits nicely on my desk and a allows me to use the mouse beside it.

Leopold FC900R all the way guise!

And check out PBT keycaps. The normal (ABS) ones will get shiny very quickly.

Why do people need a klick or a silly bump as a feedback, when you can see the onscreen consequence immediately?? I'll never understand this. It's why I go for blacks. They don't even need damping add-ons, because they've got just the right resistance to not bottom out.

For an old typist who's already typing in typewriter and IBM keyboard era, the click sound and tactile bump brings a nostalgic feeling, a kind of satisfaction which couldn't be described. I don't know how, but some of my friends from newer generation also share the similar feeling. I agree it probably doesn't correlate with efficiency, but typing with fun, surely will make you enjoying your work more...

Yeah that's true indeed. My theory is that the ears appreciate the klacking 🙂

Rocking a Razer Black Widow Chroma V1. Will hopefully last through a few computers. I just hate the fact that it needs internet for the lighting effects to work as well as the Razer Synapse program.

There are some no-name mechanical keyboards that are pretty good out there for $30. Personally, I use the original IBM keyboards by UNICOMP that are made in Kentucky.

Why is there no hybrids like razer ornata
Windows Central Newsletter
Thank you for signing up to Windows Central. You will receive a verification email shortly.
There was a problem. Please refresh the page and try again.