Best PC Games of 2016
By Rich Edmonds last updated
The year 2016 saw some killer titles released on PC. These are our picks for the top 20 PC games of last year.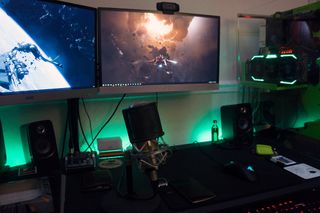 We're slowly making our way through 2017, and while there have been some enjoyable PC games released this year, we thought we'd take a look back at what 2016 brought to the platform.
20. Planet Coaster
Planet Coaster is considered by many to be the spiritual successor to the RollerCoaster Tycoon series. Developed by Frontier Developments — the fine folk behind the likes of Elite Dangerous — you're put in control of a theme park, and it's up to you how rides are installed, themes applied, and more.
See at Steam $44.99
19. XCOM 2
XCOM 2 picks up where XCOM: Enemy Within left off and tasks you with managing a growing army of human guerrillas to overthrow alien occupiers. It's addictive, rewarding, and a must-have for any strategy game fan.
See at GMG (opens in new tab) $47.99
18. Darkest Dungeon
If you really hate dying in games and only enjoy rushing through for completion, Darkest Dungeon is probably not for you. This game is hard and challenging, just like Dark Souls. You'll die many times. Once you overcome this, Darkest Dungeon is a fantastic "roguelike" turn-based RPG.
See at GOG (opens in new tab) See at Steam $23.59
17. Superhot
Superhot is an incredibly unique shooter where time only progresses when you move. Remain still and enemies will not perform actions. Move an inch and they'll do the same. Taking advantage of this allows for some seriously stylish kills and insane moves. It's strongly recommended for every shooter fan.
See at GMG (opens in new tab) See at GOG (opens in new tab) $19.99
16. The Witness
Imagine waking up one day, forgetting who you are and finding yourself all alone on a strange island. That's essentially what The Witness is, tasking you with finding clues and completing puzzles to piece together your lost memory.
See at GOG (opens in new tab) See at Steam $39.99
15. Watch Dogs 2
The sequel to the interesting open-world hacking title by Ubisoft, Watch Dogs 2 received higher levels of praise than its predecessor, for good reason. The company took in feedback and criticism, improving the formula and releasing what should have been the original Watch Dogs.
It's by no means perfect, but it is a lot of fun.
See at GMG (opens in new tab) $49.29
14. Firewatch
Firewatch is a title that's perfect for those times when you're tired of shooters and strategic games and just want to relax. It's an immersive option that offers a great storytelling experience in place of in-depth gameplay.
See at GOG (opens in new tab)See at Steam $19.99
13. Dishonored 2
Dishonored 2 offers players ample choice throughout its plot and resembles the moral choices of BioWare games. One can only be either virtuous or cartoonishly evil, with no gray areas in between. But that's not such a bad thing, because being a merciless killer never loses its grim luster.
See at GMG (opens in new tab) $47.99
12. Stellaris
Stellaris is a huge, immersive game. Paradox took strategy and simulation and threw the genres into a galactic blender to produce a space title with massive amounts of depth. If you're a fan of managing empires and strategy games in general, you should buy this one.
See at GMG (opens in new tab) $31.99
11. Hitman
Hitman's new approach to both gameplay and distribution allows for some seriously deep experiences, signaling a return to the roots of the franchise. Introducing a new depth of variety and replayability to its sandboxes, Hitman's experiences are now more enjoyable and fulfilling than ever before.
See at GMG (opens in new tab) $11.99
10. Stardew Valley
Stardew is an indie game that takes you to the wonderful world of farming. Before you scroll down, note that Stardew takes a unique approach to simulation, offering not only farm management, but combat, adventure, social interactions, puzzles, and more. It's a great time sink.
See at GOG (opens in new tab) See at Steam $13.59
9. Civilization VI
The most recent instalment in the Civilization series is a solid release. For experienced players it may not quench the thirst, but for newcomers and those who enjoy more micromanagement and layers will definitely enjoy this.
See at Steam $59.99
8. Overwatch
Overwatch ultimately altered the landscape of first person shooter (FPS) games, offering lootcrate progression, cosmetic micro-transactions and massive amounts of free content. It's incredibly easy to hop in and play, even for newcomers, but to master roles and take down everyone who stands in your way will take some serious dedication.
7. Battlefield 1
EA took a refreshing route when developing Battlefield 1. DICE managed to recreate the period of World War 1 on the Frostbite engine, adapting features and mechanics from previous installments. It's a refreshing change from the current futuristic shooters that are being released. Just make sure you have a capable PC.
See at GMG (opens in new tab) $49.99
6. Deus Ex: Mankind Divided
It would take a lot for Mankind Divided to live up to what Deus Ex: Human Revolution brough to the world, and while this latest entry doesn't quite take the series to new levels, it's still a fantastic RPG worth picking up.
Take to the streets of Prague as you take control of covert operative Adam Jensen as he's forced to operate in a world that has grown to despise his kind.
See at GMG (opens in new tab) $47.99
5. Titanfall 2
Much like Watch Dogs 2, Titanfall 2 is everything the original should have been. Offering more content, a solid campaign and great shooter experience, you'll want to keep hopping inside a mech.
See at GMG (opens in new tab) $44.99
4. Forza Horizon 3
Forza is among the best when it comes to racing games, especially on consoles. Forza Horizon 3 takes the much-loved forumla and adds an open world to the mix with multiplayer. You team up with mates and build your dream vehicles.
See at Microsoft Store (opens in new tab) $59.99
3. Gears of War 4
Gears of War 4 is one of the greatest exclusive Xbox One has so far, and that's really saying something when you consider the likes of Forza Horizon 3, Halo 5, and Ori and the Blind Forest. The Coalition has showed it is more than capable of taking the franchise to new heights, and if you're into action shooters, Gears of War 4 was made for you.
See at Microsoft Store (opens in new tab) $29.99
2. Dark Souls 3
Dark Souls 3 is a brutal game. When picking up this deadly experience, you'll need to strap yourself in and not take it to heart when it makes you die over and over (and over) again. Even when you're frustrated by the last death, it's killer fun.
See at GMG (opens in new tab) $59.99
1. DOOM
It has gus. It has aliens. It has explosions. It is DOOM.
Enough said, buy this game right now.
See at Steam $59.99
Honorable Mention: The Witcher 3 - Blood and Wine
So this isn't technically a game, which is why we didn't put it in our list, but after clocking a good 40 hours you could argue it's larger than some "AAA: titles out there. The Witcher 3 is a superb RPG, and CD Projekt Red has done a stunning job with the DLC, notably Blood and Wine.
Join Geralt in his latest adventure, and if you haven't already played through the base game, now's a good opportunity (and excuse) to pick it up.
See at GOG (opens in new tab) See at Steam $19.89
Your picks for the best PC games of 2016
There you have it, folks, uur best 20 games of 2016 on PC! We'll never be able to include everyone's favorite game from a specific year in a roundup, but we feel this list represents many of the gems from last year.
Are there any titles that aren't on this list that you think should be? Let us know your picks from 2016 in the comments.
Rich Edmonds is Senior Editor of PC hardware at Windows Central, covering everything related to PC components and NAS. He's been involved in technology for more than a decade and knows a thing or two about the magic inside a PC chassis. You can follow him over on Twitter at @RichEdmonds.
I finished Doom, but I didn't find Gus. Anybody know where he's hiding? ;D

...and only 2 in the store. Ugh.

RO2 STALINGRAD reigns supreme over the entire world. don't people see that?

Total Warhammer is my favorite release of 2016, great comeback after a terrible Rome total war, though the DLC push is a bit annoying.

I loved the first Titanfall and I played it a LOT. But it didn't take me long into playing TF2 to see that I just don't care for it. It's MUCH more pilot-centric--which I hate, it's not called "Pilotfall"--and the titans are hobbled by that stupid "battery" thing they instituted. So, I completely disagree with the assessment in the article. It is NOT "everything the original should have been".

Interesting. I much prefer TF2 over TF. Solely because it includes an actual single-player campaign, albeit a short one.

Ww. So no mention of The Division? One of the best selling games of 2016, on console, AND PC. Still has a super fanbase, and adding better, and better content, regularly, with Year Two content, updates, and support rolling out. Last Stand DLC, is brilliant, and worth the time to pick up, if you haven't. Changes the game, for me. So fun, and addicting.

No, it was released in 2015. Also, I support any list that minimizes the presence of Ubisoft (sucks WD2 made it on here).
Windows Central Newsletter
Get the best of Windows Central in in your inbox, every day!
Thank you for signing up to Windows Central. You will receive a verification email shortly.
There was a problem. Please refresh the page and try again.